These keto pizza recipes are so good, and so easy to make!
I think this is the best low-carb high-fat (LCHF) meal out there.
The crust tastes just like regular dough, but it's made from cheese and eggs instead of flour and yeast.
You can top this keto pizza off any way you want – pepperoni, mushrooms, peppers, onions, and olives.
KETO PIZZA RECIPE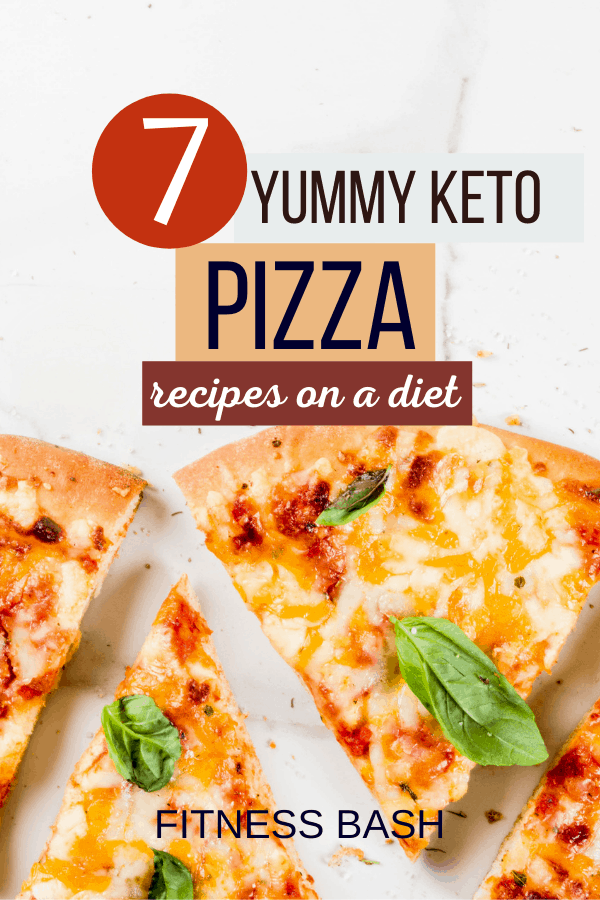 I think I have just gotten obsessed with the ketogenic diet. It actually never felt like a diet to me.
You can basically go munching all day long and yet be in ketosis.
Just keep the carb intake in mind.
If you are doubtful about what can you have in a day then here is the 7-day keto meal plan for the entire day including snacks and desserts. Enjoy!
Is Pizza allowed on the keto diet?
Yes, pizzas are pretty low-carb with cauliflower crust or almond flour.
The Keto diet is a lovely diet where you can actually have pizza every day if you want.
What is a keto pizza crust made of?
Is almond flour or coconut flour a bad choice? Well no. You can make quite a good crust with it.
In fact, I prefer to go with crustless keto pizzas.
The main ingredients for keto pizza crusts are mozzarella cheese, cream cheese, coconut flour, and eggs.
Check out the keto almond flour pizza base that you would like to make.
This is the keto ketchup that you would want to use for the pizzas.
If you like pizza then you will love these 12 Keto Pasta Recipes too.
7 EASY KETO RECIPES
1. DECONSTRUCTED PIZZA CASSEROLE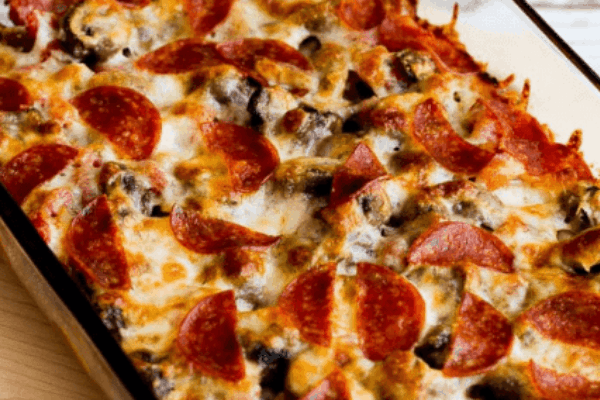 Image and recipe by kalynskitchen.com
Total time 50 minutes
A pizza casserole? Yes. that can even be your keto dinner and this recipe serves 6 people.
So if you are alone I would definitely suggest dividing the portion size at least by 3.
The main ingredients: Turkey Italian sausage, diced tomato, oregano, olive oil, mushroom slices, mozzarella cheese, pepperoni, and pepper.
Check the directions from https://kalynskitchen.com/low-carb-deconstructed-pizza-casserole/
2. KETO PEPPERONI PIZZA
Image and recipe by blog.kettleandfire.com
Total time: 30 minutes
Keto Pepperoni Pizza is a delicious dish that can be made quickly and easily.
It's also keto-friendly which means it has a low carb count.
You'll need to gather ingredients like pepperoni, tomato sauce, Cream cheese, mozzarella cheese, coconut flour, and eggs.
This is a gluten-free recipe.
Even the pizza crust is obeying the keto lifestyle.
Ingredients for toppings: Sugar-free marinara sauce, mozzarella cheese, and pepperoni.
Here goes the recipe from https://blog.kettleandfire.com/keto-pizza/
3. KETO FATHEAD PIZZA- BBQ PULLED PORK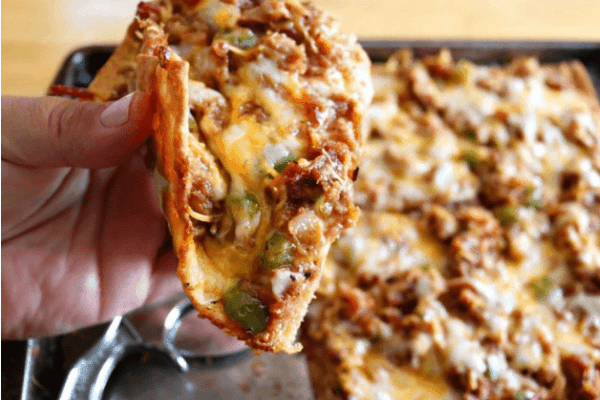 Images and recipe by howtothisandthat.com
Total time: 25 minutes
I haven't met anyone that doesn't like pizza.
I mean, what's not to love about the gooey cheese and dough?
This is a great low-carb delicious meal option for us who are on the ketogenic diet.
This cheesy and bubbly keto pizza is so awesome that you will want it often.
Main ingredients: Fathead dough, BBQ sauce, pork, onion, green pepper, bacon, butter, mozzarella, cheddar, salt, and pepper.
Here go the instructions from https://howtothisandthat.com/keto-fathead-pizza-bbq-pork/
4. THE 5-MINUTE KETO PIZZA RECIPE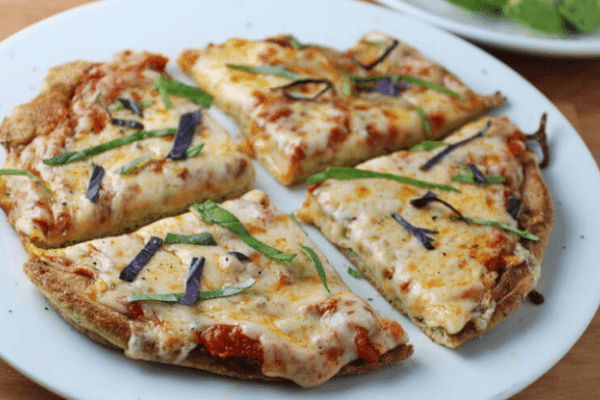 Image and recipe by ruled.me
Total time: 5 minutes
Maintaining a ketogenic diet can be difficult, especially when it comes to finding quick and easy recipes.
This 5-minute keto pizza recipe will leave your stomach satisfied while keeping your cravings at bay.
It is the fastest food you can prepare for yourself as a keto lunch or dinner.
Just make sure that the ingredients are present with you.
Main ingredients for the crust: Eggs, Parmesan cheese, Italian seasoning, oil, and salt.
Ingredients for the toppings: Mozzarella cheese, tomato sauce, freshly chopped basil.
Check out the details from https://www.ruled.me/5-minute-keto-pizza/
5. CAULIFLOWER PIZZA CASSEROLE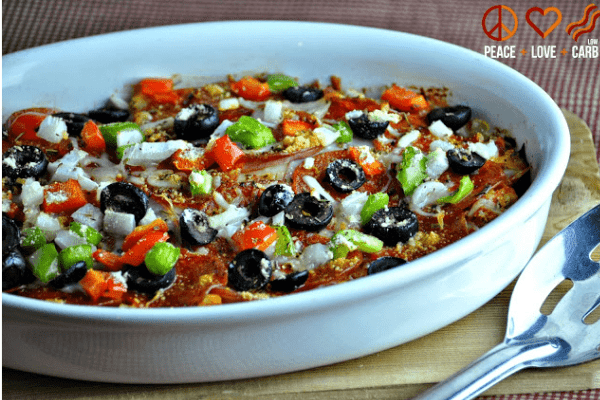 Images and recipes by peaceloveandlowcarb.com
Total time: 60 minutes
You do not have to give up all your love for food for the ketogenic diet. Just you will become creative day by day 🙂
The perfect meal for the picky eaters in your life.
The cauliflower pizza casserole is not only a delicious low-carb alternative to traditional bread crust, but it's also healthy and nutritious!
If you are looking for a way to sneak some vegetables into your family's diet, this is the recipe for you.
This is a low-carb keto pizza casserole for a healthy dinner fit for your keto diet.
Main ingredients: Cauliflower, parmesan cheese, Italian seasoning, garlic, olive oil, black pepper, pizza sauce, mozzarella, bacon, pepperoni, bell pepper, olives, and onion.
Check the instructions from https://peaceloveandlowcarb.com/supreme-pizza-cauliflower-casserole-low-carb-gluten-free/
More Keto Casserole recipes:
6. LOW CARB PEPPERONI PIZZA CUPS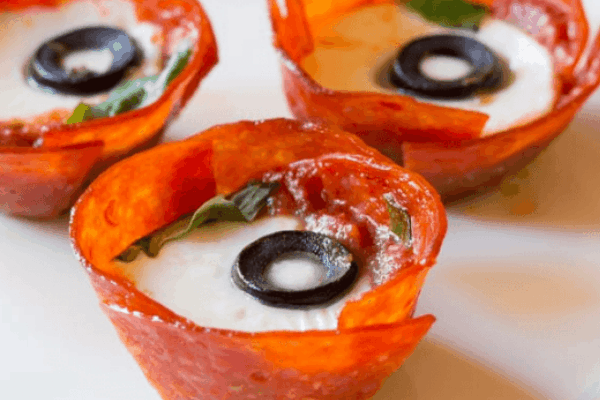 Image and recipe by aspicyperspective.com
Total time 18 minutes
This a delicious low-carb pepperoni pizza cup recipe that you can enjoy anywhere, anytime.
You won't be able to tell the difference between these and a regular high-carb pepperoni pizza.
Put your favorite toppings on top for an even more customized dish!
Have these beautiful pepperoni pizza cups ready to serve in just a short time.
Not only it's delicious but it looks so fancy.
Main ingredients used: 2-inch pepperoni slices, pizza sauce, mozzarella balls, basil leaves, and sliced black olives.
Check out the directions from https://www.aspicyperspective.com/low-carb-pepperoni-pizza-cups/
7. KETO PIZZA IN A BOWL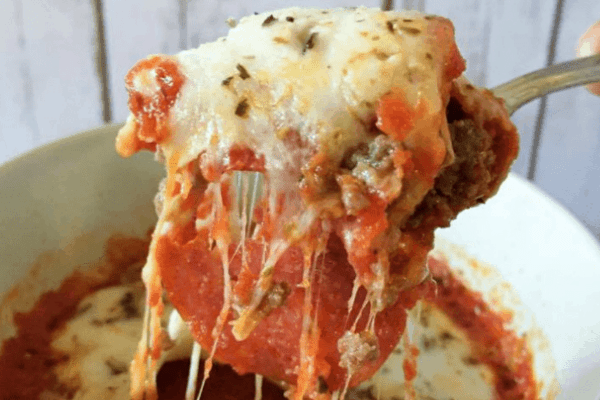 Images and recipe by mymontanakitchen.com
Total Time: 5 minutes (If the burger is already cooked).
If you really crave pizza then this can be a lifesaver.
This dish has all the flavor and texture of pizza without any carbs or gluten!
This is perfect when you are home alone and need a quick-fix pizza recipe.
Main ingredients used: Hamburger, shredded mozzarella cheese, sugar-free pizza sauce, pepperoni, salt, and oregano.
Check out the instructions from https://mymontanakitchen.com/pizza-bowl-low-carb-thm-s/
My Take on Keto Pizza
A ketogenic diet is a low-carb, high-fat diet that shares many similarities with the Paleo and Atkins diets.
The main goal of the keto diet is to force your body into a state of ketosis by depriving it of carbohydrates.
Ketosis forces your body to burn fat for energy which leads to weight loss as well as other health benefits.
Nothing can be creamier than these keto pizza recipes for a keto diet.
The dairy-free and low-carb keto pizza crust or no crust recipes to be in ketosis.
You can also add a layer of keto alfredo sauce to make it even creamier.
The low-carb diet was never been so delicious.
Here are 11 Keto alcohol drinks if you wanna do a keto party.
Related Keto Pizza Recipes
Keto Pizza Recipes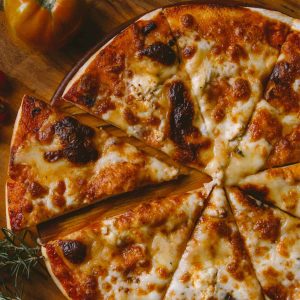 7 Easiest Keto Pizza Recipes to Enjoy Cheesiness
Looking for a keto-friendly pizza recipe?
These are simple to follow and tastes amazing. You won't even miss the traditional pizza crust!
The best keto pizza recipes to make. Totally kid-approved keto recipes.
Instructions
Choose the pizza recipe you want to make.

Make the delicious low-carb pizza in the shortest time possible.
Notes