A keto quiche is a delicious and easy-to-make low-carbohydrate meal.
It is perfect for breakfast, lunch, or dinner.
This recipe is made with a keto-friendly cheese crust and filled with eggs, bacon, and vegetables. 
Keto quiche is a healthy and fun breakfast that kids enjoy as well as adults.
KETO QUICHE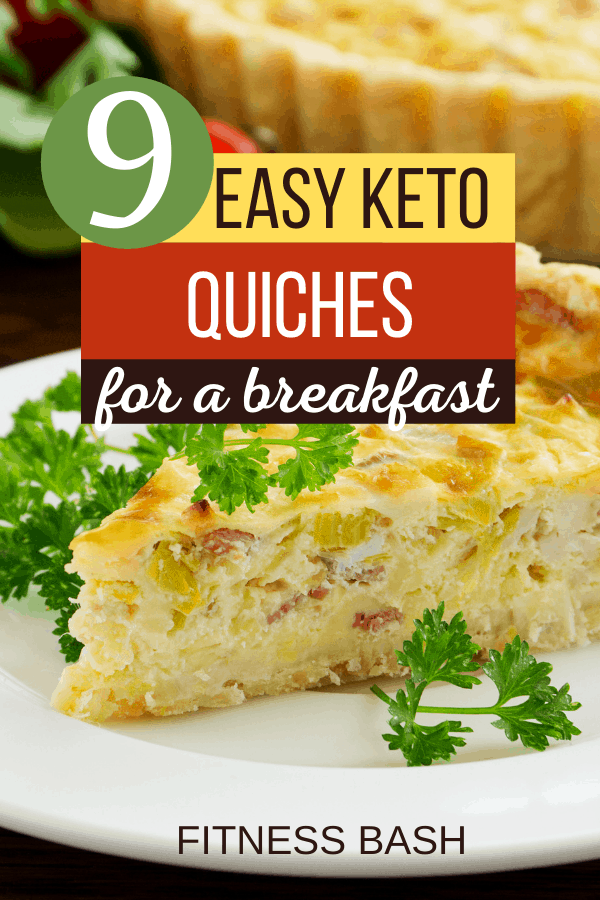 I've always loved quiche but never really gave it much thought until I started the keto diet.
The key to the keto quiche recipe is the cheese crust which gives it a delicious texture and flavor without being fried or using eggs.
It's also gluten-free!
Now, not only do I have a delicious breakfast that tastes like a treat, but it also meets my macros for the day!
These recipes use ingredients you may already have in your refrigerator or pantry. 
Is quiche high in carbs?
Traditional quiche is definitely high in carbs.
But for the keto diet, we make it differently with a variety of ingredients making it lower in carbs.
A typical keto quiche carb ranges between 3-8 gm. 
But the happy news is that we can make keto quiche even lower than 2 gm of net carbs.
Is quiche good for weight loss?
Quiches are not suited for general diets as it contains high fat and calories.
But for a keto diet, we can surely make it dairy-free and make it keto-friendly.
What can I substitute for milk in a quiche?
Soy milk, almond milk, or any other dairy-free milk of your choice.
The crustless quiche with bacon, avocado, and spinach keeps you full till lunch.
These creamy keto quiches are even good for taking to office lunch boxes.
Talking of the office here you can see 15 keto lunch boxes that you can carry to the office and 10 office keto lunches that are the best,
1. KETO QUICHE LORRAINE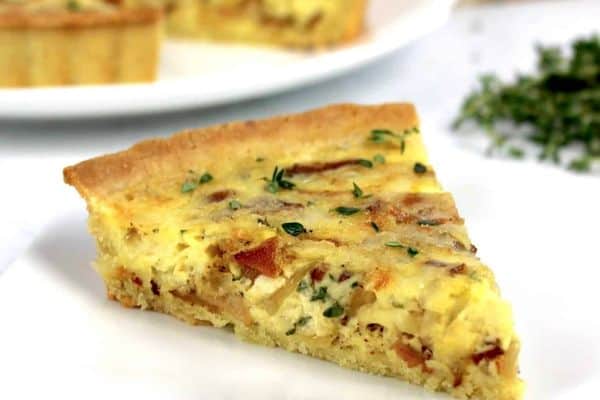 Image and recipe by ketocookingchristian.com
The Keto Quiche Lorraine is a delicious breakfast dish that combines eggs, bacon, cream cheese, and cheddar.
This low-carb version of the quiche has become a favorite among keto dieters for its rich flavor and easy-to-make ingredients.
The recipe can be made ahead of time in batches for busy mornings or as an appetizer for entertaining guests.
You will need time to make this ultra-delicious keto quiche.
You can make it like a muffin for a keto breakfast on the go.
Get the keto quiche recipe from https://ketocookingchristian.com/keto-quiche-lorraine/
2. CRUSTLESS SPINACH QUICHE WITH BACON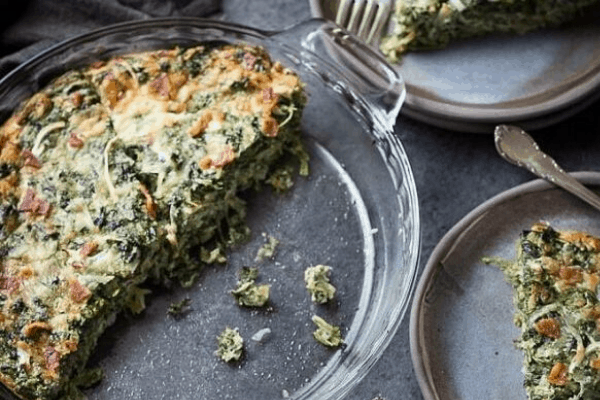 Image and recipe by lowcarbmaven.com
This crustless spinach quiche with bacon is a delicious, easy-to-make dish that will have your mouth watering in anticipation of eating it.
The creaminess of the eggs and cheese mixed with spinach, onion, garlic, and bacon create an incredible flavor profile.
Make this for yourself today or as a special weekend brunch treat!
This is a delicious crustless spinach quiche that even can be frozen and thawed easily.
So make it, eat it, and store it for the next day.
Net carbs: 4g, Fat: 26g, Protein: 20g
The wonderful spinach quiche from  https://www.lowcarbmaven.com/spinach-bacon-onion-crustless-quiche/
3. KETO CRUSTLESS QUICHE WITH BROCCOLI AND CHEDDAR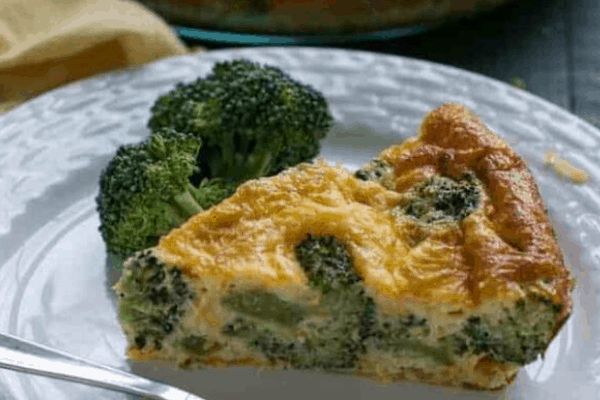 Image and recipe by lowcarbyum.com
Keto crustless quiche with broccoli and cheddar is a low-carb breakfast recipe that will give you the energy to start your day off right.
This dish has an egg base, as well as eggs, heavy whipping cream, fresh broccoli, sharp cheddar cheese, and salt.
The best part about this low-carb breakfast recipe is that it takes less than ten minutes to prepare and the rest is passive cooking.
This can be a make-ahead keto breakfast recipe too. As it will taste delicious even when it is reheated.
You can add capsicum, onion, or ham as per your wish and macros count.
Net carbs: 3g, Fat: 20g, Protein: 13g
The delicious crustless quiche recipe from https://lowcarbyum.com/crustless-broccoli-cheddar-quiche/
4. KETO CAPRESE QUICHE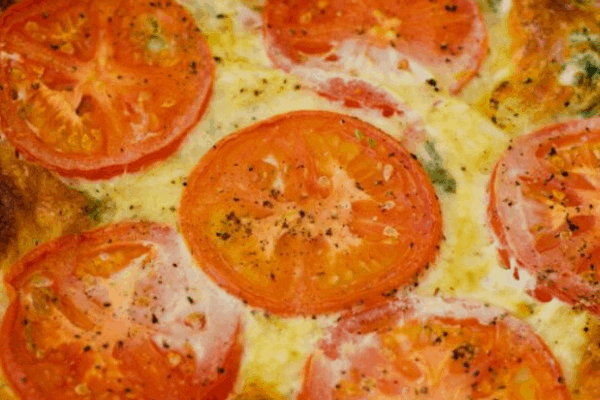 Image and recipe by freshaprilflours.com
This is a colorful and healthy recipe full of flavors.
If you're looking for a new way to enjoy eggs and cheese, then try out this Keto Caprese Quiche!
One of the best things about this low-carb dish is that it's super easy to make.
The ingredients are simple and all you need is one bowl! You'll need eggs, basil, tomatoes, and mozzarella.
The result is a healthier quiche that will satisfy your cravings without sacrificing your goals!
This can be a perfect keto brunch idea.
Net carbs: 3.4g, Fat: 5.3g, Protein: 8.9g
The rocking keto Caprese quiche recipe from https://freshaprilflours.com/crustless-caprese-quiche/
5. KETO CRUSTLESS QUICHE WITH AVOCADO AND BACON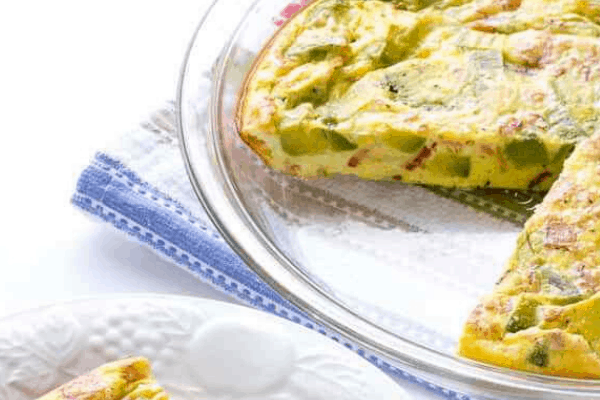 Image and recipe by thewholesomedish.com
This is a keto breakfast that will keep you full till lunch.
The best thing about this quiche is that you don't have to make a crust. Plus, it's keto!
I love the flavor of bacon and avocado together – they are perfect for breakfast or brunch.
This recipe has everything you need for a healthy meal in one dish. It's easy to prepare and cooks quickly. 
A healthy crustless quiche that will take only 10 minutes to prepare and 30 minutes of passive cooking.
Give it a try!
Net carbs: 1.8g, Fat: 4.3g, Protein: 11.4g
The crustless quiche recipe from  https://www.thewholesomedish.com/avocado-bacon-crustless-quiche/
6. BACON MUSHROOM KETO CRUSTLESS QUICHE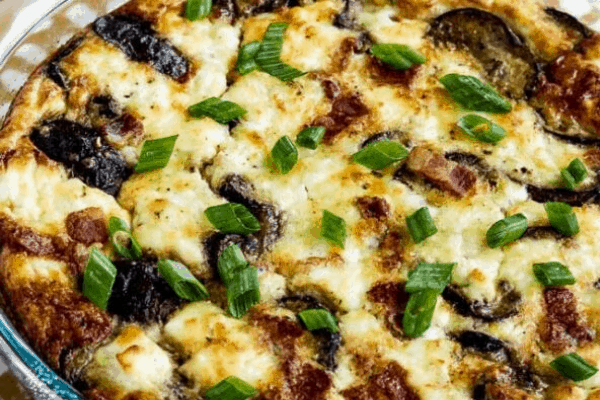 Image and recipe by kalynskitchen.com
This bacon mushroom keto crustless quiche is perfect for a light breakfast, or lunch.
It's gluten-free and low-carb with the added benefit of being high in protein and antioxidants.
Best of all, it has less than 2 net carbs per slice!
If keto is your way of life then you should definitely try this out.
Net carbs: 1.7g, Fat: 17.6g, Protein: 17.3g
The wonderful keto quiche recipe from https://kalynskitchen.com/bacon-mushroom-and-feta-keto-crustless-quiche/
7. ASPARAGUS AND GRUYERE KETO QUICHE
Image and recipe by ruled.me
This is a lovely keto quiche that can rock your keto party.
The recipe calls for asparagus and gruyere which are both low carb, high in protein, high in fiber, and have many other health benefits.
This dish can be made ahead of time making it ideal for a quick breakfast or brunch meal.
Lastly, this dish has been proven beneficial for those who are on the keto diet because it contains less than 5g of carbs per serving!
It looks just so beautiful.
Net Carbs: 4.82g, Fat: 46.39g, Protein: 21.17g
The keto quiche recipe from https://www.ruled.me/asparagus-and-gruyere-keto-quiche/
KETO QUESADILLA RECIPES
Next comes the Keto Quesadilla recipes which are filled with yum and health.
Keto tortillas are best when they are having a filling in them.
8. KETO CHICKEN QUESADILLA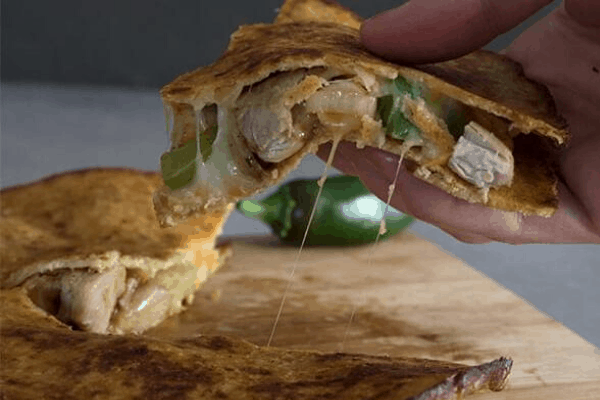 Image and recipe by alldayidreamaboutfood.com
This keto chicken quesadilla is a creative way to use up leftover grilled chicken.
It's quick and easy, too!
The flavors of the avocado-taco mayonnaise are so delicious that you'll forget all about the tortillas.
This will look fantastic and delicious with the chicken filling.
You will be glad about making it.
Net carbs: 2.6g, Fat: 17.6g, Protein: 28.6g
The cheesy keto chicken quesadilla recipe from https://alldayidreamaboutfood.com/keto-chicken-quesadillas/
9. CHICKEN AND CHEESE QUESADILLA
Image and recipe by seasonlycreations.com
This recipe for keto chicken and cheese quesadilla is a great low-carb option that will satisfy any craving.
It's super easy to make, too!
The tortillas are made with almond flour instead of wheat flour, so they can be enjoyed without guilt.
This dish is also perfect if you're on a paleo diet or gluten-free.
Serve up these keto chicken and cheese quesadillas with your favorite salsa or guacamole to complete the meal.
Tortilla with fillings. Just awesome for breakfast.
Net Carbs: 1.9g, Fat: 11.8g, Protein: 21.2g
The recipe from  https://www.seasonlycreations.com/low-carb-chicken-cheese-quesadillas-gluten-free-keto-friendly/
My Take on Keto Quiche Recipes
The keto quiche recipe is perfect for breakfast, lunch, or dinner!
The perfectly fluffy crust is delicious, and the new go-to meal.
Make it in the morning so that by dinnertime, all you have to do is heat up some leftovers or whip up a salad to round out the meal. 
These dairy-free keto quiches are a time saver and the best for a keto breakfast.
Here are 8 keto breakfasts on the go when you are in a hurry and 9 No-Bread No-Egg keto breakfast recipes.
If you think your child gonna love quiches for a breakfast then here are 12 fun keto kids recipes.
Related Keto Quiche Recipes:
Keto Quiche Recipes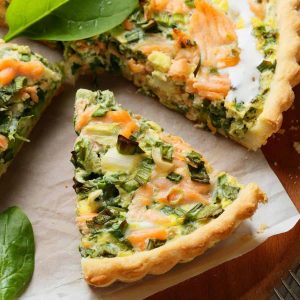 9 Best Keto Quiche Recipes for a Healthy Breakfast
The best breakfast quiche recipes you will ever make. The low-carb keto breakfast ideas.
These quiches are healthy, easy to make and perfect for any time of day.
So what are you waiting for? Start cooking!
Instructions
Choose your favorite breakfast quiche recipe.

Collect the ingredients and make the best of low-carb breakfasts.

Enjoy the healthy crunchiness of the quiche.
Notes