Keto cinnamon rolls are a must-try for anyone who loves this breakfast pastry.
These recipes are made with almond flour, and it is as easy to make as regular cinnamon rolls!
The only difference is that these keto cinnamon rolls are gluten-free and sugar-free, which means you can enjoy them without guilt. These would be perfect for your next brunch or gathering!
KETO CINNAMON ROLLS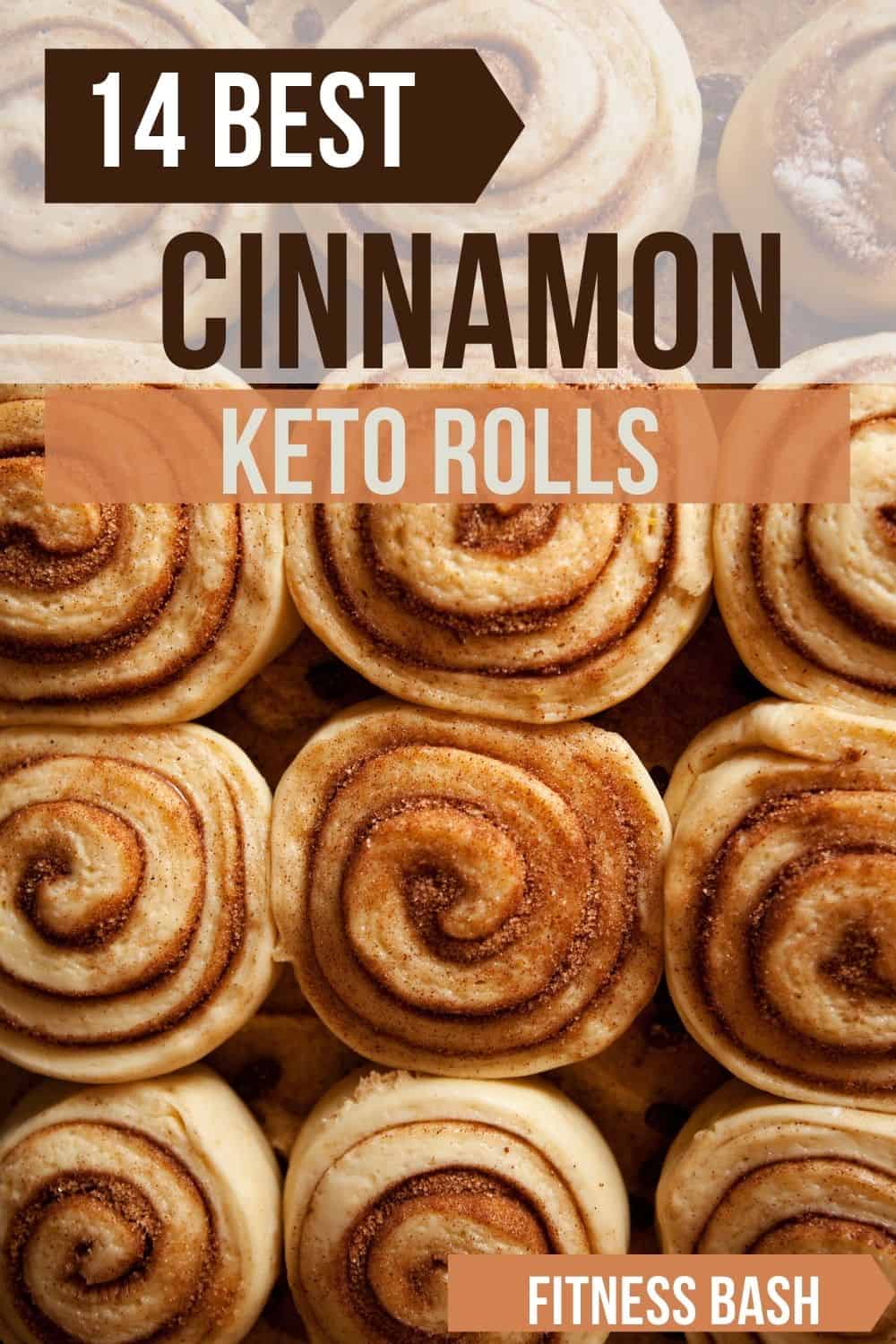 There are a lot of different recipes for keto cinnamon rolls out there.
I've tried a few and they all seem to be quite delicious.
Cinnamon rolls are made from flattened dough rolls made up of almond or coconut flour, cream cheese, mozzarella cheese, and cinnamon.
Is cinnamon Ok on Keto?
Cinnamon makes any recipes taste sweet. So it is great for a keto mix sweetener.
Cinnamon is a great keto-friendly spice.
It also helps lower the BP level.
Check out 9 Health Benefits of Cinnamon when consumed daily.
How many carbs are in a homemade cinnamon roll?
Generally, it varies between 1-6 g of carbs.
Depending on the ingredients and methods to make.
How much sugar is in a cinnamon roll with icing?
Traditional cinnamon rolls contain a lot of sugar content which is not fitted for a keto or a low-carb diet.
So here we make the low-carb and keto-friendly icing recipes with cream cheese frosting, or maple glaze creams that are well suited for a keto lifestyle.
Check out the 7 Creamy Cream Cheese Frosting Recipes to Use for the cinnamon rolls.
What are the different types of cinnamon rolls we can eat on a keto diet?
Soft and Fluffy Perfect Cinnamon rolls
Chewy Keto Cinnamon Rolls
Glazing Cinnamon Rolls
Low-Carb Cinnamon Rolls
Keto Caramel Pecan Cinnamon
No-cheese Cinnamon Keto-Friendly Roll Recipe
Mozzarella cheese cinnamon Rolls for a keto diet
Coconut Flour Cinnamon Rolls
Mug Cake Cinnamon Rolls
Keto Pumpkin Cinnamon Rolls
Cinnamon Rolls with Cream Cheese Frosting
Cinnamon Chaffles Keto Recipe
Yeast Cinnamon Rolls
Keto Cinnamon Fat Bomb
1. SOFT & FLUFFY KETO CINNAMON ROLLS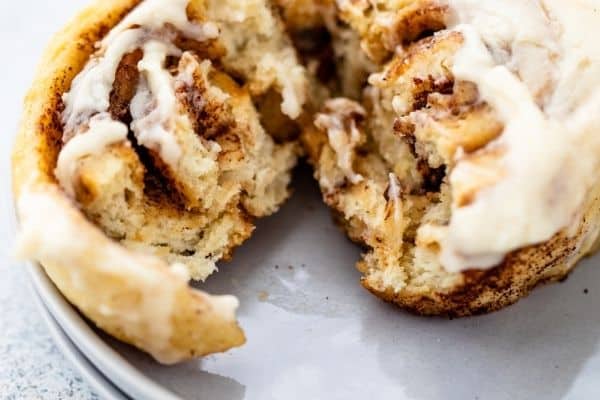 Image from gimmedelicious.com
Cinnamon rolls are one of the most delicious breakfast treats out there.
These keto cinnamon rolls only have 2 grams of carbs and are made with healthy ingredients like carb quick and brown swerve.
A keto-friendly recipe for everyone's favorite breakfast treat: soft & fluffy Keto Cinnamon Rolls!
A 30-minute keto fluffy and soft cinnamon roll that is sweet and with the best cream cheese icing ever.
These keto cinnamon rolls are simply gonna be amazing and it is pretty easy to whip the cream together.
Net carbs: 2g, Fat: 19g, Protein: 7g
Recipe from gimmedelicious.com
2. CHEWY KETO CINNAMON ROLLS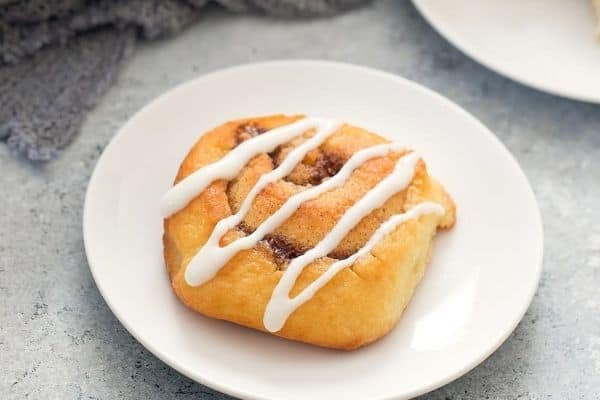 Image from kirbiecravings.com
Cinnamon rolls are the perfect comfort food for a winter morning. They are kind of pastries.
With skim-low moisture mozzarella cheese, erythritol, and cream cheese, this is a sweet and chewy cinnamon roll you are going to make.
Low-carb, gluten-free version that can satisfy your craving without sacrificing flavor or texture!
I love the cinnamon filling with cream cheese, vanilla, and butter.
Net carbs: 3g, Fat: 22g, Protein: 9g
Recipe from kirbiecravings.com
3. GLAZING CINNAMON ROLLS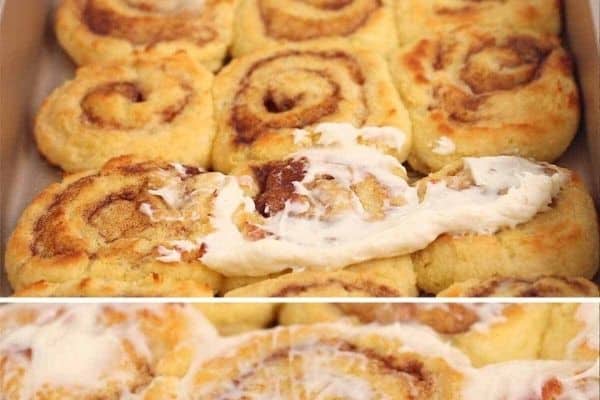 Image from lowcarbyum.com
The smell of fresh-baked rolls in the oven is enough to make anyone's mouth water.
These cinnamon rolls are perfect for breakfast, brunch, or an afternoon snack! They have a delicious filling that will satisfy any craving you might have for something sweet and decadent.
These are simple coconut flour fathead cinnamon rolls with melted cream cheese icing on the top.
These iced cinnamon rolls are hard to wait for but do cool them down before you eat them.
Net carbs: 3g, Fat: 17g, Protein: 7
Recipe from lowcarbyum.com
4. LOW-CARB CINNAMON ROLLS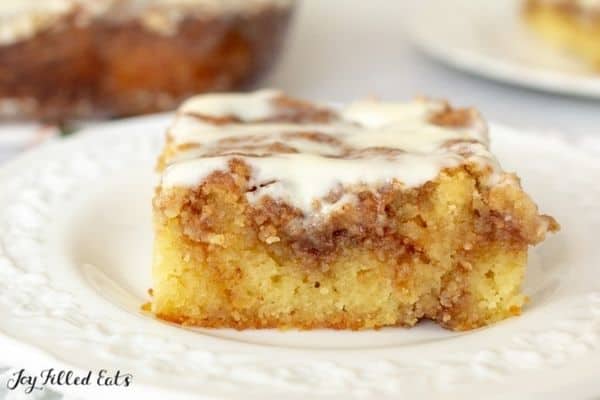 Image from joyfilledeats.com
Perfect for all low-carb lovers out there!
These rolls come with only 3 net carbs and aren't too difficult to make.
They're also pretty tasty with the sweet cinnamon filling that makes it a tender cake recipe.
The cream cheese glaze cake is completely gluten-free and with no sugar content.
Net carbs: 3, Fat: 25g, Protein: 3g
Recipe from joyfilledeats.com
5. KETO CARAMEL PECAN CINNAMON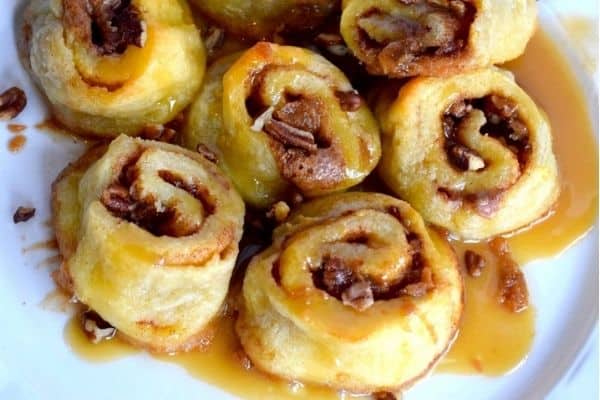 Image from mouthwateringmotivation.com
These are the perfect autumn treats with all of their warming flavors!
This recipe is that it's also sugar-free, so you can enjoy it without any guilt or worry.
This is the best keto breakfast you can have when you are craving a dessert.
Full of nutritious pecan, and the sweetness of caramel.
This is a low-carb almond flour and fathead keto cinnamon roll.
Net carbs: 1g, Fat: 21.9g, Protein: 7.5g
Recipe from mouthwateringmotivation.com
6. NO CHEESE KETO CINNAMON ROLL RECIPE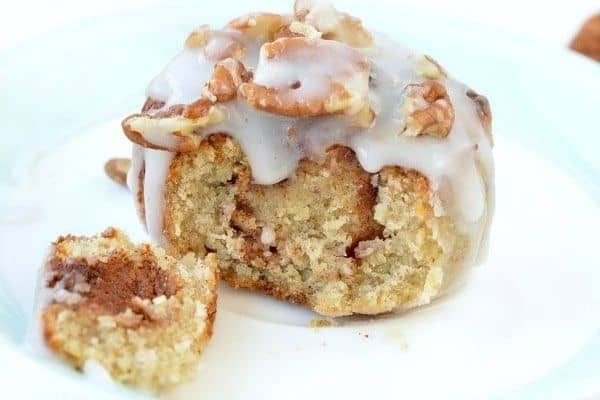 Image from sweetashoney.com
This sweet doughy concoction is perfect for when the craving strikes. You'll find yourself satisfied with just one or two of these decadent rolls.
There's no sugar in this recipe and it's gluten-free!
A dairy-free keto cinnamon recipe with glazing.
You can use sunflower seed flour or almond flour as you wish.
Net carbs: 3.2 (includes the glazing), Fat: 9.3g, Protein: 6g
Recipe from sweetashoney.com
7. KETO CINNAMON ROLLS WITH MOZZARELLA CHEESE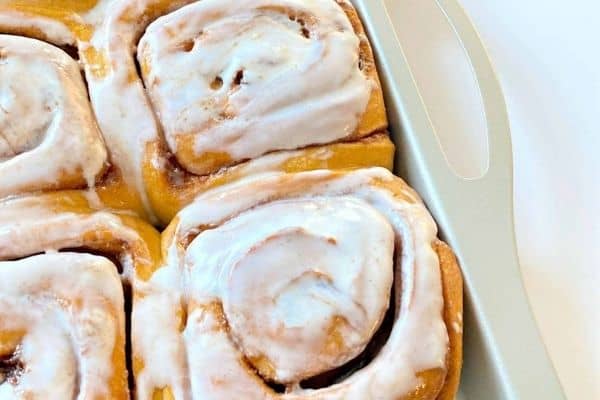 Image from stylishcravings.com
They are so moist, sweet, and delicious and can give the perfect amount of crunch if you add small pieces of walnuts.
The best part about them too is that they are made with mozzarella cheese so they are guilt-free to eat even when you are on a low-carb or ketogenic diet.
These are comforting cinnamon rolls and give a feeling of coziness in no time!
Icing is made with heavy cream, cream cheese, and erythritol.
Net Carbs: 2g per serving.
Recipe from stylishcravings.com
8. COCONUT FLOUR CINNAMON ROLLS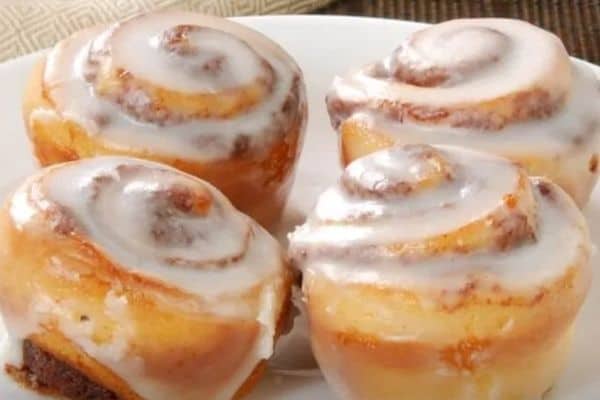 Image from recommended.tips
Even if you do not like coconut flour rolls, make them once and they will turn out to be fantastic.
These coconut cinnamon rolls are a sweet treat that is perfect for any time of the day.
They're great as breakfast, an afternoon snack, or even dessert!
The best for the times when you need something sweet and satisfying!
They are light, fluffy, and definitely fulfill your cinnamon cravings.
Net carbs: 3g, Fat: 17g, Protein: 7g
Recipe from recommended.tips
9. KETO CINNAMON ROLL MUGS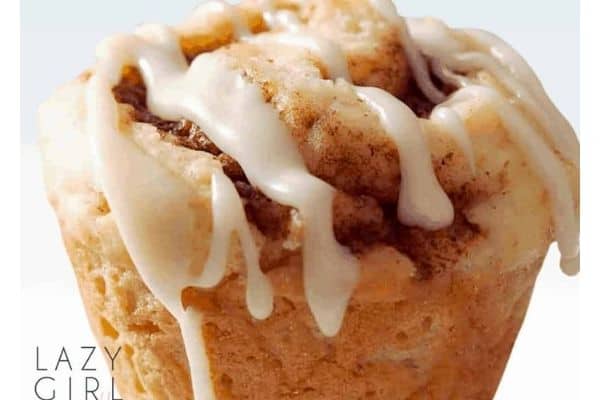 Image from lazy-girl.tips
A perfect 1-minute mug cake for a healthy and weight-losing keto breakfast.
It's so easy and fast, but the end result is absolutely delicious!
This recipe is perfect for those mornings when you're in a rush but still want something sweet.
This low-carb mug recipe will please you with taste and consistency.
This takes 1 minute to make so this is a game-changer for a quick keto breakfast.
Carbs: 6g, Fat: 4g, Protein: 25g
Recipe from lazy-girl.tips
10. KETO PUMPKIN CINNAMON ROLLS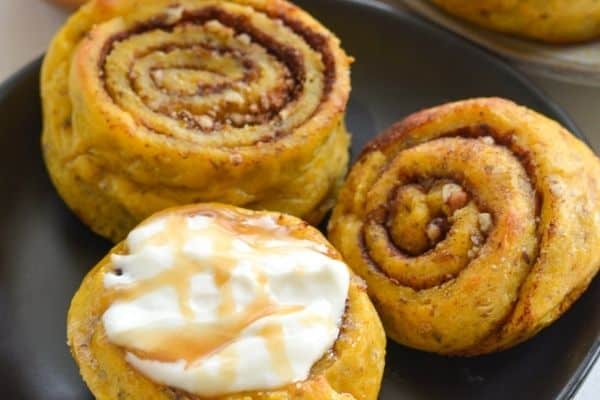 Image from thebestketorecipes.com
Breakfast is the most important meal of the day and what better way to start your day off than with these keto Pumpkin Cinnamon Rolls?
These are easy to make, low carb, and taste great without all the sugar that a traditional cinnamon roll would have.
These are warm pumpkin, cinnamon-spiced rolls that are topped with maple cheese frosting.
Keto cakes cannot get more delicious than this.
Net carbs: 2.5g, Fat: 8.2g, Protein: 9.6g
Recipe from thebestketorecipes.com
11. CINNAMON ROLLS WITH CREAM CHEESE FROSTING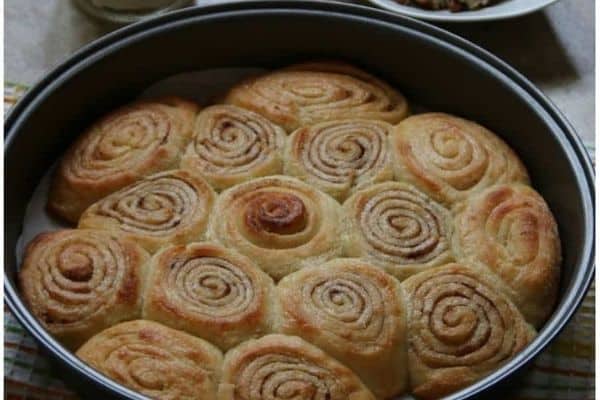 Image from isavea2z.com
I love the sweet, gooey cinnamon and sugar filling that oozes out when you take a bite.
The cream cheese frosting is just icing on the cake!
Sprinkle the cinnamon and sugar alternative generously.
You will love it sweet.
The dough will be a bit sticky, so it is better if you wet your hands first.
Net Carbs: 1.6g, Fat: 9.5g, Protein: 6g
Recipe from isavea2z.com
12. KETO CINNAMON ROLL CHAFFLES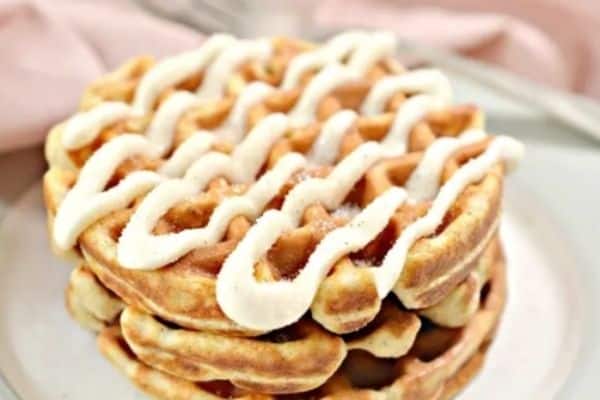 Image from buttertogetherkitchen.com
These keto cinnamon roll chaffles would make the perfect breakfast or snack!
The recipe is easy to follow with ingredients that are readily available at your local grocery store.
The recipe yields 3 chaffles. Take out your mini waffle maker and make these wonderful chaffles ready in 5 minutes of cooking time.
Warm cinnamon mixed with sweet keto-friendly frosting makes a great warm and healthy dessert.
The quickest chaffle you will ever make.
You can make the batter ahead of time and keep it in a freezer in an air-tight container.
Net carbs: 3.67g, Fat: 17.2g, Protein: 7.3g
Recipe from buttertogetherkitchen.com
13. LOW-CARB YEAST CINNAMON ROLLS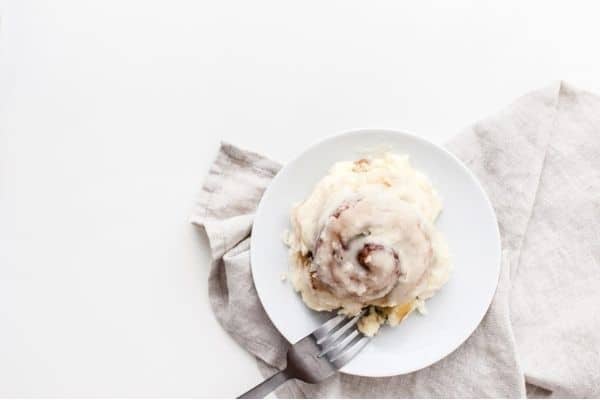 Image from fitmomjourney.com
You might be wondering what makes these cinnamon rolls low-carb. They don't contain any refined sugars. It is possible because they are made with a creamy, tangy yeast dough and butter for richness.
And of course, there's plenty of cinnamon sugar to make them taste like your favorite breakfast treat!
This is the best yeast cinnamon bread you will make.
This is not a gluten-free recipe but on the lower end of carbs that you can enjoy once in a while.
Net carbs: 6g, Fat: 7g, Protein: 12g
Recipe from fitmomjourney.com
14. KETO CINNAMON FAT BOMBS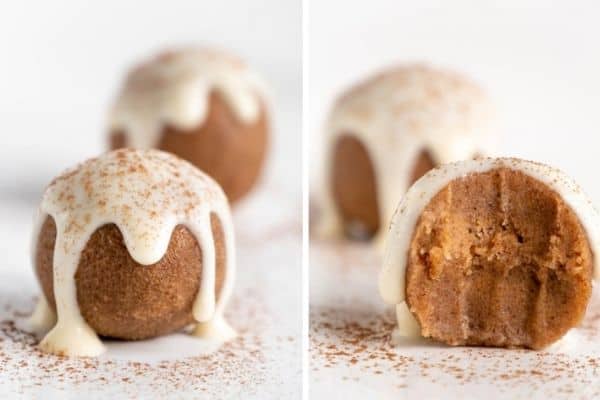 Image from hungryforinspiration.com
Cinnamon Fat Bombs are a fantastic ketogenic diet-friendly, sweet treat that is perfect for the holiday season.
These fat bombs have a delicious cinnamon flavor and they are made with butter to keep them low-carb and high in healthy fats.
The super keto-friendly cinnamon fat bombs with Monk sweetener.
You can store these fat bombs for up to 3 days in an air-tight container.
Net carbs: 0.5g, Fat: 11.4g, Proteins: 2.5g
Recipe from hungryforinspiration.com
My Take on Keto Cinnamon Rolls
Ketogenic cinnamon rolls are a delicious way to enjoy this classic breakfast treat without guilt. You'll be enjoying these keto cinnamon rolls for breakfast, lunch, or an afternoon snack with no regrets!
Cinnamon is such an ingredient that automatically makes my dishes sweet.
While on a keto diet, I always look for dishes that can crave off my sweet cravings.
These keto cinnamon rolls are so good and easy to make.
Be it a keto breakfast or dessert.
I love the cinnamon fat bomb the most and the maple cream frosting that drools me.
Related Keto Cinnamon Rolls
Keto Cinnamon Rolls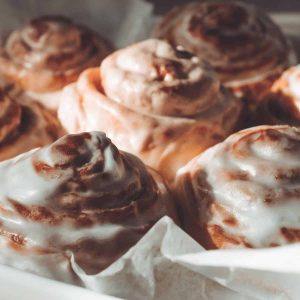 14 Best Keto Cinnamon Rolls Recipe Ever!
The best dessert recipes come in a sweet and crunchy combo. Treat your sweet tooth with the awesomeness of the keto cinnamon rolls.
These keto cinnamon rolls are low carb and gluten free. They're a delicious way to enjoy your favorite breakfast pastry without any of the guilt.
Try these recipes today!
Instructions
Choose the cinnamon roll recipe you want to make.

Collect the ingredients and follow the instructions.

Make a healthy, sweet, and crunchy cinnamon roll recipe.
Notes