-If you are always on the go, then be prepared for these keto breakfasts on the go. The favorite Keto breakfast that can be made in a hurry and eaten on the run!
If you don't have time to make breakfast before work or school, there are lots of options that are really easy and quick to pack up and take with you.
The keto breakfast ideas are on the go for the low-carb diet to lose weight.
KETO BREAKFAST ON THE GO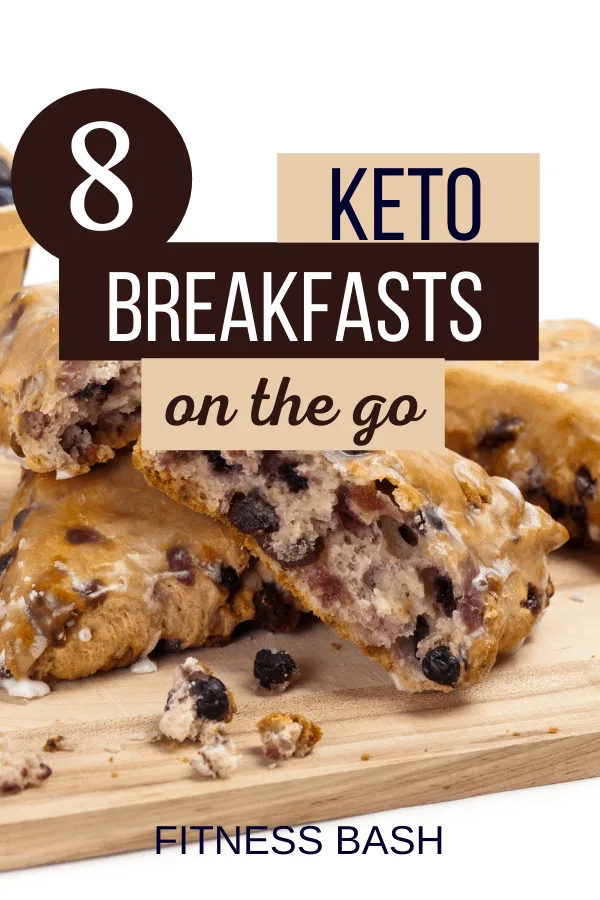 Boarded on Keto wagon?
Well, it's a lovely journey where you will always be filled with energy.
Beginners to the keto diet?
Then must go through this keto guide to know its side effects and symptoms.
Okay, now breakfast is the most important meal of the day. Yes, we have heard it many times. But, needless to say, we are so much in hurry in the mornings these days.
So catch up with some keto breakfasts on the go recipes which should not take more than 15 minutes to make.
Yes, just 15 minutes of prep time for our busy mornings.
What can I eat for breakfast on the go on a ketogenic diet?
Blueberry scones
Almond butter waffles
Fluffy coconut flour pancakes
Avocado, chevre, and bacon omelet
Keto cinnamon rolls
Keto pancake with whipped cream
Breakfast cookies
Cinnamon keto granola
1. BLUEBERRY SCONES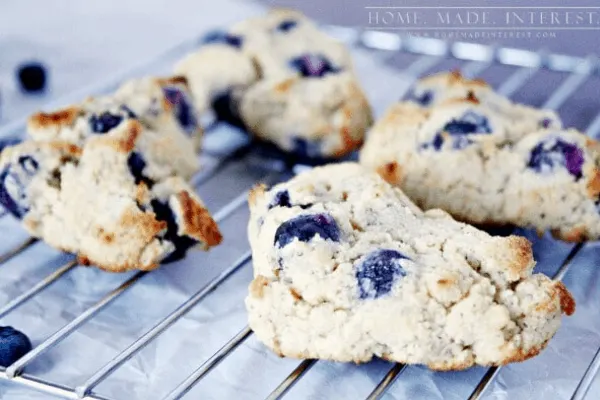 Image and recipe from HomeMadeInterest.com
These keto scones are simple to make and taste delicious!
These to-go keto breakfasts are also incredibly easy to freeze for those days when you don't have time to cook breakfast or need a quick snack.
Cook Time: 10 Minutes
The sweetness of trivia, fresh blueberries, coconut, and almond flour with heavy creme. The perfect low-carb breakfast recipe to enjoy with tea.
Check the low-carb recipe from https://www.homemadeinterest.com/bigelow-tea-low-carb-blueberry-scones/
Net Carbs: 5 gms
2. ALMOND BUTTER WAFFLES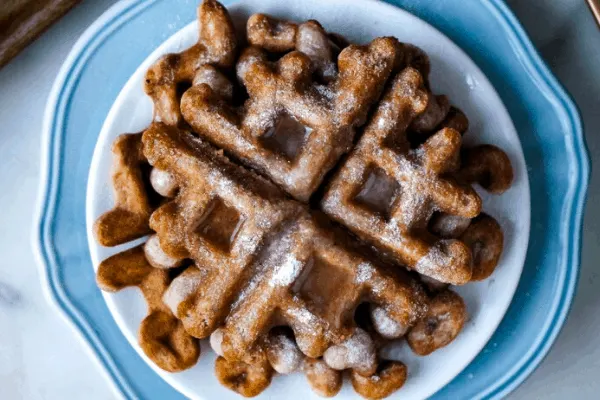 Image and recipe by InspectorGorgeous.com
These quick keto breakfast waffles will be perfect for my keto diet as well as low-carb diets because they do not have any sugar or flour in them.
Cook time: 5 Minutesquick keto breakfasts 
With almond butter and beaten egg, you just cannot resist this crispy waffle.
The astonishing fact is, that it contains only 1 net carb.
Check out this simple recipe from  https://www.inspectorgorgeous.com/keto-almond-butter-waffles/
3. FLUFFY COCONUT FLOUR PANCAKE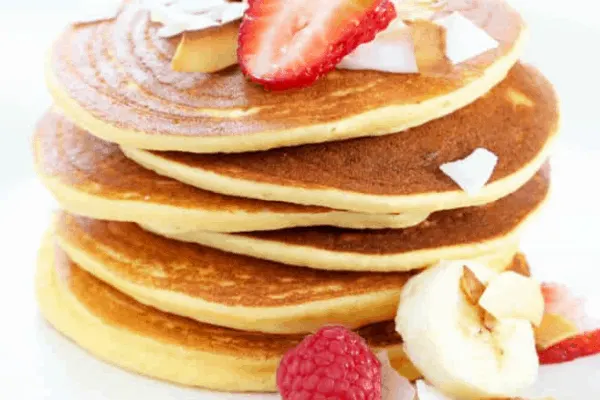 Image and Recipe by GlutenFreeOnaShoeString.com
The gluten-free cooking fluffy pancakes.
The best part is that they're so easy to make – you just need some eggs, almond milk, arrowroot powder (or tapioca starch), honey (optional), and coconut flour.
Cook time: 15 Minutes
This is one of the best keto breakfast recipes as it keeps you full for a long.
These pancakes made from coconut and tapioca flour are light and fluffy.
Check this delicious recipe from https://glutenfreeonashoestring.com/coconut-flour-pancakes/
4. AVOCADO, CHEVRE, AND BACON OMLETE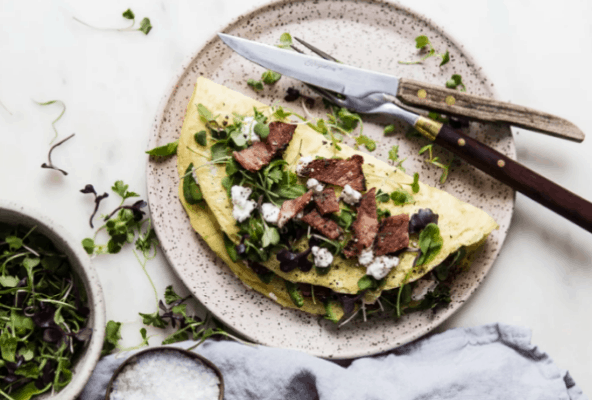 Image and recipe by themodernproper.com
You'll only need three ingredients and eight minutes to prepare it!
Total Time: 8 minutes
Yet another filling keto breakfast.
With avocado, crumbled chives, eggs, and bacon, this is gonna be a super nutritious breakfast.
Check the simple recipe from https://themodernproper.com/avocado-chevre-and-bacon-omelette
5. KETO CINNAMON ROLLS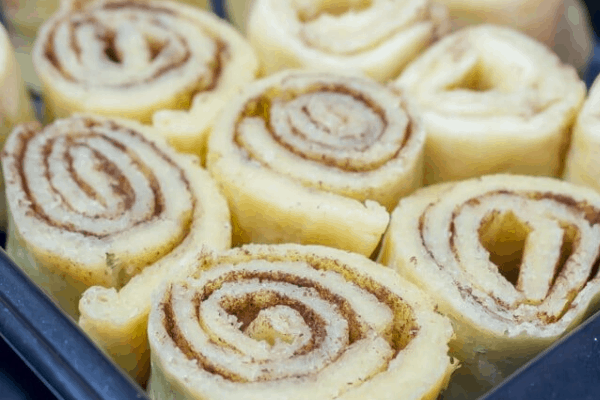 Image and recipe by fatforweightloss.com.au
The smell of those freshly baked cinnamon rolls is something that you'll never forget!
The Keto Cinnamon Rolls recipe has an amazing cinnamon sugar taste and is so easy to make!
Prep time: 15 Minutes, Cook Time: 10 Mins
Just look at the delicious cinnamon rolls, your co-workers gonna envy them.
Ingredients Used: Cream cheese, mozzarella cheese, almond flour, Natvia, heavy cream.
Check out the recipe at https://www.fatforweightloss.com.au/keto-cinnamon-rolls/
6. KETO PANCAKE WITH WHIPPED CREAM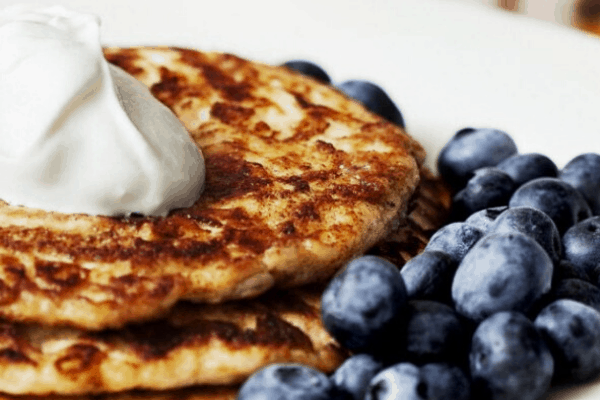 Image and Recipe from DietDoctor.com
Keto Pancakes are the perfect breakfast for anyone who is following a ketogenic diet and wants to replace their traditional morning carb-heavy meal with something high in protein, fat, and low carbohydrates. 
Time Taken: 15 minutes
On-the-go keto breakfasts with 4 basic ingredients, you can get this full-filling quick keto breakfast ready in just 15 minutes.
This pancake can also be taken to work as they taste great even when cold.
Check this amazing https://www.dietdoctor.com/recipes/keto-pancakes-berries-whipped-cream
7. KETO BREAKFAST ON THE GO COOKIES
Image and recipe by mylifecookbook.com
If you're in a hurry and need to grab something quick for breakfast, these keto-friendly cookies can be made in minutes.
They are also perfect to grab as a snack or dessert!
So ditch those carbs and get ready to Bake Some Keto Cookies!
It is not a very fast keto breakfast but you can make them in a total time of 20 minutes.
Main ingredients: Pork sausage, onion, cheddar cheese, almond flour, and eggs.
Check out the recipe from https://mylifecookbook.com/savory-breakfast-cookies-low-carb/
8. CINNAMON KETO GRANOLA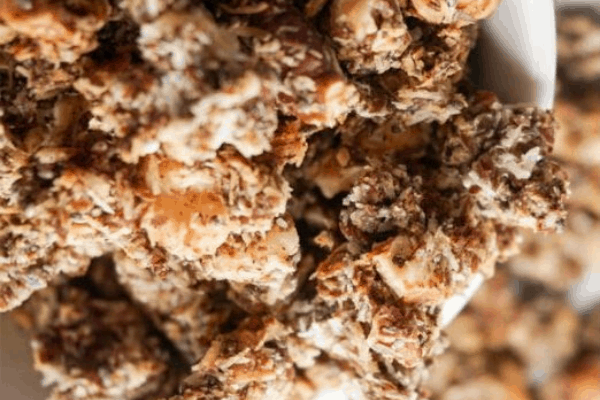 Image and recipe by ketoconnect.net
One of my favorite keto recipes is this CINNAMON KETO GRANOLA.
This is an easy keto breakfast on the go that is perfect for breakfast, as an afternoon snack, or even as dessert. Easy to carry.
You can also use a variety of nuts, seeds, or dried fruits for toppings!
Time: 20 Minutes
This will turn out to be good looking granola 🙂 Much better than the image above.
Ingredients: Flax seeds, coconut flakes, chia seeds, maple syrup, and cinnamon.
Check out the recipe from https://www.ketoconnect.net/cinnamon-keto-granola/
My Take on Keto Breakfast on the Go
Quick mornings and busy schedules can hamper our health.
These grab-and-go keto breakfast recipes are easy to make and super quick and handy to carry out.
Here are 10 Keto Yogurt Recipes for weight loss.
Mostly we all love egg keto recipes. If you love it too then check for the 10 egg fast recipes that can do wonders for a keto diet.
Related Keto Breakfast Recipes on the Go
Keto Breakfasts On The Go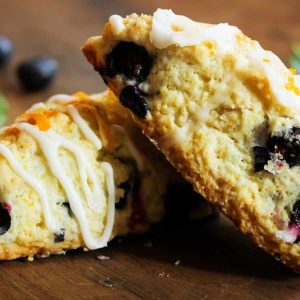 8 Easy Keto Breakfast on the Go: Stay Fit
If you're on the keto diet, finding breakfast ideas that you can take with you on the go can be a challenge.
These eight recipes are healthy and delicious, and they'll help keep you on track all morning long.
The best keto breakfast recipes on a go. You should not skip breakfast for a busy morning. Just grab it and go.
Instructions
Choose your favorite on-the-go breakfast recipe.

Collect the ingredients and make them quickly in the morning.

Grab them and eat them while on a go.
Notes