HEALTHY SWEET SNACKS
After a long day of work, we are all guilty of indulging in some type of sugar-filled snack. Sometimes it may be a piece of chocolate or a cookie.
These sweets can often leave us feeling depleted and sluggish for the rest of the evening.
This is why it is important to find healthy alternatives that will satisfy your sweet tooth without negative consequences!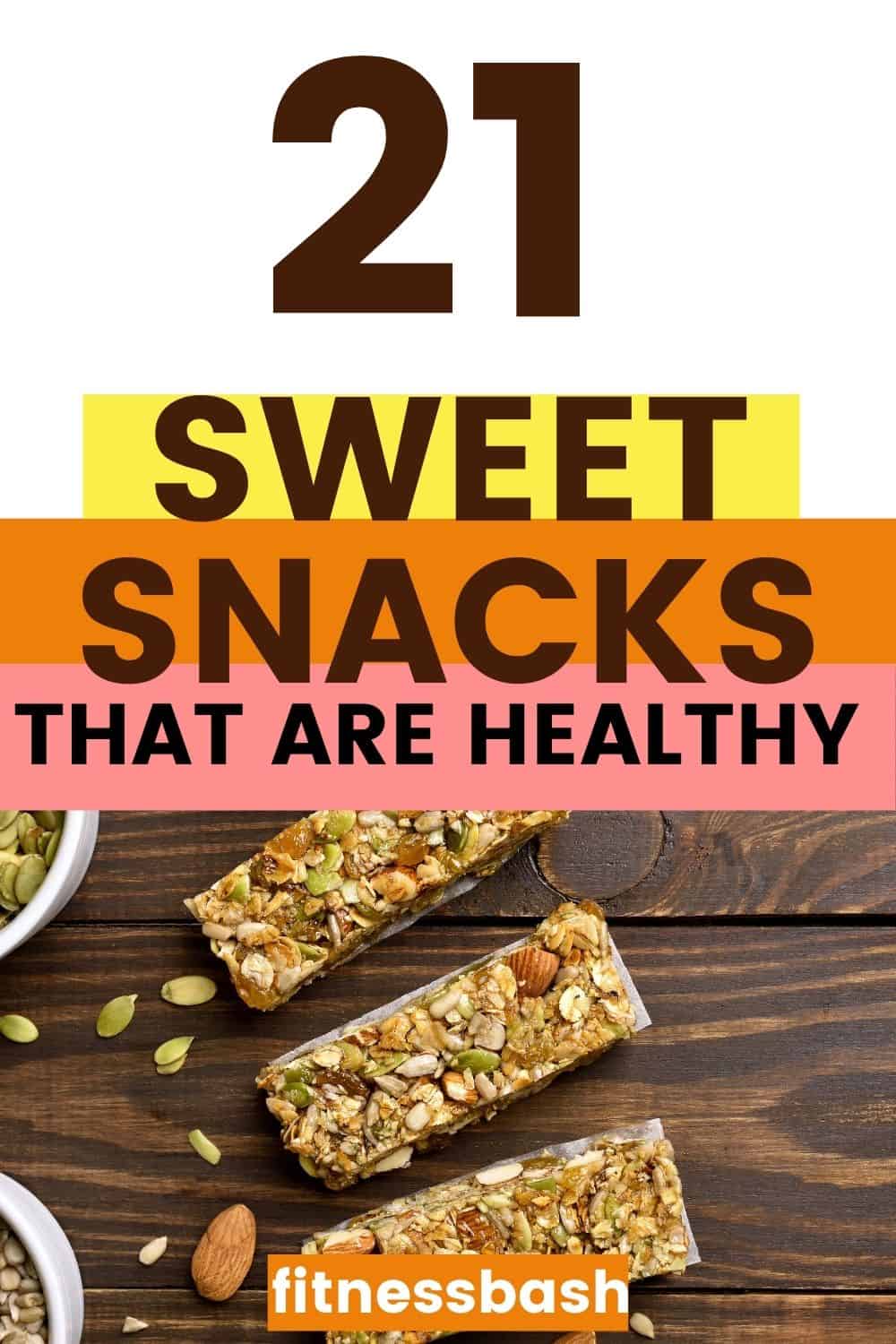 You may not realize it, but many common snacks you eat are actually really unhealthy for your body!
Here are ways to accomplish the low-calorie sweet snacks goal. Some quick and easy healthy sweet snacks treat that won't ruin your diet goals.
1. CHOCOLATE CHIA PUDDING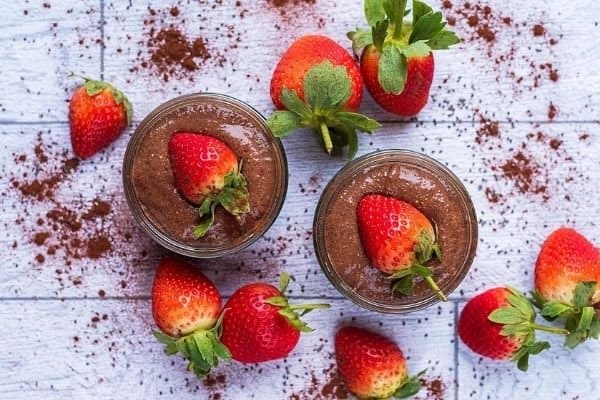 Image from hungryhealthyhappy.com
This pudding is made from chia seeds, cocoa powder, and almond milk and it's packed with antioxidants that will leave your skin glowing!
Mix all the ingredients together and soak them overnight.
For a smoother pudding put it in a blender in the morning until smooth.
Calories: 136kcal, Protein: 4g, Fiber: 8g
Recipe from hungryhealthyhappy.com
Check out :
2. NO-BAKE PROTEIN BARS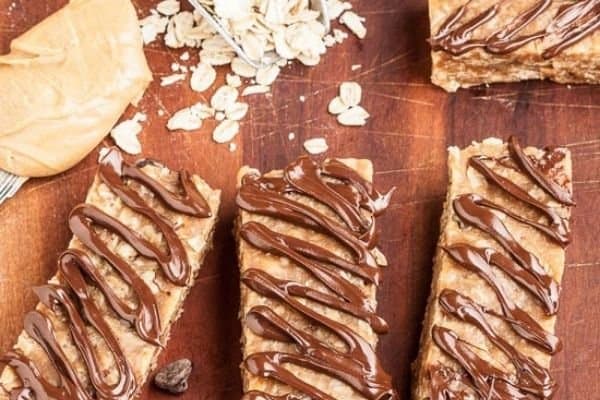 Image from chewoutloud.com
The small, quick, and easy bars to eat on the go.
Protein bars can be very helpful for those who are looking to increase their protein intake and are perfect for keto travel snack recipes.
Made with just 5 ingredients like peanut butter, oats, and maple syrup this is a fantastic no-bake recipe.
Calories: 279kcal, Proetin: 8.6g, Fiber: 2.5g 
Recipe from chewoutloud.com
3. OATMEAL BLUEBERRY COOKIES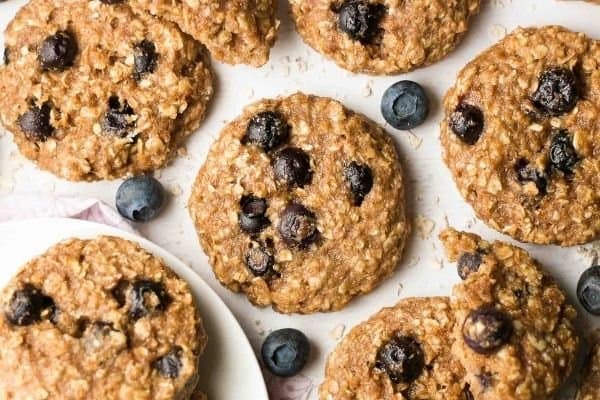 Image from amyshealthybaking.com
No butter, no flour, and only 77 calories!
Oatmeal Berry Cookies are a perfect breakfast, but they're also great as an afternoon snack or even for dessert!
They're soft and chewy with the fruit adding just enough sweetness.
The oats give them a hearty texture so you won't go hungry after eating one of these cookies!
Calories: 77kcal, Protein: 2.1g, Fiber: 1.4g
Recipe from amyshealthybaking.com
4. AVOCADO CHOCOLATE MOUSSE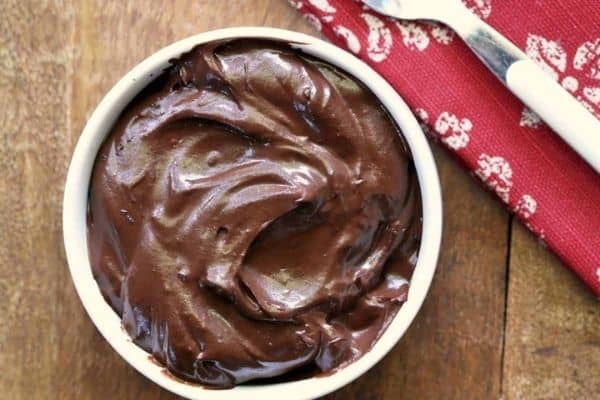 Image from healthyrecipesblogs.com
The chocolate avocado mousse is a healthy and delicious way to indulge in the rich flavors of chocolate without having to worry about any of the guilt that usually comes with it.
Incredibly smooth and yummy where you don't get the taste of avocado.
Calories: 149kcal, Protein: 4g, Fiber: 9g
Recipe from healthyrecipesblogs.com
5. GREEK YOGURT PARFAIT WITH FRUITS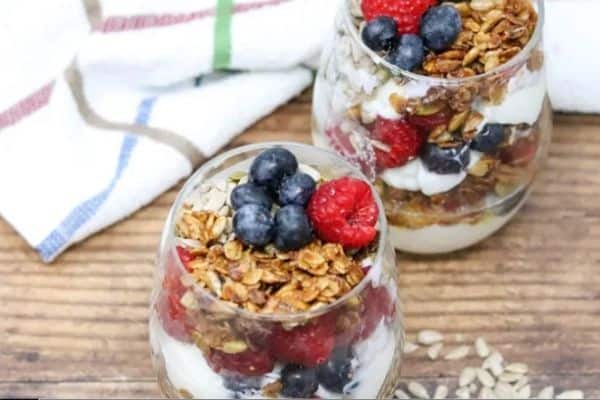 Image from simplylowcal.com
With yogurt, homemade granola, and fresh fruits this could be your go-to breakfast recipe too.
Parfaits are typically made with layers of ice cream or yogurt, fruit, whipped cream, and nuts.
Check for 10 Homemade Yogurt Recipes that go well with the keto diet too.
Calories: 269kcal, Protein: 17g, Fiber: 5g
Recipe from simplylowcal.com
6. BAKED CHURROS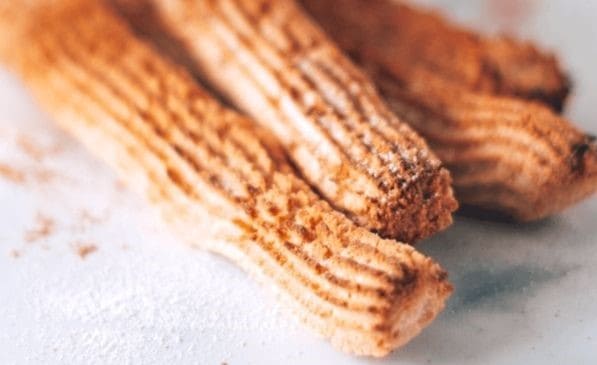 Image from how2doketo.com
Treat yourself to baked churros containing only 65 calories.
You can make these churros in just 30 minutes of time with coconut and almond flour, cinnamon, egg, and xantham gum.
Calries: 65kcal, Protein: 2g, Fat: 2g
Recipe from how2doketo.com
7. ALMOND DATE BALLS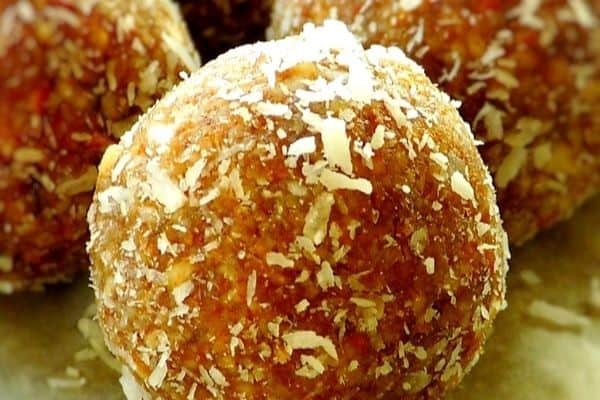 Image from pastryandbeyond.com
Decadent and a healthy sweet snack recipe.
Make the best almond date truffles at home.
The almond date balls with only 3 ingredients-almonds and dates, and shredded coconut.
Takes only 20 mins of your time and after lunch dessert is ready.
Calories: 69kcal, Protein: 5g, Fiber: 2g
Recipe from pastryandbeyond.com
8. BLUEBERRY MUFFIN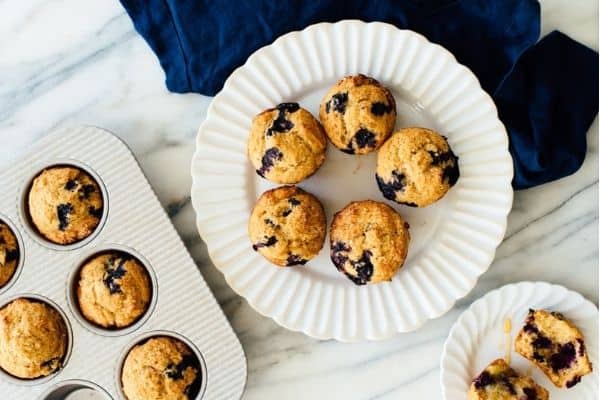 Image from cookieandkate.com
What's your favorite muffin flavor? Mine is blueberry.
Blueberries are high in antioxidants, vitamin C, and fiber.
They also have a low glycemic index so you can enjoy them without guilt!
Customize the ingredients and make it gluten-free, vegan, sugar-free, or dairy-free. 
Prefer to use wheat or almond flour instead of white flour.
Calories: 168kcal, Protein: 3g, Fiber: 1g
Recipe from cookieandkate.com
9. BANANA ICE CREAM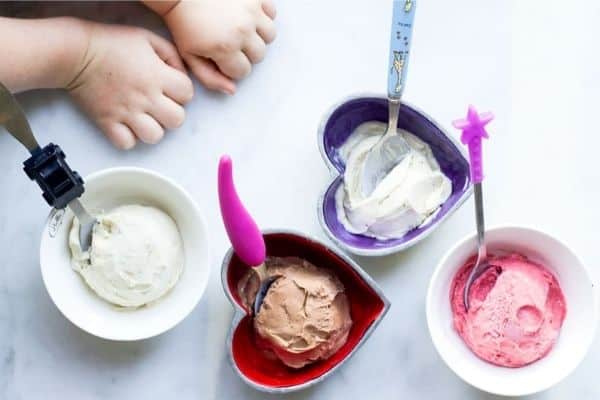 Image from healthylittlefoodies.com
Bananas are a wonderful fruit that is not only sweet but offer many health benefits as well.
One of the most popular ways to eat bananas is by turning them into banana ice cream.
You will need only banana as an ingredient and can add different flavors like cinnamon, cocoa, or raspberry according to your choice.
This recipe is so easy and takes just 15 minutes of prep time along with 2 hours of freezing.
Calories: 105kcal, Protein: 1g, Fiber: 3g
Recipe from healthylittlefoodies.com
10. HAZELNUT FUDGE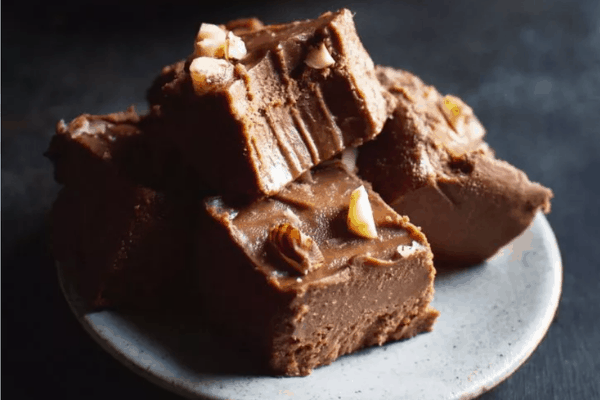 Image from simplysohealthy.com
It has a creamy texture and takes only 35 mins of prep time.
Freeze it for 2 hours and your guilt-free, ketogenic, and sugar-less hazelnut fudge is ready.
Hazelnuts are high in vitamin E, protein, fiber, copper as well as other minerals.
This is a dessert that you can feel good about eating!
Calorie: 99kcal, Protein: 1g, Fiber: 2g
Recipe from simplysohealthy.com
11. WATERMELON FRUIT PIZZA
Image from eatingwell.com
Fruit pizza is a delicious dessert that's easy to make and perfect for summer.
Made with nothing but yogurt, fresh fruits, and mint leaves.
Calories: 64kcal, Protein: 1.9g, Fiber: 1.4g
Recipe from eatingwell.com
12. ZUCCHINI OATMEAL CHOCO CHIP COOKIES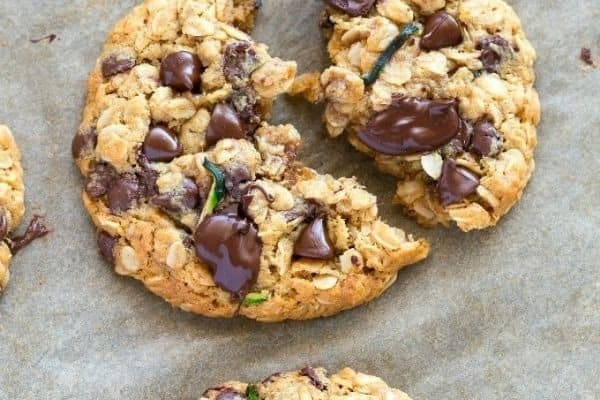 Image from thebigmansworld.com
Zucchini chocolate chip cookies are a healthier option than traditional chocolate chip cookies.
These treats are free of eggs, dairy, and refined sugar.
They're also gluten-free!
This recipe is perfect for those who want to have their cake and eat it too!
Calories: 145kcal, Protein: 4g, Fiber: 8g
Recipe from thebigmansworld.com
13. STRAWBERRY ICEBOX CAKE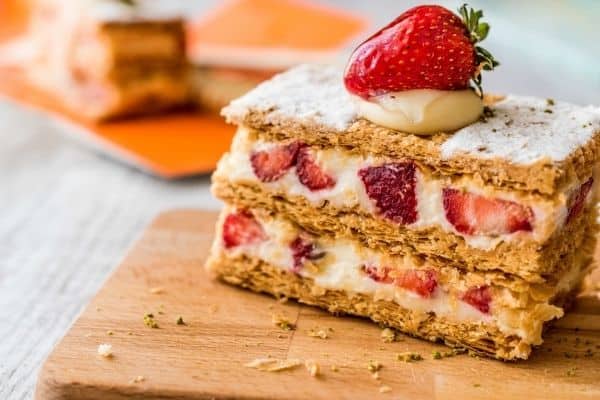 Image from leaf.nutrisystem.com
This is a delicious layer of low-fat graham crackers, yogurt, and lemon zest with fresh strawberries in between.
The perfect snack for a mid-morning break, this cake is easy to make and tastes delicious. 
Recipe from leaf.nutrisystem.com
14. DARK CHOCOLATE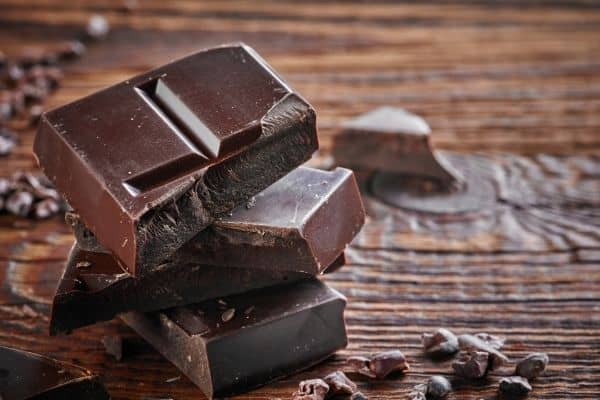 Dark chocolate has been shown to have many health benefits.
Eating just one ounce of dark chocolate every day can reduce your risk for heart disease by nearly 20%.
Dark chocolate also contains a variety of antioxidants, which some studies show could even improve brain function!
This is one of the healthiest sweet snacks to eat where you do not even have to cook anything.
15. NO-BAKE APPLE CHEESECAKE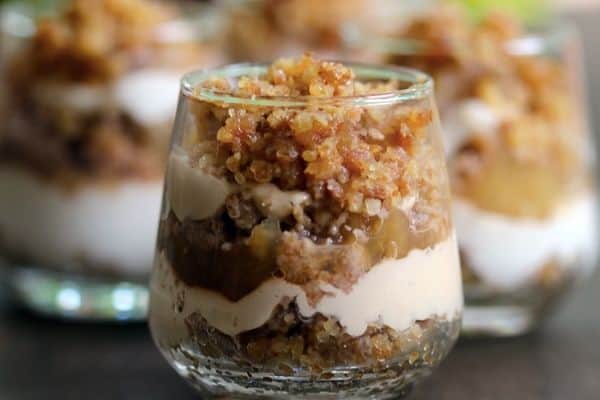 Image from skinnyms.com
A delicious dessert dish with a walnut mixture, cream cheese, and cooked apples.
Coconut sugar and fat-free cream cheese give such a delectable flavor.
This delicious dessert comes together quickly and doesn't require any baking whatsoever!
You can whip it up in just minutes when you are craving something sweet.
Calories: 165kcal, Protein: 5g, Fiber: 4g
Recipe from skinnyms.com
16. APPLE COOKIES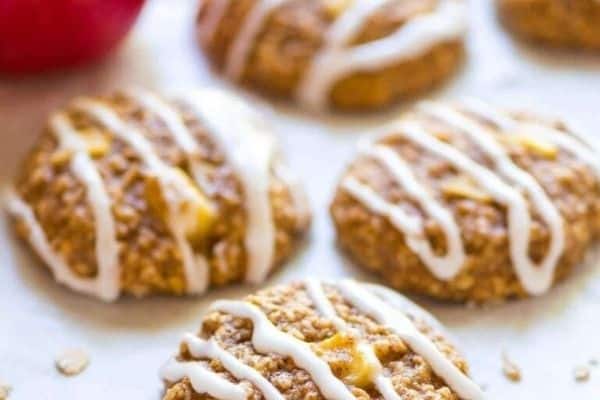 Image from wellplated.com
Soft chewy like a muffin and have an amazing apple flavor.
Made with oats, and wheat flour, and glazed with cinnamon and vanilla.
Calories: 128kcal, Protein: 2g, Fiber: 3g
Recipe from wellplated.com
17. ENERGY BALLS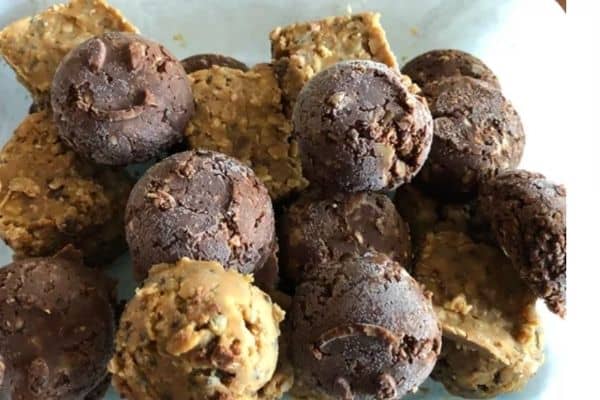 Image from allrecipes.com
They are not only energy balls but taste like you are eating chocolates all week long.
You will sneak its bite every now and then and you will be surprised how delicious they are.
Made with choco chips, honey, peanut butter, and flax seeds.
Calories: 89kcal, Protein: 2.4g, Fiber: 5g
Recipe from allrecipes.com
18. ZUCCHINI BROWNIE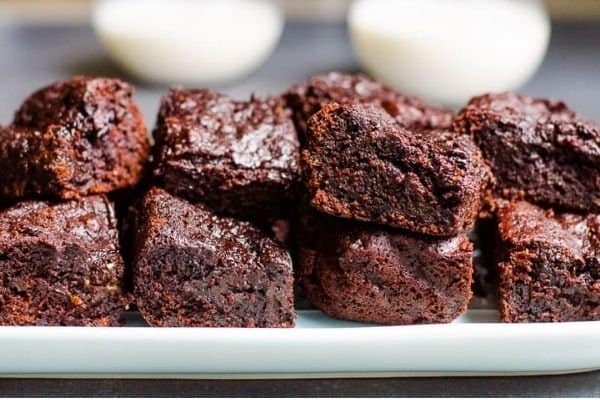 Image from ifoodreal.com
A healthy choice filled with antioxidants and nutrients.
This is a low-calorie, and guilt-free brownie recipe that you will actually enjoy eating.
It has only 125 calories per serving with no sugar or butter!
Calories: 125kcal, Protein: 2g, Fiber: 2g
Recipe from ifoodreal.com
19. FRUIT TART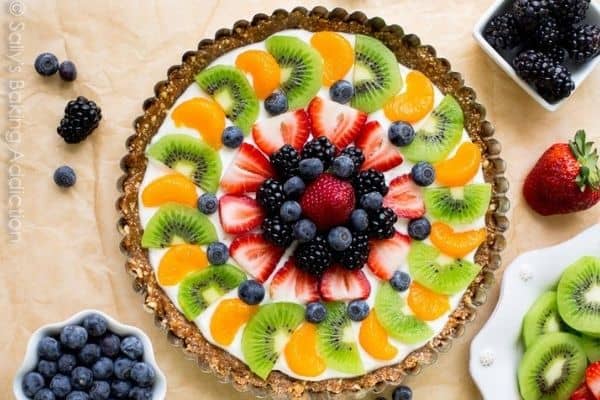 Image from sallysbakingaddiction.com
This recipe is the perfect way to satisfy your sweet tooth.
This tart starts off with a 2-ingredient crust from cashew and pitted dates followed by protein-packed Greek yogurt and plenty of fruits.
Recipe from sallysbakingaddiction.com
20. PUMPKIN PIE SMOOTHIE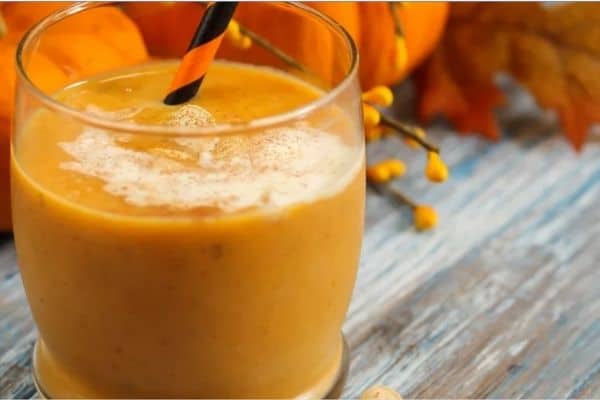 Image from thespruceeats.com
All the flavors of a pumpkin pie, just without that much fat and calories.'
A creamy smoothie is too delicious for a breakfast.
A complete energy-boosting snack.
Calories: 146kcal, Protein: 5g, Fiber: 3g
Recipe from thespruceeats.com
21. FROZEN PEACH YOGURT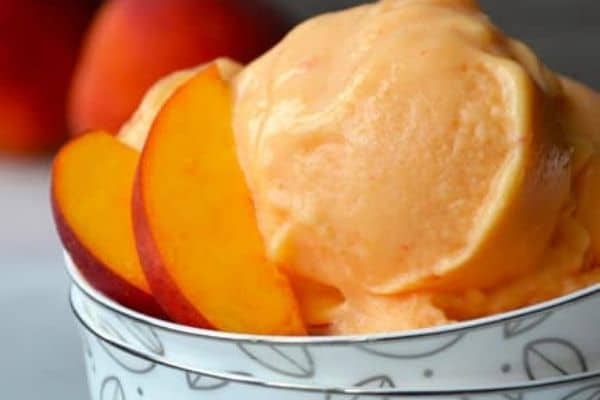 Image from justataste.com
A low-calorie sweet snack dessert that's perfect for hot summer days is frozen yogurt.
This recipe has only 4 ingredients- peach, honey, lemon juice, and yogurt and it tastes tangy and sweet!
Calorie: 113kcal, Protein: 2g, Fiber: 2g
Recipe from justataste.com
My Take on Healthy Sweet Snacks for weight loss
Get creative with your sweet snacks. It may take some trial and error at first, but you can totally make healthier versions of your favorite treats if you use the right substitutions!
Nut butter, chia seeds, fresh fruit, greek yogurt, maple syrup, dark chocolates, and many more. 
If you have a craving for something sweet one day, try making a healthier version with whatever ingredients are lying around in the kitchen—you might be surprised by how well it works out!
Snacking is a part of our everyday life.
Whether we are at work, at home, or on the go, snacking is inevitable.
The sweet healthy snacks that will curb your sweet cravings.
One healthy sweet snack idea is adding blueberries or strawberries into oatmeal for breakfast, which will provide plenty of antioxidants and fiber.
Related Healthy Snack Ideas:
Healthy Sweet Snacks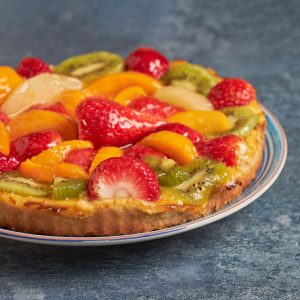 21 Healthy & Low-Calorie Sweet Snacks You've Been Waiting for
If you're looking for a healthy snack that satisfies your sweet tooth, look no further!
These low-calorie snacks are perfect for when you're trying to lose weight.
With options like yogurt and fruit, granola bars, and even chocolate chip cookies, you'll be able to find the perfect snack for you.
Instructions
Choose the recipe you want to make.

Make a sweet healthy snack.
Notes