KETO MEALS
If you're following a keto diet, you know that finding delicious and satisfying meals can be a challenge. But with a little creativity, it is possible to enjoy all your favorite foods while staying on track.
Here we'll share some of our favorite keto-friendly recipes for breakfast, lunch, and dinner.
So whether you're looking for a quick and easy meal idea or something more elaborate, we've got you covered.
Bon appetite!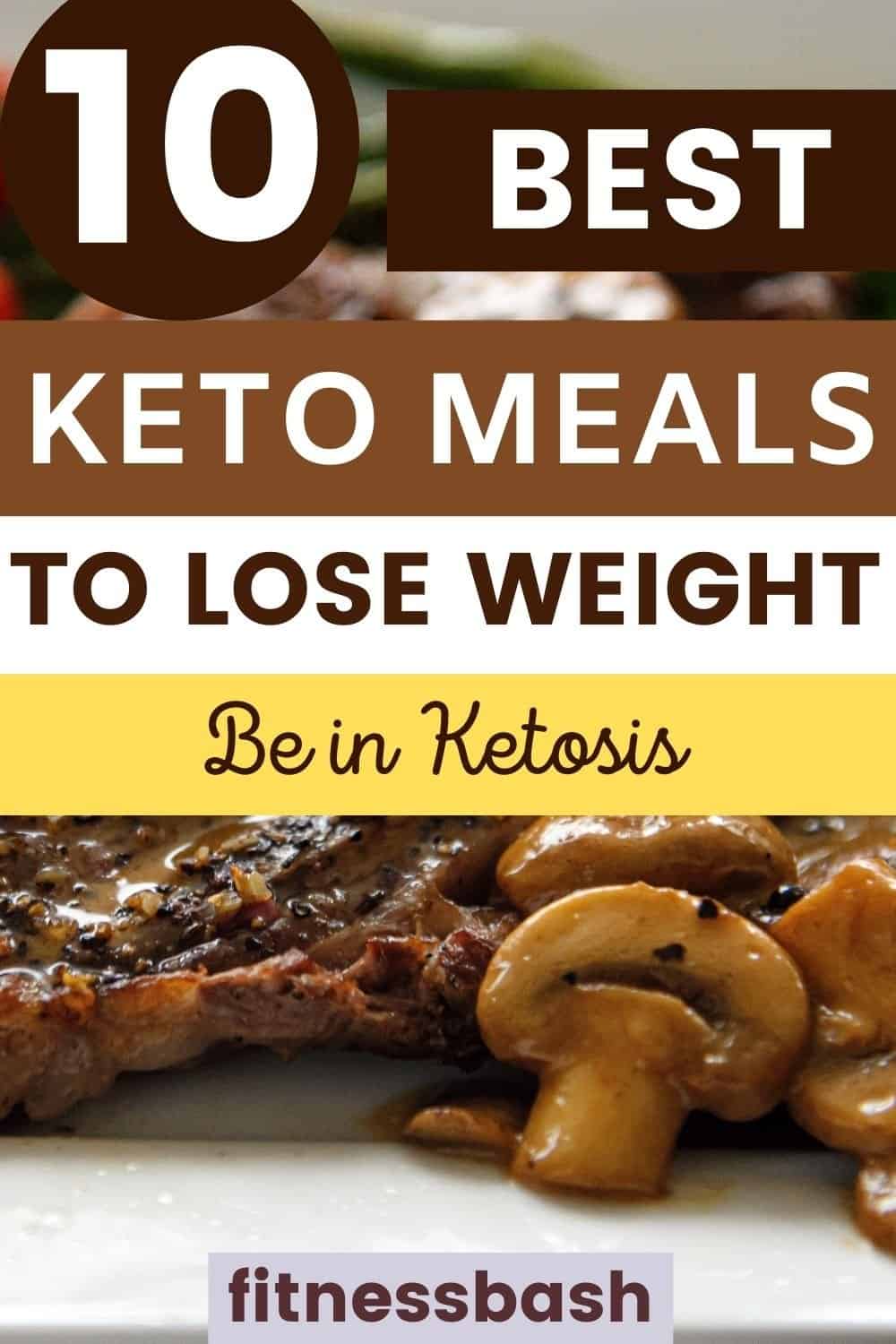 There is a way to lose weight by following the keto diet.
The high fat and low carb intake limit your body's ability to produce glucose, which it uses for energy instead of fats; this leads you to burn more calories than usual while feeling satisfied from all those delicious foods!
To lose weight with keto meals follow the basic rules:
1. Start your day with a healthy breakfast that includes protein and healthy fats
2. Pack a keto-friendly lunch to bring with you to work or school
3. Prepare easy keto dinners that are both delicious and satisfying
4. Avoid eating processed foods and sugary snacks
5. Drink plenty of water and avoid drinking alcohol
6. Make sure you're getting enough fiber by eating plenty of vegetables
With the keto diet being so popular right now, it's no surprise that there are tons of recipes out there for keto meals.
If you're looking for some delicious and nutritious keto meal ideas, here are a few of our favorites:
10 BEST KETO MEALS TO LOSE WEIGHT
 1. SAUTEED SHRIMP WITH GARLIC AND BUTTER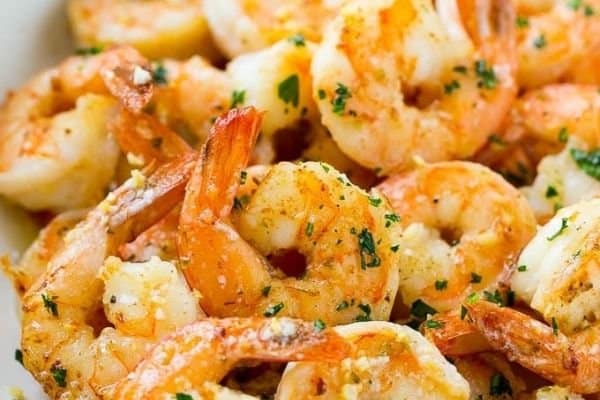 This is a classic keto dish that's both easy and tasty. Simply sauté shrimp in a bit of garlic and butter until they're cooked through.
Garlic and butter are two of my favorite flavors to add to any dish.
In this recipe, they are used to saute shrimp until they are cooked through.
The garlic gives the shrimp a slight bite while the butter provides a richness that is irresistible.
This dish is perfect for a quick weeknight meal or even as an appetizer for a party.
Serve with cauliflower rice for a complete keto meal.
Time: 10 mins
From dinneratthezoo.com
2. BACON-WRAPPED ASPARAGUS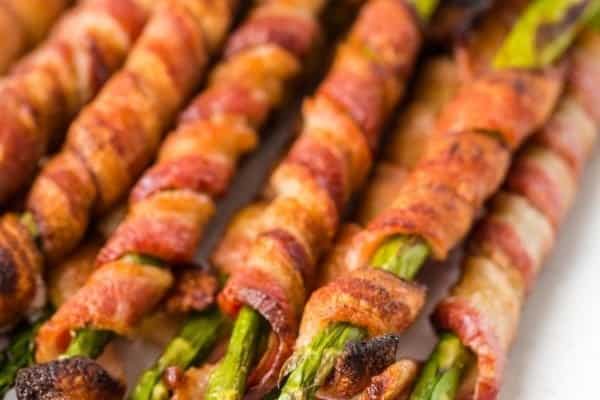 Bacon-wrapped asparagus is a delicious and easy-to-make appetizer or side dish.
Simply wrap bacon around asparagus spears and bake in the oven until crispy.
This dish is always a hit with family and friends!
Asparagus is a great keto vegetable because it's low in carbs and high in nutrients. Wrapping it in bacon makes it even more delicious!
Carbs: 4g
Time: 30 Mins
From eazypeazymealz.com
3. GRILLED SALMON WITH PESTO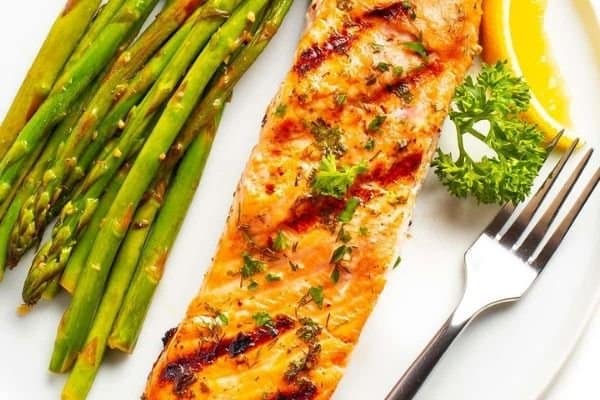 With only 0.2g of net carbs, this grilled salmon could be your regular keto lunch for the office.
Salmon is a great keto protein, and pesto is a perfect keto condiment. This dish is quick and easy to make, and it's sure to please your taste buds.
This keto grilled salmon with pesto is a quick and easy weeknight meal that's full of flavor!
The salmon is grilled to perfection, then topped with fresh and flavorful pesto.
Serve it with a simple side salad for a complete meal.
This dish is ready in 15 mins after you have marinated it for 30 mins.
Recipe from wholesomeyum.com
4. PIZZA CRUST MADE FROM CAULIFLOWER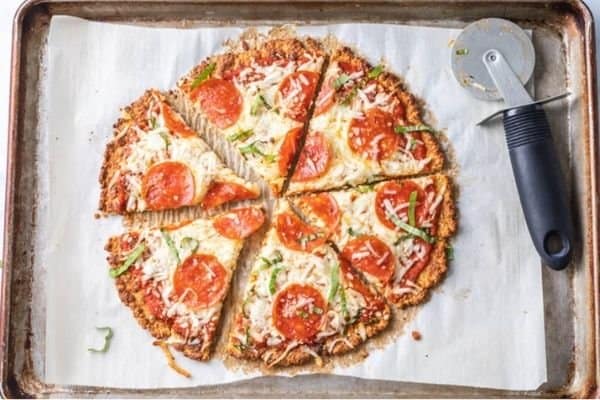 Cauliflower is a versatile vegetable that can be used in many different keto recipes. This pizza crust is a great example – it's healthy, delicious, and low in carbs.
Who doesn't love pizza?
It's the perfect food for a party or for just relaxing at home. But it's not always the healthiest option, especially if you're eating pizza every day.
That's where this keto cauliflower pizza crust comes in! 
It's crispy, easy to make, and uses frozen cauliflower.
Takes 30 mins to cook.
Net carbs: 7g, Fat: 2.51g, Protein: 32.88g
Recipe from lowcarbmaven.com
5. SPICY GROUND BEEF STIR FRY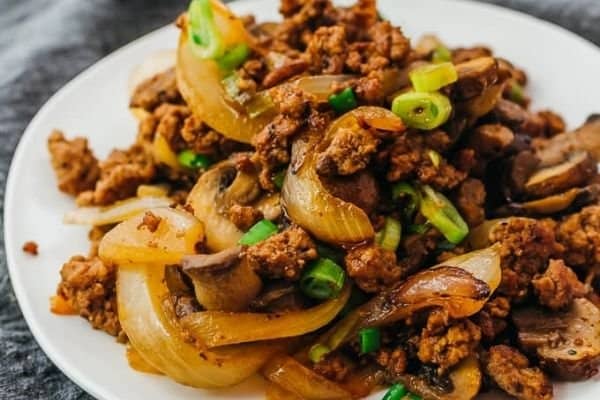 This stir fry is packed with flavor and nutrients. It's perfect for a quick and easy keto meal.
This keto spicy ground beef stir fry is the perfect easy weeknight meal!
It's packed with flavor, thanks to the fresh ginger, garlic, and chili pepper, and it's ready in just 30 minutes.
Plus, it's a great way to use up any ground beef you have on hand.
Serve it over cauliflower rice or zucchini noodles for a delicious and low-carb meal. Enjoy!
Net carbs: 8.5g, Fat: 22g, Protein: 42g
From savorytooth.com
More keto beef recipes?
6. CHICKEN ENCHILADAS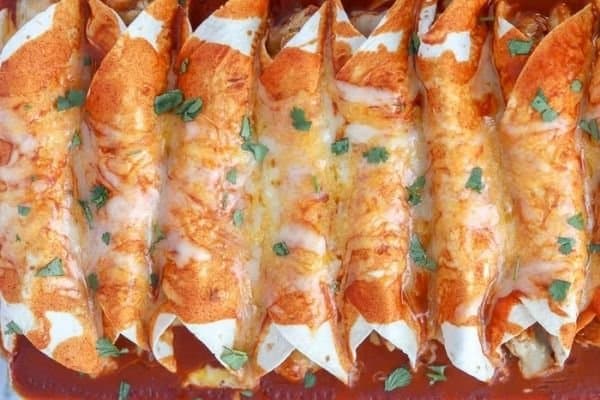 Who said enchiladas have to be unhealthy? These chicken enchiladas are a perfect keto meal – they're packed with protein and fiber, and they taste great too.
These enchiladas are made with low-carb tortillas, shredded chicken, and a flavorful enchilada sauce. They're perfect for a quick weeknight meal or entertaining guests. 
Serve them with your favorite toppings, such as sour cream, lettuce, tomatoes, and cheese. So good, you'll never miss the carbs!
Net carbs: 8, Fat: 29g, Protein: 42g
From wholelottayum.com
More keto chicken recipes:
7. EGGPLANT PARMESAN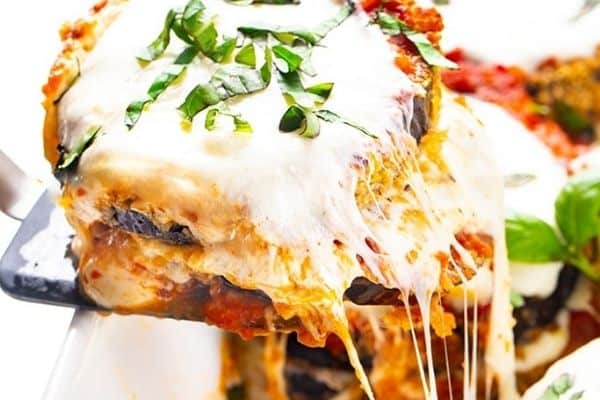 This classic Italian dish is perfect for a keto diet. It's low in carbs and calories, but it's still packed with flavor.
Sometimes you just need a break from all the bread and pasta. This keto eggplant parmesan is the perfect dish for those times.
You will be surprised that every bite is delicious.
Plus, it's really easy to make! Though it will take an hour to cook.
This is not a very low-carb recipe, but a keto version of eggplant parmesan that you can enjoy once a month on your keto diet.
Net carbs: 12.7g, Fat: 36g, Protein: 36g
Recipe from wholesomeyum.com
8. ROASTED BRUSSELS SPROUTS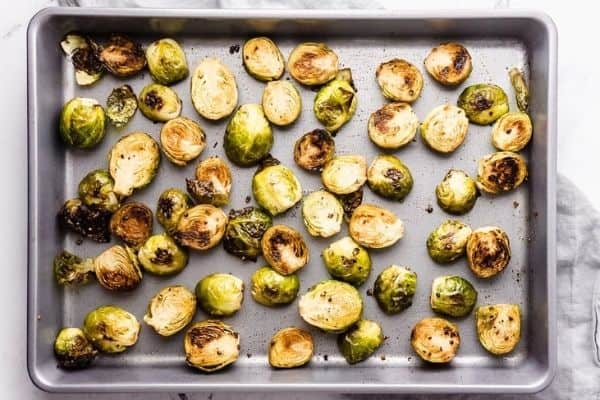 Brussels sprouts are nutrient-rich vegetables that are perfect for the keto diet. Roasting them brings out their natural sweetness and makes them irresistible.
These keto-roasted Brussels sprouts are the perfect side dish for any meal!
They're packed with flavor and nutrients, and they're low in carbs and calories. Plus, they're easy to make and can be made ahead of time.
You won't believe how delicious healthy can be!
Net carbs: 4.7g, Protein: 3g
Recipe from greenandketo.com
9. STEAK AND ASPARAGUS SALAD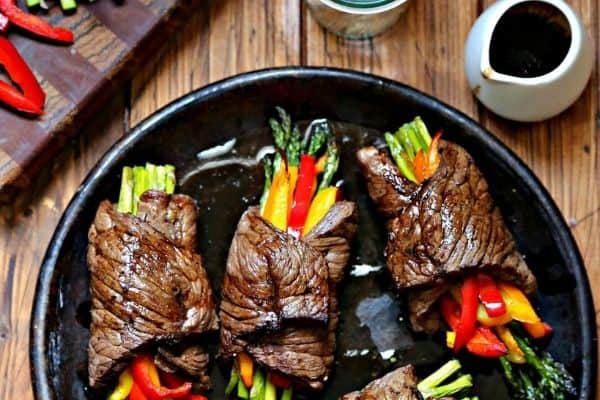 This healthy salad is the perfect meal for a hot summer day. It's light, refreshing, and packed with nutrients.
This is one of the good-looking fancy dinners.
This steak and asparagus salad is perfect. High-quality protein from the steak will help keep you feeling full, while the asparagus provides key nutrients like vitamin K, folate, and vitamin C.
Best of all, this dish comes together in just minutes – perfect for busy weeknights. 
Recipe from bellalimento.com
10. KETO TACO SALAD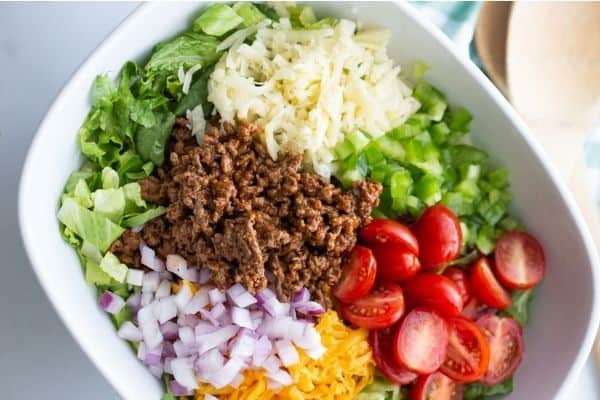 A health-filling taco salad recipe for a keto lunch or dinner.
This keto taco salad is a delicious, low-carb alternative to the traditional Mexican dish. It's packed with healthy ingredients.
Plus, it's easy to make and can be customized to your liking.
So, if you're looking for a tasty, nutritious meal that won't break your ketosis, this keto taco salad is for you!
Check out this taco seasoning recipe to make it more delicious.
Net carbs: 7g, Fat: 40g, Protein: 32g
Recipe from kaseytrenum.com
My Take on Keto Meals
There are endless possibilities when it comes to creating keto meals. With these recipes as a starting point, you can create endless combinations of healthy and delicious dishes. 
Keto meals for weight loss are an excellent alternative that will help people maintain their desired lifestyle without having too many limitations on what they can eat or avoid together!
Maintaining your health and fitness goals while still enjoying some good old-fashioned guilty pleasures has never been easier; just make sure these recipes don't contain high amounts of carbs so as not to put yourself at risk of not entering ketosis.
Related Keto Meals:
KETO MEALS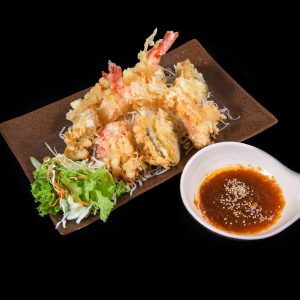 10 Best Keto Meals to Lose Weight
If you're looking for healthy keto meals, look no further.
These recipes are low in carbs and high in healthy fats, making them perfect for a ketogenic diet.
With these recipes, you'll be able to lose weight quickly and easily while still enjoying delicious, nutritious food.
Instructions
Choose your keto dinner to make.

Collect the ingredients the night before.

Make a delicious weight-losing keto dinner meal.
Notes