PALEO BREAKFAST RECIPES
It's really hard to completely get rid of carbs when it comes to breakfast.
Cereal, muffins, granola bars- they are just everywhere!
Even if I fill my house with nothing but Paleo food, there would still be some of that hidden in the cabinets that someone managed to sneak in there without me knowing. (my brother for example).
However, even though I am not on 100% Paleo or Keto yet, I can say that my breakfasts are almost always free of any products made with processed ingredients like sugar or flour.
And this huge change makes a fantastic difference.
The paleo diet is a healthy way to start your day. The breakfast recipes are easy and delicious.
Paleo breakfast recipes are good for weight loss, brain function, and overall health.
Many people struggle to find time in the morning to prepare breakfast. They either end up skipping it or eating something unhealthy on the go.
Get ahead of your busy mornings with these easy paleo breakfast ideas that you can make ahead.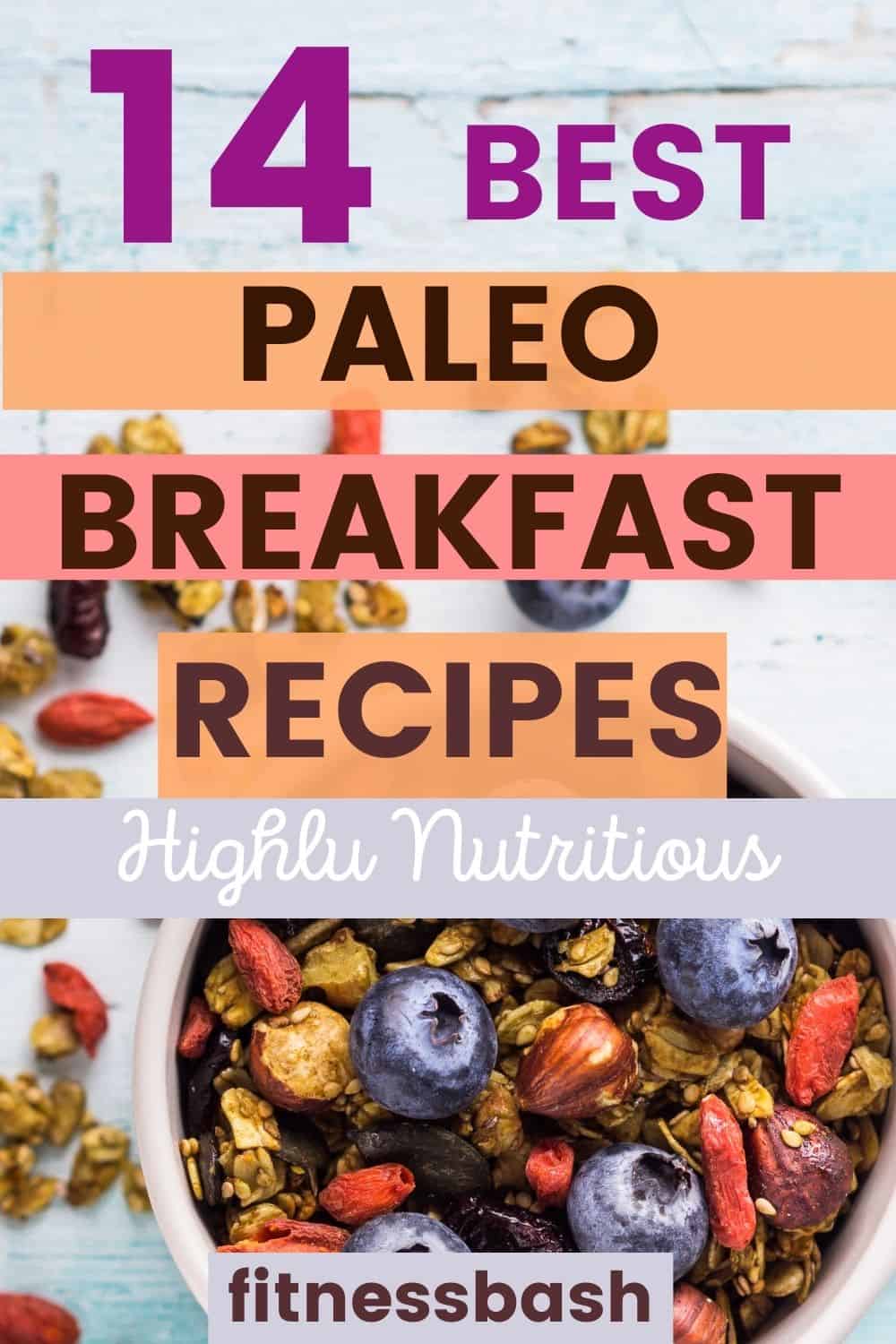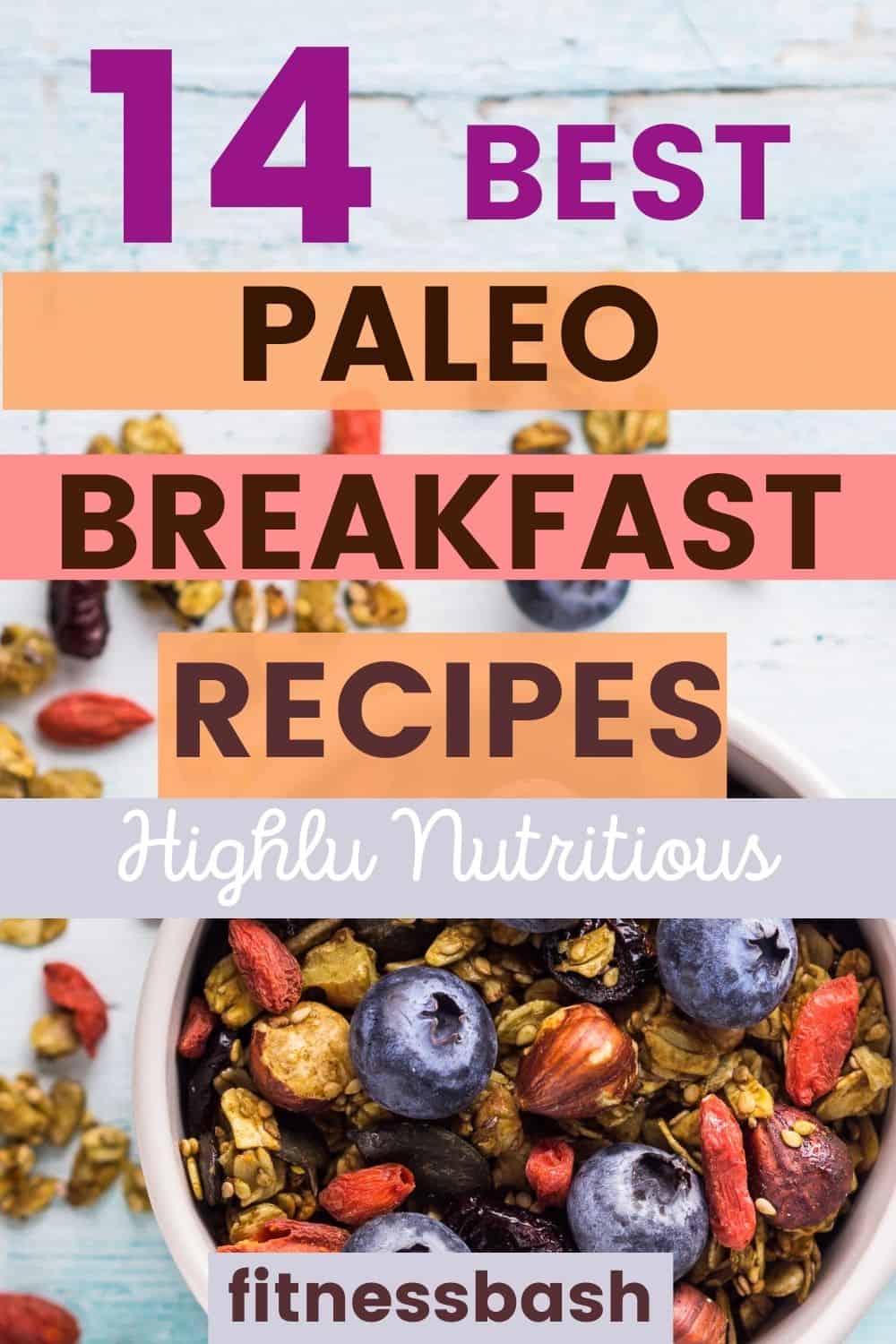 Do you know the best way to start your day?
With healthy and filling Paleo breakfast recipes, of course!
Here, we'll take a look at some delicious Paleo breakfast recipes that will have you looking forward to waking up in the morning.
Whether you're craving eggs or pancakes, we've got something for everyone on our list of 8 tasty dishes.
The healthiest paleo breakfast recipes to start with.
When you are following any diet then it becomes confusing to think about what to eat.
The paleo diet is a low-carb, high-protein diet that emphasizes nutrient-dense foods.
The Paleo breakfast consists of recipes on the go – which are great recipes for busy mornings when you don't have time to cook or if you're traveling.
The Paleo Meal prep is where you make your breakfast ahead of time and keep it in the fridge so you can grab it on your way out the door.
Paleo breakfasts are delicious and healthy!
There's an abundance of benefits such as weight loss, increased energy levels, improved digestion, and better moods.
Can I eat oatmeal on a Paleo diet?
Since oatmeal is an easy breakfast preference for many, so if you can eat oatmeal on a Paleo diet is a common query.
The Paleo diet is a grain-free diet. So it is said that we cannot have oatmeal on a paleo.
BENEFITS OF EATING PALEO BREAKFASTS
Eating a paleo breakfast will help you feel full for longer.
Choosing a paleo breakfast meal will give your body the nutrients it needs to function properly.
You'll have more energy and be able to focus better throughout the day if you eat healthily in the morning.
For those who are diabetic, eating a paleo breakfast can help regulate blood sugar levels.
Eating a hearty breakfast helps prevent overeating later in the day.
So, what can I eat for breakfast on a Paleo Diet?
There are ample breakfasts to eat on a paleo. 
Almond flour muffins
Sweet potato breakfast bowls
Sweet potato waffles
Apple cinnamon hot cereal
Paleo egg cups
Chocolate chips banana bread
Pear and cranberry muffins
Raspberry chia pudding
Gluten-free granola
Cinnamon rolls
Cherry smoothie bowl
Banana pancakes
Sweet potato breakfast hash
Paleo carrot cake muffins
The Paleo diet has helped a lot of people in attaining their ideal weight and staying healthy.
1. ALMOND FLOUR MUFFINS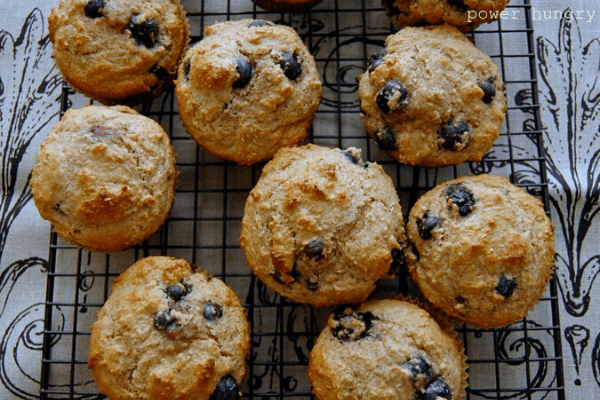 Image and recipe by powerhungry.com
Muffins are a favorite breakfast food of many people. Why not make them healthier?
These almond flour muffins are so versatile and can be made with any flavor you want!
They're healthy, dairy-free, grain-free, low-carb, and sugar-free too!
The best part about these muffins is that they don't taste like diet food at all – they're moist and fluffy on the inside with a slight crunch on the outside. 
A great paleo breakfast recipe with egg goodness.
It will take only 5 minutes to prepare and you can enjoy your healthy paleo breakfast.
Main Ingredients: Almond flour, baking soda, eggs, pumpkin puree, honey, coconut oil, and vinegar.
Prep time: 5 minutes, Cook time: 21 minutes
Here goes the recipe from powerhungry.com
 2. SWEET POTATO BREAKFAST BOWL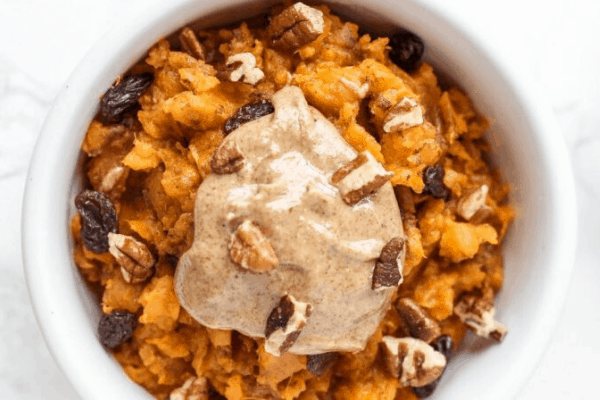 Image and recipe by healthy-liv.com
This is the perfect paleo recipe for breakfast.
Add eggs and bacon to make a complete meal!
This is a delicious paleo breakfast or can say a paleo dessert bowl.
The cooking of the potatoes gonna takes a bit of time.
Main ingredients: Sweet potato, honey, cinnamon, raisins, chopped nuts, almond butter.
Preparation time: 5 mins, Cook Time: 1 hour 20 minutes
This is not a quick breakfast to make, but a considerable paleo breakfast idea with no eggs.
Here is the recipe from healthy-liv.com
3. SWEET POTATO WAFFLE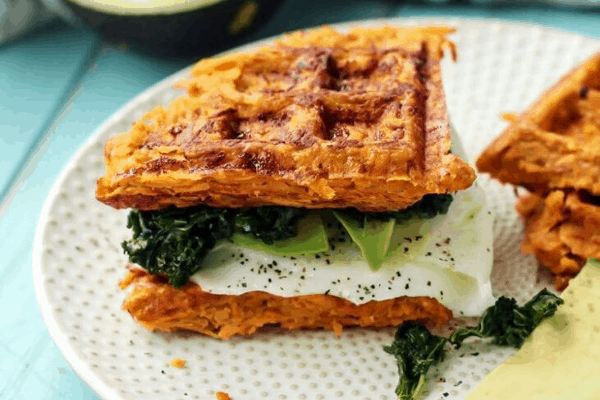 Image and recipe by fitmittenkitchen.com
These waffles are high in fiber, low in sugar, and made without flour!
I love making these for breakfast because they're great! 
This is delicious and looks pretty too.
Wanna grab a paleo breakfast on the go? Then this is it.
This is a breakfast sandwich you will fall in love with.
Main ingredients: Eggs, sweet potato, cumin, oil, kale, medium avocado, salt, and pepper.
Prep time: 10 minutes, Cook time: 5 Minutes
Here is the recipe by fitmittenkitchen.com
4. APPLE CINNAMON HOT CEREAL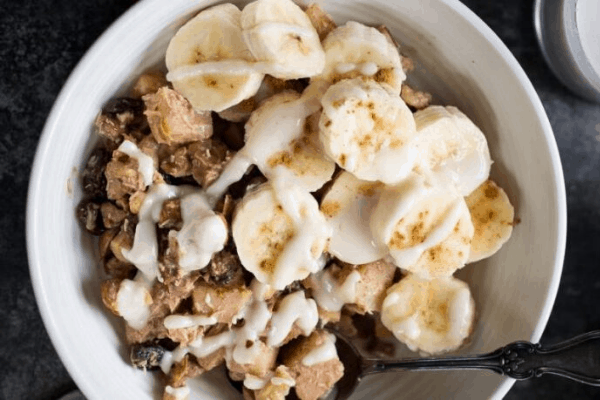 Image and recipe by paleorunningmomma.com
This is my favorite paleo breakfast bowl. You will love it for the ease of preparing it.
Apple Cinnamon Hot Cereal is a healthy, gluten-free breakfast that can be made in under 10 minutes.  
The recipe includes only a few ingredients and is easy to customize with any type of fruit or nut you have on hand.
This dish is perfect for anyone who wants a warm, comforting start to their day!
A kind of Paleo diet breakfast porridge bowl to have.
Main ingredients: Organic coconut oil, apple, chopped dates, nutmeg, unsweetened coconut finely shredded, almond milk.
Prep time: 2 mins, Cook time: 10 Mins
Here is the recipe from paleorunningmomma.com
5. PALEO EGG CUPS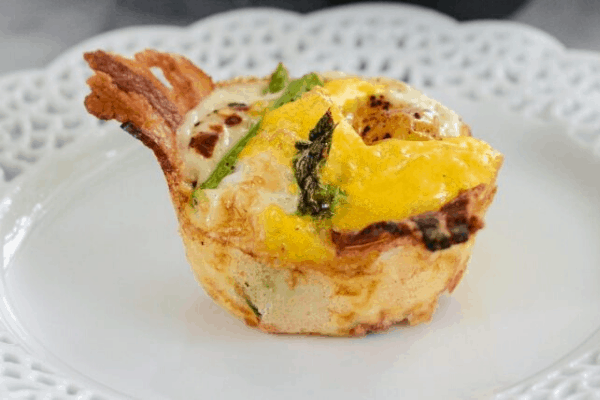 Image and recipe by ahealthylifeforme.com
The idea of Paleo egg cups is to make a healthy breakfast that tastes good.
These are easy to make and can be enjoyed for any meal of the day.
The ingredients in these egg muffins don't take long to cook, making them perfect for busy mornings!
This gonna look delightful and kids will love it. Colorful and nutritious.
Main ingredients: Coconut oil/ ghee, asparagus, bacon, eggs, salt, and pepper.
Prep time: 3 mins, Cook time: 15 mins
The recipe from ahealthylifeforme.com
Check out 12 Keto Kids Recipes that are colorful too.
6. CHOCOLATE CHIP BANANA BREAD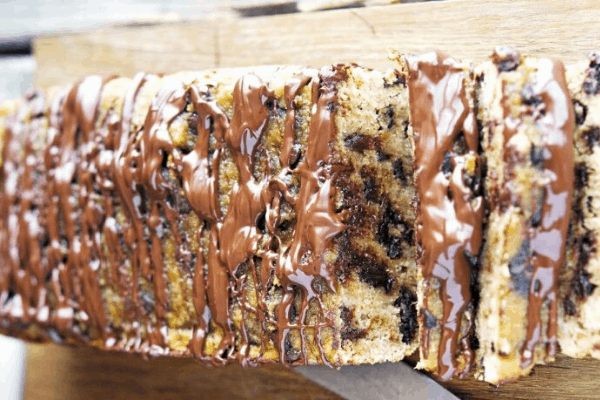 Image and recipe by theironyou.com
It's the perfect way to use up bananas before they go bad.
The bread is moist and chocolatey, and you can stud it with choco chips…it's also really easy to make!
This is a make-ahead paleo breakfast as cooling time is also involved here.
This looks simply delicious and yummy for paleo breakfast recipes.
Main ingredients: Banana, honey, almond butter, vanilla extract, eggs, coconut flour, baking soda, baking powder, and dark chocolate chips.
Here goes the recipe from theironyou.com
Here are 9 Keto Bread recipes that you can make quickly.
7. PEAR AND CRANBERRY MUFFINS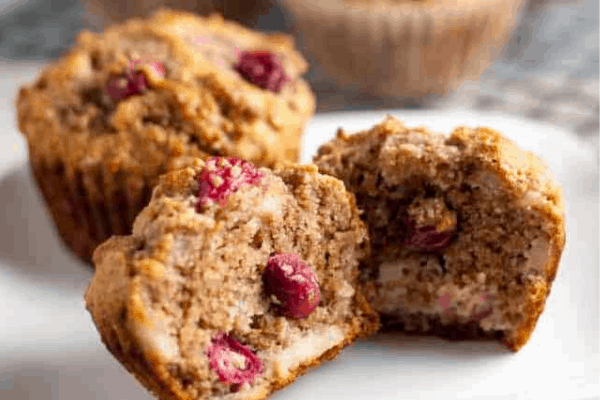 Image and recipe by flavourandsavour.com
Cranberries are a great way to add sweetness and color to your muffin.
Muffins are a quick, on-the-go breakfast for busy mornings.
Grab some cranberries, eggs, flour, and sugar for this delicious recipe that will keep you going all day long!
Once you make it, you will fall in love with the pear and cranberry mixed muffin.
A perfect paleo stomach-filling breakfast idea.
Main ingredients: Almond flour, baking powder, cinnamon, eggs, honey, butter, non-dairy milk, finely diced pears, lemon juice, and fresh cranberries.
Prep time: 15 mins, Cook time: 25 mins
The recipe from flavourandsavour.com
Check another recipe for an easy cranberry oatmeal muffin.
8. RASPBERRY CHIA PUDDING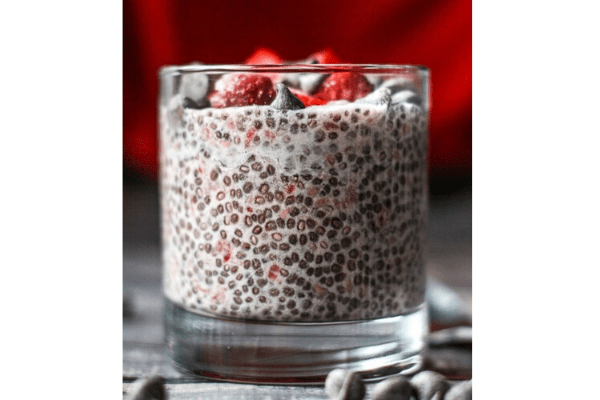 Image and recipe by kitchenofyouth.com
The chia seeds in this recipe create a pudding that is not only delicious but also packed with omega-3s, fiber, and protein.
The raspberry gives the pudding a sweet fruity flavor and also packs some antioxidants for your health!
This is a quick and easy paleo breakfast recipe.
Main ingredients: Raspberry, vanilla extract, maple syrup, coconut sugar, almond milk, and chocolate chips.
Prep time: 5 mins
The recipe from kitchenofyouth.com
Check 9 Healthy Oats Recipes that will help you to stay fit
9. GLUTEN-FREE GRANOLA
Paleo, gluten-free granola is the perfect breakfast for those on a grain-free diet.
It's easy to make and can be customized to your tastes with various butter, dried fruit, coconut flakes, or anything else that suits your fancy.
The best part? You can customize it so it fits in with your dietary needs!
It's full of nutrition and you can make it as sweet or savory as you like!
Cook time: 20 mins, Prep time: 10 mins
From alldayidreamaboutfood.com
10. CINNAMON ROLLS
Moist and delicious paleo cinnamon rolls.
You can make it the night ahead and store it in an air-tight container, and it will not lose its flavor in the morning.
Paleo cinnamon rolls are a real treat for your sweet tooth.
Cook time: 30 mins, Prep time: 30 mins
From healmedelicious.com
11. CHERRY SMOOTHIE BOWL
I'm a huge smoothie fan, and I'm always looking for new ingredients to add. One of my favorite additions is cherries!
They're not only delicious but they also have many health benefits.
This paleo cherry smoothie bowl is perfect for the warmer months.
It's loaded with antioxidants, fiber, healthy fats, and protein! Plus it tastes delicious too. You'll love this easy breakfast recipe!
Total time: 5 mins
From 40aprons.com
12. BANANA PANCAKES
Paleo Banana Pancakes are a great way to start your day!
This healthy breakfast is made with bananas, tiger nut flour, and coconut milk.
These paleo banana pancakes are so delicious you won't even know they're gluten-free and dairy-free! Paleo Banana Pancakes will keep you full all morning long.
Try these for a nutritious breakfast that will leave you energized for the day ahead. They're also great as a snack or dessert!
An absolutely fantastic recipe with just the right amount of sweetness.
Cook time: 20 mins, Prep time: 10 mins
From healmedelicious.com
13. SWEET POTATO BREAKFAST HASH
This recipe is perfect for those who are following the paleo diet.
This delicious Paleo breakfast will keep you going all morning long with its healthy fats and plant-based proteins.
You can even turn this into a meal by adding some protein such as bacon or sausage!
So go ahead, try this sweet potato hash paleo breakfast, you won't be disappointed!
Cook time: 15 mins, Prep time: 5 mins
From veronikaskitchen.com
Check out:
8 Paleo Foods Sections you should start with
14. PALEO CARROT CAKE MUFFINS
What is that glorious smell permeating the air? It smells like a freshly baked cake.
You know, the kind of cake that you don't have to feel guilty about eating because it's healthy and not full of sugar! 
This recipe is grain-free and paleo-friendly. It's also easy to make!
Prep time: 5 mins, Cook time: 27 Mins
From glutenfreepalate.com
My Take on Paleo Breakfast recipes
If you want to be healthy and smart about it, you should definitely give Paleo breakfasts a try! They might take some time getting used to them but once you get the hang of it, the world won't look as delicious as before anymore- unless we talk about the paleo breakfast recipes.
These easy paleo breakfasts are so ideal for busy mornings.
The nutritious breakfast recipes to lose weight.
Paleo recipes not only provide nutrition but also gives a lifestyle of being healthy and fit.
With all the talk about paleo eating, it's no surprise that breakfast is a favorite topic.
It's an important meal of the day and can set you up for success or failure depending on what you eat!
How can I forget the 12 Paleo quick dinner recipes?
Related Paleo Breakfast Recipes:
Paleo Breakfast Recipes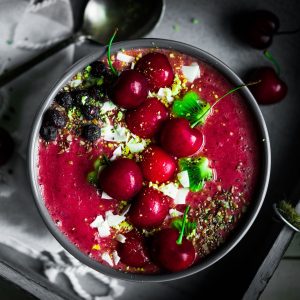 14 Top Paleo Breakfast Recipes to Lose Weight
Start your day off right with these delicious and healthy paleo breakfast recipes.
From sweet to savory, there's a recipe for everyone here.
Skip the unhealthy breakfast options and give one of these recipes a try instead.
You'll be glad you did!
Ingredients
Almond flour muffins

Sweet potato breakfast bowls

Sweet potato waffles

Apple cinnamon hot cereal

Paleo egg cups

Chocolate chips banana bread

Pear and cranberry muffins

Raspberry chia pudding

Gluten-free granola

Cinnamon rolls

Cherry smoothie bowl

Banana pancakes

Sweet potato breakfast hash

Paleo carrot cake muffins
Instructions
Choose the breakfast recipe you want to make.

Arrange the ingredients prior to making.

Follow the instructions and make a quick paleo breakfast.

Maintain a healthy lifestyle.
Notes