LOW-CARB KETO LASAGNA RECIPES
A keto lasagna is an easy, delicious way to enjoy a comforting classic dish on low carb.
Lasagna is a dish of Italian origin, consisting of layers of pasta sheets topped with tomato sauce and cheese. But lasagna doesn't have to be the typical high-carb dish with tons of carbs!
Here are keto lasagna recipes that have the same great taste as traditional lasagnas, but without all those pesky carbs.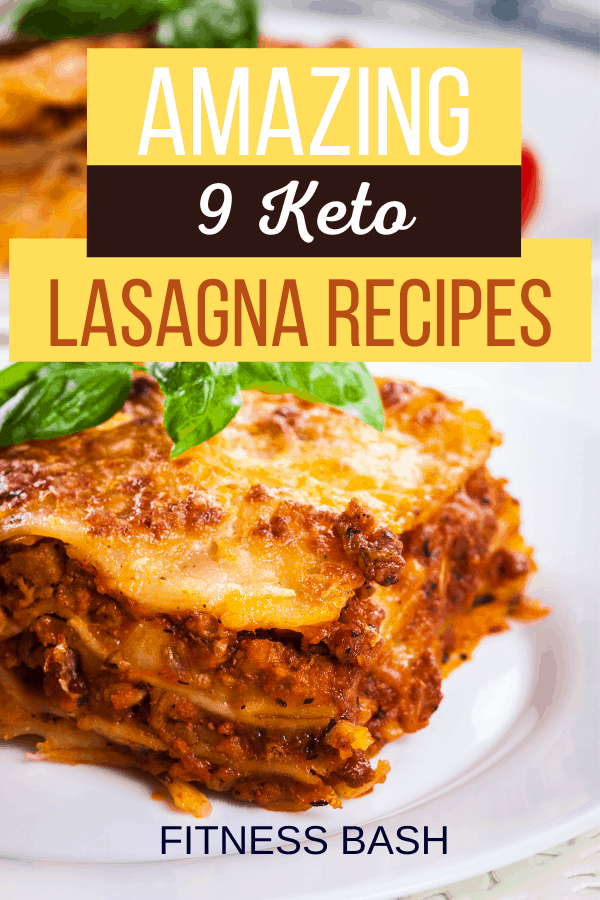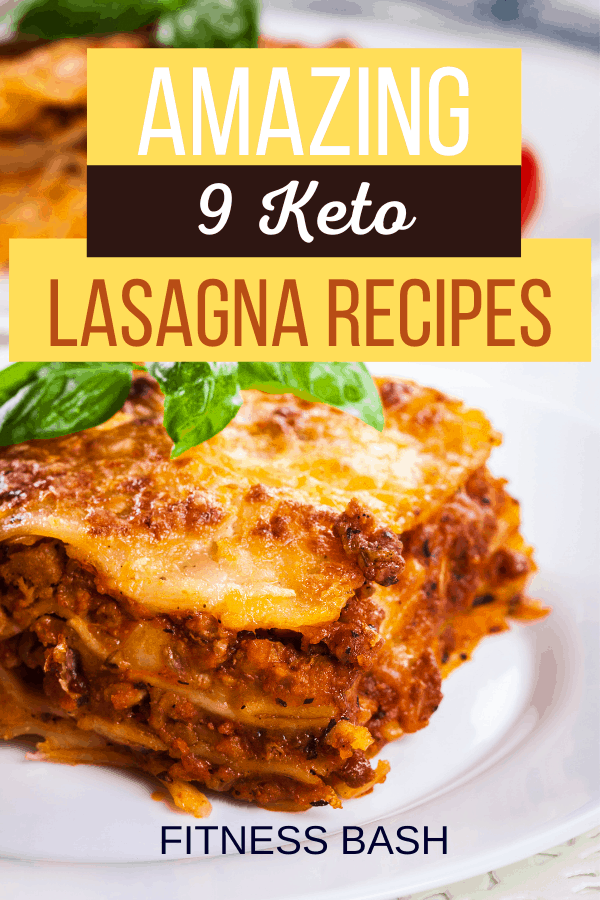 The best keto lasagna recipes are going to be the ones that don't include pasta, but rather use zucchini or eggplant as a substitute.
This is because zucchini and eggplant have fewer carbs than traditional pasta.
Plus, they are packed with nutrients like vitamin C and potassium.
If you're looking for an even healthier option, try using cauliflower instead of both veggies!
Lasagna is the yummiest casserole recipe to make.
The drooling of melted cheese is too hard to resist.
Whether it's a vegetarian keto lasagna or the keto lasagna with meat.
Lasagna recipes are not easy to make as it requires layering and a bit of cooking interest to make them perfect.
Nevertheless, you can follow the step-by-step instructions, to make it perfect.
With nine different low-carb lasagna recipes from traditional Italian to Mexican and Asian flavors, there's something for everyone!
How to make the best keto lasagna recipes?
The Traditional lasagna recipe consists of lasagna noodles, eggs, ricotta cheese, pasta sauce, mozzarella, and parmesan cheese.
While I eat mozzarella, and parmesan cheese on a keto but try to avoid the ricotta cheese for higher carb contents.
The same goes for the lasagna noodles. Noodles are too carby for a keto diet.
So with some genuine and cool substitutes of ingredients, we make our dairy-free, high-fat keto lasagne.
What could be a good substitute for lasagna noodles?
The flatbreads or keto tortillas could also be used for a lasagna layer that would be keto-friendly.
Slicing up zucchini, eggplant, or pumpkin layer also works for the keto layering of the lasagna recipe.
What is the best way to layer a lasagna?
The layering of keto lasagna is best done with keto sauce or an even layer of meat sauce.
Layer with mozzarella and parmesan cheese.
Have you ever wondered what happens when you do not eat enough fat on keto?
A Keto diet essentially means cutting off carbs while increasing fat and protein intake. So If you are not increasing the fat content, means the body is using up only the protein for the source of glucose that may hinder you to get on or maintain being in ketosis.
So, here comes the top 9 keto lasagna recipe too delicious and low carb and most importantly, loaded with fat.
9 LOW-CARB LASAGNA RECIPES
 1. LOW CARB ZUCCHINI LASAGNA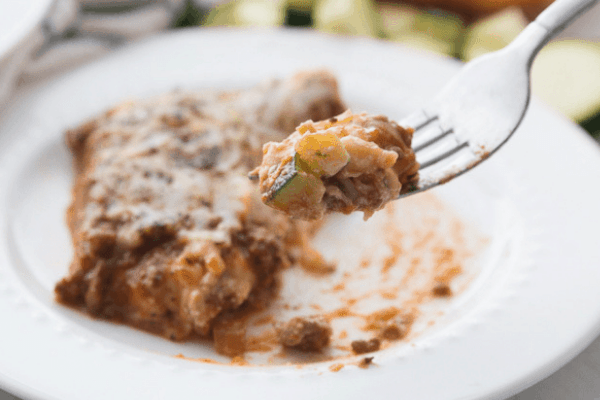 Image and recipe by kaseytrenum.com
The traditional recipes are loaded with carbs.
This is a low-carb version of the classic dish.
Full of zucchini noodles and hearty beef ragu, it's sure to be a family favorite in your home too!
This gonna look delicious.
A zucchini lasagne without the noodles will taste awesome.
Try it and you will want to make it every month.
Net carbs: 5g, Fat: 17g, Protein: 18g
The keto zucchini lasagna recipe from kaseytrenum.com
2. LOW CARB KETO LASAGNA

Image and recipe from peaceloveandlowcarb.com
Lasagna is a perfect dish to make during the colder months. It's hearty, full of flavor, and always satisfying!
Made with Marinara sauce, eggs, mozzarella cheese, Italian seasoning, and whole milk ricotta cheese.
Enjoy this healthy lasagna as an occasional treat without feeling guilty about it!
Making the noodles from scratch to make it a low-carb meal.
These low-carb lasagna noodles gonna take you a long time to make, so better prepare them the night before.
Net carbs: 9.5g, Fat:34g, Protein: 57g
The low-carb lasagna recipe from peaceloveandlowcarb.com
3. KETO SPAGHETTI SQUASH LASAGNA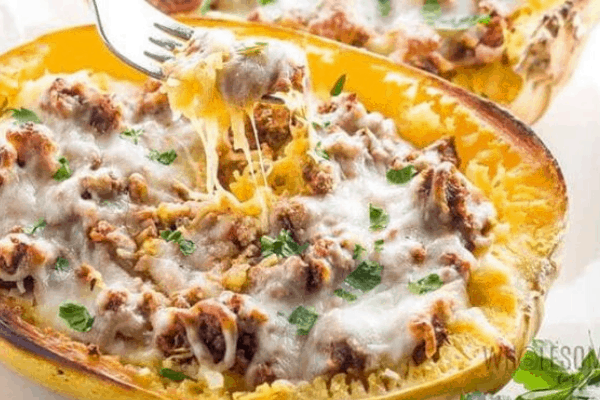 Image and recipe from wholesomeyum.com
This recipe takes basic lasagna to a whole new level with spaghetti squash.
Lasagna is traditionally made with pasta noodles, but this recipe uses spaghetti squash instead for a healthier meal!
The ingredients are simple and delicious. All you need is ground beef, cheese, Marinara sauce, garlic salt, Italian seasoning, and your choice of mozzarella and parmesan cheese.
This is a wonderful spaghetti squash lasagna recipe with a meat layer.
This is so delicious and a hearty keto meal that you are surely going to enjoy.
Net carbs: 8g, Fat: 22g, Protein: 14g
The keto spaghetti squash lasagna recipe from wholesomeyum.com
4. KETO CHICKEN LASAGNA RECIPE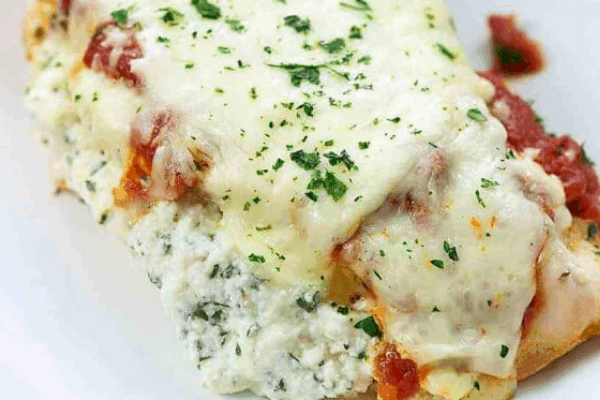 Image and recipe by thatlowcarblife.com
A warm lasagna serves best for a cold winter evening.
The best keto chicken lasagna recipe is made with layers of ground chicken, seasoning, ricotta cheese, grated mozzarella, and parsley.
This is a low-carb high protein keto chicken lasagna recipe with full health and flavor.
Net carbs: 4g, Fat: 18g, Protein: 50g
The stuffed chicken lasagna recipe from thatlowcarblife.com
Here are 11 keto chicken recipes and 12 Chicken Thigh Recipes to try.
5. KETO CABBAGE LASAGNA RECIPE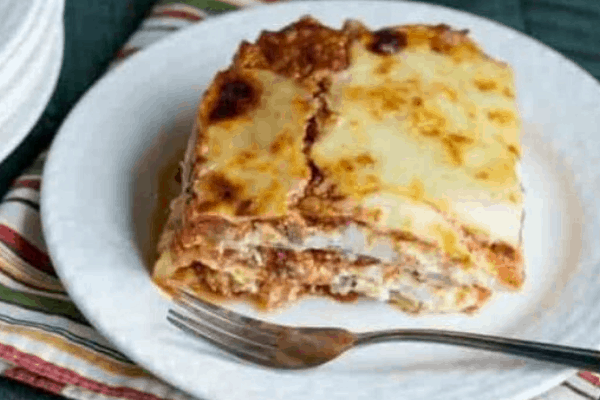 Image and recipe by lowcarbyum.com
The keto cabbage lasagna recipe is a healthy alternative to traditional lasagna recipes.
It's loaded with protein, vegetables, and low-carb sauce.
It's also perfect for those following the ketogenic diet!
A simple low-carb keto lasagna recipe with cabbage.
Net carbs: 8g, Fat: 34g, Protein: 27g
The healthy cabbage lasagna recipe from lowcarbyum.com
6. LOW-CARB SPINACH TURKEY LASAGNA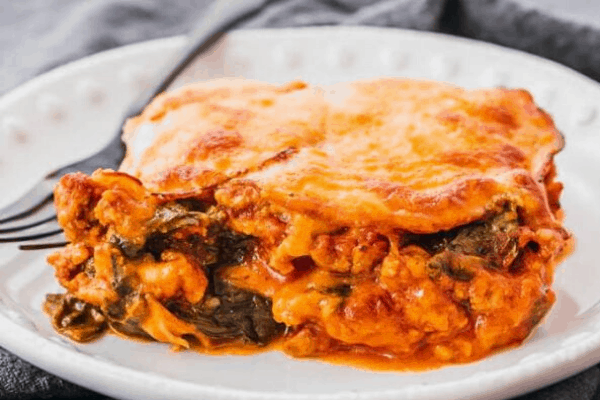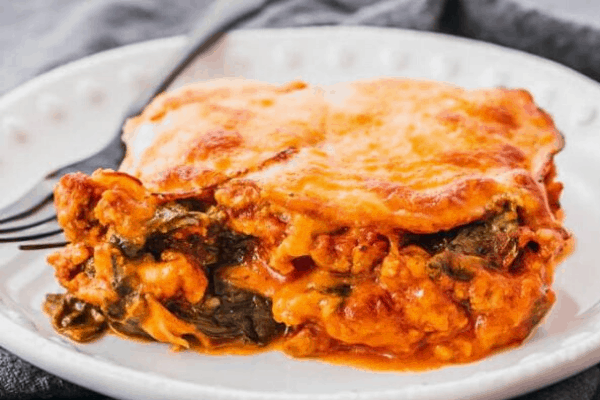 Image and recipe by savorytooth.com
Spinach is a superfood and this recipe is low-carb, gluten-free, and diabetic-friendly.
It's also hearty enough to serve for dinner or meal prep.
This lasagna tastes amazing with tangy sauce, shredded cheese, baby spinach, ground beef, oregano, and savory turkey slices!
Here turkey slices are used instead of lasagna noodles.
Net carbs: 7g, Fat: 22g, Protein: 47g
The turkey keto lasagna recipe from savorytooth.com
Check out
7. LASAGNA SPAGHETTI SQUASH BOATS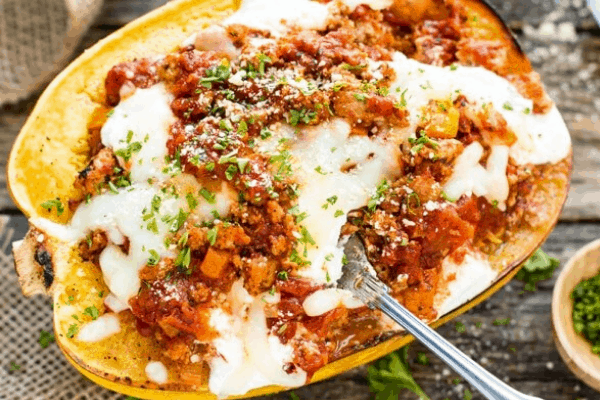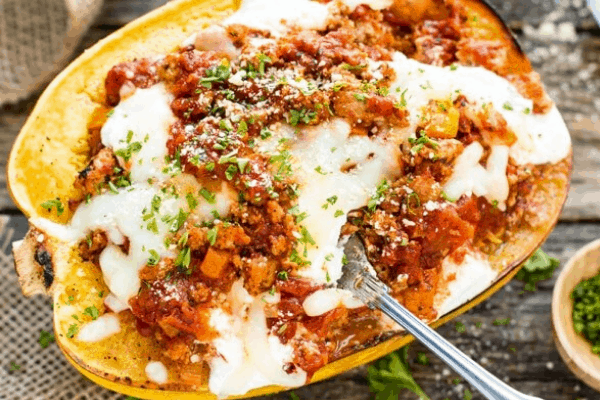 Image and recipe from evolvingtable.com
Yet another spaghetti squash keto recipe but this time this is with ground turkey.
Enjoy your favorite lasagna dish in a low-carb, gluten-free version that is super easy to make.
The "pasta" used is spaghetti squash boats and spaghetti sauce, Italian seasoning, ground turkey, and spices.
This recipe has been on our family's table for years with rave reviews!
This will look beautiful and is great for a keto dinner.
Net carbs: 7g, Fat: 31g, Protein: 29g
The lasagna spaghetti squash recipe from evolvingtable.com
8. EASY KETO LASAGNA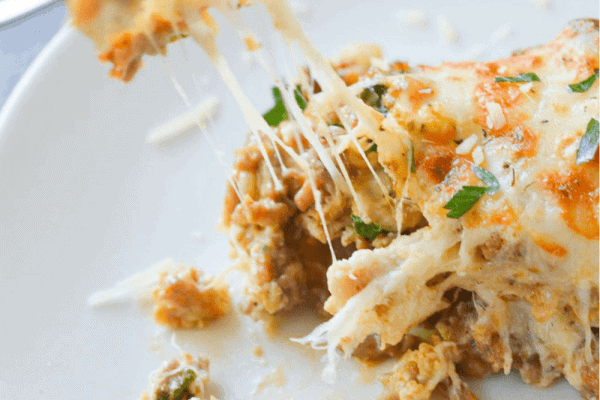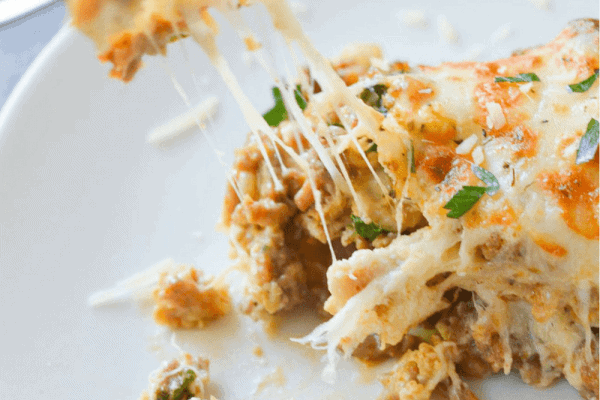 Image and recipe from heyketomama.com
It's so easy to get in shape, lose weight, and feel great with this keto diet!
The recipe is simple and delicious- you can't go wrong with this one!
Though the name says that it is an easy recipe, lasagna takes time.
This is an easy recipe as every step is broken down for a simple understanding.
Net carbs: 4g, Fat: 26g, Protein: 27g
The keto recipe from heyketomama.com
9. FATHEAD NOODLES LASAGNA RECIPE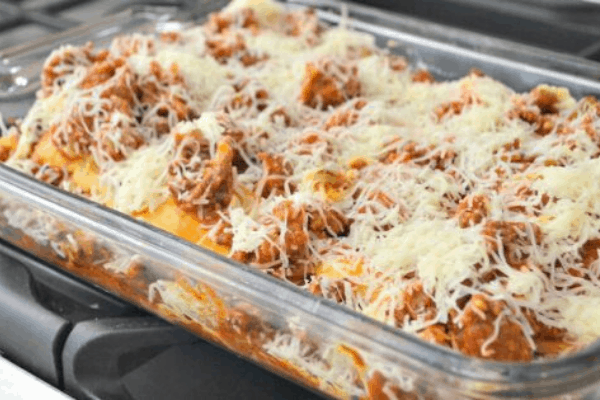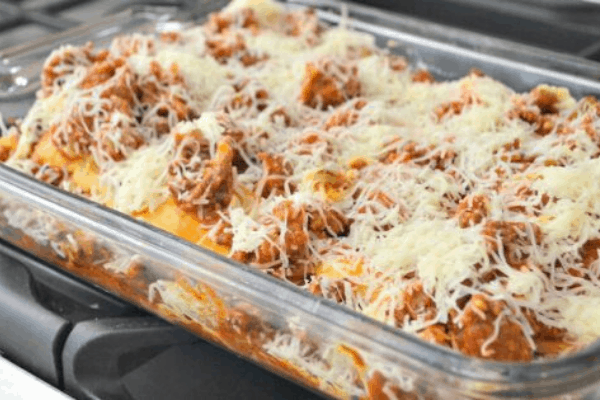 Image and recipe by hip2keto.com
Make this once and you will not even miss the regular carb-heavy noodles.
Lasagna is a dish that is traditionally made with noodles layered with cheese and meat sauce. But here fathead noodles are used made with almond flour, mozzarella cheese, and cream cheese.
For the lasagna, we need ricotta cheese, Italian sausage, beef, onion, and cheese.
Follow the instructions very carefully to make it a perfect keto meal.
Net carbs: 11g, Fat: 63g, Protein: 58g
This rich lasagna recipe from hip2keto.com
My Take on Keto Lasagna Recipes
Nothing can be healthier and creamier than keto lasagna recipes.
Creamy yet dairy-free.
Keto lasagna recipes are a great alternative to traditional pasta-based dishes.
If you're looking for an easy dish that can be made in bulk and frozen, then here they are!
Give these keto-friendly lasagnas a try. I'm sure your family will love them.
Most of the time the keto lasagna recipes are one-pot meals.
If you once start making it correctly, you will want it every day.
Related Keto Lasagna Recipes:
Keto Lasagna Recipes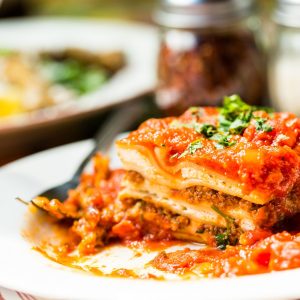 9 Creamy Keto Lasagna Recipes for a Healthy Dinner
Looking for keto lasagna recipes?
You're in luck!
These low-carb and delicious recipes are perfect for anyone on the keto diet.
Enjoy all of your favorite Italian flavors without worrying about carbs.
Instructions
Choose the cheesiest creamy keto lasagna recipe to make.

Collect the ingredients and follow the instructions.

Eat low-carb and stay healthy.
Notes