EASY KETO SHRIMP RECIPES
What's your favorite seafood dish? For many, it's shrimp.
Shrimp is a great protein choice on the keto diet, and these recipes are sure to please your taste buds.
Shrimp is a great ingredient to cook on the keto diet.
It is low in carbs and high in protein, making it a perfect food for those who are trying to lose weight or maintain their current weight.
If you're a keto eater, then you'll want to try these delicious Keto Shrimp Recipes that are sure to please!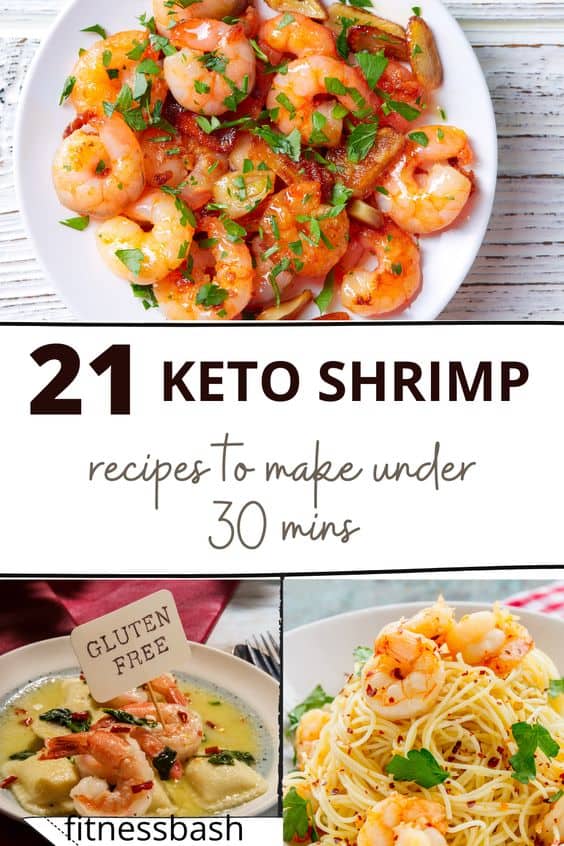 Easy shrimp recipes that are perfect for any keto meal plan.
While I was making the round-ups for different dinner recipes, I completely forgot that shrimp makes a delicious keto meal.
Shrimp takes up a bit of time to clean up its tail. But, once your ingredients are ready then it hardly takes any time for shrimp to get cooked or to put together with broccoli, alfredo sauce, or any keto shrimp salad recipes.
Is shrimp good for a keto diet?
Fishes like salmon and shrimp go well with keto.
Shrimp is almost no carbs. So it is pretty keto-friendly.
What goes well with shrimp?
Roasted asparagus, broccoli toasted and different shrimp salad recipes are my favorite.
You wanna have a wholesome dinner? Then simply serve it with a bowl of cauliflower rice or zoodles.
Zoodles and keto prawn curry are an awesome delicious combo.
What seafood is best for keto?
Salmon, scallops, and shrimp are the most common kind of seafood for keto.
What is the best way to season shrimp?
Garlic powder, salt, cayenne, olive oil with lime juice. Coat it and toss it.
Italian seasoning also works for shrimp seasoning well.
Here are 21 different keto shrimp recipes that taste wonderful.
What keto shrimp recipes can I eat?
Keto bang bang shrimp
Low-carb creamy garlic shrimp parmesan
Creamy Tuscan shrimp
Creamy asparagus shrimp
Buffalo shrimp lettuce wraps tacos
Keto shrimp scampi
Cajun shrimp boil
Keto Shrimp and grits
Easy keto lo mein shrimp
Shrimp avocado salad
Ketos shrimp stir fry
Air fryer keto shrimp
Keto fried rice with shrimp
Keto shrimp with spinach
Keto jambalaya
Keto shrimp with coconut milk
Maryland-style shrimp recipe
Coconut lime shrimp
Spicy keto shrimp over creamy spinach
Keto shrimp creole
Keto honey garlic shrimp
Keto shrimp and broccoli spicy
1. Keto Bang Bang Shrimp
-thymeandjoy.com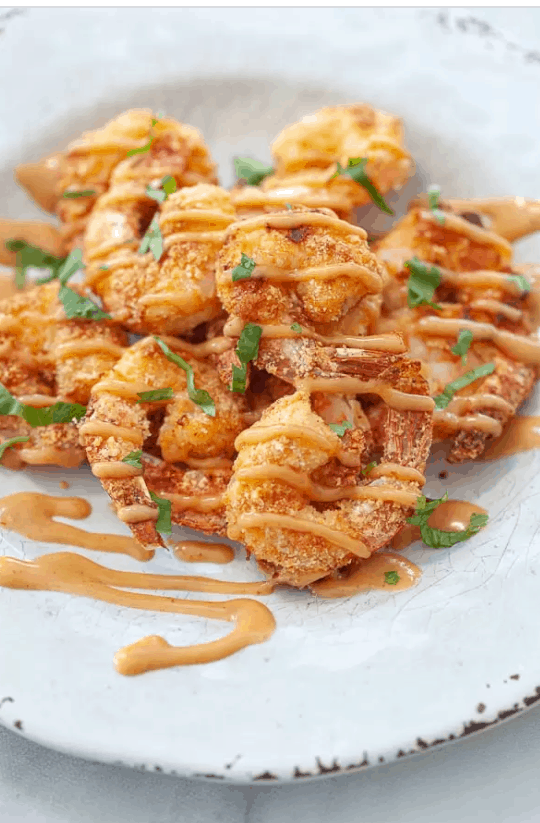 This keto shrimp recipe is a low-carb recipe copycat from the restaurant 'Bonefish Grill'. This shrimp is covered with a low-carb bread mixture that can be air fried or pan-fried, or oven-baked in the oven. Topped with a spicy bang bang sauce.
Check out to make the shrimp as well as the keto bang bang sauce.
Total time: 35 mins, Net Carbs-6 gm
The recipe from thymeandjoy.com
2. Low Carb Creamy Garlic Shrimp Parmesan
-cafedelites.com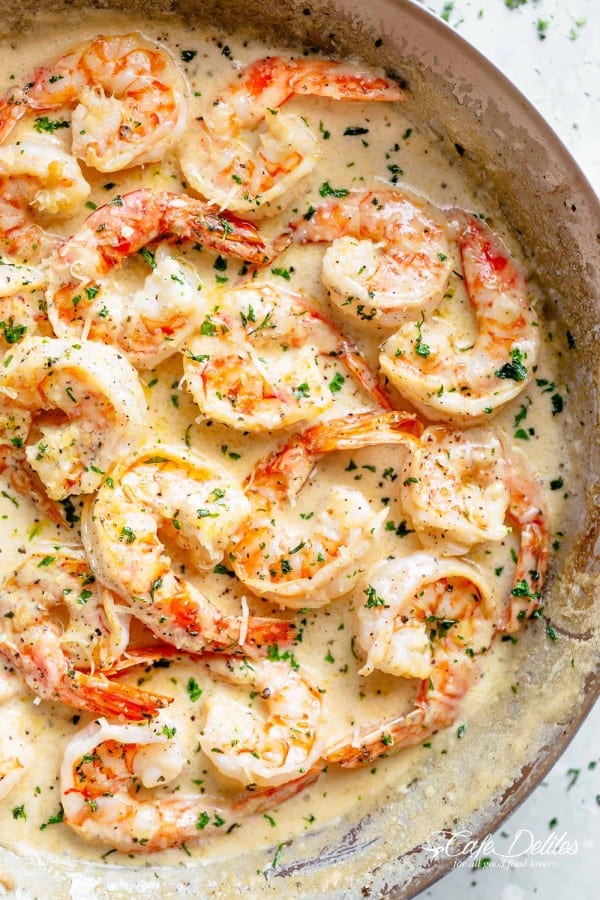 Easy garlic shrimp recipe coated in a buttery sauce that you can prepare in 10 mins. Heavy thickened cream gives a mouth-watering taste. The chopped parsley adds to the magic. Use chicken broth to add to its flavor.
A delicacy that you would want to make every week.
Time: 20 mins, Carbs: 4 gm
The recipe from cafedelites.com
3. Creamy Tuscan Shrimp
-gimmedelicious.com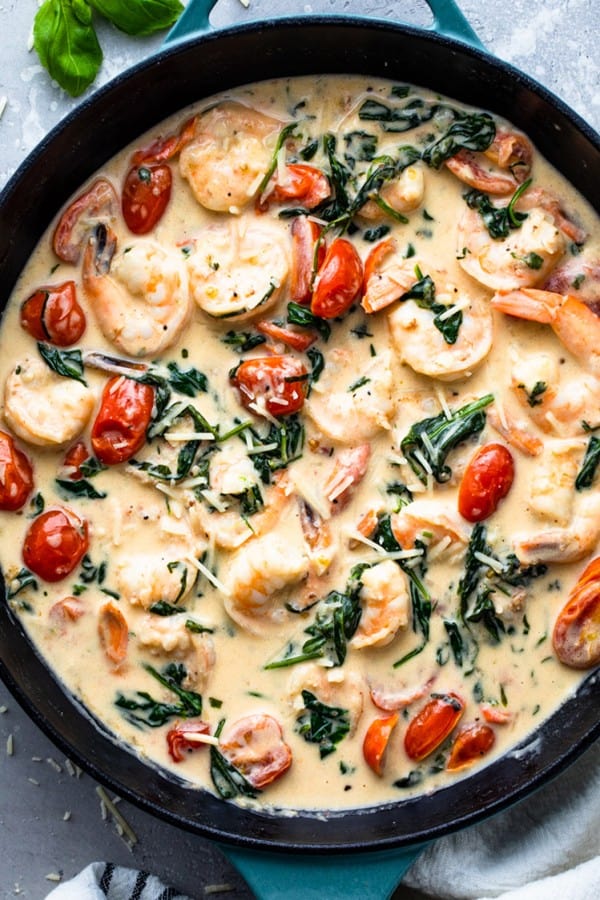 Keto-friendly low-carb dinner side dish to devour. The juicy shrimp, creamy sauce, and red tomatoes with different seasonings. A really quick and creamy keto shrimp recipe.
The spinach, heavy cream, and parmesan add to their flavor.
Total time: 15 mins, Carbs: 5g
The recipe from gimmedelicious.com
4. Creamy Asparagus Shrimp
-healthstartsinthekitchen.com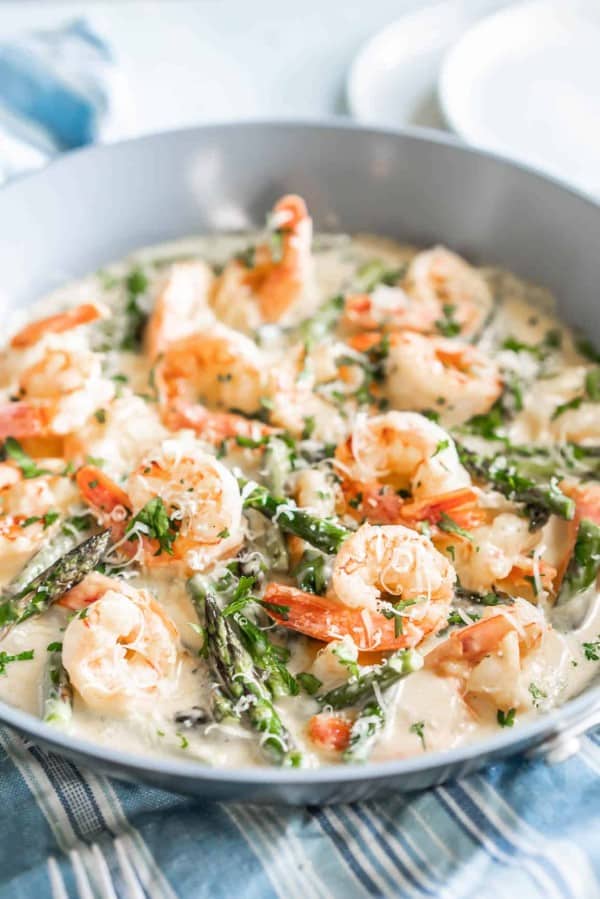 You are eating keto and ditching the carbs and making this delicious creamy alfredo sauce shrimp with only 5 ingredients butter, cream, asparagus, shrimp, and parmesan cheese. Thick the cream and enjoy this keto side dish.
Time: 7 Mins, Carbs: 3 gm
The recipe from healthstartsinthekitchen.com
5. Buffalo Shrimp Lettuce Wraps Tacos
-peasandcrayons.com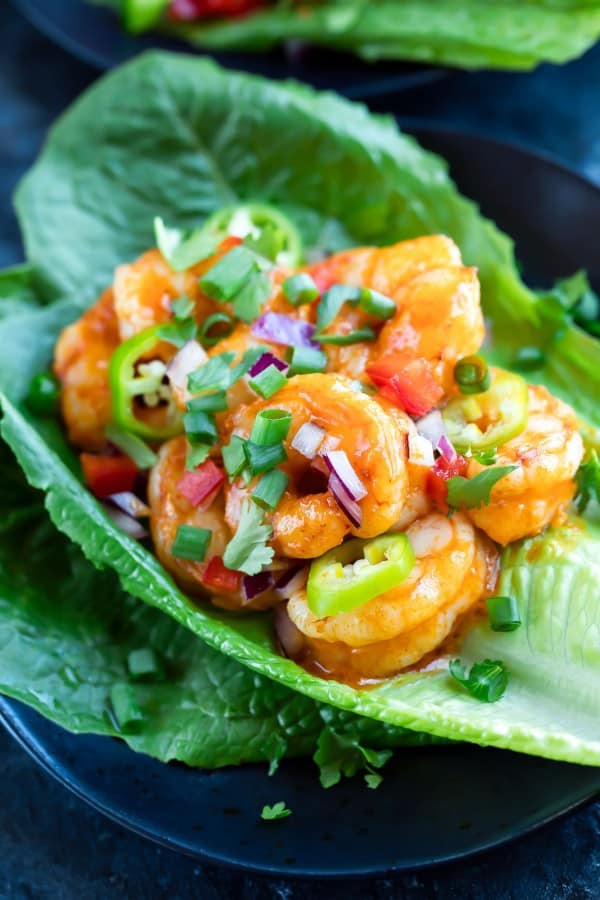 They are colorful and packed with flavor buffalo shrimp lettuce wraps. Gluten-free, paleo, and keto-friendly. You can also use almond flour tortilla instead of lettuce wraps to make it fuller.
Here are 8 keto tortilla recipes that you would want to check.
Time: 20 mins, Carbs: 2 gm
The recipe from peasandcrayons.com
6. Keto Shrimp Scampi
-wholesomeyum.com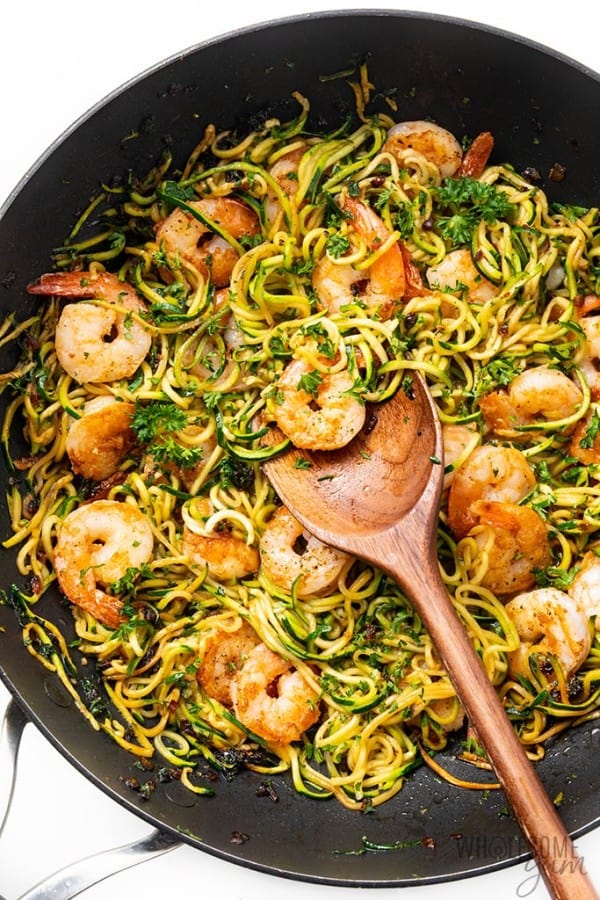 You can make zoodles along with this shrimp scampi to enjoy it to the fullest. Healthy, keto-friendly one-meal pan keto shrimp. Cook the noodles just before you want to eat them.
Oh! If you do not like zoodles, then serve the shrimp with a salad.
Here are 13 keto salad recipes to the rescue.
Time: 25 mins, Net carbs: 4.9 gm
The recipe from wholesomeyum.com
7. Cajon Shrimp Boil
-midgetmomma.com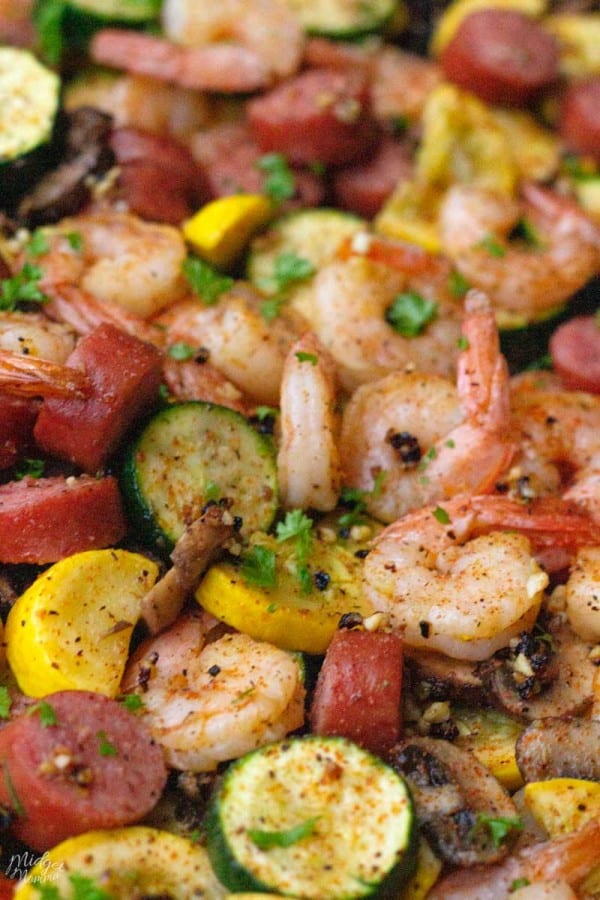 Not a very low-carb recipe but definitely healthy.
A traditional sheet pan cajun shrimp boil with sausage and your choice of keto veggies. If you want to get a healthy keto dinner, then this shrimp with sausage is surely an option.
This is surely a crowd-pleaser.
Time: 25 mins, Carbs: 9 gm
The recipe from midgetmomma.com
8. Keto Shrimp and Grits
-maebells.com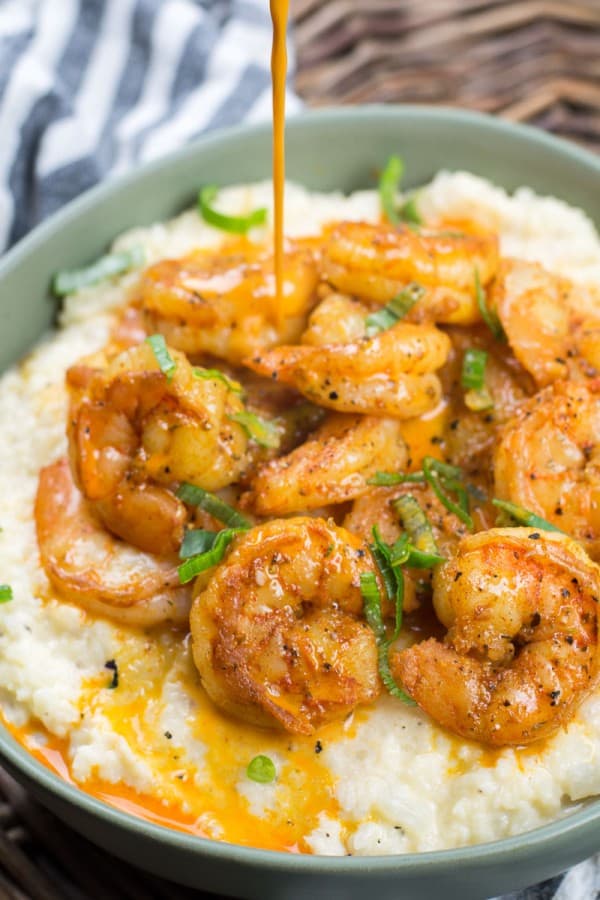 An ultimate low-carb comfort food. Cauliflower, heavy cream, and seasonings, make it all flavorful. Go through the instructions well, not to make it mushy.
Net Carbs: 4.5 gm
The recipe from maebells.com
9. Easy Keto Lo Mein Shrimp
-stylishcravings.com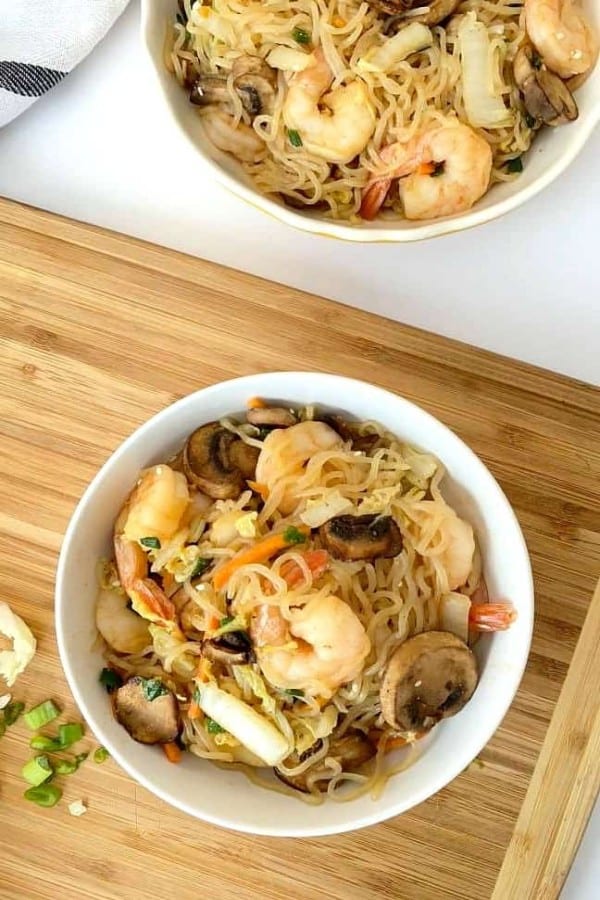 Keto shrimp recipe with toasted sesame seeds and soy sauce tastes delicious. This keto recipe is great for a keto lunch or dinner.
The shirataki noodles keep you full.
A budget-friendly keto recipe.
Time: 25 mins
The recipe from stylishcravings.com
10. Shrimp Avocado Salad
-savorytooth.com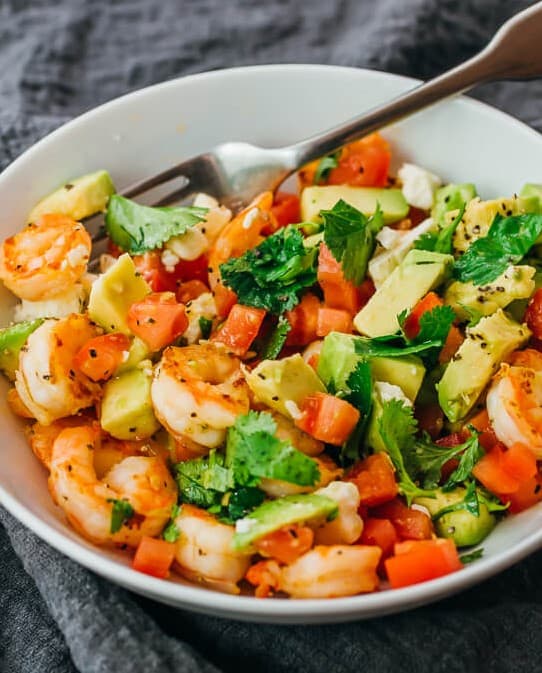 This is one of the vibrant keto shrimp salad recipes. Tasty summer shrimp salad with avocado.
A great choice for a keto-friendly salad idea. Quick to make and easy to prepare. The freshly chopped parsley and lemon juice add to their tanginess.
Time: 25 mins, Net carbs: 6.5 gm
The recipe from savorytooth.com
11. Keto Shrimp Stir Fry
-seekinggoodeats.com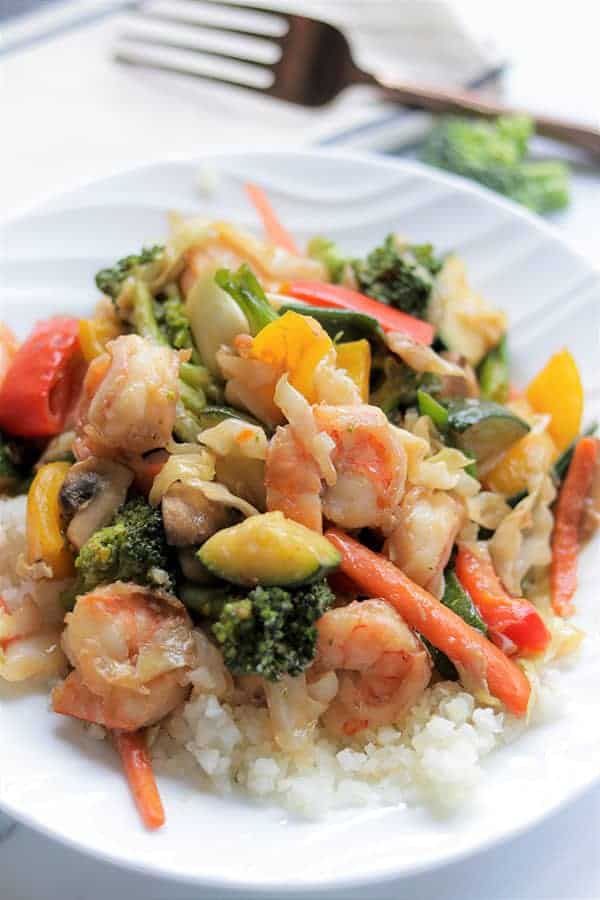 Tastes incredible. Super easy single pan meal. Sugar-free for sure. You can whip together this Chinese recipe in no time. Asian flavor with tender shrimp and vegetables.
This recipe tastes great by adding whatever keto vegetables you have in hand.
Net carbs: 7.5 gm
The recipe from seekinggoodeats.com
12. Air Fryer Keto Shrimp
-kimspireddiy.com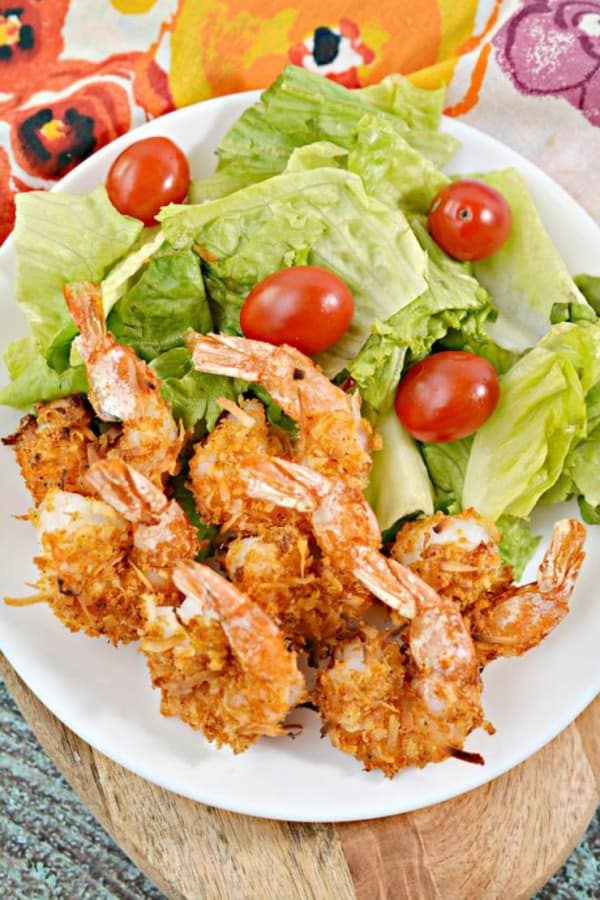 It is a great keto appetizer. This air fryer coconut shrimp recipe is keto-friendly and a complete crowd-pleaser.
Doesn't take much time to put it together if you have the ingredients in hand.
Here are 8 keto appetizers that should try.
Total time: 25 mins, Net carbs: 2 gm
The recipe from kimspireddiy.com
12. Keto Fried Rice with Shrimp
-jenniferbanz.com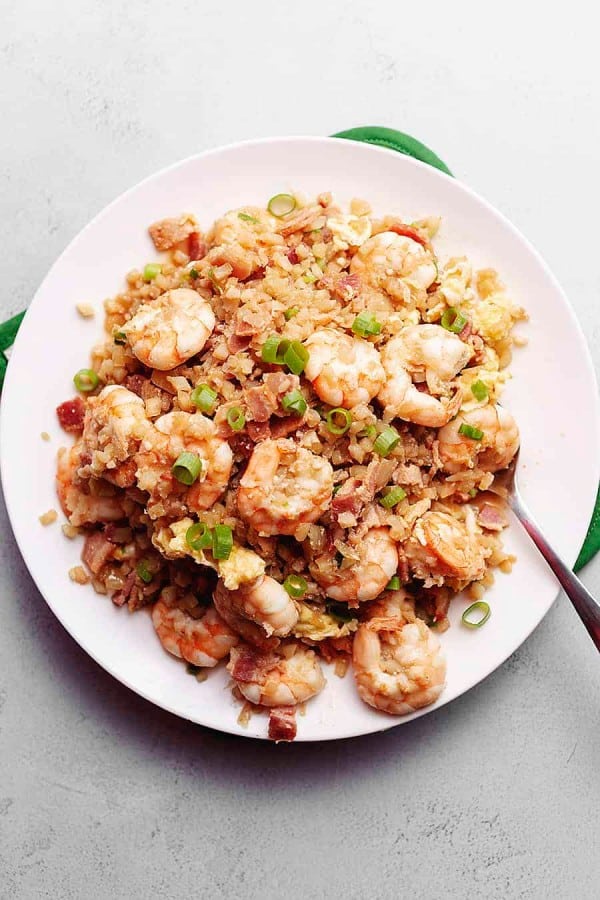 A keto-friendly cauliflower fried rice shrimp recipe for a low-carb lunch. You will get an amazing flavor and this gonna taste like a real Chinese fried rice recipe.
The bacon and garlic make all the difference.
Time: 20 mins, Net carbs: 7 gm
Recipe from jenniferbanz.com
13. Keto Shrimp with Spinach
-livingwellspendingless.com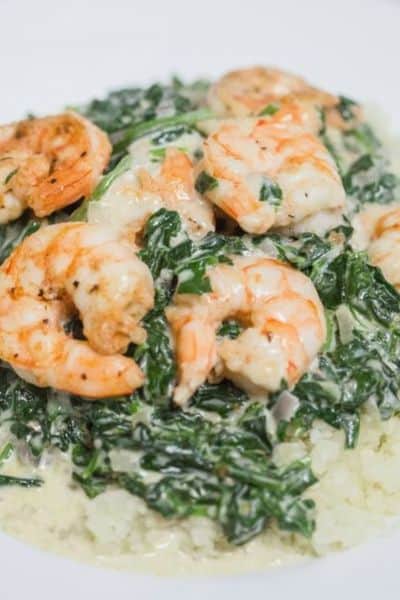 A quick, easy, and low-carb keto dish. This is a super delicious spinach recipe with shrimp. With sauteed garlic and scallions, this is a wholesome recipe.
The Recipe from livingwellspendingless.com
14. Keto Jambalaya
-explorermomma.com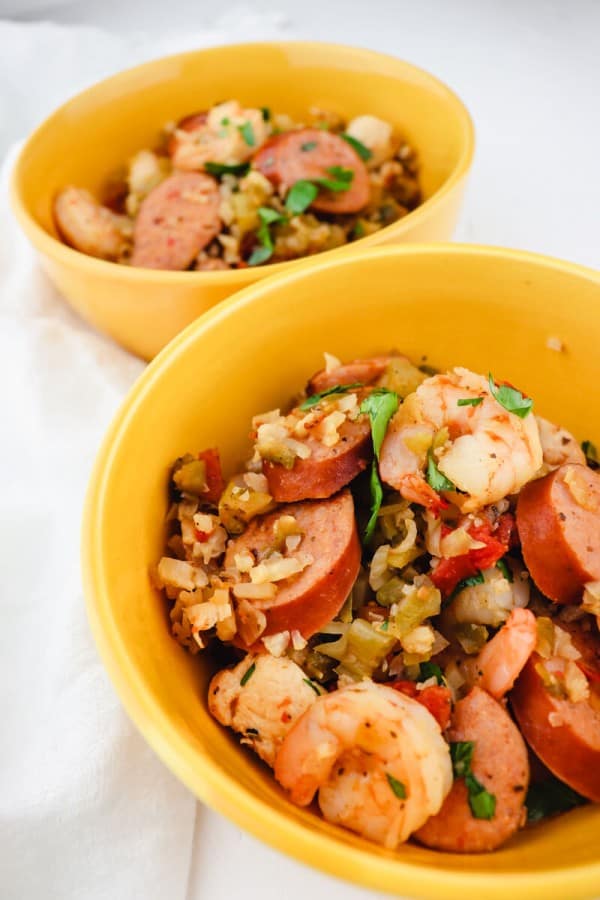 The One-pot keto meal is perfectly packed with proteins. Spice up your dinner with shrimp, sausage, veggies, and chicken. With wonderful low-carb cauliflower rice.
Time: 25 mins, Net carbs: 5 gm
Recipe from explorermomma.com
15. Keto Shrimp with Coconut Milk
-twosleevers.com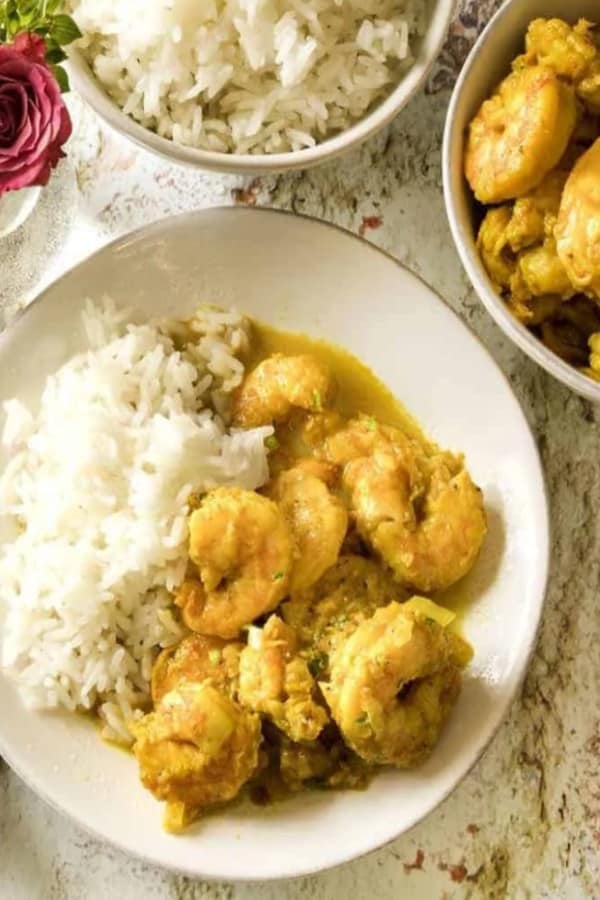 A delicious meal to make in an instant pot. This is a low-carb dinner with turmeric and cayenne.
Serve it with cauliflower rice or zoodles.
Time: 20 mins, Carbs: 5 gms
Recipe from twosleevers.com
16. Maryland Style Shrimp Recipe
-meganseelinger.com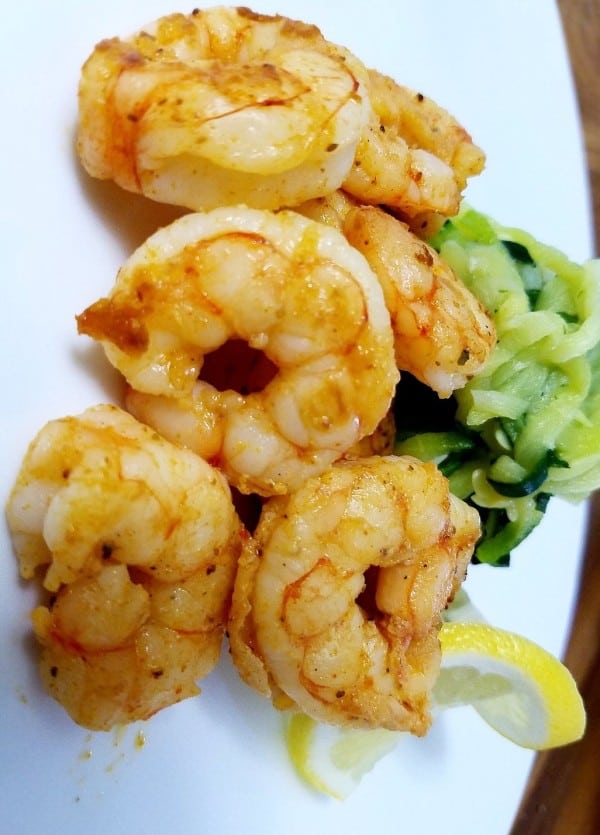 A perfect healthy shrimp recipe for summer days.
Herbs, spices, and seafood. It cannot get any better combo. A keto-approved shrimp recipe from Maryland.
Time: 20 mins, Carbs: 1.4 gms
Recipe from meganseelinger.com
17. Coconut Lime Shrimp
-threeolivesbranch.com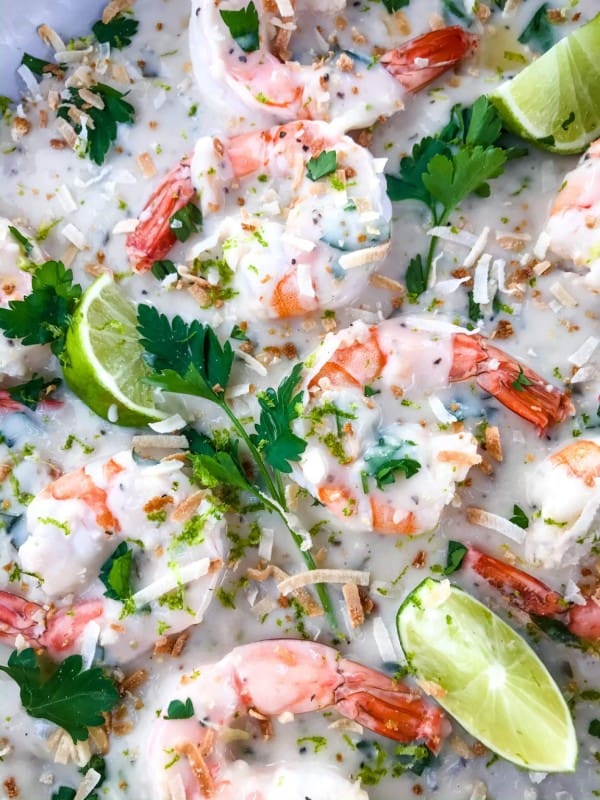 A shrimp recipe cooked in a quick coconut lime sauce. Complete keto and low carb. I love anything where coconut milk and lime are used. So definitely this is one of my favorite recipes.
The fresh cilantro and garlic add to the flavor.
Time: 25 mins, Net carbs: 9 gms
Recipe from threeolivesbranch.com
18. Spicy Keto Shrimp Over Creamy Spinach
-maryswholelife.com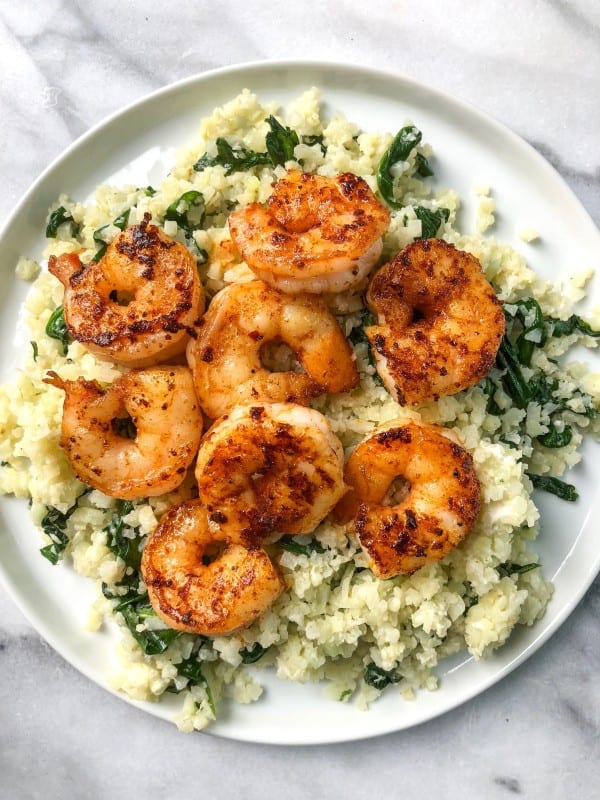 A total keto meal with spicy shrimp and cauliflower rice. A wholesome keto dinner.
This keto shrimp and spinach recipe are so delicious that even if you omit the cream cheese, this is still going to be tasty.
Time: 15 mins
Recipe from maryswholelife.com
19. Keto Shrimp Creole
-howtothisandthat.com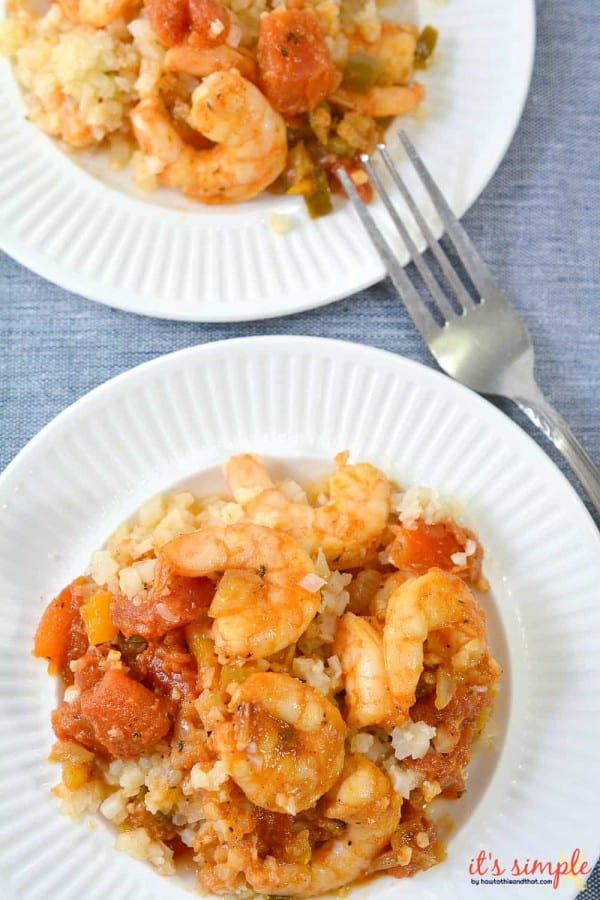 This is a completely divine recipe. Too many ingredients are used, so make a list first. The topping with cilantro and hot sauce is too delicious. Don't miss that.
This is a one-pot keto recipe ready in about 30 mins.
Time: 30 mins, Carbs: 3 gm
Recipe from howtothisandthat.com
20. Keto Honey Garlic Shrimp
-lowcarbingasian.com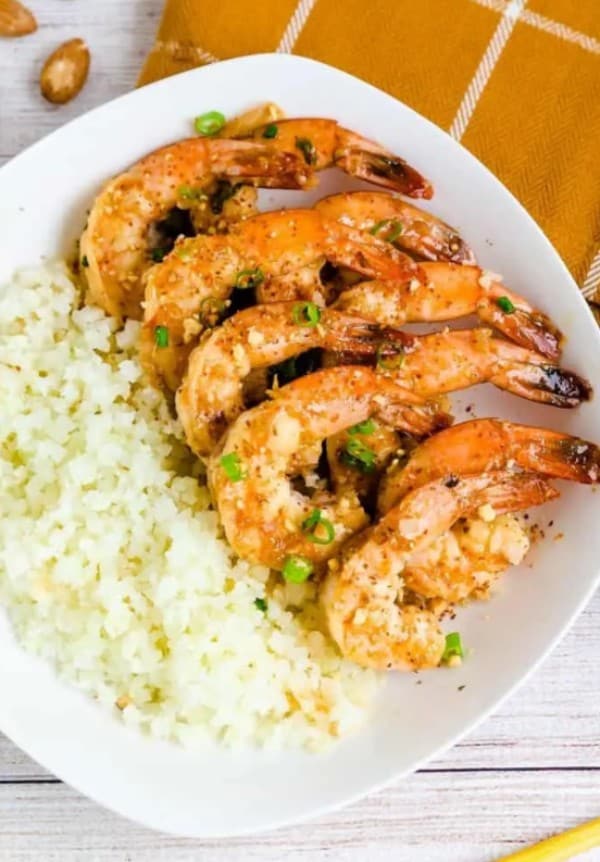 This is simply a delicacy. Make this recipe and trust me you will make this next week too. Honey and garlic sauce make an awesome flavor to get drowned in.
Either serve it with cauliflower rice or with zoodles.
Time: 25 mins, Net carbs: 3 gms
Recipe from lowcarbingasian.com
21. Keto Shrimp and Broccoli Spicy
-melaniecooks.com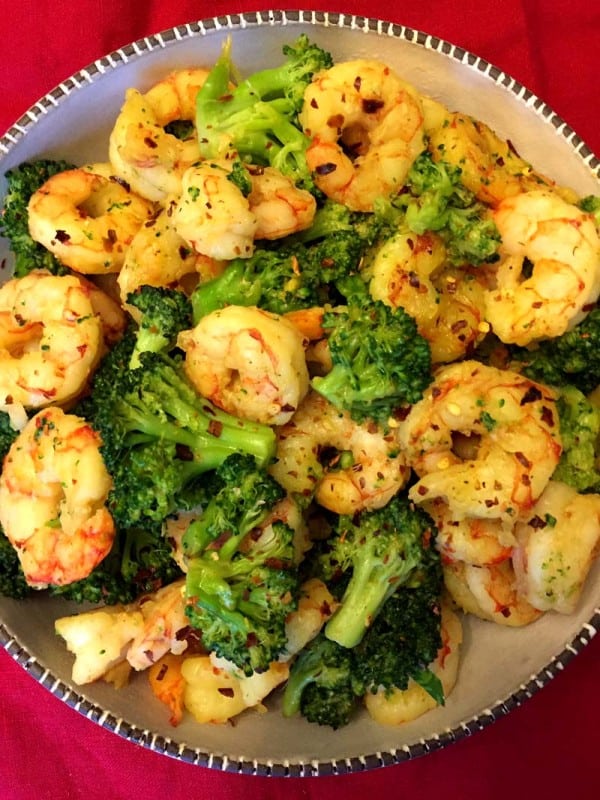 This is one of the easiest dinner recipes. The garlic shrimp and broccoli stir fry is so yummy and restaurant-style. The garlic butter sauce in this recipe is the game-changer.
Time: 15 mins, Cars: 4 gms
Recipe from melaniecooks.com
My Take on Keto Shrimp Recipes
Shrimp recipes are incredible, quick, and easy.
Before I tried on a few of the keto shrimp recipes, I never thought it could be so easy to put together an entire meal so quickly.
Keto shrimp creole is my favorite.
Add this keto ketchup and keto alfredo sauce to make the shrimp recipes tastier.
Do you want to start with health?
Start with the shrimp and spinach recipes. You will be amazed that spinach also can taste so good.
Related Keto Dinner Side Dishes:
Easy Keto Shrimp Recipes to make in under 30 Mins of time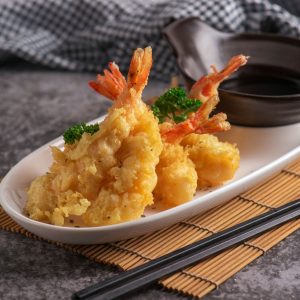 21 Easy Keto Shrimp Recipes (Dairy-Free)
Looking for some keto-friendly shrimp recipes?
You've come to the right place.
From skillet meals to salads, we've got you covered with these delicious shrimp dishes.
So why not give one of them a try tonight?
Instructions
Choose your favorite keto shrimp recipe.

Collect the ingredients and follow the instructions.

Make a creamy and easy shrimp recipe for dinner.
Notes