Keto recipes.
Extremely useful if you want to lose body weight or have a healthy lifestyle. 
We all know that low-carb diets are great for weight loss, but what if you're a beginner and don't have a clue where to start?
This post will list some of the best low-carb breakfast, lunch, dinner, and snack options for beginners!
Simply start with curbing off sugar and carbs.
You will feel more energetic than ever. 
EASY KETO RECIPES FOR BEGINNERS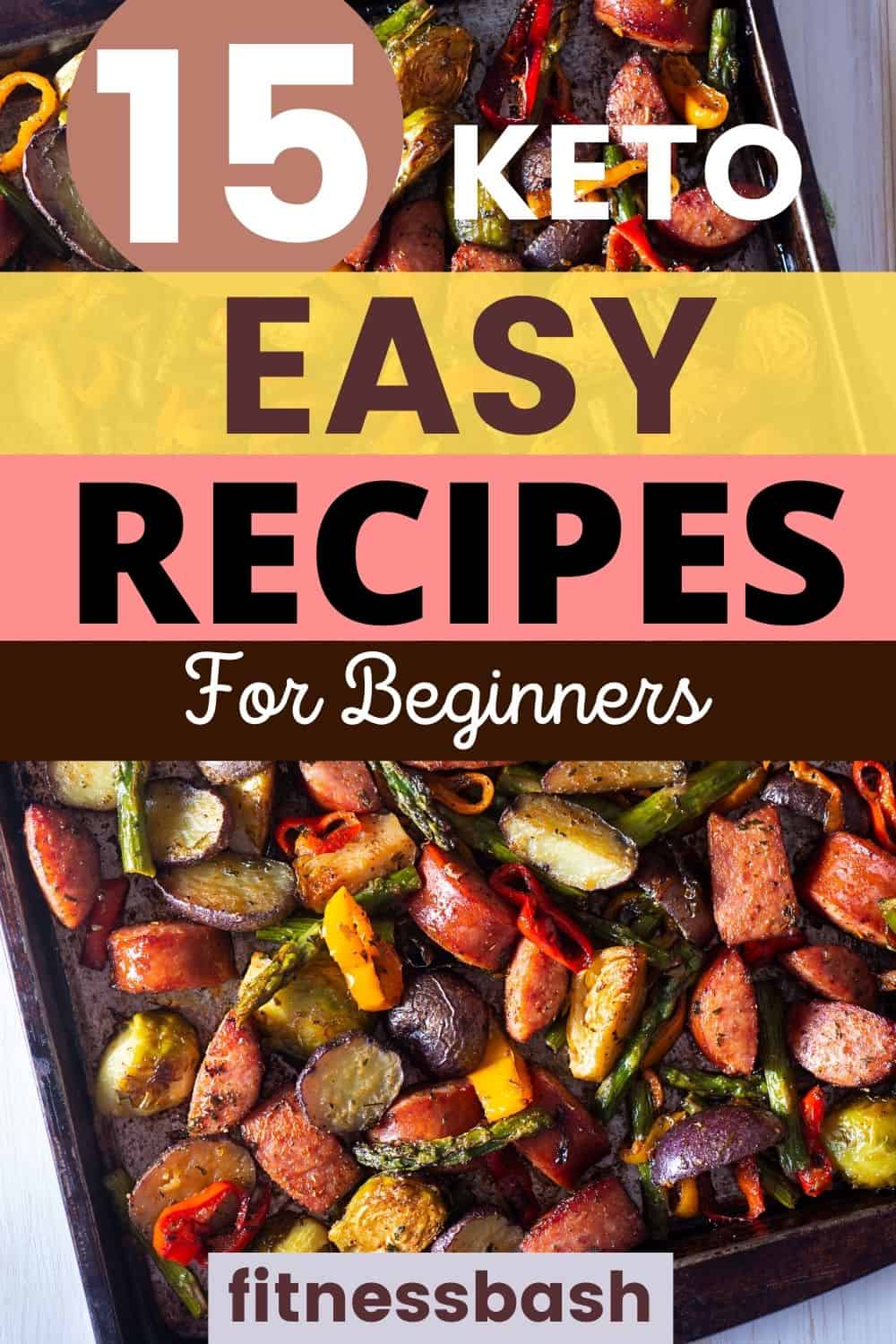 This is not a keto diet plan for beginners but some simple and easy keto recipes to start with.
How do I start keto for beginners?
Here is a 7-day keto diet menu for beginners that you must go through if you are looking to start a keto.
It consists of perfect keto recipes for breakfast, lunch, and dinner along with keto desserts and snacks.
Before you proceed with a keto diet you must understand what is a ketogenic diet.
Ketogenic diet weight loss is quite effective if you actually follow the recipes and keep yourself focused.
How soon after starting the keto diet do you lose weight?
You will enter ketosis in as little as 7 days.
Your body will start adjusting to the new no-carb and fat diet.
Once you are done with a few side effects, you will start noticing a difference in how your body feels.
Check out the side effects of keto flu of doing a keto diet and the 8 symptoms of being in ketosis.
To be short, in a span of 14 days, your body should start losing weight.
Here go simple recipes for keto breakfasts, keto lunches, and dinners for keto beginners.
Some affiliate links are here which means I will earn a very very small amount of commission if you make any purchase through it.
EASY KETO RECIPES FOR BEGINNER'S BREAKFAST
 1. EGG SNICKERDOODLE CREPES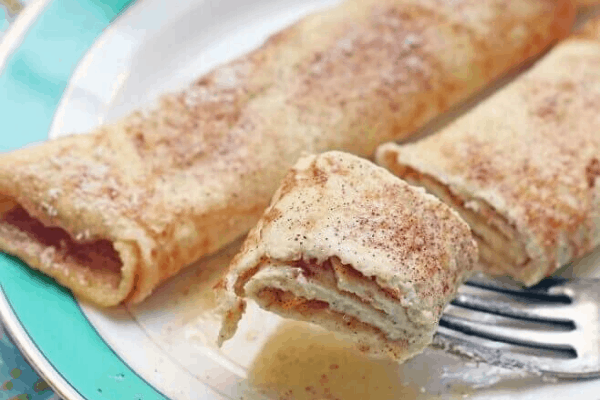 Image and recipe by ibreatheimhungry.com
The easiest and healthiest breakfast is through crepes!
These Egg Snickerdoodle Crepes are so good, that it's hard for me not to eat them all in one sitting.
They're made with just a few ingredients and take about 10 minutes from start to finish.
Net carbs: 2g
This will make fantastic-looking crepes. This will even satisfy your sweet tooth.
Recipe from https://www.ibreatheimhungry.com/egg-fast-recipe-snickerdoodle-crepes-low-carb/
Main ingredients: Eggs, cream cheese, swerve, butter, cinnamon.
 2. KETO BREAKFAST SANDWICH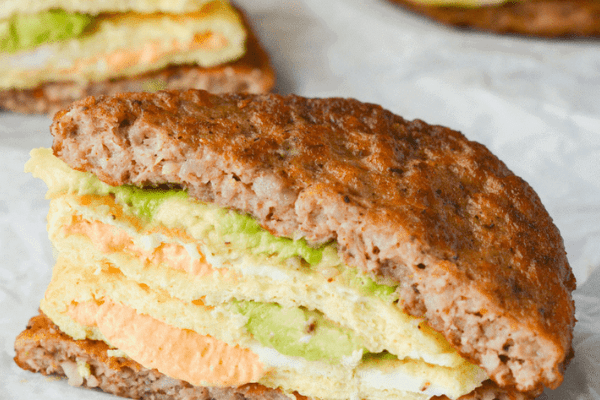 Image and recipe by heyketomama
I just love sandwiches.
Not only it is fulfilling but it also tastes so good with a bullet coffee. Oh, you don't know about bullet coffee. Do not worry, will come to it later.
I found this recipe on Heyketomama and instantly tried and loved it.
Get the recipe by https://www.heyketomama.com/keto-breakfast-sandwich/
Net Carb: 4 Gm
Main ingredients: Egg, sausage patties, cream cheese, avocado, cheddar, and sriracha. 
3. LEMON BLUEBERRY MUFFIN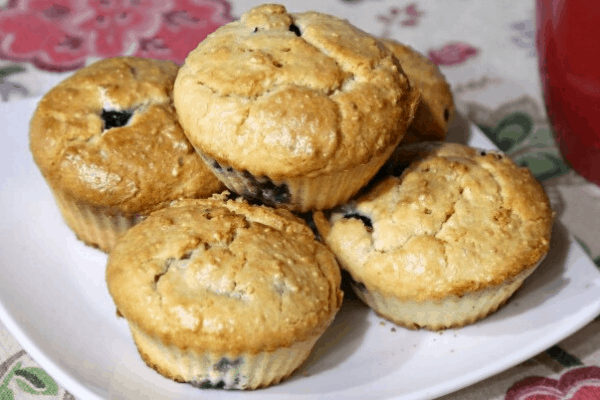 Image and recipe by ketosizeme.com
Net carbs: 3g
The blueberry and lemon muffins are so refreshing.
I just love it. 
These muffins are really sweet and satisfying.
This only takes 5 mins to whip up and 30 mins to bake.
Check the recipe https://ketosizeme.com/keto-lemon-blueberry-muffins/
Main ingredients: Almond flour, whipping creme, eggs, butter, stevia, baking powder, blueberries, and lemon extract.
Try out:
4. ALMOND BUTTER WAFFLES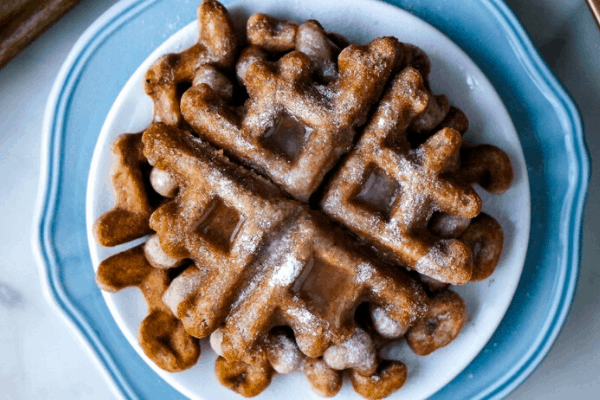 Image and recipe by InspectorGorgeous.com
An easy recipe for delicious Almond Butter waffles.
These are a great way to start your day off on the right foot, and they're packed with protein!
The recipe is so simple that anyone can do it.
Cook time: 5 Minutes
With almond butter and beaten egg, you just cannot resist this crispy waffle.
The astonishing fact is, it contains only 1 net carb.
Check out this simple recipe from https://www.inspectorgorgeous.com/keto-almond-butter-waffles/
EASY KETO LUNCH RECIPES FOR BEGINNERS
If you're a beginner to keto, the thought of cooking for yourself can be overwhelming.
You might not know where to start or what foods are allowed on this diet.
Here are some easy keto lunch recipes for beginners!
These recipes will help make your lunch meal prep easier and more enjoyable. Plus they'll give you some variety in your food so that things don't get too repetitive!
5. LOADED CAULIFLOWER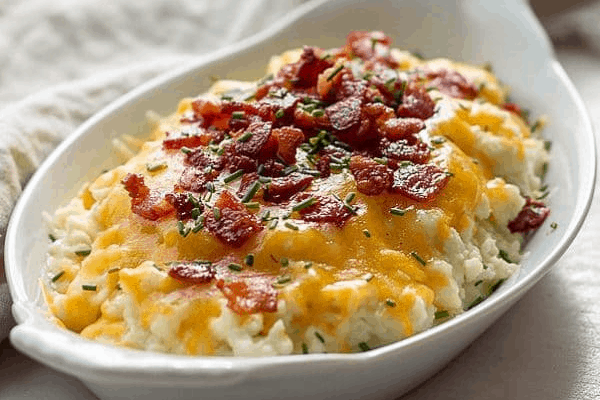 Image and recipe from lowcarbmaven.com
Want some veg for lunch? Here is the delicious loaded cauliflower.
Take it in the office or have it at home relaxing.
Get it prepared for 20 minutes and it is as tasty as it is looking.
Get the recipe from https://www.lowcarbmaven.com/loaded-cauliflower-low-carb-keto/
Main ingredients: Cauliflower, bacon, sour creme, cheddar cheese, chives, garlic powder, and butter. 
6. LOW-CARB EGG ROLL IN A BOWL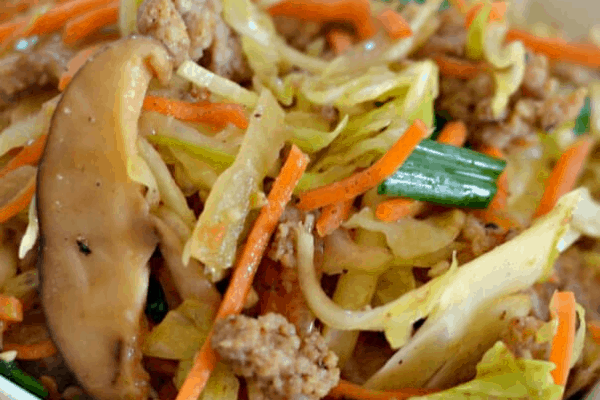 Image and Recipe by hip2save.com
It is easy to carry 1 bowl of meals.
The Low Carb Egg Roll in a Bowl is an amazing dish that will have you coming back for more.
The ingredients are simple and include things like cabbage, mushrooms, soy sauce, and pepper.
It's one of the easiest dishes to make too!
This is one of the keto lunch ideas to work. 
See the Recipe from https://hip2keto.com/recipes/keto-egg-roll-bowl/
7. ZUCCHINI PASTA WITH LEMON GARLIC SHRIMP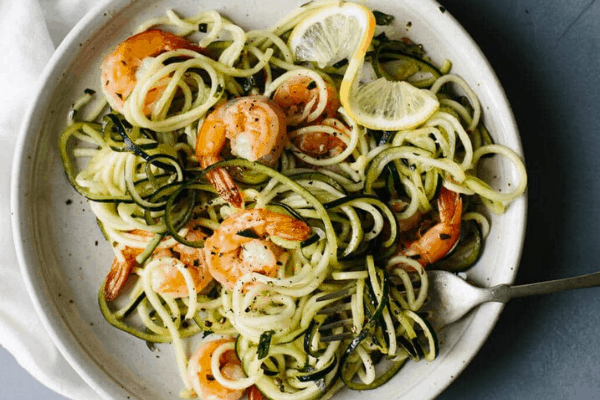 Image and recipe by downshiftology
Zucchini pasta is a great way to get your kids to eat their veggies.
It's also delicious and healthy! This recipe uses zucchini noodles with lemon garlic shrimp for a delicious meal that the whole family will love.
It is delicious, gluten-free, and of course low carb.
Zucchini noodles are lighter and healthier and a nutritious meal with sauteed shrimp warmed up with garlic and lemon.
A perfect dish to take to an office lunch box or a kid's meal.
Get the recipe from https://downshiftology.com/recipes/zucchini-pasta-with-lemon-garlic-shrimp/
Main ingredients: Zucchini, raw shrimp, butter, lemon zest, parsley, pepper flakes, and garlic cloves. 
EASY KETO RECIPES FOR BEGINNERS'
 DINNER
You are new to keto and need help with easy keto meals?
All of these recipes are super simple and perfect for beginners!
The first recipe is a low-carb crockpot buffalo chicken that tastes like the classic dish but with only 1g of carbs. You can add vegetables or mushrooms for extra flavor.
Next up is an easy jalapeno hot popper chicken that takes only 15 mins to be cooked.
The next keto diet idea for beginners is deconstructed Pizza. Now, who doesn't love the cheesiness of a pizza?
Lastly, there is Tuscan garlic chicken, a dinner dish that is creamy and delicious meal.
8. CROCKPOT BUFFALO CHICKEN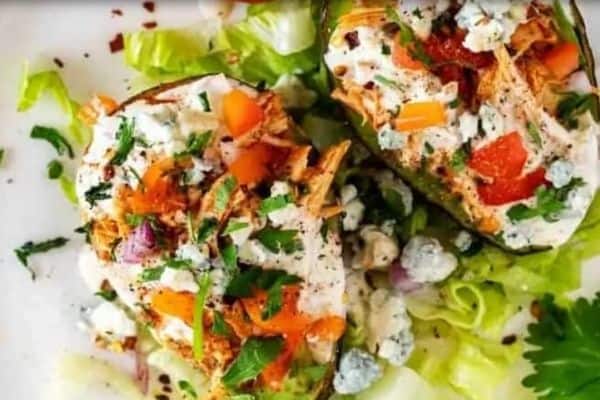 Image from kicking-carbs
Another delicious slow cooker recipe. Perfect dinner with a tender mouth-watering meal.
Chicken has always been my favorite and top keto recipe.
Net carb: 1g
It takes just 5 mins to prepare with a cooking time of 3 hours.
Here are 9 more crockpot recipes if you like.
Check the recipe here from https://kicking-carbs.com/keto-slow-cooker-buffalo-chicken/
Main ingredients: Chicken breasts, buffalo sauce, garlic, and pepper.
9. JALAPENO HOT POPPER AND CHICKEN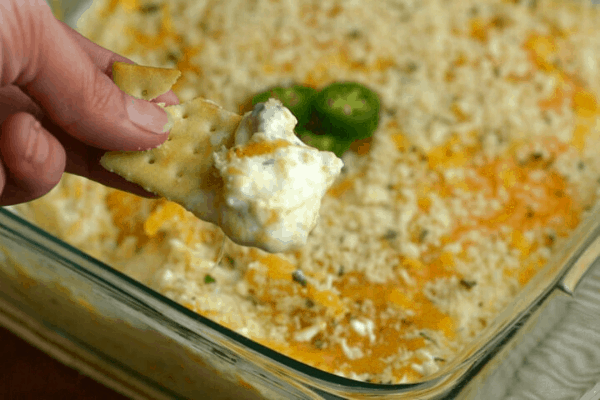 Image and Recipe from adventuresofanurse.com
This dish is perfect for a casual night with friends and the preparation couldn't be easier.
This is an instant recipe that can be cooked in under 15 minutes.
This will not only taste good but also give a very delicious look.
Here go the instructions from https://www.adventuresofanurse.com/jalapeno-hot-popper-chicken-instant-pot-dip/
10.

DECONSTRUCTED PIZZA CASSEROLE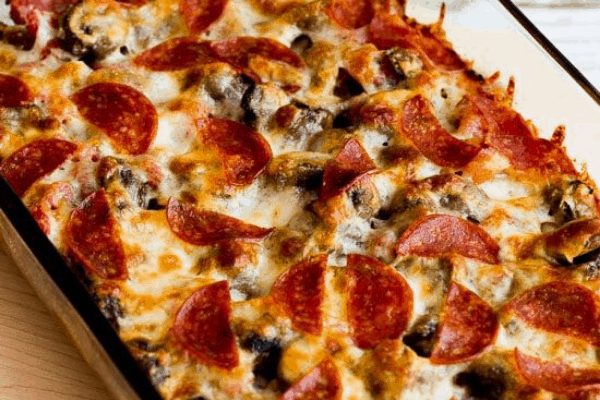 Image and recipe from kalynskitchen.com
Cook time: 25 Minutes
If you are looking for something new to eat then this gonna be freakin' delicious, low-carb, comfort food that will make you happy.
This is one of the easiest and best ketogenic recipes.
Check the recipe from https://kalynskitchen.com/low-carb-deconstructed-pizza-casserole/
Main Ingredients: Turkey, mushroom, mozzarella cheese, dried oregano, pepperoni, tomatoes, olive oil, and ground pepper.
11. CREAMY TUSCAN GARLIC CHICKEN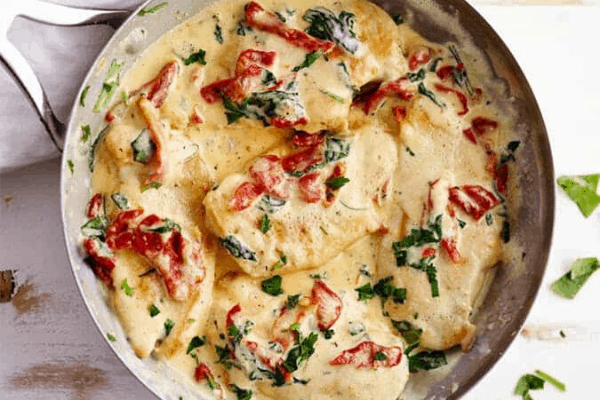 Image and recipe from therecipecritic
The amazing creamy Tuscan garlic chicken with garlic sauce, spinach, and sun-dried tomato.
A quick meal that will get prepared in just 30 minutes or less. 
Full-filling keto meal and one of the best keto recipes ever.
A perfect keto dinner idea. Serve it over pasta or have it as a side dish.
Get the recipe https://therecipecritic.com/creamy-tuscan-garlic-chicken/
Main ingredients: Chicken breasts, chicken broth, heavy creme, garlic powder, Italian seasoning, sun-dried tomatoes, spinach, and parmesan cheese. 
12. KETO CHICKEN QUESADILLA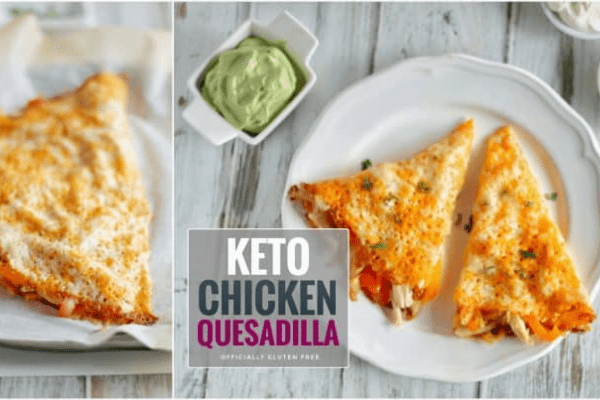 Total time: 15 mins
If you are looking for an easy, quick, and delicious recipe that is keto-friendly – you've come to the right place. This keto chicken quesadilla will leave your mouth watering in no time!
It's so good, that it might become your new go-to recipe. I'm not kidding when I say this dish is finger-licking good!
This keto recipe is not only delicious but it will make your house smell like heaven because of all the spices. Now go grab some cheese, chicken, and tortillas and let's get cooking!
Carbs: 6g, Protein: 52g, Fat: 40g
Recipe from https://www.officiallyglutenfree.com/keto-chicken-quesadilla/
13. KETO CHICKEN BACON RANCH CASSEROLE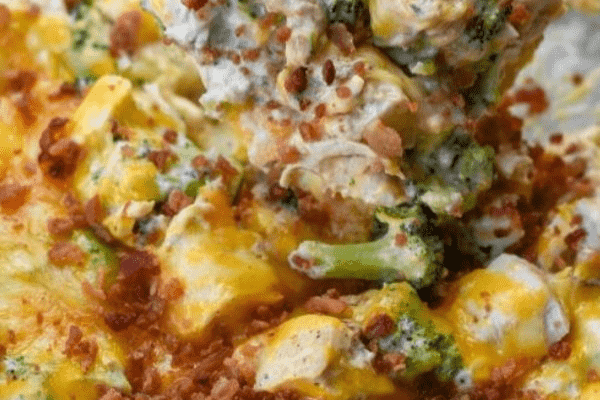 Total time: 35 mins
This Keto Chicken Bacon Ranch Casserole is packed full of flavor and perfect for any occasion! You can make it ahead of time, store it in the fridge or freezer, then just pop it in the oven when you're ready to eat.
This is a delicious, low-carb dish that's perfect for dinner or lunch.
This casserole is made with bacon and ranch dressing mixed in with the chicken and cheese – it'll be your new favorite keto recipe!
Net carbs: 7g, Protein: 39g, Fat: 28g
From https://curbingcarbs.com/keto-chicken-bacon-ranch-casserole/
14. LOW-CARB PIZZA ROLLS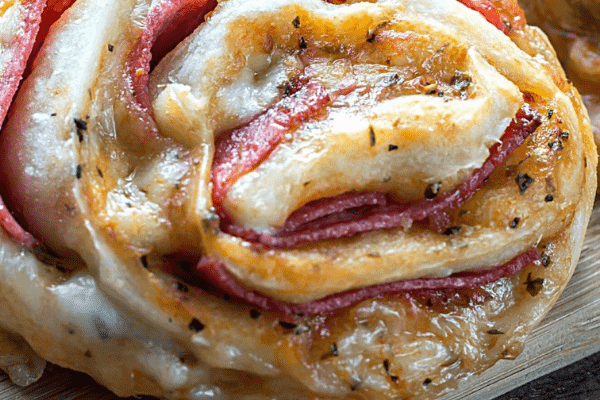 Total time: 35 mins
One of the most popular keto recipes is the low-carb pizza roll, which is a type of food that you can enjoy at any time!
They are especially good for those who are on the go and need to eat quickly. 
Pizzas can never go out of style. You can carry this pizza roll to your office or have a sumptuous dinner all by yourself while chilling with your favorite show.
Carbs: 1g, Protein: 2g, Fat: 2g
From https://thesugarfreediva.com/low-carb-pizza-rolls/
15. SHEET PAN SAUSAGE VEGGIES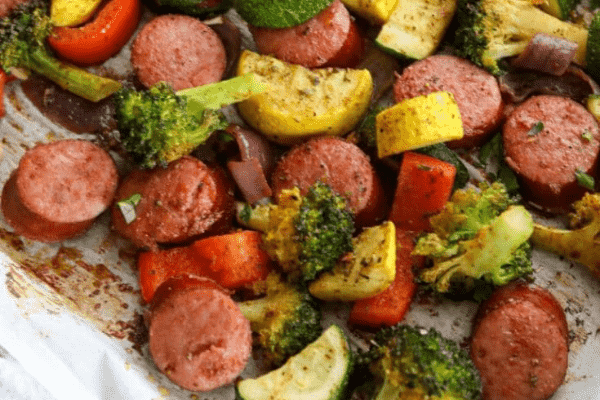 Total time: 18 mins
This keto sheet pan sausage and veggie recipe is one of my favorites. It makes clean-up easy because everything cooks on the same tray!
The flavors blend so well together, that you will never know it's low carb.
This keto sheet pan sausage and veggies recipe is a must-try. It will give you all of the deliciousness of your favorite breakfast sausage.
 This meal can be prepared in under 20 minutes, making it perfect for any weeknight dinner.
Carbs: 7, Fat: 27g, Protein: 12g
From https://kaseytrenum.com/keto-sheet-pan-sausage-veggies-quick-low-carb/
My Take on Easy Keto Recipes for Beginners
If you're just starting on your ketogenic journey, here are some of the best-loved recipes from other beginners who have stumbled and learned their way.
What do these easy Keto recipes for beginners all have in common? They're simple to make, they taste good and they'll help keep you on track with your weight loss goals!
Whether it's breakfast, lunch, or dinner time, these recipes will satisfy your hunger.
Trying out these easy simple keto cuisines that will help you to get into ketosis.
Related Keto Recipes:
Easy Keto Recipes for Beginners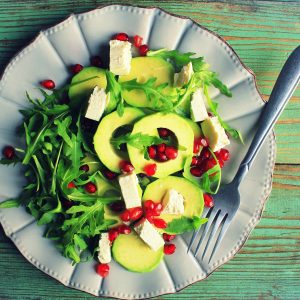 15 Easy Keto Recipes for Beginners to Lose Weight
Are you curious about the keto diet but don't know where to start?
This is the perfect board for you.
We've gathered some of our favorite keto recipes for beginners, so you can hit the ground running and see results fast.
Check out these delicious and healthy dishes, and get started on your keto journey today!
Instructions
Choose the breakfast, lunch, and keto dinner recipes you want to make.

Collect the ingredients and make an easy keto diet recipe.

Eat low-carb and stay in ketosis.
Notes