KETO FRIENDLY APPETIZERS
Looking for keto appetizers that will wow your guests without wrecking your diet?
These keto appetizers are low-carb, gluten-free, delicious, and keto party food ideas.
They're perfect for the dieter who wants to stick with their goals while still having fun!
What is the best kind of party? The kind where everyone gets to eat!
The keto-friendly appetizers will make your next gathering a hit with all of your guests.

Simple Keto appetizers are a great way to make sure you're not hungry before the party starts. The best keto appetizer is one that has minimal carbs but still tastes delicious.
Make sure these delicious keto-friendly appetizers or low-carb snacks will not only taste great but will look pretty too.
What can I use for dipping in keto appetizers?
All of the listed below are cold keto appetizers except for the smoked keto party foods.
What are some low-carb keto-friendly appetizers to eat? The low-carb party foods:
Bacon cheddar deviled eggs
Bacon and cheese pinwheels
BBQ bacon-wrapped smokies
Cucumber bites with cream cheese
Crustless Bacon and egg pie
Smoked salmon cucumber bites
Cheese shell taco cups
Cheese-stuffed sweet peppers
Big Mac Bite
Keto Stuffed mushroom
Jalapeno popper taquitos with bacon
Shrimp cucumber bites
Keto Zucchini fries
Keto Pizza roll-ups
Keto asparagus fries
1. BACON CHEDDAR DEVILED EGGS KETO APPETIZERS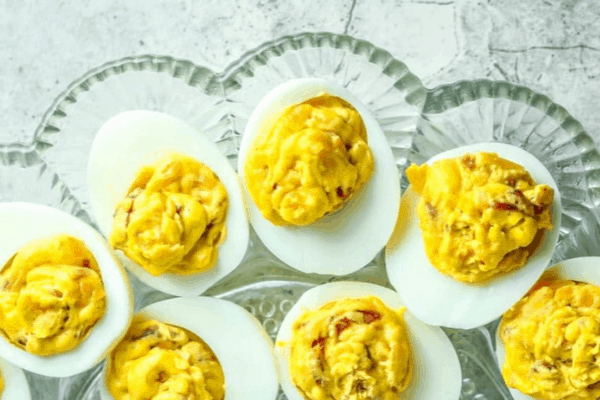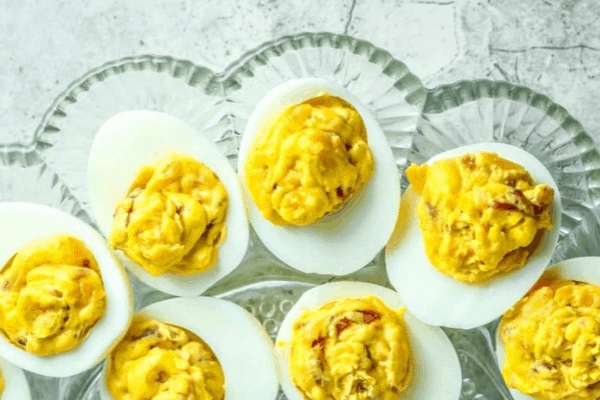 Image and recipe by ketogasm.com
Total time: 30 minutes
I just love eggs. And when it is mixed with mayo and cheddar cheese it becomes heavenly 🙂
This is an easy keto appetizer recipe that will make your mouth water.
I know you might be thinking, "deviled eggs? That's not keto." Well, think again!
These deviled eggs are made with bacon and cheddar cheese which are both low in carbs and high in protein to keep you fueled throughout the day.
Grab this easy keto recipe for your next party or gathering!
Ingredients used: Eggs, bacon, mayo, cheddar cheese, mustard, salt, and pepper.
Check out the easy instructions from ketogasm.com
2. LOW-CARB BACON AND CHEESE PINWHEELS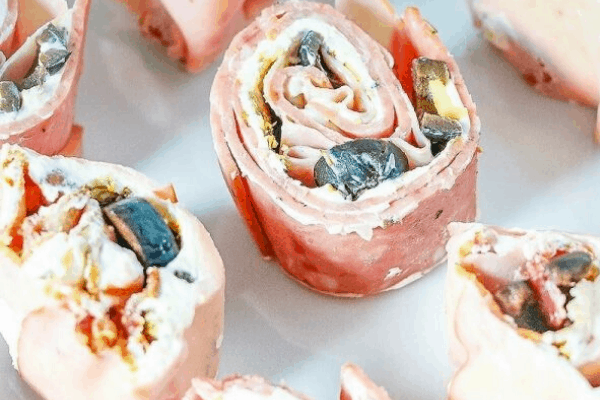 Image and recipe by 730sagestreet.com
Time: 15 minutes
Craving something salty and filling?
Try out these extra bacon cheese pinwheels.
This is wonderful keto-friendly party food and serves as a cold keto appetizer for a crowd too.
These keto appetizers will contribute 2g of carbs per serving.
Main ingredients: Ham or salami, Bacon slices, creme cheese, ranch seasoning, and black olives.
Check out the instructions from 730sagestreet.com
A quick, easy, and delicious appetizer.
3. BBQ BACON WRAPPED SMOKIES KETO APPETIZERS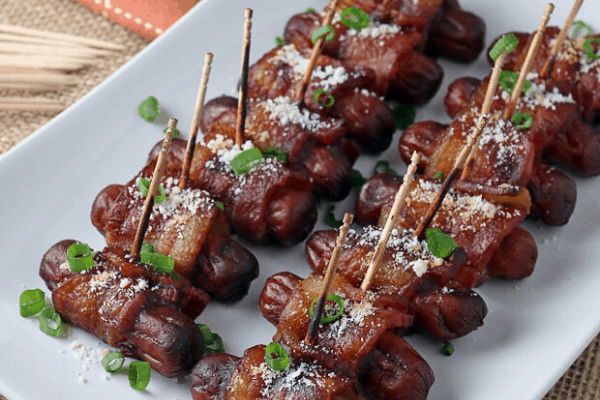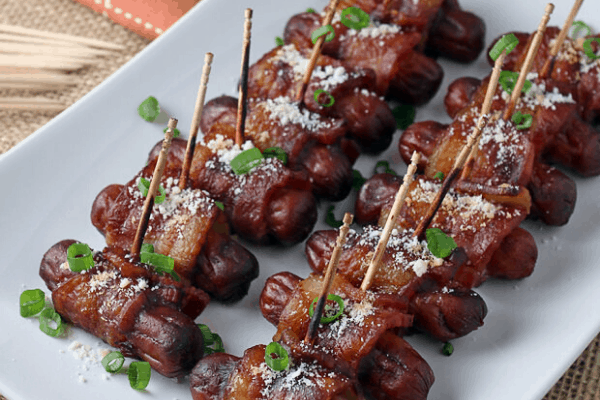 Image and recipe by ruled.me
Time: 35 minutes
These BBQ Bacon Wrapped Smokies are the perfect addition.
They're easy to make and taste amazing! One of the best keto appetizers for me.
Make them as an appetizer or side dish for a keto party.
This will just look so awesome and irresistible.
Each serving contributes 2.67g of net carbs.
Main ingredients: Smokies, bacon, BBQ sauce, salt, and pepper.
Here goes the recipe by ruled.me
4. LOW-CARB CUCUMBER BITES KETO APPETIZERS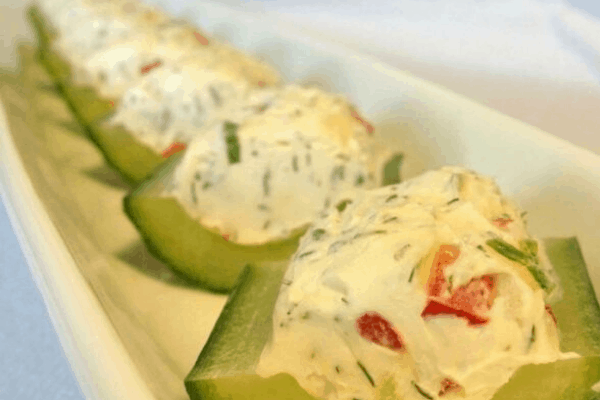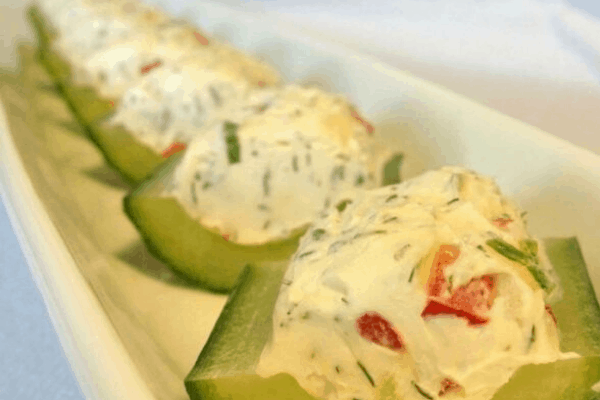 Image and recipe by myketorecipes.com
Time: 5 minutes
Looking for any keto appetizers for summer? Then here it is.
I just find this keto appetizer so cool.
These cucumber bites are a great snack for anyone on the keto diet because they're made with low-carb ingredients like egg, cream cheese, bell pepper, onion & chives finely chopped, dill weed, and of course cucumbers.
The cucumber and creme cheese already makes me feel so calm.
The easy instructions from myketorecipes.com
Want more snack ideas? Here are 22 healthy snacks to try.
5. CRUSTLESS BACON AND EGG PIE KETO APPETIZER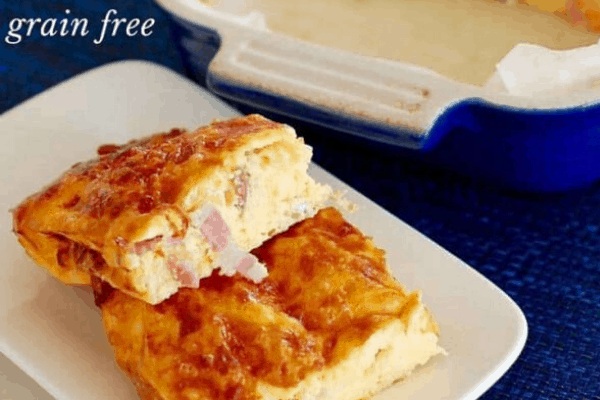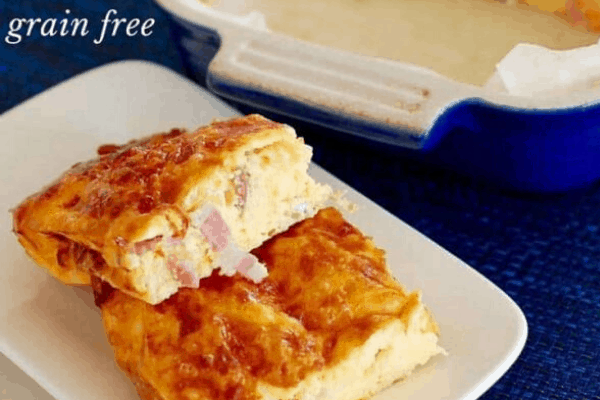 Image and recipe by ditchthecarbs.com
Total time: 40 minutes
This is a quick and easy recipe for those on the keto diet.
You can use any type of cheese you like, but I find cheddar melts well and tastes delicious.
This crustless bacon and egg are easy to make and you can cut it to any shape you want.
Carbs: 1.6g
Main ingredients: Eggs, milk, onion, bacon, cheese, cherry tomatoes, salt, and pepper.
Here is the recipe from ditchthecarbs.com
Try out this sugar-free tomato ketchup for the appetizers.
6. SMOKED SALMON CUCUMBER BITES KETO APPETIZER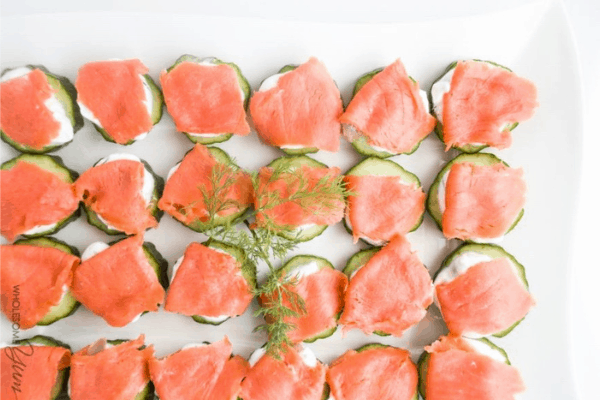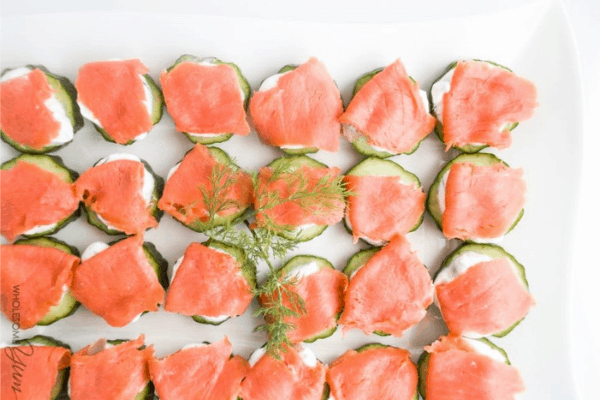 Image and recipe by wholesomeyum.com
Total time: 15 minutes
You can't beat these smoked salmon cucumber bites. They're healthy enough for an appetizer but hearty enough for a breakfast too.
This recipe is perfect for a party. It's easy to prepare and cook in just 15 minutes.
If the cucumber sits long then it is going to release moisture. So, definitely, you will not want that.
So, make this recipe when you are ready to serve.
Net carbs: 1.8g
Main ingredients: Cucumber, smoked salmon, greek yogurt, dill, and garlic salt.
Check out the instructions here from wholesomeyum.com
7. KETO CHEESE SHELL TACO CUPS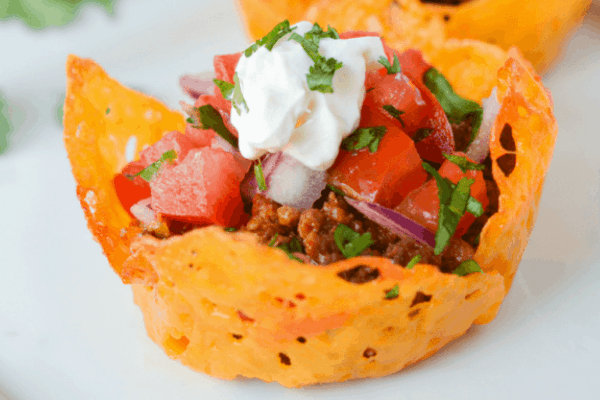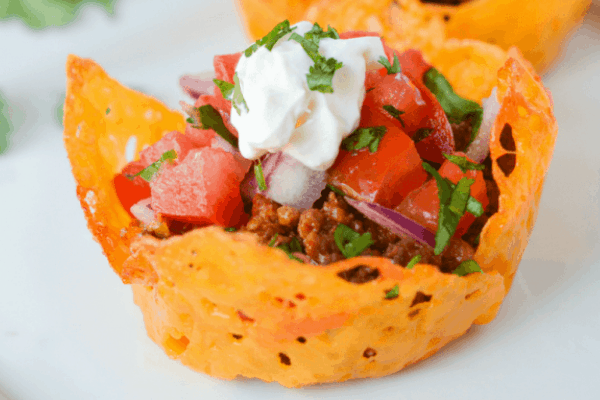 Images and recipe by heyketomama.com
Time: 15 minutes
Enjoy your favorite tacos in a more flavorful and delicious way following a keto diet.
These cheese taco shell cups are made with Cheese, tomatoes, red onion, diced jalapeno, lime juice, and cilantro.
This will look so delicious that you will want to put it in your mouth straight away.
Read the instructions carefully from heyketomama.com
8. KETO APPETIZERS CHEESE STUFFED SWEET PEPPERS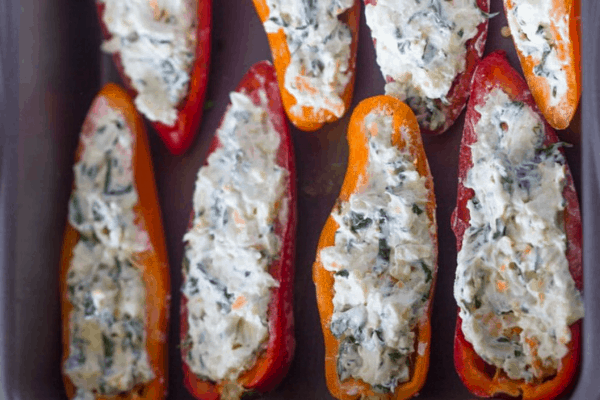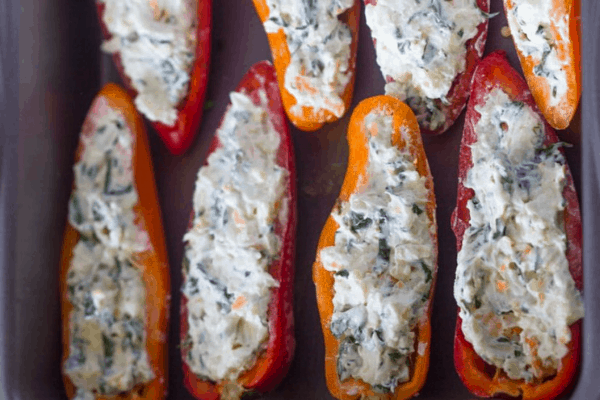 Image and recipe by gimmedelicious.com
Time: 20 minutes
It's pretty much just a recipe for cheese-stuffed sweet peppers and that's it! No complicated ingredients.
This will turn out to be really delicious.
Perfect dish with summertime goodness!
Easy and clean.
Main ingredients: Sweet peppers, mozzarella, feta cheese, cream cheese, spinach chopped, parmesan cheese, black pepper, and garlic powder.
Here goes the recipe from gimmedelicious.com
You should also see 9 Keto jalapeno poppers' ideas to make.
9. KETO BIG MAC BITES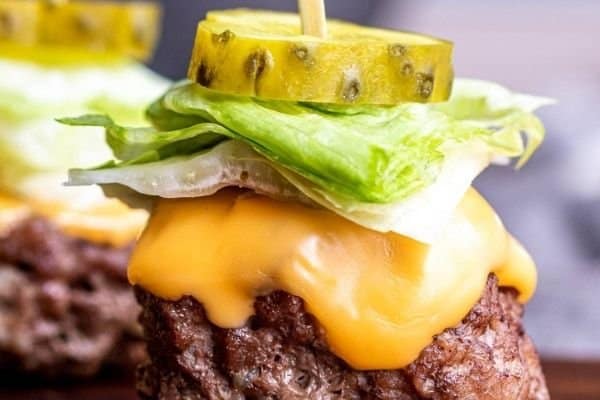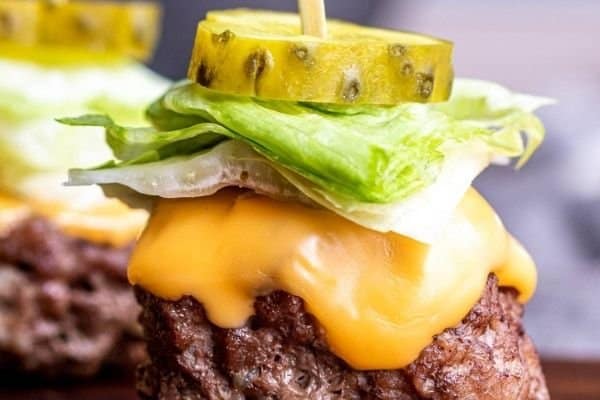 Total time: 35 mins
With these keto big mac bites, you can enjoy all the flavors of your favorite fast-food burger without cheating on your diet!
These bites are easy to make and perfect for when you're craving something hearty and satisfying.
These little bites are perfect for parties or quick and easy appetizers.
Net carbs: 1g, Fat: 12g, Protein: 10g
From homemadeinterest.com
10. KETO STUFFED MUSHROOM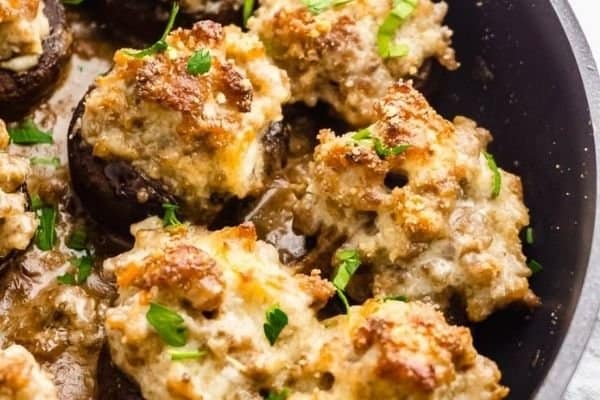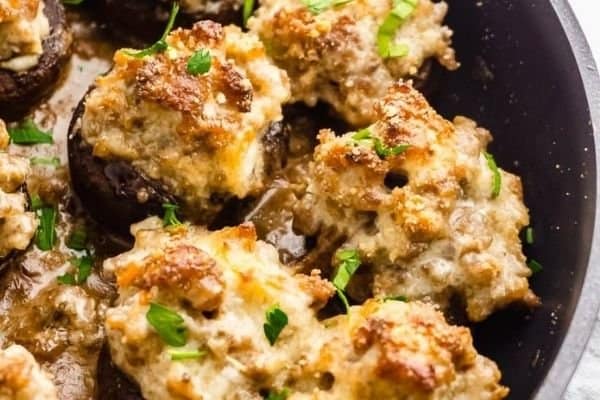 Total time: 40 mins
Keto stuffed mushroom appetizers that are perfect for any occasion.
These savory bites are the perfect finger food because they're not too heavy or filling but still give you that "full" feeling in your stomach when paired with other light foods like veggies and crackers.
These delicious low-carb stuffed mushrooms are the perfect way for everyone to enjoy this healthy dish!
Net carbs: 6g, Fat: 10g, Protein: 15g
From greenandketo.com
11. JALAPENO POPPER TAQUITOS WITH BACON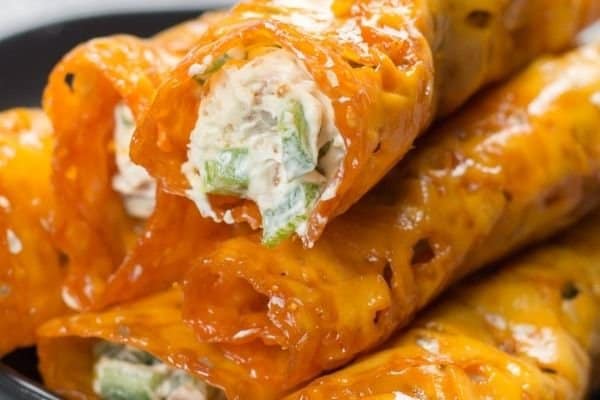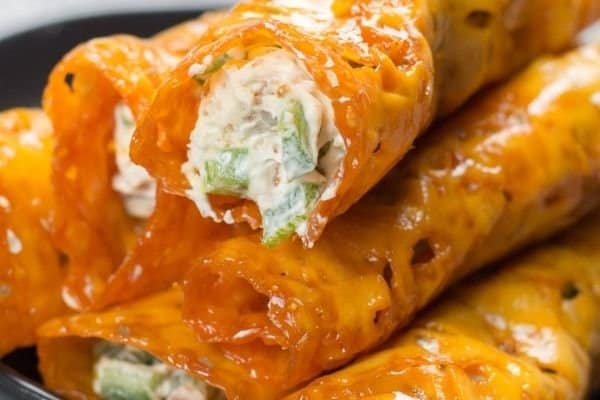 Total time: 12 mins
What's better than tacos?
Taquitos!
What's better than taquitos?
Taquitos filled with cheese, bacon, and jalapenos.
This recipe is perfect for an appetizer or a meal.
This two-bite appetizer, loaded with cream cheese and bacon wrapped in crispy cheddar cheese, might be the best thing you'll ever eat.
They're super easy to make!
Carbs: 1.5g, Fat: 49g, Protein: 18g
From maebells.com
12. SHRIMP CUCUMBER BITES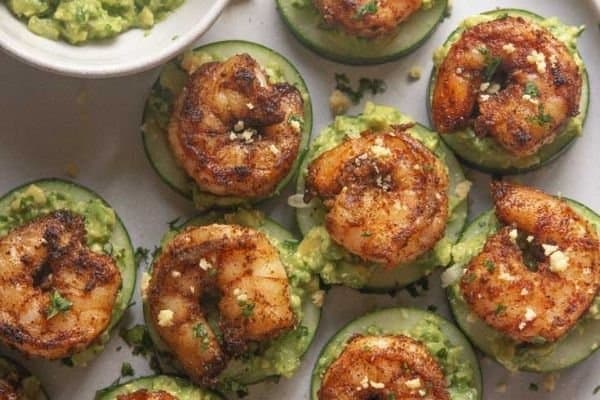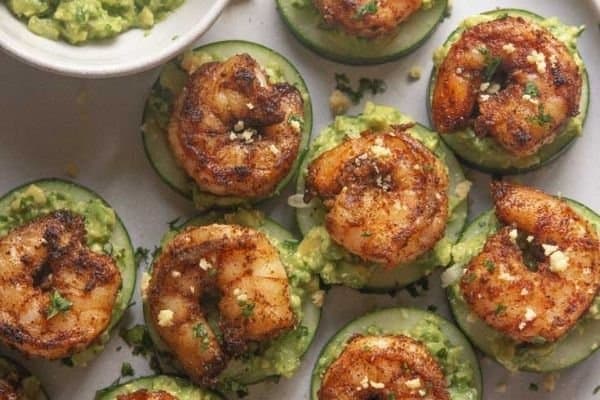 Total time: 20 mins
Looking for a keto-friendly appetizer?
These shrimp cucumber bites are perfect! They're easy to make and taste great. Plus, they're low-carb and gluten-free.
So if you're on a keto diet or just want to eat healthily, these bites are the way to go!
These bites will be bursting with flavors.
Net carbs: 1g, Fat: 2g, Protein: 2g
From thelittlepine.com
13. CRISPY ZUCCHINI FRIES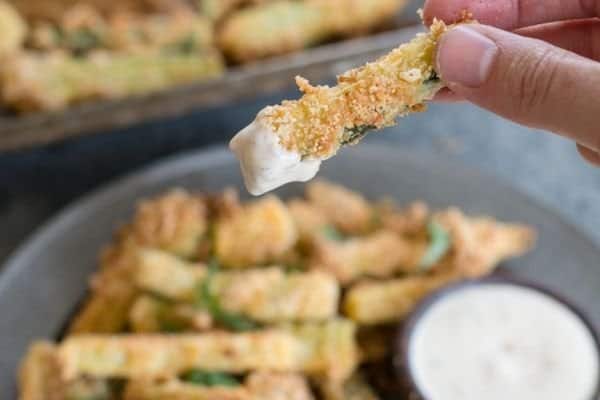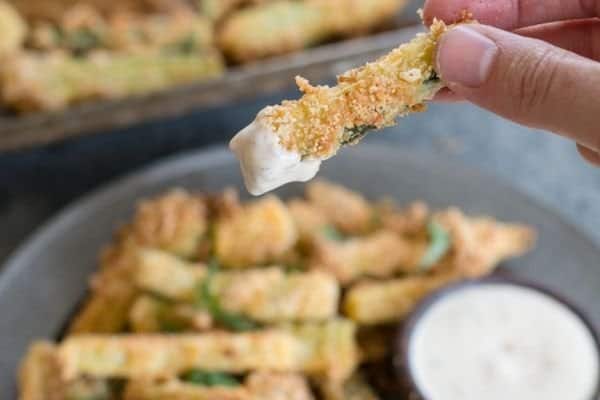 Total: 35 minutes
We all know that fries are delicious, but they can also be a pain to weight loss goals
The grease is usually the worst part of it all.
Well, these zucchini fries are made with low-carb ingredients and are baked instead of fried!
If you're looking for something light to eat while watching football this weekend, try these out! You'll love them – guaranteed.
Net carbs: 3.2g, Fat: 19.7g, Protein: 11.8g
Recipe from thebestketorecipes.com
14. KETO PIZZA ROLL-UP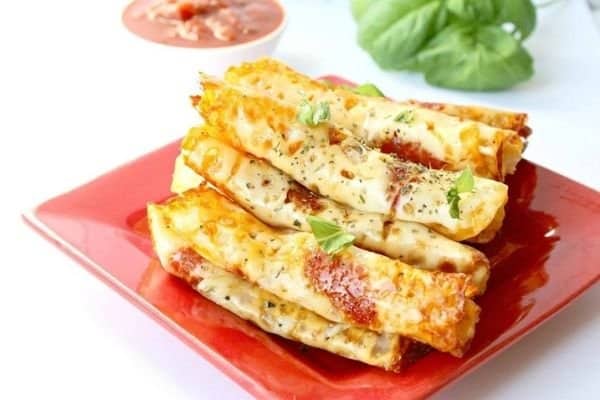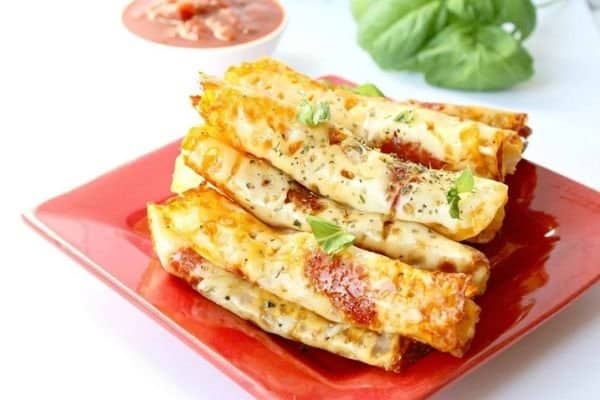 Who doesn't love pizza?
It's the perfect mix of cheesy and saucy goodness that is sure to please even the pickiest of eaters.
Although there are many keto pizza recipes to choose from, this one is a little different. It's a pizza roll-up that uses mozzarella cheese as the dough.
And it's really easy to make! Just roll out the dough, add your favorite toppings, and bake. You'll have a delicious and healthy keto pizza in no time!
A perfect kid-friendly keto recipe.
From stylishcravings.com
15. KETO ASPARAGUS FRIES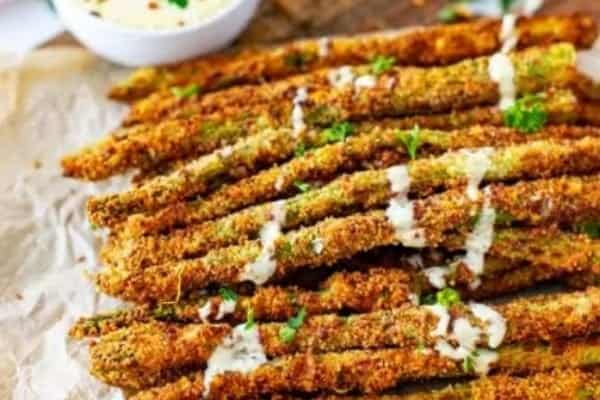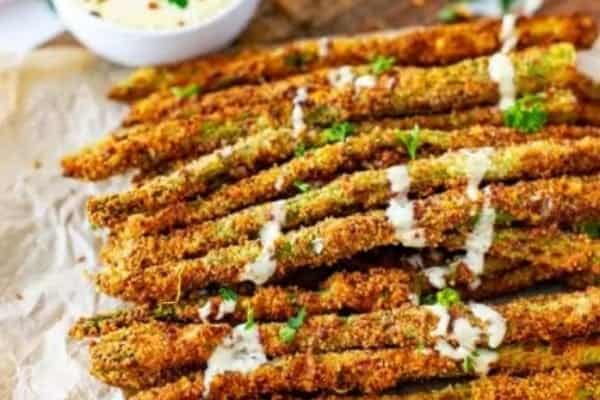 Total time: 1 hour
Move over French fries, keto asparagus fries are in town!
These crispy, healthy spears make the perfect appetizer for a keto diet.
Asparagus is a delicious vegetable that is often enjoyed in its natural state, but it can also be transformed into a tasty fry.
Net carbs: 3.70g, Fat: 14g, Protein: 14g
From kicking-carbs.com
My Take on Keto Appetizers:
One of the best ways to have a festive dinner without breaking your diet is with these amazingly delicious low-carb appetizers that are sure to please everyone at your party!
Keto appetizers are the perfect way to start your meal.
They're satisfying and delicious, without being too heavy.
Appetizers are not only great to start a party but even to curb hunger pangs.
Related Keto Recipes for a house party:
Easy Keto Appetizers and Keto-Friendly Party Foods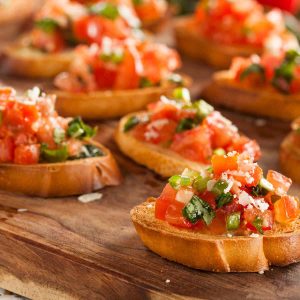 15 Easy Keto Appetizers to make for any Party!
The best keto appetizers to treat yourself or to make for any keto party. Easy, light, and delicious.
If you're following a ketogenic diet, these 15 appetizers will help keep you on track while still enjoying delicious food.
From cheese boards to mini pizzas, there's something for everyone here.
So fire up the oven and get cooking!
Ingredients
Bacon cheddar deviled eggs

Bacon and cheese pinwheels

BBQ bacon-wrapped smokies

Cucumber bites with cream cheese

Crustless Bacon and egg pie

Smoked salmon cucumber bites

Cheese shell taco cups

Cheese-stuffed sweet peppers

Big Mac BiteKeto Stuffed mushroom

Jalapeno popper taquitos with bacon

Shrimp cucumber bites

Keto Zucchini fries

Keto Pizza roll-ups

Keto asparagus fries
Instructions
Choose 2-3 keto appetizers to make.

Collect all the ingredients prior to it.

Make your favorite appetizers for a keto party and enjoy.
Notes