Crispy Air Fryer Jalapeno Poppers: A Healthy Snack
Jalapeno poppers are a classic snack that is loved for its spicy kick and creamy filling.
This air fryer jalapeno poppers recipe provides a healthy alternative that is crispy and delicious.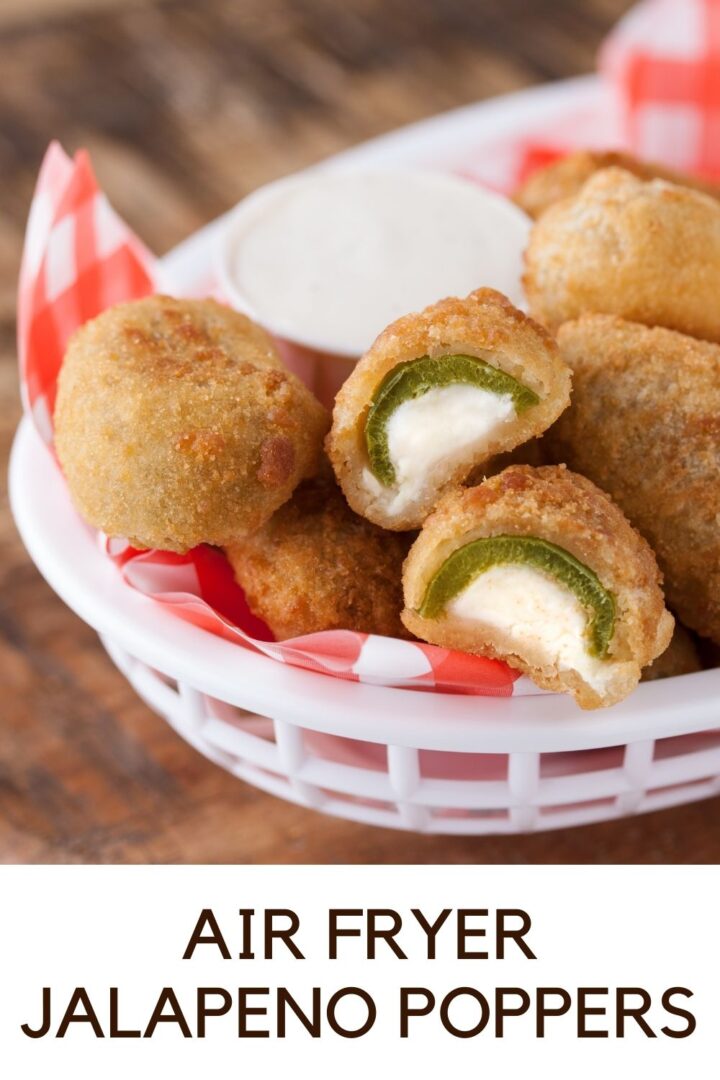 INGREDIENTS
8 medium jalapenos, sliced in half and seeded
4 oz cream cheese, softened
1 cup shredded cheddar cheese
1/4 cup diced green onions
1/2 cup seasoned breadcrumbs
1 tsp garlic powder
1 tsp smoked paprika
Salt and pepper to taste
INSTRUCTIONS
Preheat the air fryer to 400°F.
In a mixing bowl, combine the cream cheese, cheddar cheese, green onions, garlic powder, smoked paprika, salt, and pepper.
Fill each jalapeno half with the cream cheese mixture and top with a sprinkle of breadcrumbs.
Place the jalapeno poppers in the air fryer basket and cook for 10-12 minutes, or until golden brown.
Serve hot with a dipping sauce of your choice, such as ranch or sour cream.
SUBSTITUTIONS
Jalapenos can be substituted with milder peppers, such as poblano or banana peppers, for a less spicy version.
Cream cheese can be substituted with goat cheese or ricotta cheese.
Shredded cheddar cheese can be substituted with another type of cheese, such as a Monterey jack or pepper jack.
VARIATIONS
Add in some diced bacon for an extra flavor boost.
Use a different type of seasoning, such as chili powder or cumin, for a different flavor profile.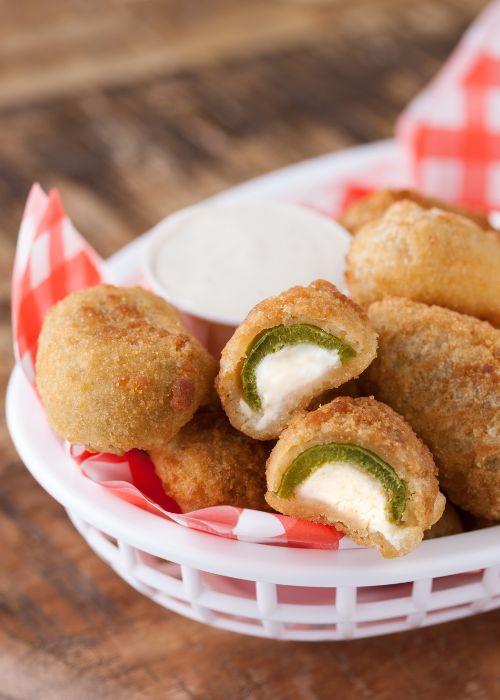 STORAGE
The jalapeno poppers can be stored in an airtight container in the refrigerator for up to 3 days. Reheat in the air fryer for a crispy texture.
Tips:
For a crispier texture, let the jalapeno poppers cool for a few minutes before serving.
To make the filling easier to handle, place the cream cheese mixture in a piping bag and fill each jalapeno half with a squeeze.
Food Safety:
Always use gloves when handling jalapenos to avoid skin irritation.
Store the jalapeno poppers properly in the refrigerator to avoid spoilage.
My Take on Air Fryer Jalapeno Poppers Recipe
This air fryer jalapeno poppers recipe is a delicious and healthy snack that is perfect for game day or a party.
With a crispy exterior and a creamy filling, these poppers are sure to be a hit with your guests.
Try this recipe today and enjoy a healthier take on a classic snack!
More Keto Appetizers:
Air Fryer Jalapeno Poppers Recipe