When it comes to keto pork recipes, there are plenty of delicious options to choose from.
Whether you're looking for a quick and easy weeknight meal or something a little fancier for a weekend dinner party, pork recipes are the answer.
Each one is sure to please your palate and help you stick to your keto diet.
Pork is a delicious meat that can be used in many different dishes. From pork chops to bacon, there are so many ways you can cook this meat for your next meal.
So, what are you waiting for? Start cooking!
KETO PORK RECIPES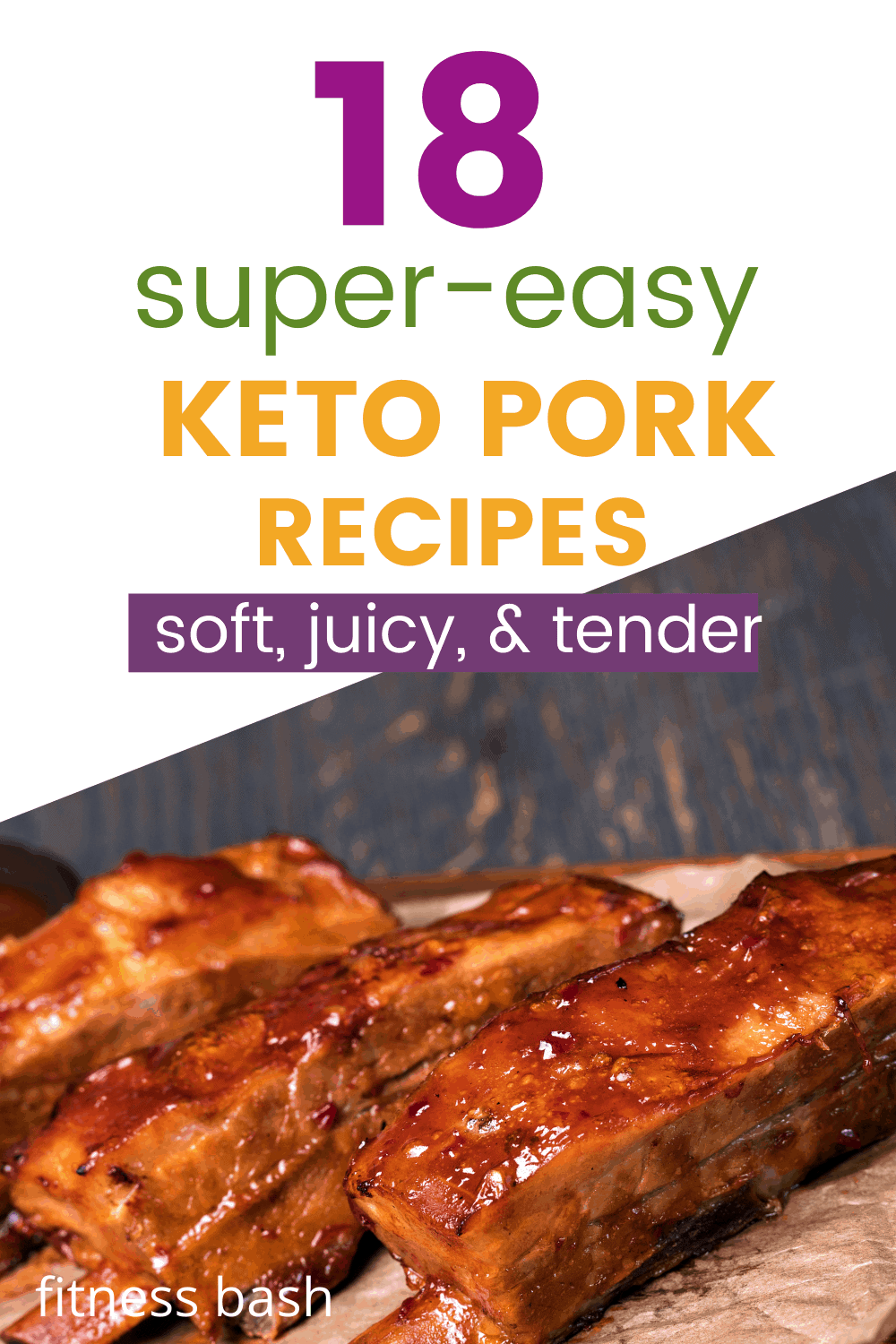 The great nutritious keto pork recipes for our keto diet.
The low-carb delicacy and tender keto pork recipes for the one-pan meal or any crockpot.
The keto pork roast recipes or keto pork stir fry, all taste so good.
The keto pork chops with mushroom sauce are even so popular.
Make it smokey and hot with the keto BBQ sauce or tangy by placing it in creamy tangy gravy.
Is pork OK on a keto diet?
Absolutely Ok.
Meats with fatty pork belly and shoulders are pretty good to go for a keto diet.
The rich fat gives such a satisfactory taste to our tongue that leaves us wanting more.
18 Pork Recipes that we can Eat on a Keto
Pork chops Romano
Parmesan Dijon Pork
Keto Pork chop with mushroom sauce
Instant pot keto pulled pork
Pork with sour cream
Smothered keto pork recipe
Korean spicy pork
Air-fryer pork recipe
Roasted pork tenderloin with mustard sauce
Keto pork rind nachos
Cinnamon sugar pork rinds
Low-carb pork potstickers
Sweet and spicy keto pork belly
Chinese BBQ pork
Slow cooker pulled pork
Crockpot green-chili pork
Bacon-wrapped BBQ pork
Mac and cheese pulled pork
1. Pork Chops Romano
-mylifecookbook.com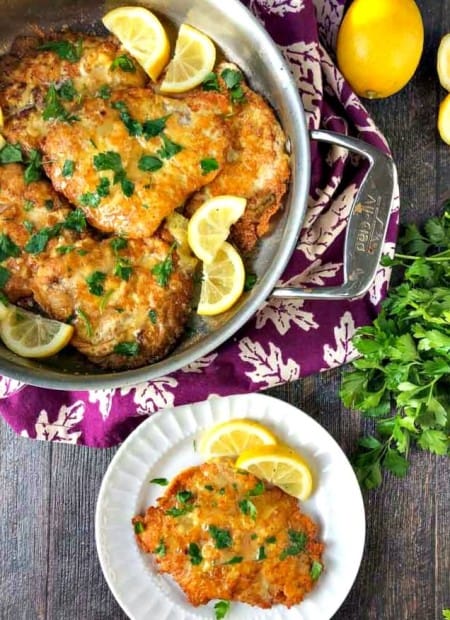 A low-carb, crispy pork chops. Boneless pork cutlets breaded in cheese and egg batter smothered in lemon butter. The Parmesan cheese and Romano cheese with the tangy lemon is too delicious.
Before dredging makes sure the pork is dry, else the breading will come off. Do not use too much flouring.
Calories- 330, Fat: 34.9g, Protein: 31.9g Net Carbs: 3g
Recipe from mylifecookbook.com
Why not take a pork chop along with 10 Easy Lunch Ideas for Work?
2. Parmesan Dijon Pork
-730sagestreet.com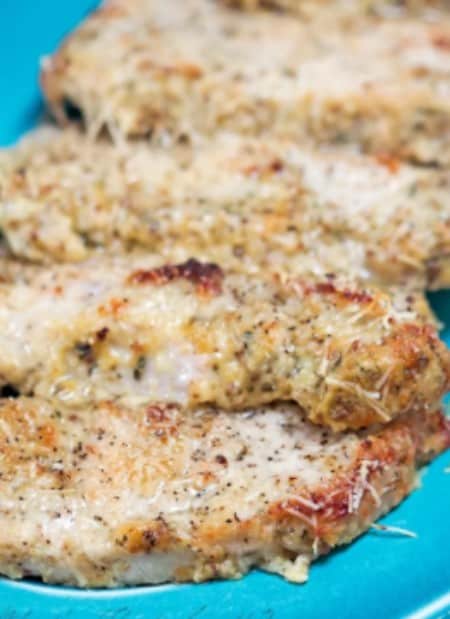 A crispy pork chop with onion powder, oregano, and thyme. You can use honey dijon sauce too. Broil on high until crispy.
It will taste like a 5-star restaurant quality dish. It is a divine recipe and a kind of cheat meal as it is a low-carb dish.
Calories: 280
Recipe from 730sagestreet.com
3. Pork Chop with Mushroom Cream Sauce
-mymontanakitchen.com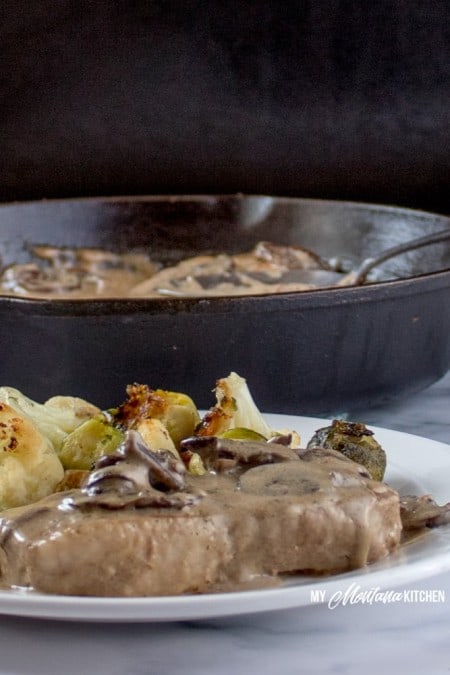 This is a skillet recipe where heavy cream, butter, and garlic give it an awesome flavor.
Mushrooms are rich in nutrients with health-boosting properties. This dish is overall rich in vitamins B, protein, and fiber.
Calories: 556, Fat: 41 g, Protein: 44 g, Carbs: 4 g
Recipe from mymontanakitchen.com
4. Instant Pot Keto Pulled Pork
-joyfilledeats.com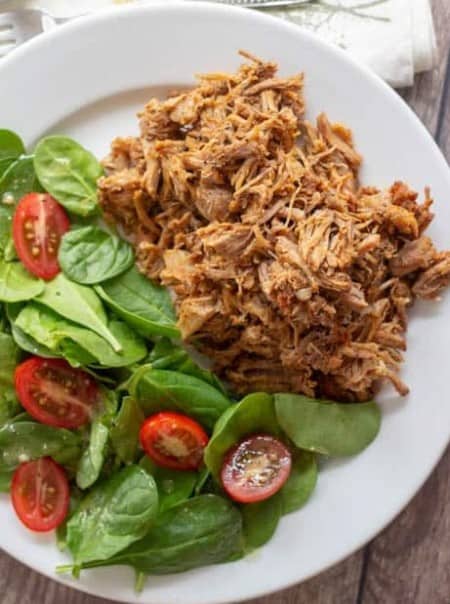 An easy dinner idea with the flavor of smoked BBQ. The perfectly cooked meat with only 5 ingredients. Make this amazing Instant Pot pulled pork that is sugar-free, keto, and gluten-free.
Calories: 249, Fat: 7 g, Protein: 43 g, Carbs: 2g
Recipe from joyfilledeats.com
5. Pork with Sour Cream
-kalynskitchen.com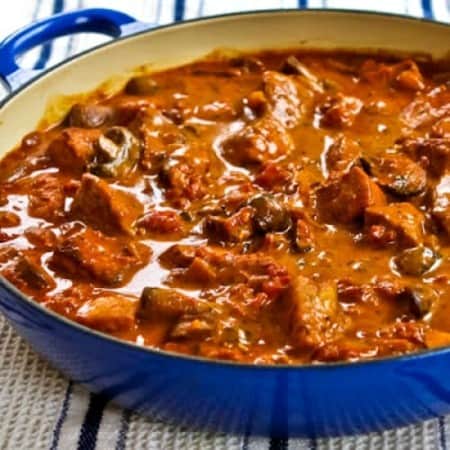 This is a slightly spicy pork recipe. Totally keto and low carb. The cream and the paprika give it a tangy spicy taste.
This recipe is good with a plate of cauliflower rice too.
Calories: 349, Fat: 21 g, Protein: 27 g, Net Carbs: 3 g
Recipe from kalynskitchen.com
6. Smothered Pork Chops
-diethood.com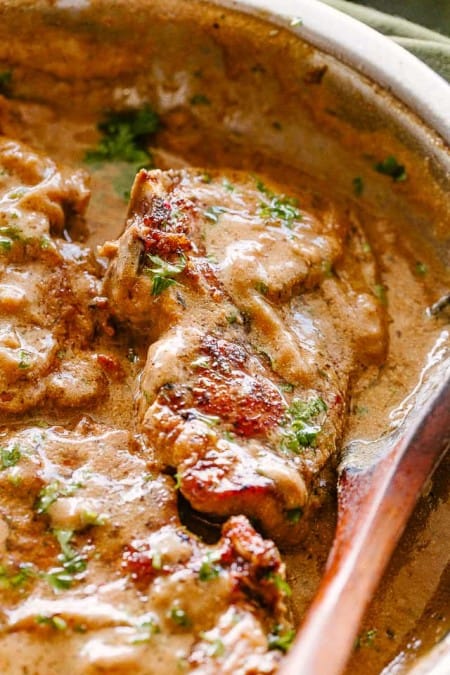 A rich onion gravy delicious and juicy pork recipe. It is a super easy dinner perfect for a weeknight.
For golden and juicy results, sear the pork chops in oil or butter for 5 mins on each side.
Calories: 353, Fat: 29 g, Protein: 19 g, Carbs: 4 g
Recipe from diethood.com
7. Korean Spicy Pork
-twosleevers.com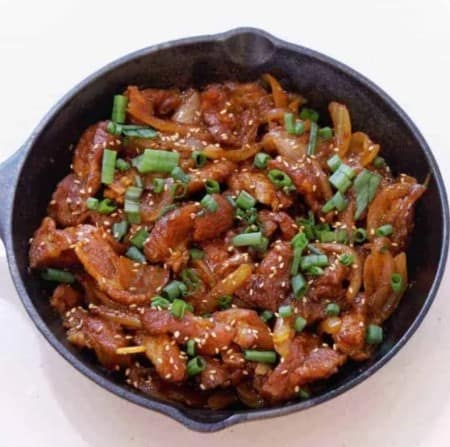 This is one of my favorite keto-pork recipes. This is such a recipe that you can alter it with chicken or beef too.
Marinating the pork with spice and sauce makes it extra delicious. It is better to marinate for 24 hours to get the most out of it.
This is a great keto low-carb pork spicy dinner.
To my astonishment, it has only 189 kcal.
Calories: 189, Fat: 9 g, Protein: 15 g, Net Carbs: 8 g
Recipe from twosleevers.com
8. Air Fryer Pork Recipe
-lowcarbyum.com
This is a dairy-free, nut-free keto recipe that is even egg-free.
This has got keto-friendly breading. You can add ranch or BBQ, for added flavor.
This is a crispy fried keto pork recipe.
Calories: 371, Fat: 20 g, Protein: 44, Carbs: 1g
Recipe from lowcarbyum.com
9. Roasted Pork Tenderloin with Mustard Sauce
-savorytooth.com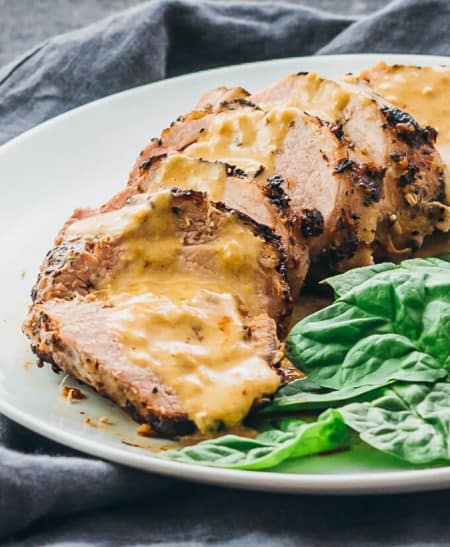 This is a high-caloric recipe but completely keto. One of the best keto pork loin recipes.
The cheese and butter melted with mustard taste delicious.
This is a skillet recipe too but you need to empty the vessel before making the sauce. The whipped cream gives it volume.
Calories: 800, Fat: 54 g, Protein: 64 g, Net Carbs: 2.5 g
Recipe from savorytooth.com
10. Pork Rind Nachos
-jenniferbanz.com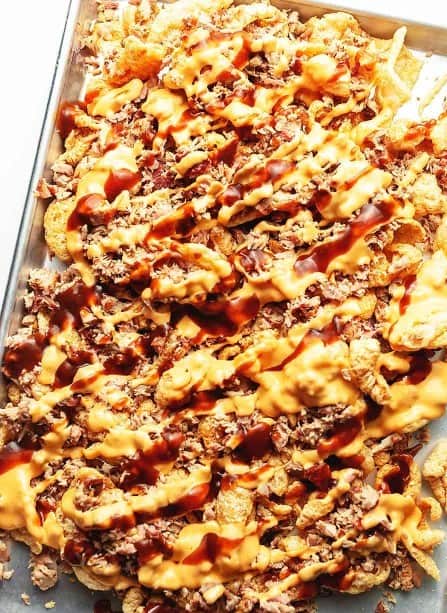 A gluten-free 30 mins recipe. Definitely can be served to a crowd as the main dish. Use a pizza pan for easy assembly of keto nachos.
The cheese sauce is amazing and you can use leftover pork tenderloin.
Calories: 440, Fat: 35 g, Protein: 28 g, Carbs: 2 g
Recipe from jenniferbanz.com
11. Keto Cinnamon Sugar Pork Rinds
-buttertogetherkitchen.com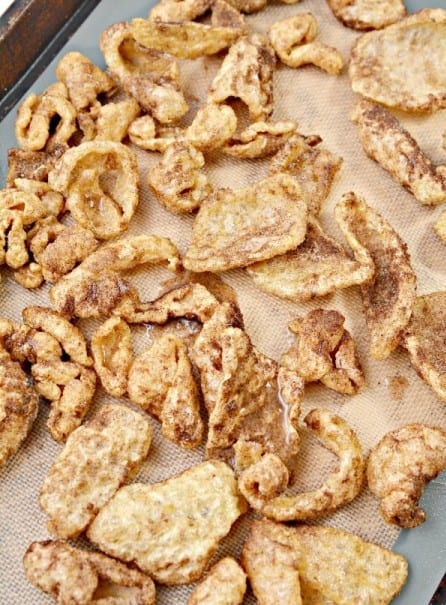 This is actually a breakfast recipe. If you like cinnamon crunchy breakfasts, then you will like it too.
This sounds a bit gross but this is an ultimately sweet and crunchy keto treat.
Amazingly this is zero carbs.
Calories: 117, Fat: 12.5 g, Protein: 1.9 g, Carbs: 0 g
Recipe from buttertogetherkitchen.com
12. Keto Potstickers
-homemadeforelle.com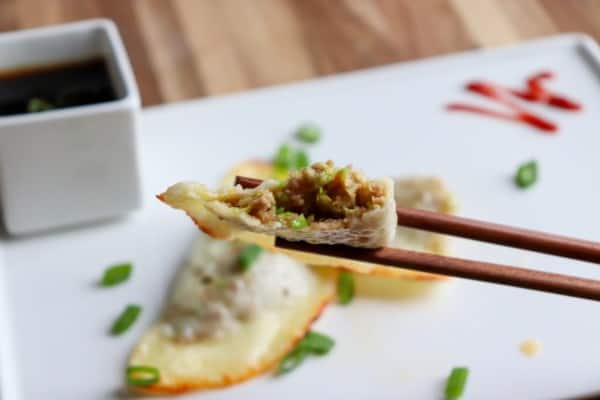 It is zero net carbs. While potstickers are full of carbs, this keto version contains only 1 g of carbs.
A tasty low-carb treat.
Calories: 136, Fat: 10 g, Protein: 10 g, Carbs: 1g
Recipe from homemadeforelle.com
13. Sweet Spicy Keto Pork Belly
-ihackeddiabetes.com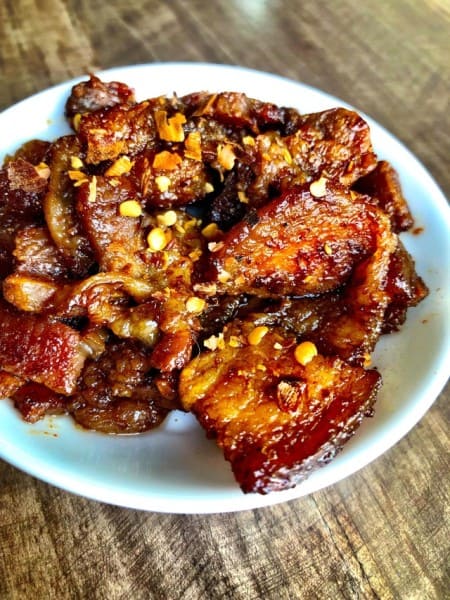 A crispy sweet and spicy keto pork belly.
Great for a keto appetizer. Can be served as a side of the main dish too.
Here are 8 keto appetizers to try.
Do not miss these 13 keto sides to be served with a keto main dish.
Calories: 773, Fat: 86, Protein: 15, Net Carbs: 2.4 g
Recipe from ihackeddiabetes.com
14. Chinese BBQ Pork
-resolutioneats.com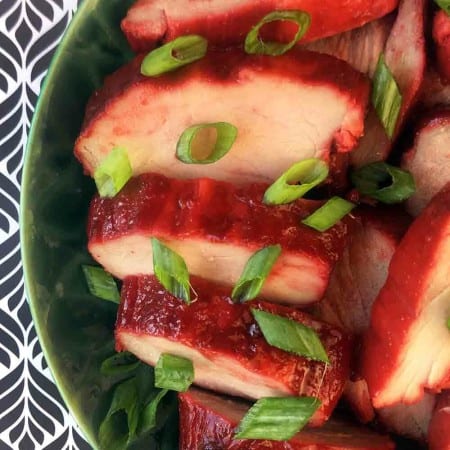 It will take some 5 hours of time to marinate, but the end result is worth it.
This is a zero-carb pork tenderloin recipe perfect to eat deliciously as well as being in keto. The BBQ sauce is even sugar-free.
Calories: 224, Fat: 10, Protein: 30 g, Carbs: 0 g
Recipe from resolutioneats.com
15. Slow Cooker Pulled Pork
-realsimplegood.com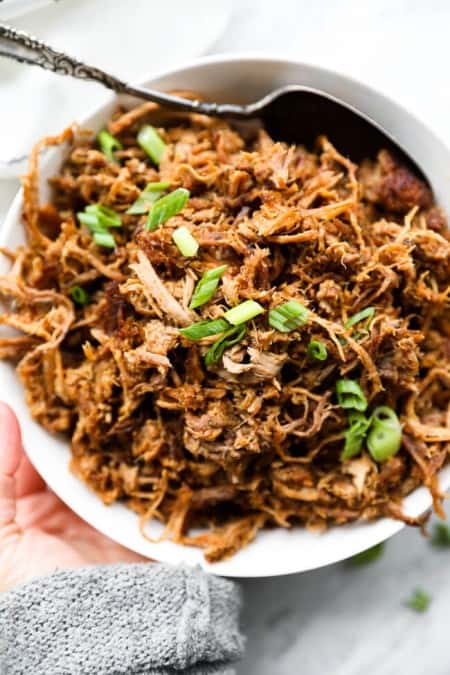 This is a slow cooker pork recipe that will take 8 hours to cook. But the preparation is only 5 mins to make this keto pulled pork.
Rub the seasoning mix all over the meat. If you have time then wrap and refrigerate for 24 hours.
Use low-starch and low-carb vegetables toasted to serve with this keto pork recipe.
Calories: 220, Fat: 10 g, Protein: 29 g, carbs: 3g
The recipe from realsimplegood.com
16. Crock-Pot Pork Green Chili
-foodiecrush.com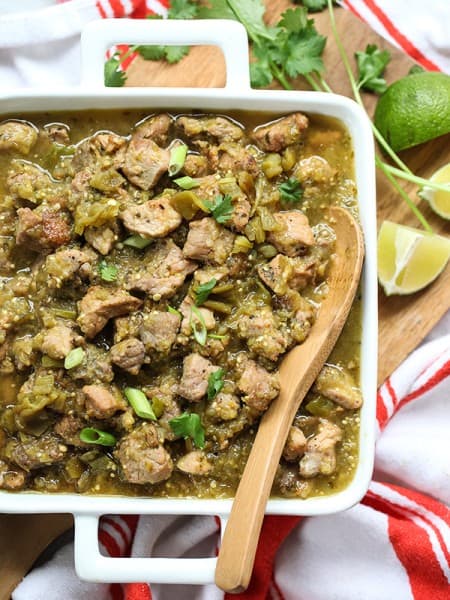 You can use green chilis but jalapeno is also good for this recipe. Yet another slow cooker recipe where the slow cooker does all the hard work.
This keto pork recipe is perfect with keto tortillas.
Calories: 177, Fat: 6 g, Protein: 22 g, Net Carbs: 6 g
The recipe from foodiecrush.com
17. Bacon-Wrapped BBQ Pork
-bobbiskozykitchen.com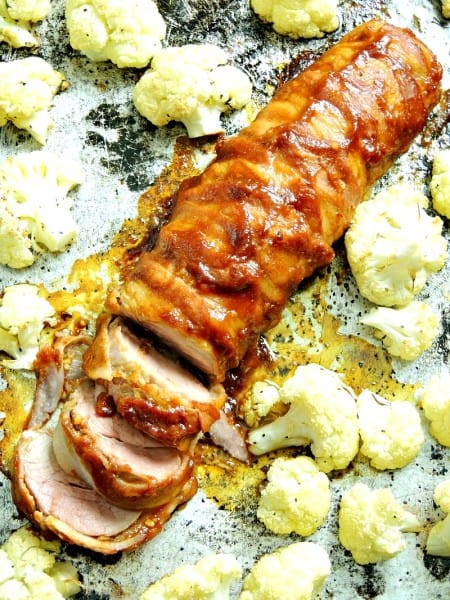 A delicious keto dinner with BBQ pork tenderloin wrapped in bacon. BBQ makes everything tastes so good. The smokey and sweet taste just stays in your mouth.
This is a one-sheet pan meal where you simply keep the seasoned cauliflower and your meat and let the oven do the cooking.
Rest the pork for 10 mins before slicing it to make it juicier.
Check 9 Keto Steak Marinades that are juicy and delicious.
Calories: 745, Fat: 40.3 g, Protein: 82 g, Net Carbs: 6,7 g
The recipe from bobbiskozykitchen.com
18. Keto Mac and Cheese with Pulled Pork
-lowcarbyum.com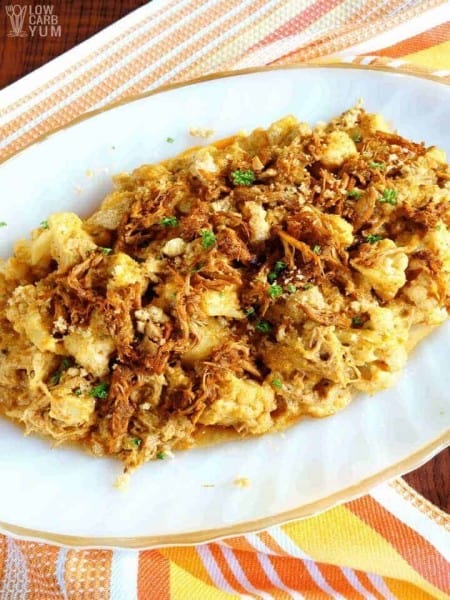 Mac and cheese pasta is so popular.
Here to make it a keto and low-carb friendly dish, cauliflower is cooked with our favorite mac and cheese.
Use your leftovers from your previous meal and still you can make this delicious keto dinner recipe.
Calories: 221, Fat: 15, Fat: 14 g, Net carbs: 7 g
The recipe from lowcarbyum.com
My Take on Keto Pork Recipes
If you love pork then these recipes are the ones that you cannot avoid.
Keto pork recipes are a winning combination of flavor and deliciousness.
From the delicious and tender keto pork tenderloin to juicy pork roast in BBQ or creamy mushroom sauces.
Want some Keto Alcohols that are low-carb?
Related Keto Dinner Sides:
Keto Pork Recipes for a Delicious Dinner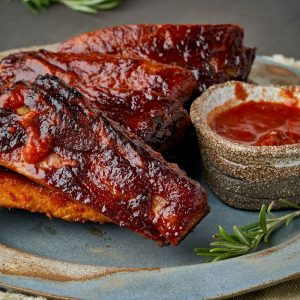 18 Best Keto Pork Recipes for a Healthy Dinner
There's nothing like a delicious pork dish to get you through your keto diet.
Check out these 18 amazing recipes that will have your mouth watering.
Most delicious and creamy pork recipes are suitable for a keto diet.
Instructions
Choose your rich and comfortable keto pork recipes.

Collect the ingredients and make a delicious pork meal.

Eat keto and stay healthy.
Notes