HOW TO MAKE KETO MOZZARELLA STICKS
If you're on the keto diet, you know that cheese is one of your best friends.
When it comes to snacks, few things are better than a platter of warm mozzarella sticks.
These keto mozzarella sticks are easy to make and absolutely delicious. Plus, they're the perfect size for a quick snack or party appetizer.
Crunchy on the outside, gooey and cheesy on the inside.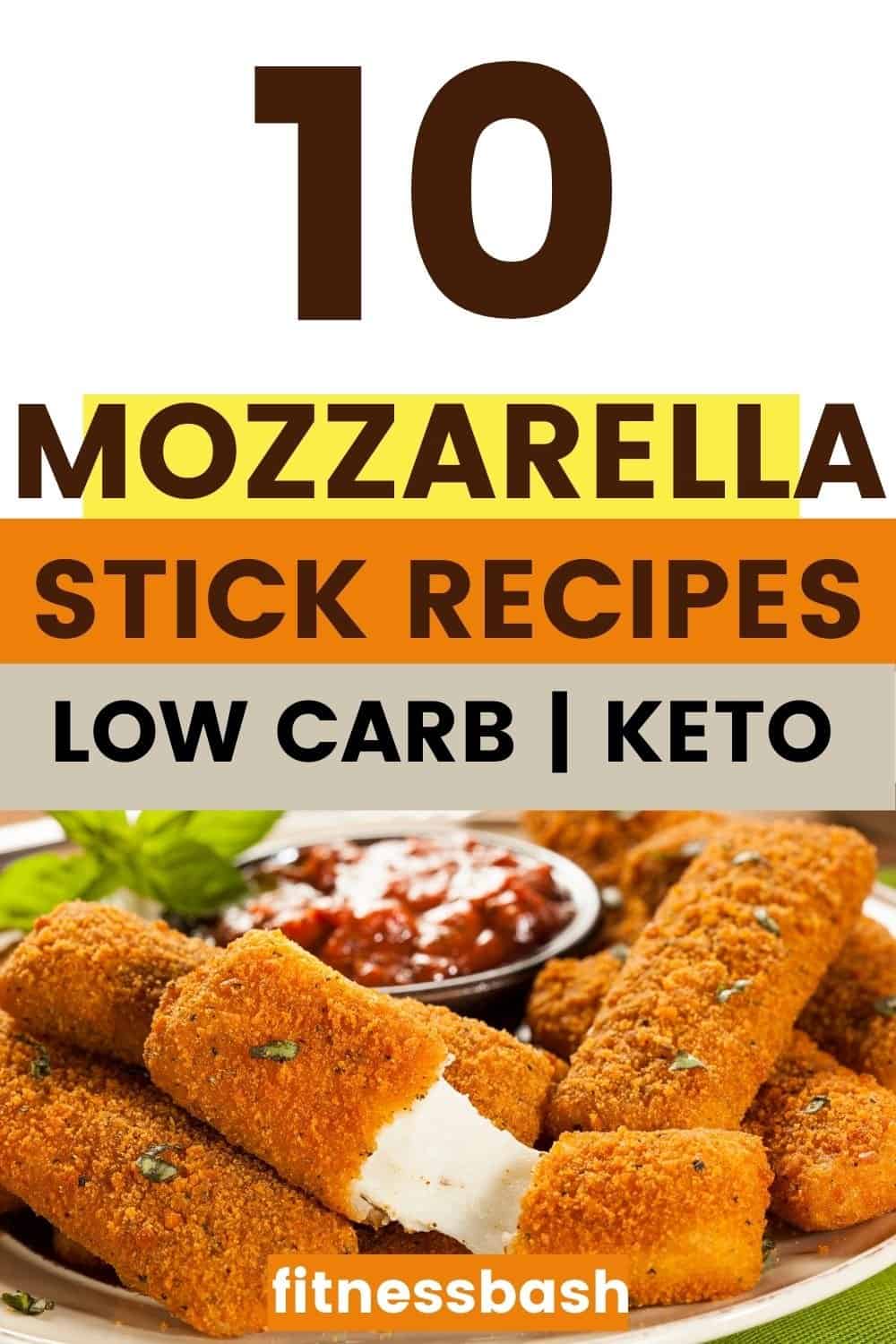 What's better than cheese sticks?
Cheese sticks that are Keto-friendly!
These keto mozzarella sticks are a staple in my low-carb diet. They're easy to make and I can eat them as a snack or even for dinner if I'm feeling extra hungry.
These recipes are so good, that it doesn't even need ketchup!
Can you eat mozzarella sticks raw?
Mozzarella sticks are delicious both cooked and uncooked.
Yes, you can surely eat mozzarella sticks raw, cold, and cheesy.
How to cook mozzarella sticks?
The basic mozzarella sticks recipe goes as:
Take your mozzarella cheese sticks.
Slice the cheese sticks into thirds to make three-inch pieces.
Coat them with eggs, panko crumbs, and keto flour.
Freeze them for an hour.
Fry them in keto-approved oils or bake them for 10-15 mins until golden brown and crispy on the outside.
Here is how to make homemade mozzarella sticks:
BEST 10 KETO MOZZARELLA STICKS TO MAKE
1. KETO MOZZARELLA STICKS IN AIR-FRYER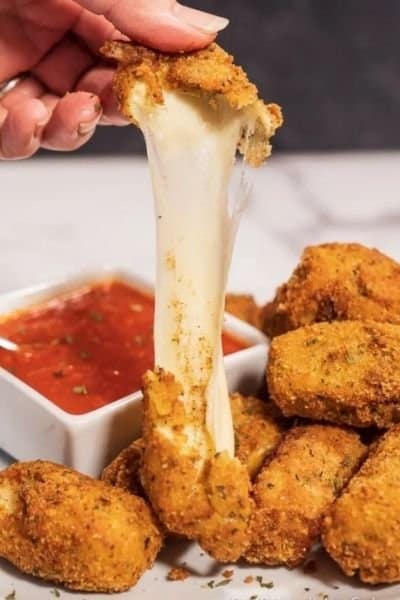 Image from icantbelieveitslowcarb.com
Crispy, gooey, cheesy mozzarella sticks in an air fryer.
Easy to make and takes about 10 minutes to prepare.
You could also add bacon or spices like paprika for extra flavor!
The best thing about these keto mozzarella sticks is they are low-carb and perfect for anyone who loves fried food but wants a healthier alternative!
Net carbs: 1.4g, Protein: 7.8g, Fat: 9g
Recipe from icantbelieveitslowcarb.com
2. AIR-FRIED MOZZARELLA STICKS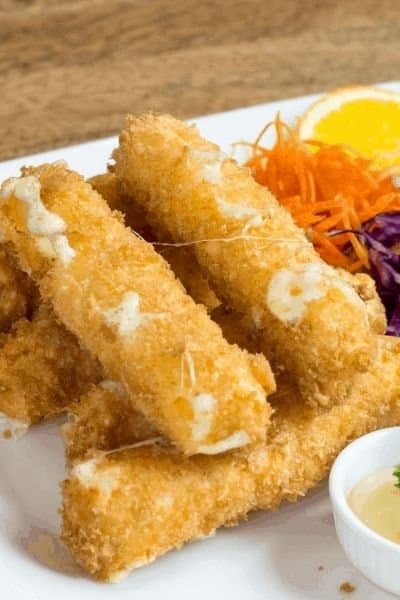 Image from castleinthemountains.com
Are you excited about eating a mozzarella stick on a keto?
Just make it in an air-fryer for a healthy option.
A gluten-free air-fried mozzarella stick that makes a great keto appetizer.
Golden crust and warm gooey center.
Pair it with a low-carb ranch or alfredo sauce.
Net carbs: 4g, Protein: 24g, Fat: 26g
Recipe from castleinthemountains.com
3. HOW TO MAKE MOZZARELLA STICKS WITH STRING CHEESE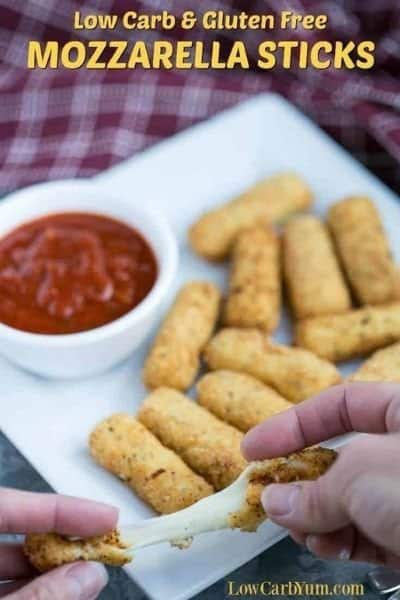 Image from lowcarbyum.com
With a 10 mins prep time and freezing of an hour, make these delicious cheesy mozzarella sticks with string cheese.
The best trick here is to coat and freeze for 30 minutes and then take it out and once again coat and freeze.
It will make the mozzarella sticks taste even better than the restaurants.
Net carbs: 1g, Protein: 16g, Fat: 15g
Recipe from lowcarbyum.com
4. KETO MOZZARELLA STICKS WITH ALMOND FLOUR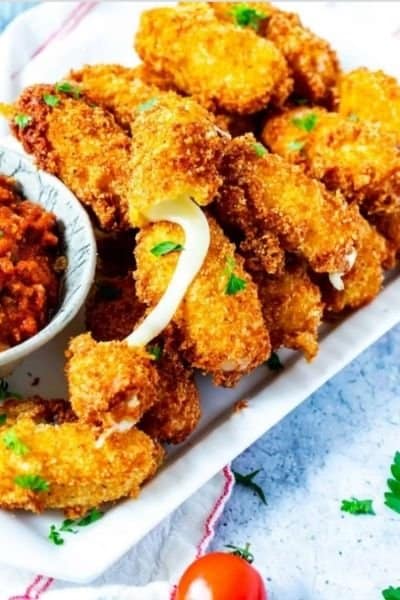 Image from kicking-carbs.com
Fried cheese sticks are low-carb and gluten-free.
Crispy crust and is easy to make.
This recipe is perfect for those who are looking for a low-carb alternative to their favorite mozzarella sticks.
Almond flour makes these keto mozzarella sticks gluten-free and paleo-friendly!
Net carbs: 3.23g, Protein: 14.81g, Fat: 17.27g
Recipe from kicking-carbs.com
5. KETO MOZZARELLA STICKS IN THE OVEN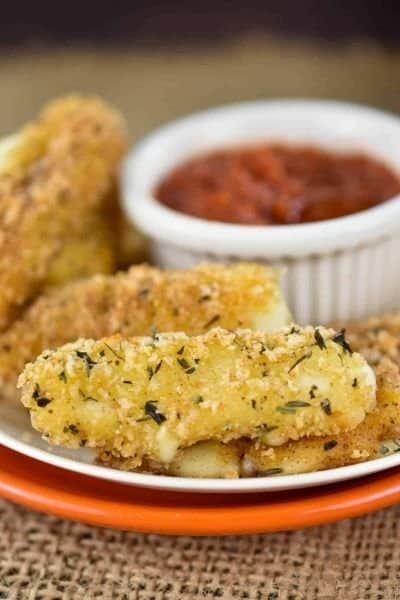 Image from mysweetprecision.com
When you are on keto and want to eat mozzarella sticks, then the best way to have them is to bake them in the oven.
Healthy baked mozzarella sticks with zero guilt.
It uses panko crumbs, chili powder, garlic powder, and Italian seasoning to give the perfect blend of flavor.
You can add the ranch seasoning or dill herb to the cheese for a really fresh taste.
Net carbs: 2g, Protein: 4g, Fat: 3g
Recipe from mysweetprecision.com
6. EASY KETO MOZZARELLA STICKS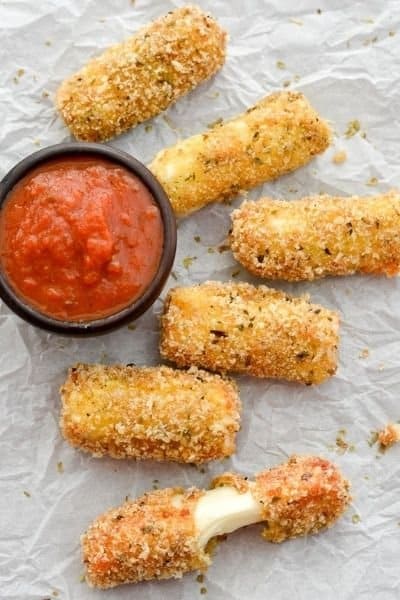 Image from thebestketorecipes.com
The ultra-crispy crust is fried to perfection.
Totally keto-friendly and pretty low-carb.
A delicious keto appetizer with pork rinds and this is how to make mozzarella sticks without bread crumbs.
Net carbs: 1.8g, Protein: 12.4g, Fat: 9.5g
Recipe from thebestketorecipes.com
7. HOW TO MAKE MOZZARELLA STICKS WITHOUT FRYING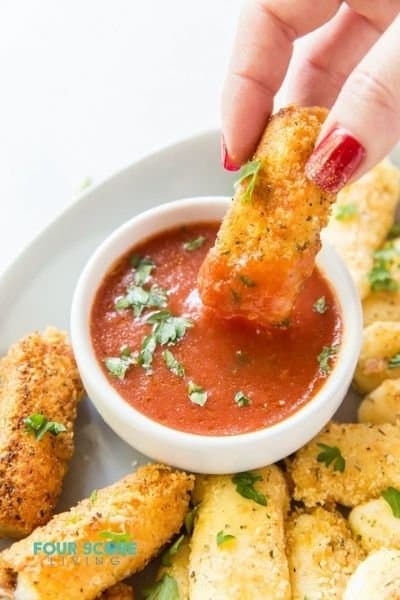 Image from fourscoreliving.com
Are you looking for a healthier alternative to mozzarella sticks that doesn't involve frying?
If so, this recipe is just what you're looking for.
It can be made in the oven without any oil.
Crunchier cheese sticks and baking gives a better flavor.
Keep them in the freezer for an hour before cooking.
The best sauce for it would be the low-carb marinara sauce.
Net carbs: 1g, Protein: 5g, Fat: 4g
Recipe from fourscoreliving.com
8. KETO MOZZARELLA STICKS WITH FLAXSEED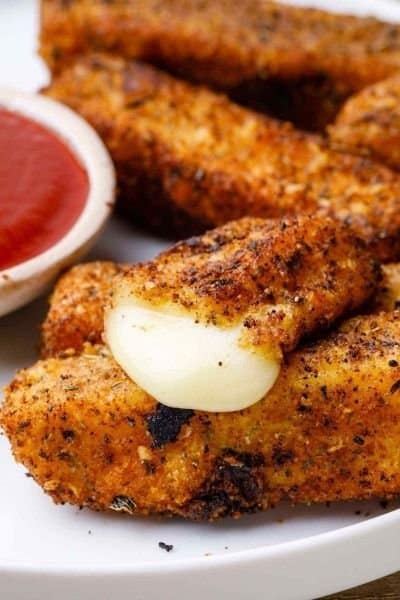 Image from ketopots.com
Have you been looking for a way to add more protein to your diet?
Give these Keto Mozzarella Sticks with Flaxseed a try!
This recipe is made up of simple ingredients and you can make these gooey mozzarella sticks in just 15 mins of time.
The result is a low-carb, healthy appetizer that tastes delicious and will satisfy even the pickiest of eaters.
Flaxseed gives the extra fiber needed to be full.
Net carbs: 2g, Protein: 8.9g, Fat: 12.5g
Recipe from ketopots.com
9. BACON-WRAPPED KETO MOZZARELLA STICKS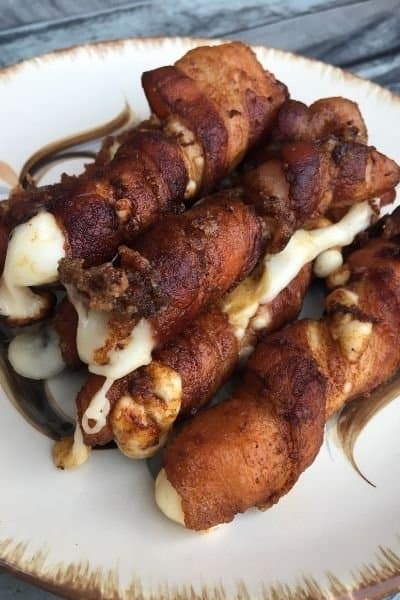 Image from kaseytrenum.com
These tasty keto mozzarella sticks are wrapped in bacon and baked until the cheese is melted.
The crisp bacon provides a salty crunch when you eat them, but they also have a delicate balance of creaminess from the cheese.
These are perfect to serve at your next party or get-together, or just for an evening snack!
Bacon, mozzarella sticks, and avocado oil make the perfectly crisp exterior with only shallow frying.
The mild flavor of the mozzarella sticks and the smokiness of the bacon give an extraordinary flavor.
Net carbs: 3g, Protein: 18g, Fat: 29g
Recipe from kaseytrenum.com
10. LOW-CARB KETO MOZZARELLA STICKS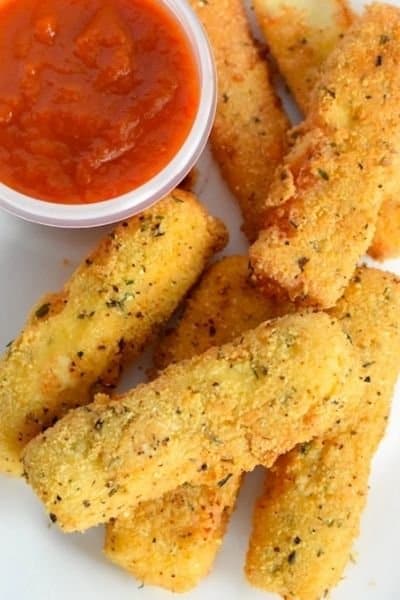 Image from mouthwateringmotivation.com
Eating keto is one of the most effective ways to lose weight.
Keto recipes are often rich and high in fat. With these low-carb mozzarella sticks, you won't even miss the breading or carbs!
These keto mozzarella sticks will not only satisfy your cravings but also help you stay on track with your diet goals.
Grab the best fitness journal to keep better track of your body weight and measurements.
Make these easy keto mozzarella sticks in only 30 minutes time.
Net carbs: 1.3g, Protein: 6g, Fat: 9.3g
Recipe from mouthwateringmotivation.com
My Take on Keto Mozzarella Sticks
These mozzarella sticks are a low-carb and high-protein appetizer that's sure to satisfy your cravings.
Keto appetizers are easy to make and can be made in bulk for a party or get-together. It's the perfect finger food with its cheesy goodness and crispy texture!
Experiment with your own and find out which mozzarella stick recipe you like the most.
With these simple steps, you'll be able to make mozzarella sticks for your family and friends in no time.
They are a great appetizer or snack idea that is perfect for game day, parties, or anytime!
Related Mozzarella Stick Recipes
How to Make Mozzarella Sticks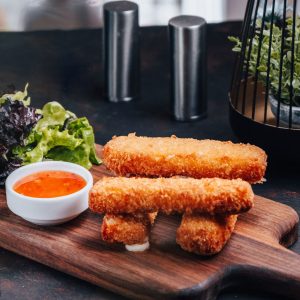 10 Best Keto Mozzarella Sticks Recipes to Surprise You!
Creamy and crunchy keto mozzarella sticks.
These low-carb snacks are sure to make you carve for more.
These keto cheese sticks are a perfect snack for when you're on the go. They're easy to make and taste delicious!
Instructions
Choose your favorite mozzarella stick recipe.

Follow the instructions and make the gooey mozzarella sticks.

Creamy, crunchy, and absolutely delicious mozzarella sticks.
Notes