Hungry for some keto chicken recipes? You're in luck!
In this post, we'll share some of our favorite keto-friendly chicken recipes.
From bacon-wrapped chicken to garlic chicken with broccoli, there's something here for everyone.
Keto Chicken Recipes are a must-have for those on the ketogenic diet. These recipes will help you stay on track with your goal to reach ketosis and they're all easy to make.
KETO CHICKEN RECIPES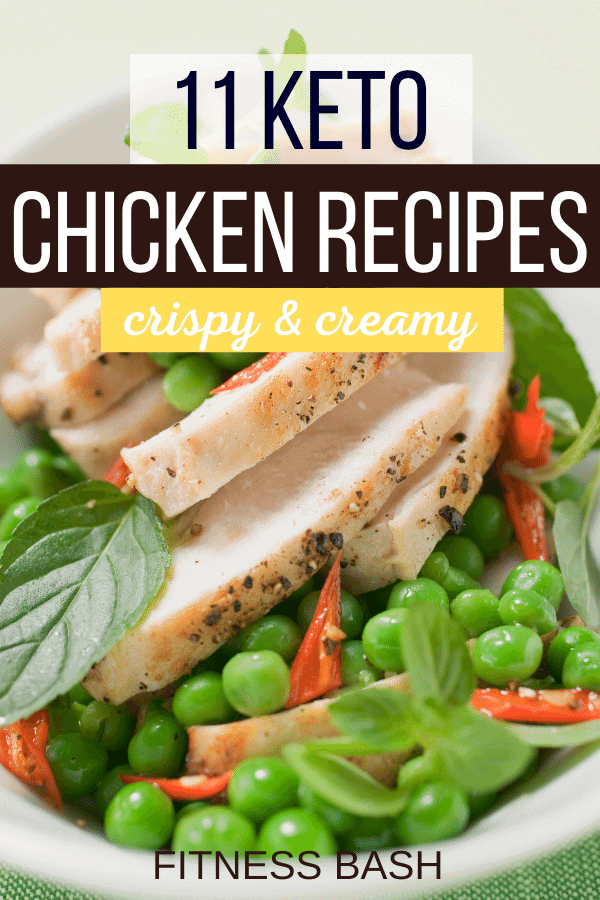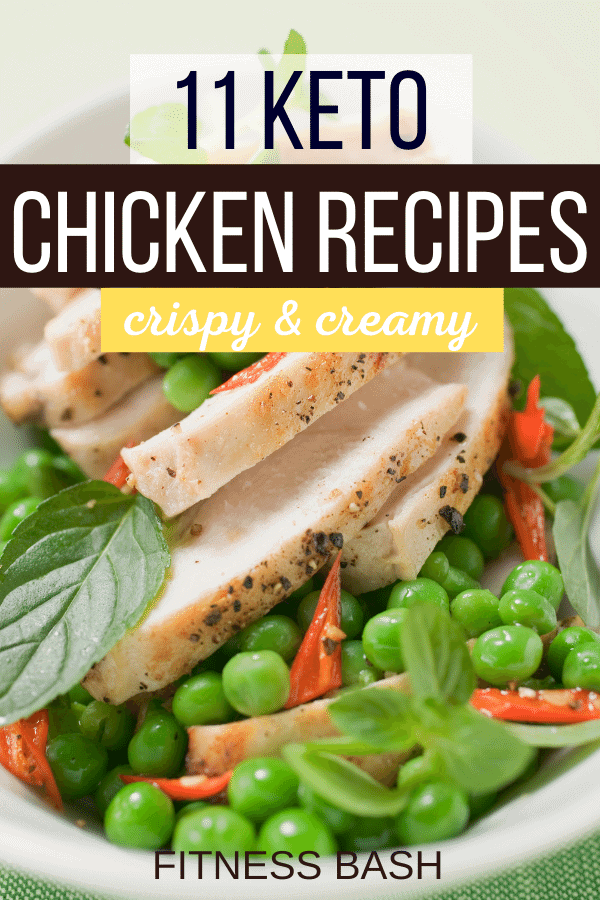 Is it time to get back in shape? But, you're not sure how to start with the keto diet.
Then start with these amazing chicken recipes that will fit your lifestyle and keep you on track!
These recipes are all low in carbs and perfect for those on a ketogenic diet. So, Whether you're in the mood for roasted chicken, shredded chicken salad, or cheesy chicken enchiladas.
Is chicken good on a keto diet?
Yes, it is. As you can make pretty low-carb meals with chicken.
You can make delicious chicken recipes with it, like Chicken Cordon Bleu or Creamy Garlic Herb Chicken.
Chicken contains a lot of proteins.
The Keto diet is all about eating fats and zero carbs with moderate protein.
It's low-carb and high in protein – perfect for those who want to lose weight.
Here are the best keto chicken recipes that are yummy and serve 0-7 gms of carbs.
11 Top Chicken Recipes on a Keto Diet
1. ONE SKILLET KETO CHICKEN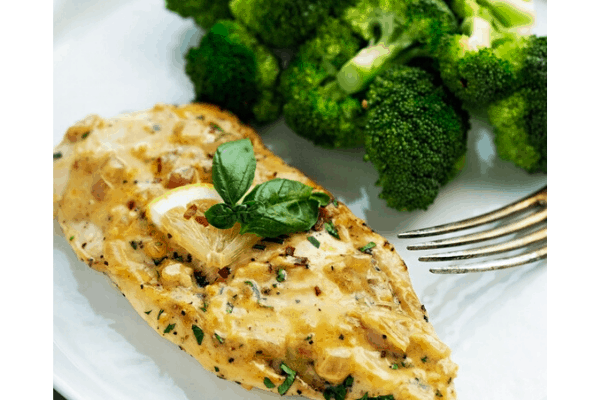 Image and recipe by littlespicejar.com
Skillet recipes have a special place in my heart.
A low-carb, high-fat, Keto-friendly dish that will make you drool.
It's so simple to make!
The best part? It's all made in ONE SKILLET. That means fewer dishes for you to clean up afterward which I know we can all appreciate.
This is one of the keto chicken breast dinner recipes.
For this recipe, you can even use sour cream instead of a heavy one. Still, it will be awesome.
Main ingredients: Chicken, chicken broth, garlic, pepper flakes, diced shallots, heavy cream, and chopped parsley.
Net carbs: 4 gms
The low-carb keto chicken recipe from littlespicejar.com
2. CORDON BLEU KETO CHICKEN CASSEROLE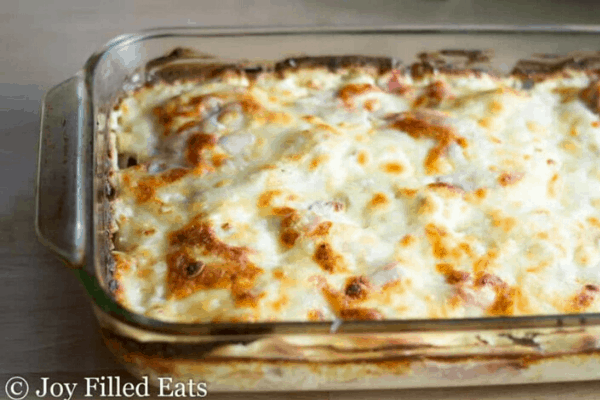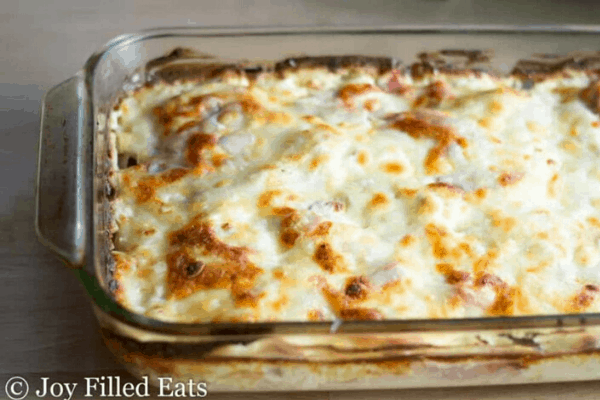 Image and recipe by joyfilledeats.com
One perfect chicken recipe for a keto dinner or any high-fat low-carb diet.
This keto cordon bleu chicken casserole is going to be one of the most delicious dishes you've ever made! It's full of flavor.
You can enjoy this dish with a side dish, but it tastes great on its own too.
The best part? It takes less than 45 minutes to make this amazing meal from start to finish.
Main ingredients: Chicken, ham, butter, dijon mustard, lemon juice, swiss cheese, cream cheese, and butter.
Carbs: 2 gms
The recipe goes here from joyfilledeats.com
Check out:
3. BACON AND CHEDDAR KETO CHICKEN RECIPES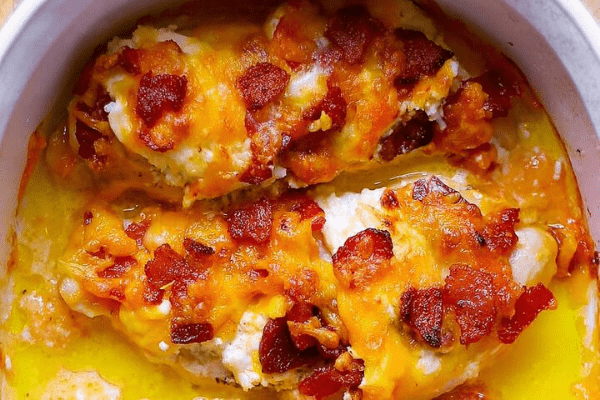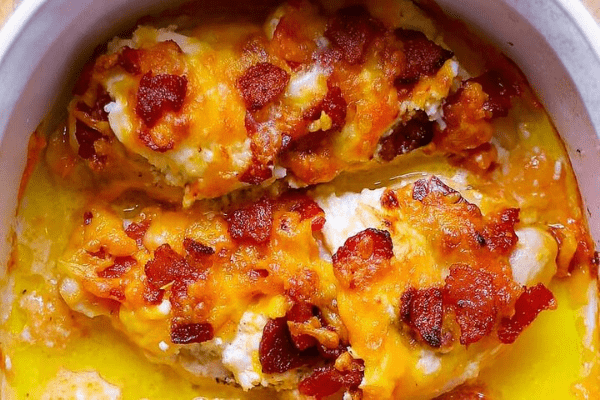 Image and recipe by juliasalbum.com
This is a low-carb keto-friendly chicken recipe with basic ingredients that everybody loves.
This one is an easy keto recipe that you can make at any time.
Main Ingredients: Chicken, bacon, creme cheese, cheddar cheese, salt, and pepper.
Carbs: 2 gms
Check the delicious recipe from juliasalbum.com
4. KETO CHICKEN BROCCOLI CASSEROLE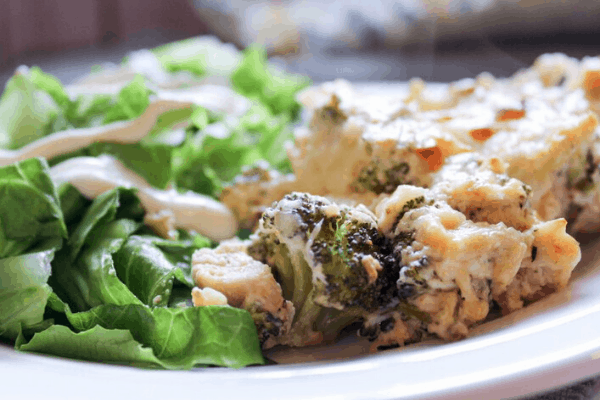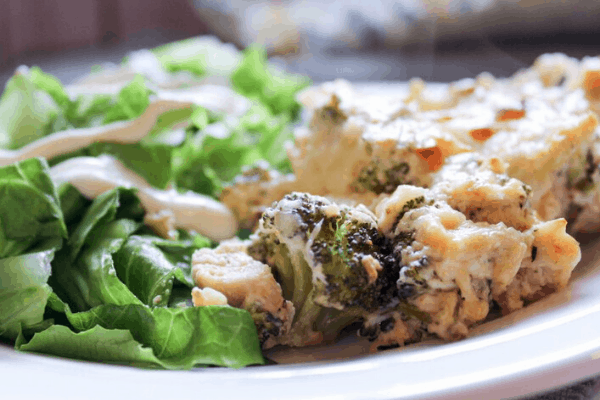 Image and recipe by mymontanakitchen.com
It's the perfect comfort food on a chilly day.
Keto Chicken Broccoli Casserole is a low-carb dish that will delight your taste buds.
This recipe is perfect for all those who are on the ketogenic diet and want to enjoy a hearty meal that won't disrupt their fat-burning goals.
Main ingredients: Chicken, broccoli, cream cheese, mayonnaise, smoked paprika, rosemary, thyme, and onion powder.
Net carbs: 7 gms
Check out the recipe from mymontanakitchen.com
5. CRISPY KETO FRIED CHICKEN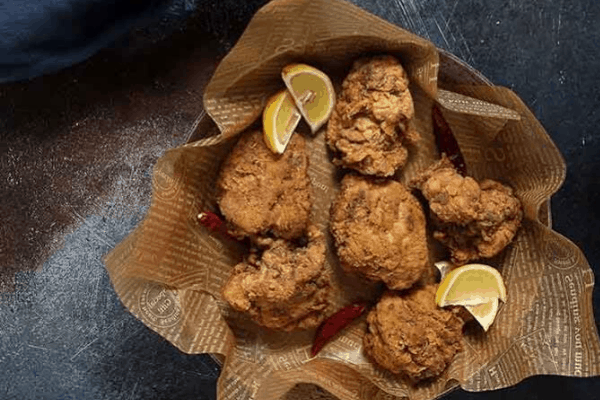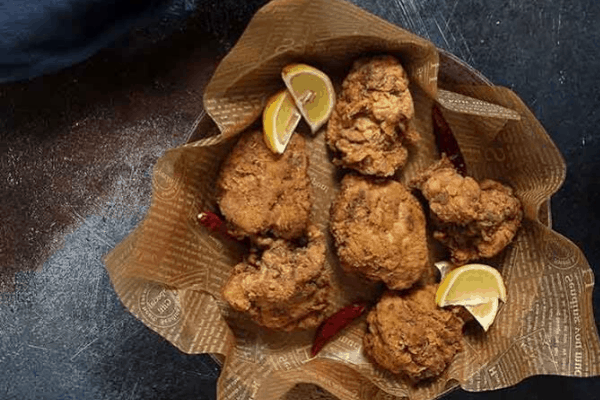 Image and recipe by mypcoskitchen.com
It will turn out to be very crispy and amazing.
The crispy chicken will remind you of the fried chicken that you used to eat before going keto, but without all the carbs and fat!
Dip it in queso dip, alfredo sauce, or simple keto ketchup.
Amazing side dish with a wonderful flavor.
Main ingredients: Chicken, garlic cloves, oregano, chili powder, almond milk, onion powder, celery seeds, salt, and pepper.
Net carbs: 2.18 gms
The delicious recipe from mypcoskitchen.com
Wanna have some Keto-Friendly Alcohol with it?
6. COCONUT LIME KETO CHICKEN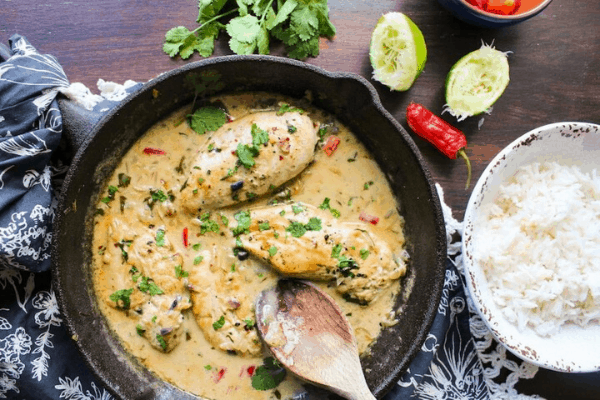 Image and recipe by asaucykitchen.com
Let's start with some tangy super delicious dishes.
Coconut and lime are well known for their health benefits and combined with the protein-rich ketogenic diet, this dish will leave you feeling great.
The recipe below includes all of the ingredients needed to make a delicious dish that fits into any meal plan!
Whenever you will mix coconut milk with chicken, it automatically becomes tasty.
Coconut lime chicken is a Thai main course that is dairy-free and gluten-free.
Main Ingredients: Chicken, coconut oil, coconut milk, turmeric powder, chicken stock, red onion, chili, cilantro, turmeric powder, salt, and pepper.
Carbs: 6 gms
Check out the recipe from asaucykitchen.com
Oh, You like Chicken Thighs? Here are 12 Chicken Thigh Recipes for the Keto Diet Weight Loss.
7. KETO SPINACH-STUFFED CHICKEN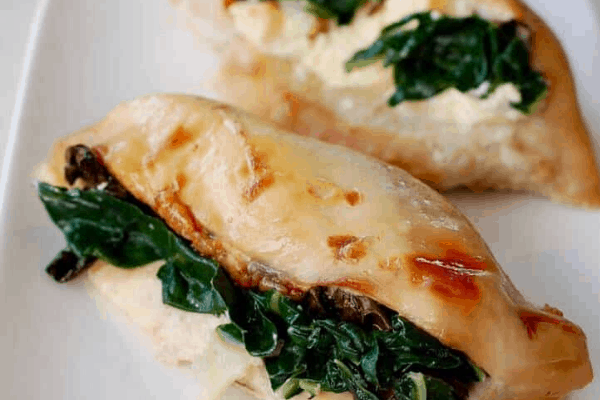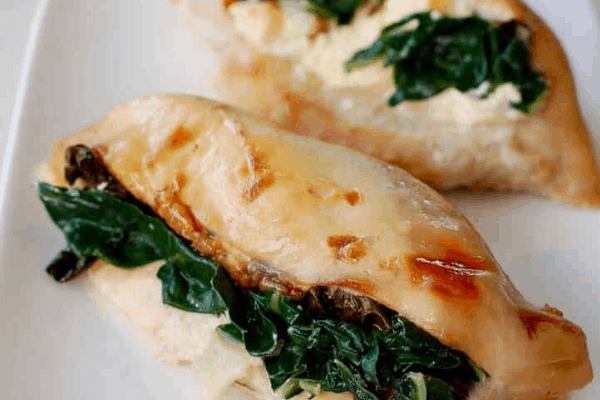 Image and recipe by ditchthecarbs.com
This recipe will turn out to be an extremely good-looking dish for a party.
I'm a huge fan of keto or low-carb diets and I love the Keto Spinach Stuffed Chicken recipe.
The chicken is stuffed with bacon, cream cheese, and spinach which makes it super delicious.
It tastes so good and satisfies my cravings for something savory without all of the carbs.
This dish was perfect for me because it's healthy yet filling!
Net Carbs: 0.7 gms
The easy keto chicken recipes from ditchthecarbs.com
8. BBQ KETO CHICKEN RECIPES WITH BACON AND CHEESE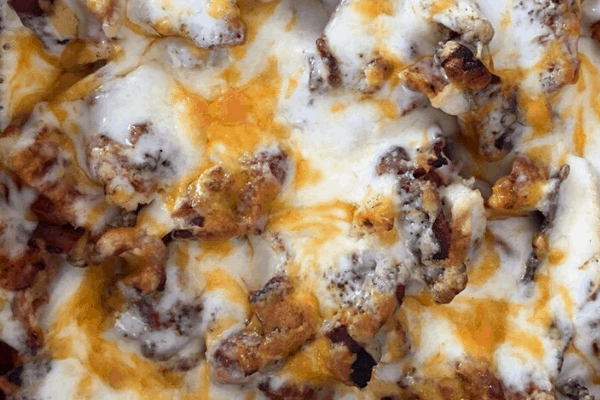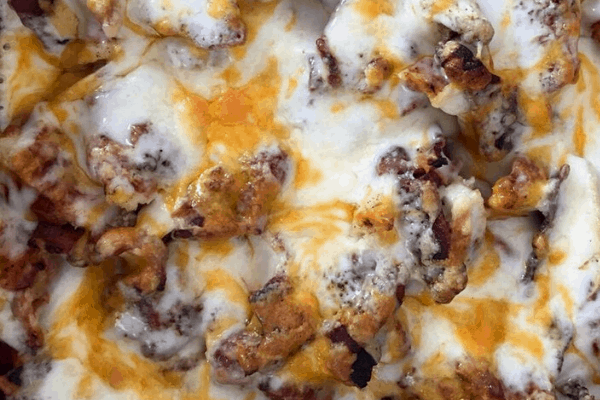 Image and recipe by kaseytrenum.com
Find your favorite BBQ sauce and get ready to enjoy these mouthwatering chicken recipes!
This recipe will leave you feeling full, satisfied, and satisfied.
You'll never want to go back to eating bland food again!
This BBQ chicken with bacon and cheese makes a fabulous dinner for a low-carb keto lifestyle.
Main ingredients: Chicken, BBQ Sauce, garlic pepper seasoning, Monterrey Jack cheese, butter, cheddar cheese, bacon, salt, and pepper.
Carbs: 3.3 gms
Here goes the kaseytrenum.com
9. KETO CHICKEN WITH JALAPENO CHEESE SAUCE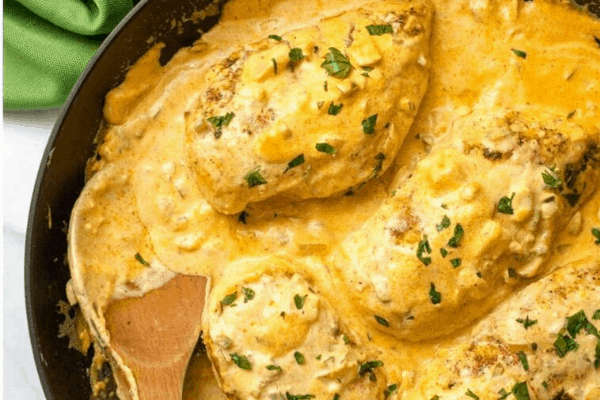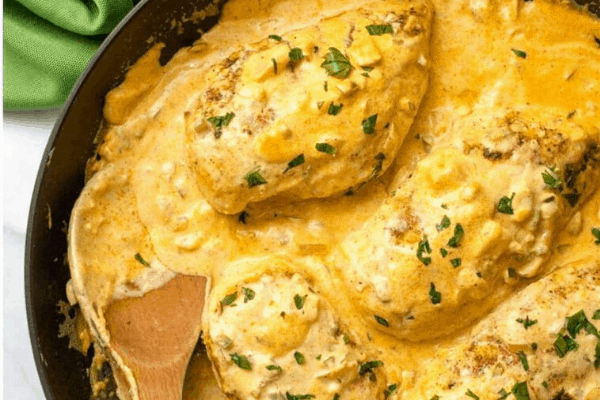 Image and recipe by familyfoodonthetable.com
This easy keto chicken dish is a great way to enjoy the taste of jalapeno cheese without all the carbs.
Jalapenos are one of those foods that you either love or hate, but if you're looking for a little spice in your life, then this recipe is perfect for you.
Along with garlic and onion powder, the dish also includes olives which give it an extra kick!
The sauce has just enough creaminess from cheddar cheese and cream cheese while still being able to be cooked on the stovetop like traditional sauces.
Cheese and jalapeno are an awesome combination.
Just try this out and check out its creamy spicy flavor.
Main ingredients: Chicken, olive oil, onion, chili, cumin powder, jalapenos, garlic, cream cheese, cheddar cheese, and chicken broth.
Net carbs: 5 gms
Recipe from familyfoodonthetable.com
10. SHERRY KETO CHICKEN SAUTE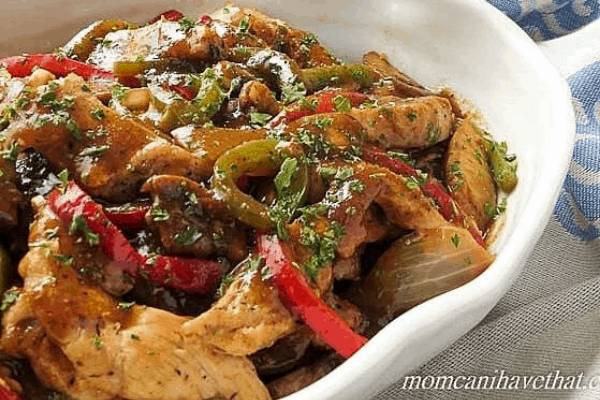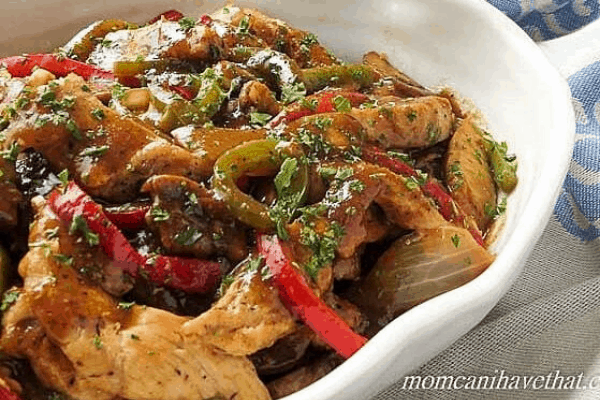 Image and recipe by lowcarbmaven.com
This is a low-carb healthy recipe. This can make an amazing keto side dish.
If you're looking for a quick and easy dinner, this recipe is perfect.
All you need are some chicken, sliced mushroom, green and red bell pepper, onion, garlic cloves, sherry, chicken broth, olive oil, and arrowroot.
A great dish to serve with cauliflower rice.
Net carbs: 6 gms
The recipe goes here from lowcarbmaven.com
11. SIMPLE KETO CHICKEN CURRY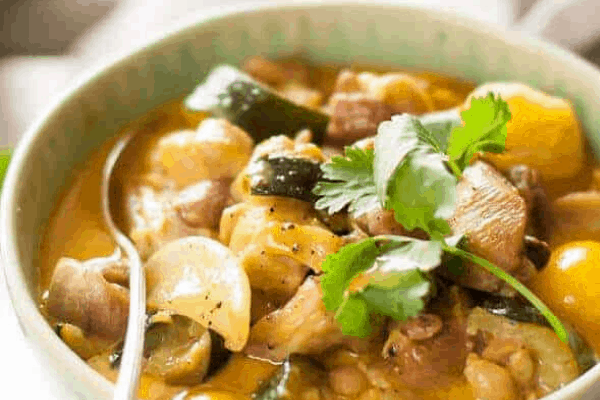 Image and recipe by mynaturalfamily.com
You would love to make this curry over and over again.
It is a simple keto chicken thigh recipe that makes a perfect light dinner.
This keto chicken curry is made with coconut milk. It's simple and easy to make in an hour!
The best part about this dish is that it has no added sugars or carbs.
Main ingredients: Chicken thighs, coconut oil, onion, zucchini, garlic, curry powder, coconut milk, tomato, and cilantro.
Net carbs: 3.5 gms
Here is the mynaturalfamily.com
My Take on Keto Chicken Recipes
Everybody is in love with chicken recipes.
The creamy low-carb yet dairy-free chicken recipes for the keto diet.
Sometimes chicken recipes are the saviors of a gloomy day.
Keto chicken recipes will help you stick to your diet goals. They are simple and delicious and most importantly they won't break any of your dietary commitments!
Enjoy it while losing weight.
Check out the keto chicken salads here along with other keto salad recipes.
Related Keto Chicken Recipes:
Keto Chicken Recipes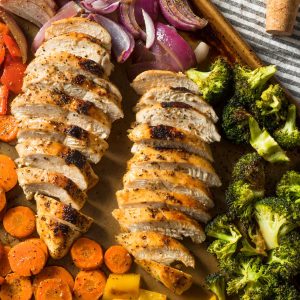 11 Best Keto Chicken Recipes for a Weight-Losing Diet
Looking for keto chicken recipes?
These three recipes are all low in carbs and perfect for a healthy, ketogenic diet.
From skillet chicken to oven-baked chicken to shredded chicken, these recipes will help you stick to your keto goals while enjoying delicious, homecooked meals.
Instructions
Choose the best chicken recipe to make.

The chicken recipes will go with any meal.
Notes