I've always been a fan of weight loss smoothies.
I find they are a great way to get my daily dose of fruits and vegetables while also satisfying my sweet tooth.
Smoothies are a great way to get in lots of nutrients and vitamins, as well as fiber, without having to eat lots of whole fruits and vegetables.
WEIGHT LOSS SMOOTHIES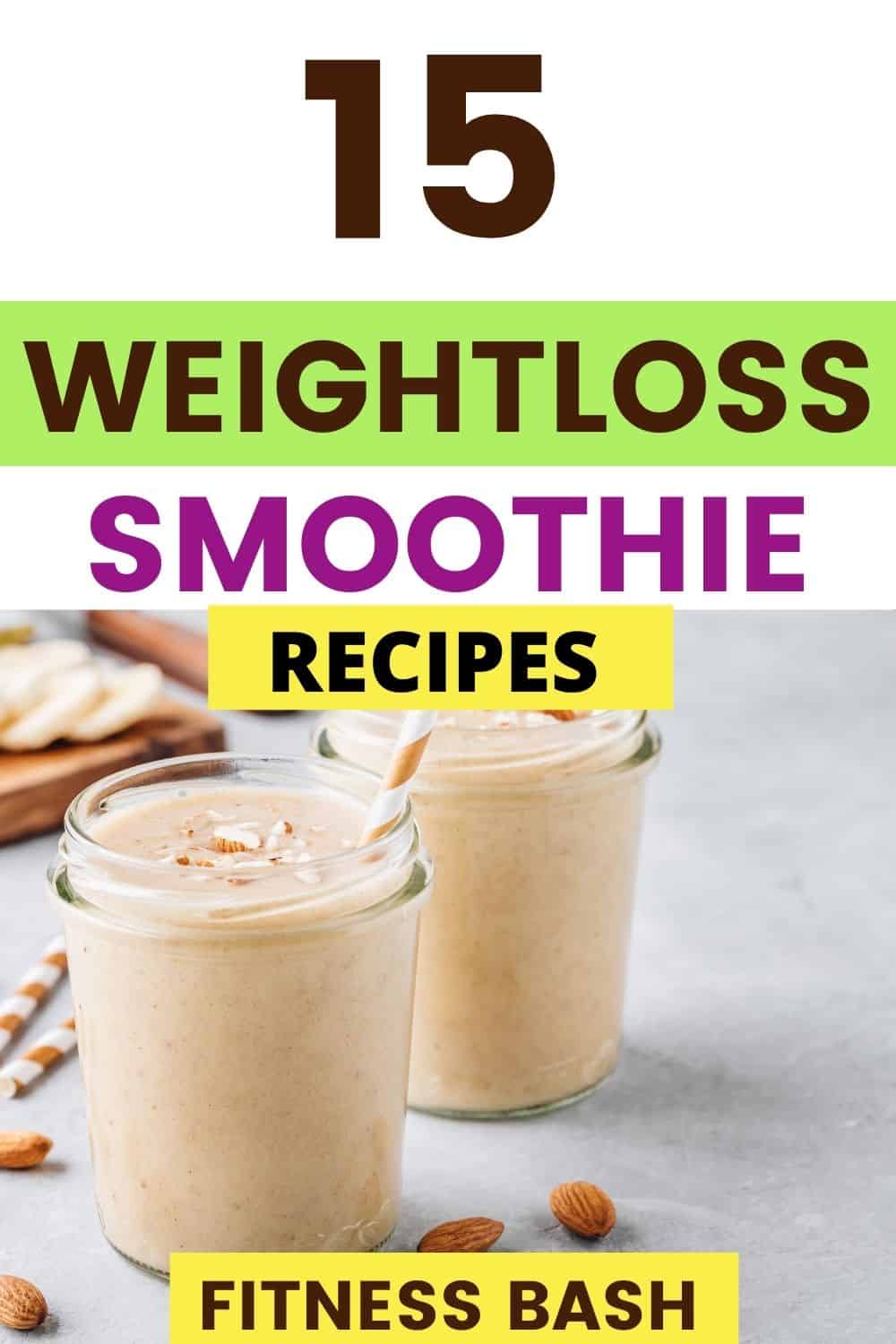 The best thing about weight loss smoothies is that you can make them in under five minutes.
They are also easy to store and take with you, so they're perfect for breakfast on the go!
Smoothies are a great way to get your nutrients while still being able to enjoy a sweet treat.
Are smoothies a good way to lose weight?
There are several weight loss smoothies that can actually burn the fat but what you need to care about is most of the smoothies perform well when taken as meal replacements.
Smoothies can only make you lose weight when you are taking weight-loss foods and turning them into a smoothie.
When is the best time to have a smoothie?
For weight loss, smoothies are best when taken in the morning or for lunch at a go.
For me, it always works best for a lunch at a go, as my body gets the necessary nutrients from the smoothie and it acts as a meal replacement too.
Check out 21 Fat Burning Foods to eat daily.
How to make healthy smoothies?
Make your own dairy-free smoothie recipes with healthy fats and unsweetened almond milk.
Add nut butter, chia seeds, and protein powders. They work great for a weight loss journey.
Add frozen banana with Greek yogurt. This will give you a creamy smoothie.
Things to add to a smoothie without feeling guilty
Hemp seeds, flax seeds, pea protein, frozen pineapple, vanilla protein powder, and any frozen fruits.
They all contain healthy fats and promote weight loss.
15 BEST WEIGHT LOSS SMOOTHIES
What smoothies can I drink to lose weight?
Green superfood smoothie
Green mulberry banana
Raspberry mango chia seed
Mermaid smoothie
Peach raspberry smoothie
Banana smoothie
Raspberry banana smoothie
Blueberry muffin smoothie
Mango chia seed smoothie
Carrot cake smoothie
Chia berry smoothie
Cucumber melon smoothie
Raspberry sunrise smoothie
Super duper smoothie
Cranberry ginger smoothie
1. GREEN SUPERFOOD SMOOTHIE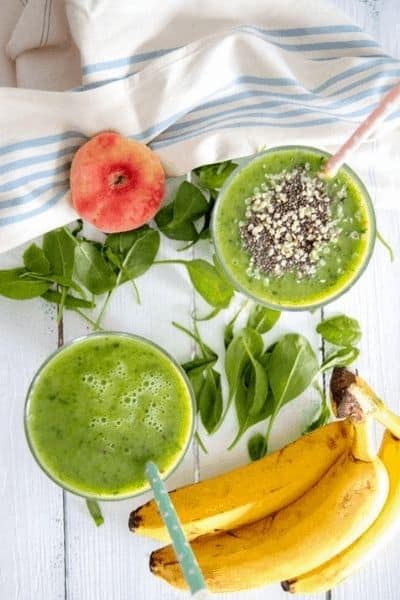 Image and recipe by heavenlynnhealthy.com
This is gonna look lovely and taste like nuts, with the hemp seeds as the toppings.
Adequate amount of protein and fiber.
Ingredients: Peach, banana, honey, avocado, cucumber, baby spinach, mint leaves, coconut water, hemp seeds.
The measurement and recipe are here.
2. GREEN MULBERRY BANANA SMOOTHIE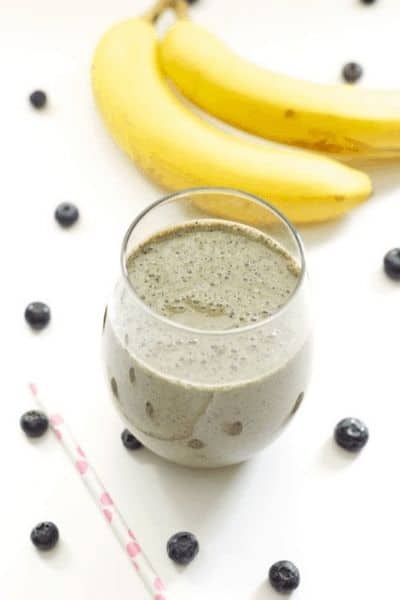 Image and recipe by reciperunner.com
Whether you are looking to add some more fresh fruit to your diet or want a delicious and quick breakfast, this green mulberry banana smoothie is the perfect recipe.
It is packed with nutrients and natural sugars from fruits that will give you energy for hours!
This smoothie is packed with antioxidants, calcium, potassium, and protein.
So, who is gonna miss this?
Ingredient: Milk, low-fat yogurt, banana, frozen mulberries, spinach, flaxseed, honey, vanilla extract.
The recipe measurement is here.
3. RASPBERRY MANGO CHIA SEED SMOOTHIE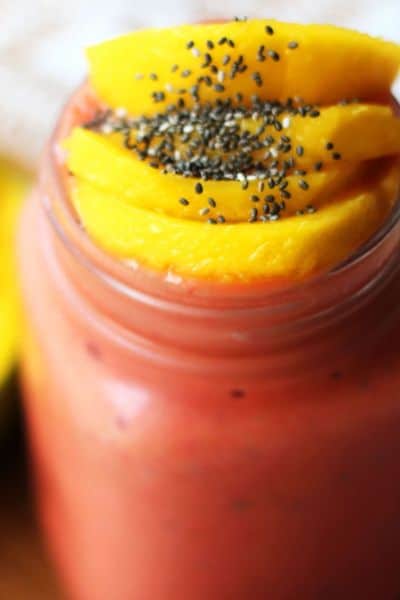 Image and recipe by supperinthesuburbs.com
This is a Raspberry Mango Chia Seed Smoothie that is made with ingredients you can find in the fridge and on your counter.
It's easy to make, refreshing, and delicious!
This smoothie has it all: vitamins, minerals, and protein – what's not to love?
A nutrient-packed smoothie that will be great after a workout.
Ingredients: Orange juice, raspberry, mango chunks, banana, chia seeds.
The recipe goes here.
4. MERMAID SMOOTHIE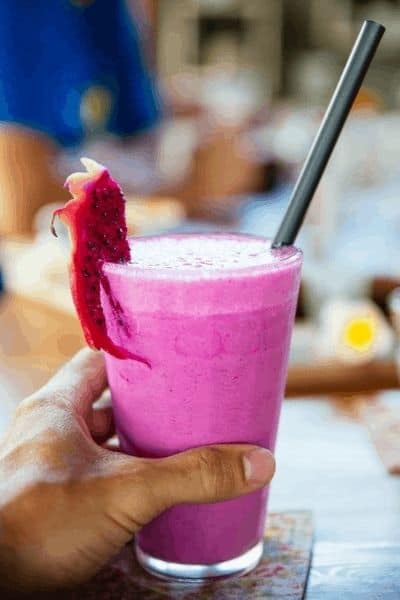 Image and recipe by popculture.com
I love smoothies! Especially the colorful ones.
They're a great way to get in some fruit and veggies, especially for the kids.
This flavorful combination of dragon fruit, banana, and mango is startlingly delicious!
This is a metabolism-boosting smoothie that will also aid in muscle building and digestion along with weight loss.
Ingredients: Dragon fruit, mango, banana, coconut oil, maple syrup.
5. PEACH RASPBERRY SMOOTHIE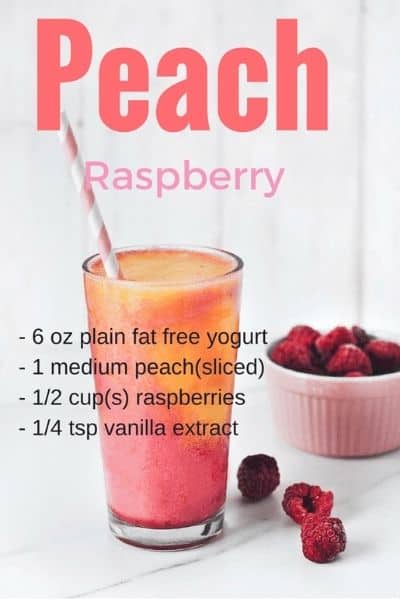 Image and recipe by ninjablenderrecipes.blogspot.com
This smoothie will definitely make you feel motivated toward a healthy lifestyle.
I absolutely love to create delicious and nutritious smoothies.
Peach Raspberry Smoothie is one of my favorites because it tastes so good, but also provides your body with the necessary vitamins and nutrients that you need for an active day!
Ingredients: Fat-free yogurt, peach, raspberries, vanilla extract.
Check out the recipe here.
6. THE APPLE BANANA SMOOTHIE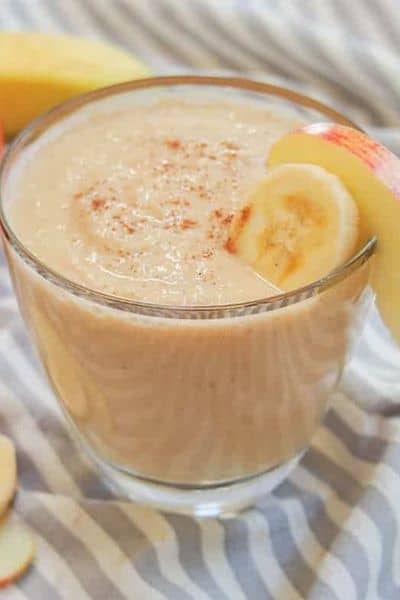 Image and recipe by sundaysuppermovement.com
Bananas are a great source of potassium, which is an essential mineral for the body.
Bananas also have lots of fiber and vitamin B6, which helps with nerve function in your brain!
If you make a banana smoothie, it's quick and easy to get all these health benefits.
This smoothie is also said to be beneficial for weight loss. This is more of a meal replacement.
Ingredients: Banana, orange, apple, fresh lemon juice.
Check out the procedure here.
7. RASPBERRY BANANA SMOOTHIE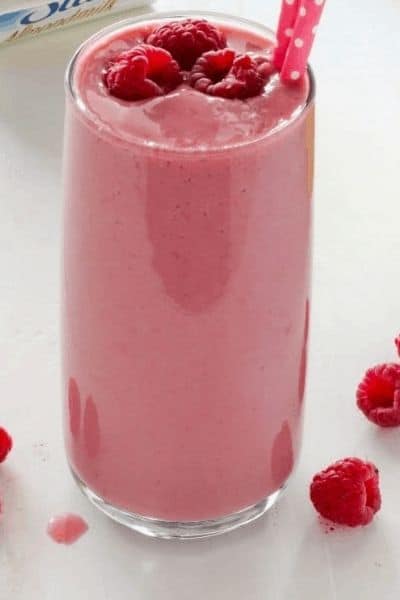 Image and recipe by bakerbynature.com
Raspberry and a banana-flavored smoothie with a touch of honey to sweeten the drink.
This is a perfect refreshing beverage for those hot summer days.
Along with being delicious, this drink has tons of vitamins and nutrients that will have you feeling energized all day long!
This is a very pretty smoothie for weight loss. You will just fall in love with the color.
In addition, raspberry boosts metabolism, and orange juice adds the perfect tanginess.
Ingredients: Bananas, raspberries, almond milk, orange juice, honey.
The recipe is here.
8. BLUEBERRY MUFFIN SMOOTHIE
Image and recipe by iowagirleats.com
This blueberry muffin smoothie will revitalize you and get your day going.
It's quick, easy to make, and tastes amazing!
This gonna be a perfectly sweet and ultra-thick smoothie as if you are enjoying a blueberry muffin.
Ingredients: Milk, Greek yogurt, frozen blueberries, banana, gluten-free oats, lemon, and ice cubes.
The delicious recipe is here.
9. MANGO BANANA CHIA SEED SMOOTHIE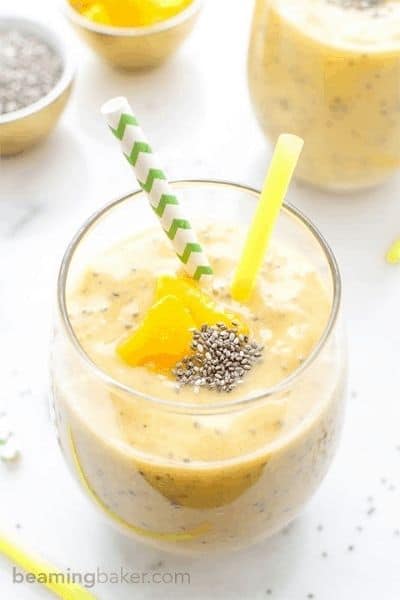 Image and recipe by beamingbaker.com
I am not a very big fan of the mango-banana mixture. But, this particular gluten-free smoothie provides some healthy fats with some tangy taste which I like.
It's quick and easy to make, filling, and refreshing.
Use a store-bought mango but feel free to combine any fruit you like with the chia seeds for a different flavor.
Ingredients used: Chia seeds, mango chunks, banana, almond milk.
Here goes the recipe.
10. CARROT CAKE SMOOTHIE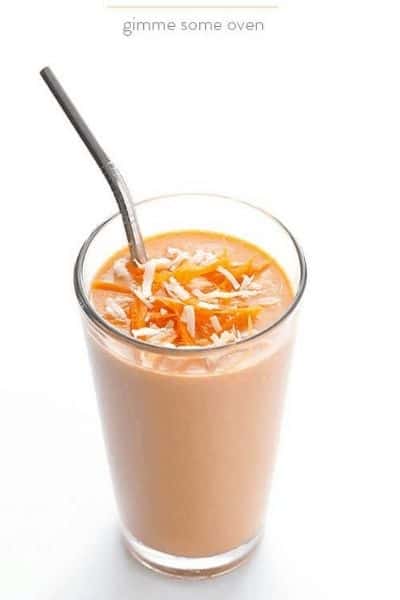 Image and recipe by gimmesomeoven.com
This meal replacement can be your go-to smoothie at any time.
This recipe is for those days when you want carrot cake in your life ASAP!
The best part about this recipe is that it only takes 5 minutes to prepare and 1 minute to drink.
It's perfect for an on-the-go breakfast or snack.
You can also add cinnamon and nutmeg if desired!
The fresh ginger and a bit of nut surely going to add taste to it.
Ingredients used: Banana, carrot, almond milk, yogurt, cinnamon, ginger, nutmeg, and toasted walnuts.
Here goes the recipe.
11. CHIA BERRY SMOOTHIE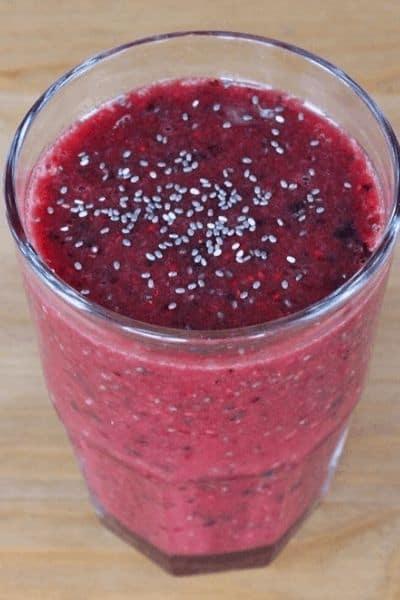 Image and recipe by popsugar.com
Chia Berry Smoothie in the morning as it's so refreshing and filling!
It's super easy to make with only a few ingredients, but it tastes like you're enjoying a tangy dessert!
A smoothie that is rich in fiber and antioxidants.
Ingredients used: Mixed berries, chia seeds, pomegranate
The recipe is here.
12. CUCUMBER MELON SMOOTHIE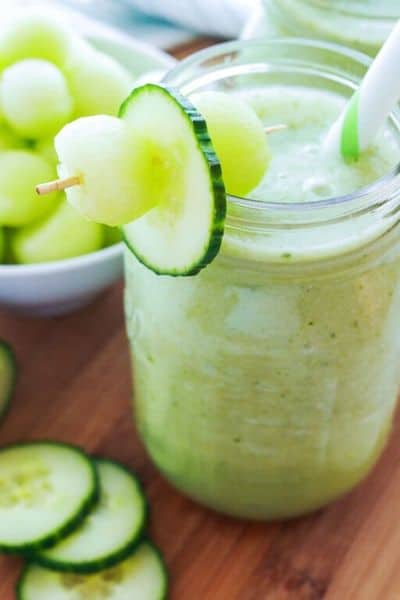 Image and recipe by thetravelbite.com
Melons are one of the most refreshing fruits out there.
When you combine them with cucumbers and a few other ingredients, it makes for an amazing way to cool down on those hot summer days!
So grab your blender or food processor and get blending!
This smoothie will be containing strong antioxidant and anti-inflammatory properties due to the presence of cucumber.
Ingredients used: Honeydew melon, cucumber, water, ice
Here goes the thetravelbite.com
13. RASPBERRY SUNRISE SMOOTHIE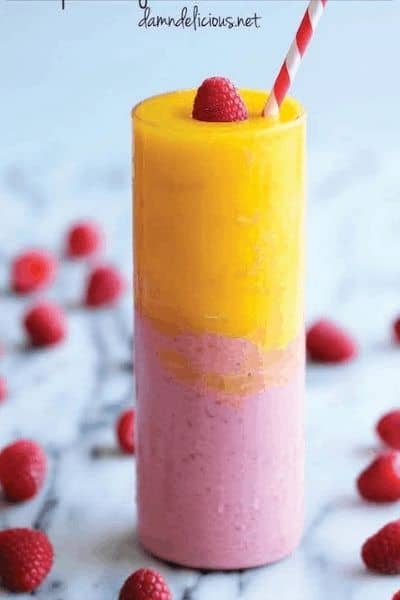 Image and recipe by damndelicious.net
Nothing can be visually more refreshing than this.
This is a beautiful smoothie with all bright colors.
Ingredients used: Raspberries, orange juice, mango chunks, milk.
Check out the recipe here.
14. BLUEBERRY SPINACH SMOOTHIE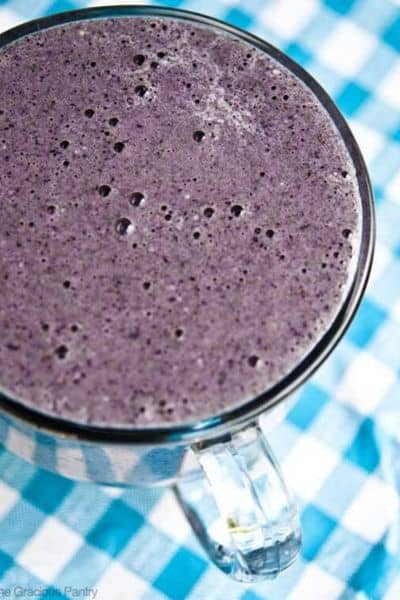 Image and recipe by thegraciouspantry.com
Do you want to enjoy a quick, easy, and healthy breakfast?
This blueberry banana protein powder smoothie is the perfect solution.
The ingredients are simple and the recipe is fast. You will be pleasantly surprised by how much flavor this drink has!
This smoothie is full of fiber, vitamin c, antioxidants, and protein.
Ingredients used: Blueberries, spinach, banana, milk, protein powder.
The recipe is here.
15. CRANBERRY-GINGER SMOOTHIE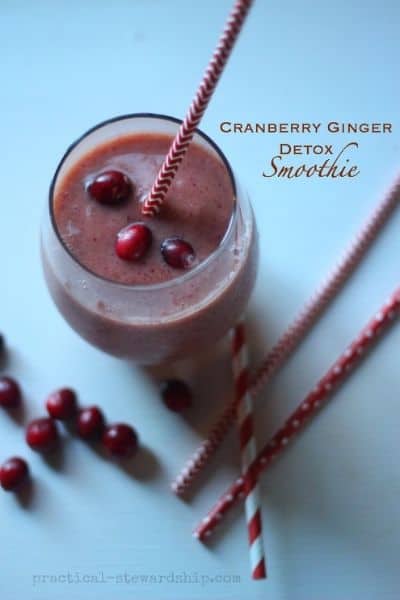 Image and recipe, by practical-stewardship.com
Cranberry-Ginger Smoothie – full of vitamins and nutrients that will make your taste buds happy while simultaneously giving you all the energy you need to get through this season without getting burned out.
It's the dessert for breakfast or lunch, whichever mood strikes your fancy!
This smoothie is a creamy mixture and ginger adds a distinguishable flavor to it.
Ingredients used: Cranberries, pomegranate, orange zest, banana, ginger.
The recipe goes here.
My Take on Weightloss Smoothies
If you want to get the most out of your weight loss smoothies then add ingredients like spinach, almond milk, and ice cubes for a refreshing drink that will help you feel full while losing weight.
Weight loss smoothies are a fantastic choice for a meal replacement full of nutrients.
Try out the fat-burning smoothies for 7 days.
You will see the results that your body is getting energized and you will feel lighter.
Related Weightloss Smoothie Recipes:
Weight Loss Smoothies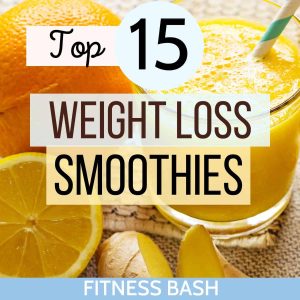 15 Weight Loss Smoothies for a Perfect Breakfast!
Weight loss smoothies are highly recommendable breakfast smoothies.
If you're looking to cut down on calories and lose weight, start your day off right with one of these healthy smoothies.
These recipes are packed full of nutritious ingredients that will help jumpstart your metabolism and keep you feeling fuller longer.
So why wait? Start blending!
Instructions
Choose the weight loss smoothie recipe you want to make.

Blend the ingredients together.

Make a powerful weight loss smoothie for breakfast or any other meal replacement.
Notes