What do you crave when you're on a diet?
Chips, ice cream, cookies?
These snacks are perfect for those moments! But of course, they are high in carbs. So, to be in ketosis, you need something that is pretty low in carb content.
Here are some keto snacks, that are quick to make and easy to pack and will help you keep in track of your keto diet.
LOW-CARB KETO SNACKS
These keto snack recipes serve as healthy alternatives for sweet or salty treats and help curb those hunger pangs in between meals when you need something quick and easy.
Is it OK to snack on keto?
Yes yes yes.
And there are plenty of keto snack recipes to cheer on.
From sweet to crunchy keto snacks.
If you like cheesy snacks then check out 10 Mozzarella Stick Recipes that are keto-approved.
Can you eat peanut butter on keto?
Yes for sure. It is keto.
Is pepperoni keto?
Yes. It is keto-friendly.
There are numerous options when it comes to delicious keto snacks. It could be anything from keto trail mix, healthy fats snack, keto smoothie, keto granola bars, keto deviled eggs, keto crackers, to keto chips.
Check out 12 weight-loss-friendly foods and 15 Low-Calorie Snacks that you can eat daily.
What snacks can I have on the keto diet?
Here are some awesome sweet easy keto snacks which you can grab on the go.
The no-bake cookie
Keto fried chicken
Hard-boiled eggs
Almonds/ nuts
Keto Hot Chocolate
Low-carb keto tortillas
Keto Pretzels
Bacon-wrapped jalapeno poppers
Green chile bacon tots
Keto chocolate avocado pudding
Zucchini fritters
Keto cookie-dough bites
Coconut buttercups
Onion rings
Keto Bread
Keto Zucchini Fries
Keto seed crackers
Candied Pecans
Keto Trail mix
Keto Almond Brittle
The best dips for keto snacks:
The best keto snacks ideas:
1.

The No-Bake Cookie
Image and Recipe from Peaceloveandlowcarb.com
Looking for sweet keto snacks? Here it is.
This is a kid-approved sweet, crunchy, and no-bake cookie. The chocolate and peanut butter already make it so Yum!
The instructions are so clear and perfect that they turned out to be fantastic in the first go.
A quick, easy, low-carb keto cookie. High fat and low carb snack.
Get the https://peaceloveandlowcarb.com/
Net Carbs: 2.5 Gms
2.

Keto Fried Chicken
Image and Recipe from ketogasm.com
This is a bit of a heavy meal for a snack. But you will love this delicious piece as a snack or with any meal.
Keto-fried chicken is a lifesaver when you are craving oven-fried chicken.
This is not a quick and easy recipe but it is mouthwatering.
Get the https://ketogasm.com/keto-fried-chicken-recipe-baked-oven/
Net Carbs: Less than 1 Gram. 
This keto ketchup gonna taste awesome with the fried chicken.
Want more keto Chicken Recipes?
3. Hard-Boiled Eggs
Image from pexels
When you want some quick keto snacks then nothing could be better than grabbing a hard-boiled egg.
Hard-boiled eggs are not only nutritious but contain only 0.6 gm of carbs for a large egg.
The benefits of eating boiled eggs are plentiful. They provide the body with a source of protein, which is necessary for growth and repair.
Carry it anywhere, school, office lunch, or for a bike ride.
Net Carbs: 0.5 Gram
4. Almonds
Image from pexels
Who wants some dry fruits?
This is a keto snack that I always carry with me.
Almonds are the most popular snacks that are delicious, nutritious, and easy to incorporate into your diet.
Even at home if I am hungry I grab some peanuts or almonds. Not only does it provide essential nutrients to our body but it is Keto friendly.
Net Carbs: 0.2 gram per almond
5.

Keto Hot Chocolate
Image and recipe from Makan.ch
Now some lovely recipes coming on the way.
Hot chocolate. Don't even feel as if being on a diet.
If the craving for chocolates then has a cup of keto hot chocolate.
This recipe is so lovely that you will want to make it over and over again.
Check the https://makan.ch/recipe/bulletproof-hot-cocoa/
Net Carbs: 3 grams
Apart from keto hot chocolate, you can try keto coffee too.
Oh! here is another keto hot chocolate recipe you should try.
6.

Low Carb Tortilla Chips
Image and recipe from ketodietapp.com
These homemade keto tortillas are so guilt-free.
Good for late-night keto snacks.
You can have it with your favorite dip to make it yummier.
This can be a bit time taking as you are making it from scratch.
The https://ketodietapp.com/Blog/lchf/Best-Keto-Paleo-Tortillas-Taco-Shells-Nachos
Net Carbs: 1.5 Grams
You cannot miss out on these 8 homemade keto tortilla recipes.
7.

Ketogenic Soft Pretzels
Image and Recipe from peaceloveandlowcarb.com
Once again this is a recipe from peaceloveandlowcarb.com
I just simply love these pretzels, so soft.
Your kids will love you for these amazing low-carb pretzels.
This is one of the homemade keto snacks that are easy to make and taste so good and crunchy.
Check out the https://peaceloveandlowcarb.com/keto-soft-pretzels/
Net Carbs: 6 Grams
8.

Bacon-Wrapped Jalapeno Poppers
Here are some cheesy, creamy, low-carb keto jalapeno poppers.
I love bacon and I love jalapeno poppers. Put them together and they are one of the tastiest appetizers around!
These are easy to make, but you'll need a little bit of prep time before you can bake them up in the oven.
These jalapeno wrappers are very easy to make.
Check out the https://www.heyketomama.com/bacon-wrapped-bbq-jalapeno-poppers/
Net Carbs: 1 gram
9.

Green Chile & Bacon Cauli Tots
Image and recipe from alldayidreamaboutfood
The green chili and cauli tots give a unique and satisfying crunch.
Dip this Green Chile & Bacon Cauli Tots in your favorite salsa.
This easy keto snack recipe is gluten-free and dairy-free.
Cauliflower uses never stops surprising me. You can mash it or mix it with other ingredients to bring the best taste out of everything.
Check the low-carb https://alldayidreamaboutfood.com/low-carb-green-chile-bacon-cauliflower-tots/
Net Carbs: 4.73 grams
10.

Keto Chocolate Avacado Pudding
Image and recipe from veggiesociety
Chocolates + Avocados . What a delicious combination.
Pudding is typically a dessert that is loaded with sugar. However, this Keto Chocolate Avocado Pudding recipe has no added sugars.
It's perfect for those who are on the keto diet or just like to indulge in a low-carb treat every now and then.
This is a super delicious, creamy, and NO BAKE recipe.
You will love it.
Avocado is also one of the top low-sodium foods that you can eat daily.
Here is the simple https://veggiesociety.com/raw-chocolate-avocado-pudding-recipe/
Net carbs: 10 grams
11.

Zucchini Fritters
Image and recipe from lowcarbmaven
The zucchini fritters are a healthy alternative to french fries and chips with the added bonus of being crispy.
This easy keto snack idea is also vegan, gluten-free, and can be served as an appetizer or side dish. 
I love its simplicity.
This is such a low-carb versatile recipe that you can have it anytime.
Here go the recipe https://www.lowcarbmaven.com/the-easiest-zucchini-fritters/
Net Carbs: 3 grams
12.

Keto Cookie Dough Bites
Image and recipe by alldayidreamaboutfood
The image says it all.
These little low-carb delicious balls are to be shared with family and friends.
This is a no-bake recipe which means you can have them instantly 🙂
The https://alldayidreamaboutfood.com/low-carb-no-bake-chocolate-chip-cookie-dough-bites/
Net Carbs: 3.92 grams
Here go:
13.

Coconut Buttercups
Image and Recipe from thebigmansworld
These homemade kid-friendly coconut butter cups are just perfect for lunch boxes or for sharing.
The sweet and nutty taste of coconut buttercups is a perfect dessert for any occasion. 
Not only it's tempting but it is even sugar-free.
All you need are a few ingredients: coconut butter, sweetener, banana extract, cocoa powder, and vanilla extract.
To try it now, check the https://thebigmansworld.com/homemade-banana-cream-coconut-butter-cups-keto-paleo-vegan/
Net carbs: 2 Grams
14.

Onion rings
Image and Recipe from ketoconnect
Onion rings are a popular appetizer or side dish.
They're typically served with ketchup, but they can also be eaten alone as an afternoon snack.
What makes onion rings so addictive?
It could be the crunchy breading outside of the onion, which is usually battered in coconut flour and egg before being fried.
Easy to make and you can use these onion rings as a topping for other meals.
A low-carb onion ring.
Check the https://www.ketoconnect.net/recipe/low-carb-onion-rings/
Net Carbs: 4.5 grams
15.

Keto Bread
Image and Recipe by fatforweightloss
This is the fastest bread possible.
I love to have these delicious pieces of bread with my hot bullet coffee. What a combo 🙂
Check the https://www.fatforweightloss.com.au/almost-instant-keto-bread/
Net Carbs: 1 gram
Never miss out on these 9 Keto bread recipes. Quick and easy to make at home.
16. Keto Zucchini Fries
Baked zucchini fries are a healthy alternative to traditional french fries.
These baked zucchini chips are low in carbs, high in fiber, and will keep you feeling full for hours.
They're the perfect snack when you're on keto or paleo diets. Baking them is really easy; all it takes is 15 minutes of prep time before popping these delicious snacks into the oven!
If you like your veggies crunchy with a hint of saltiness, then this recipe is for you!
Net carbs: 5g
From https://greenandketo.com/oven-baked-keto-zucchini-fries
17. Keto Seed Crackers
If you're a keto dieter and love snacking on crackers, then these seed crackers might be for you! They are made with almond flour and seeds like chia, sunflower, and pumpkin.
You can easily make them yourself at home with just a few ingredients. The recipe is super easy to follow too – so give it a try!
Once you make it, you will keep on making it every month.
Highly nutritious, and crunchy keto snack idea.
They're gluten-free, vegan-friendly, and very easy to make! You can also add spices or herbs for your own personalized flavor preferences
Net carbs: 1g
From https://www.lowcarbspark.com/keto-seed-crackers/
Check out:
18. Keto Candied Pecans
Takes a bit of time to prepare and totally worth it.
Full of nutrition that will satisfy your sweet tooth.
These addictive little bites are the perfect balance of sweet and salty with just a touch of spice from the cinnamon. A perfect combo!
This is a ridiculously addictive and simple recipe.
Carbs: 4g
From https://jenniferbanz.com/keto-candied-pecans
19. Keto Trail Mix
This is one of my favorite low-carb keto snacks.
Sweet, crunchy, easy to carry, and whatnot.
The best thing about keto trail mix is that it has all the ingredients you need to take on a hike. With nuts, seeds, and dark chocolate, this combination will give you energy without weighing you down.
Keto trail mix is a great way to stay on track with your ketogenic diet.
If you are looking for an easy snack to take along with you, then keto trail mix is the answer.
You can even substitute any of the nuts or seeds listed.
Net carbs: 2.6g
From https://explorermomma.com/easy-sweet-keto-trail-mix-low-carb/
20. Keto Almond Brittle
I've always loved the taste of brittle, but not the sugar.
What if I told you that there was a way to make your favorite holiday dessert in a keto-friendly form?
That's right, this recipe is for sugarless keto almond brittle. This recipe tastes just like traditional almond brittle and it has none of the guilt or calorie count!
Munching on a handful of salty, crunchy almonds is one of life's simple pleasures. Add in some butter and vanilla extract to create an addictively sweet Keto Almond Brittle recipe that will satisfy your cravings for something crunchy but won't break the keto diet.
Takes only 10 mins to make.
Carbs: 4g
From https://www.resolutioneats.com/blog/keto-almond-brittle/
A good keto snack can also consist of natural peanut butter, hard-boiled eggs, mozzarella cheese, cheddar cheese, or macadamia nuts.
My Take on Low-Carb Keto Snacks
When you're on the ketogenic diet, it can be hard to find snacks that are satisfying and high in fat.
So this list of keto-friendly foods will help you stay full and nourished without sabotaging your progress toward weight loss goals!
The low-carb keto snacks to munch at home or take on a go for a quick keto snacking. The idea is to be in ketosis without feeling hungry anytime.
These keto diet snacks are a great idea to keep us always full.
Try out some keto fruit as a snack.
Related Low-Carb Keto Snacks Ideas
Low-Carb Keto Snacks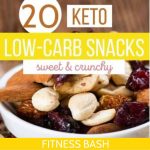 Print
20 Best Low Carb Keto Snacks for Ketogenic Diet
Tired of eating the same old thing?
Spice up your snacking routine with these delicious and healthy keto snack recipes.
From fat bombs to savory snacks, we've got you covered. So why wait? Start snacking healthy today!
The best keto low-carb snacks to fill your stomach and be in ketosis.
Instructions
Choose any snacks you want to eat.

You can easily carry these healthy low-carb snacks to school or your office.

Enjoy the crunchy snacks any time.