Looking for a delicious and keto-friendly way to enjoy your morning coffee or tea?
Check out these recipes for keto biscuits that will have you coming back for more!
Made with almond flour and coconut oil, these biscuits are perfect for those on a low-carb diet. 
KETO BISCUITS TO MAKE
The soft and fluffy keto biscuit recipes to eat for a breakfast or even for dinner dessert. The keto gravy biscuits are well suited for a keto dinner.
Am sure when you have tried the delicious and crunchy choco chips keto cookies.
Why only cookies, when you can make breakfast keto biscuits to keto biscuits with gravy for a wholesome dinner?
Can I eat Biscuits on Keto Diet?
Regular biscuits are high in carbs, especially when it is made up of wheat flour, sugar, and milk.
For the keto diet lifestyle here comes the low-carb keto biscuit recipes mainly made up of almond flour, eggs, and butter that make some fluffy and soft keto biscuits.
What are the kind of keto biscuits that I can eat for a keto diet?
Keto diet biscuits
Keto almond flour biscuit
Keto Cheddar flour biscuits
Keto Sausage and biscuits
Cheddar, almond biscuits
Keto white chocolate macadamia nut cookies
Sour cream low-carb biscuits
Keto flour biscuits
Low-carb Keto dairy-free biscuits
Crack Biscuits
Gluten-free Drop Biscuits
Keto biscuits with gravy
Cheddar garlic biscuits
Ham and cheese keto breakfast biscuits
Air fryer biscuits
Keto snickerdoodles cookies
1. KETO BISCUITS
Image from fitmomjourney.com
Low-carb, ketogenic, gluten-free, and sugar-free keto biscuit recipes.
A fluffy keto biscuit that gives a full blast of energy.
Net carbs: 1g, Fat: 3g, Protein: 2g
Recipe from fitmomjourney.com
2. KETO ALMOND FLOUR BISCUITS
Image from thebigmansworld.com
These Keto Almond Flour Biscuits are lower in carbs than traditional muffins and make the perfect healthy alternative!
You will need almond flour, eggs, baking powder, salt, butter, or coconut oil, and shredded cheese.
I use this recipe to create biscuits instead of muffins which makes them easier to eat on the go for breakfast.
These are indeed light and fluffy keto biscuits. 
Very easy steps to make. Make sure you mix the butter well.
Net carbs: 2g, Fat: 7g, Protein: 7g
Recipe from thebigmansworld.com
3. KETO CHEDDAR BISCUITS
Image from melaniecooks.com
The recipe for these KETO CHEDDAR BISCUITS is so easy to make and it only takes 20 minutes from start to finish.
They are the perfect low-carb option for breakfast or lunch.
Make them with bacon, cheese, and eggs for a brunch-inspired dish!
Use almond flour to avoid carbs and for an amazing flavor when mixed with the cheese.
Net carbs: 2g, Fat: 17g, Protein: 10g
Recipe from melaniecooks.com
4. KETO SAUSAGE AND BISCUITS
Image from maebells.com
I love sausage and biscuits. It's the perfect breakfast for a chilly morning, or any time of day really.
But what I don't like is all the carbs that come with it.
So I tried keto sausage and biscuits instead!
The stuffed sausage between the biscuits provides a high protein and a low-carb breakfast.
Net carbs: 3.9g, Fat: 23.6g, Protein: 18g
Recipe from maebells.com
5. CHEDDAR, ALMOND KETO BISCUITS
Image from savorytooth.com
Mmm, these keto biscuits are truly the bomb!
They're also gluten-free and super easy to make. If you love cheese and almonds then you'll be in heaven with these low-carb biscuits.
Have cheesy keto biscuits for a breakfast with a keto bullet coffee or for a snack.
Great low-carb, gluten-free biscuit recipe.
Net carbs: 2.5g, Fat: 31g, Protein: 14g
Recipe from savorytooth.com
6. KETO WHITE CHOCOLATE MACADAMIA NUT COOKIES
Image from maebells.com
Keto white chocolate macadamia nut cookies are gluten-free, sugar-free, and dairy-free.
They're also vegan if you use a vegan egg substitute.
These keto cookies are the perfect dessert for those on a low-carb diet or who have food allergies to gluten, sugar, and dairy.
You can make these keto cookies your own by adding different toppings such as chopped nuts or sprinkles!
The white chocolate nut cookies are perfect for a keto low-carb dessert.
Sweet and salty macadamia nuts give an amazing flavor to the cookies.
You can freeze the individual 1-inch cookie dough and bake it when you crave it.
Net carbs: 3.4g, Fat: 8.3g, Protein: 1.3g
Recipe from maebells.com
7. SOUR CREAM LOW CARB BISCUITS
Image from ketofiedsisters.com
These Sour Cream Low Carb Biscuits are super yummy!
They're fluffy and melt in your mouth with a nice hint of sour cream flavor – not too strong.
And at only 1 net carb per biscuit, these are definitely worth giving a try!
Butter, sour cream, and eggs, and you are done.
Mix the flour and some keto-friendly choco chips if you want.
You can also add cinnamon and sweetener.
Net carbs: 1g, Fat: 2g, Protein: 4g
Recipe from ketofiedsisters.com
8. ALMOND FLOUR KETO BISCUITS
Image from delightfullylowcarb.com
Yet another almond flour keto biscuit recipe.
They're great for ketogenic diets because they have no sugar, wheat flour, cornstarch, gluten, soy, or dairy!
This is kind of a failproof recipe that you will get right every time.
Net carbs: 3g, Fat: 19g, Protein: 7g
Recipe from delightfullylowcarb.com
9. LOW-CARB KETO BISCUITS
Image from kaseytrenum.com
With this recipe, you'll get that same satisfying taste of biscuits without all those carbs!
Incredibly easy and delicious quick keto breakfast idea.
This will get the perfect texture and you can make it like a sandwich with mini ham or turkey salami.
Net carbs: 2g, Fat: 11g, Protein: 6g
Recipe from kaseytrenum.com
10. CRACK KETO BISCUITS
Image from plainchicken.com
Crack keto biscuits are delicious and loaded with cheddar, bacon, and ranch.
A quick and easy keto biscuit recipe that is perfect for breakfast.
They're also gluten-free, dairy-free, soy-free, and nut-free so they can be enjoyed by all of your friends and family.
You can make it individual biscuits or one large loaf.
Brush the baked biscuits with butter and dried parsley.
Recipe from plainchicken.com
11. GLUTEN-FREE DROP BISCUITS
Image from stephaniesain.com
They are light as air, melt in your mouth well, and taste even better than traditional biscuits.
The quick and easy gluten-free recipe that you can eat for a keto dessert after dinner.
Net carbs: 2.5g, Fat: 15.5g, Protein: 5.8g
Recipe from stephaniesain.com
12. KETO BISCUITS WITH GRAVY
Image from jenniferbanz.com
This is a perfect example of a high-fat and low-carb recipe.
Keto biscuits with gravy can be enjoyed by anyone looking for a quick and easy breakfast option or someone who needs some extra protein to start their day off right.
You can use 3 eggs instead of 4 if you do not like your keto biscuits to be eggy.
You can add cream cheese to thicken up the gravy according to your taste.
It serves as a keto snack too.
Net carbs: 3g, Fat: 60g, Protein: 40g
Recipe from jenniferbanz.com
13. CHEDDAR GARLIC BISCUITS
Image from kaseytrenum.com
Mmmmm, a Cheddar Garlic Biscuit.
You can smell them from the oven because they release such an amazing fragrance of garlic and cheese.
This is one of those recipes that you will never want to forget how to make!
A super, flavorful, garlic-cheesy biscuit.
If you find it a bit eggy odor then substitute the egg yolks with the egg whites.
Can add Italian seasonings according to taste.
Net carbs: 2g, Fat: 11, Protein: 5g
Recipe from kaseytrenum.com
14. HAM AND CHEESE KETO BREAKFAST BISCUITS
Image from farmlifediy.com
I am so excited to share this recipe for Ham and Cheese Keto Biscuits with you!
The biscuits are made of cheese, almond flour, eggs, ham (or bacon), and baking powder.
They have a nice flaky texture and can be eaten as an appetizer or snack.
You can use almond milk instead of cream too if you wish.
Net carbs: 1.9g, Fat: 72g, Protein: 6g
Recipe from farmlifediy.com
15. AIR FRYER BISCUITS
Image from ketoconnect.com
I love a good biscuit. They are flaky, buttery, and just delicious.
If you tend to stay away from them because they can be high in calories and fat then simply make biscuits in an air-fryer.
Easy air fryer biscuits where you are free to add scallions, bacon, or jalapeno.
Made with almond flour, cheddar cheese, and sour cream.
Net carbs: 2g, Fat: 15g, Protein: 7g
Recipe from ketoconnect.com
16. KETO SNICKERDOODLE COOKIES
Image from sweetashoney.com
This recipe for keto snickerdoodle cookies is a hit with my family.
They are crispy on the outside and soft on the inside; just like in your favorite bakery!
This is a perfect coconut flour keto snickerdoodle that is soft and has a delicious cinnamon flavor.
These cookies gonna be picture-perfect.
Net carbs: 1.4g, Fat: 4.8g, Protein: 1.2g
Recipe from sweetashoney.com
My Take on Keto Diet
The sweet and crunchy dairy-free biscuits and cookies are my favorite part of my morning breakfasts.
Whether the biscuits with almond flour, coconut flour, and cream cheese all taste great.
Sugar-free biscuits and gravy will give you an alluring smell and taste.
They're low-carb and gluten-free biscuit recipes that will satisfy your sweet tooth without guilt or carbs!
Keto biscuits are perfect for grab-and-go snacks.
With so many delicious recipes available, it's hard not to try out a new one every day!
Check out tons of low-carb breakfast ideas here.
Related Keto Biscuit Recipes
Keto Biscuits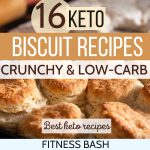 Print
16 Best Keto Biscuits Recipe for a Healthy Snack
The best keto biscuits to make. Eat it with your favorite bullet coffee or take it as a snack.
These keto biscuit recipes are easy to make and perfect for anyone on a low carb diet.
With options that include almond flour, coconut flour, and even bacon, you're sure to find a recipe you love.
So skip the bread basket and try one of these delicious keto biscuits instead!
Instructions
Choose your favorite biscuit recipe to make.

Bake the most delicious keto biscuits.