KETO SOUP RECIPES
Soups are perfect for chilly fall or winter days when you want something warm to soothe your soul.
But the soup recipes are generally high in carbs, making them unsuitable for a keto diet.
So here comes the hearty meal or the lighter soup recipes that will easily cut off the carbs and make you stay in ketosis.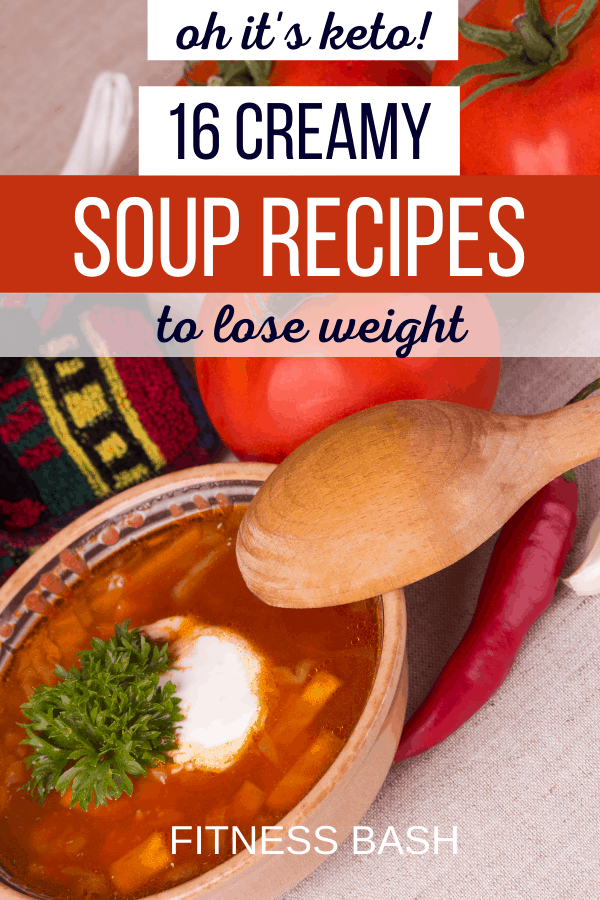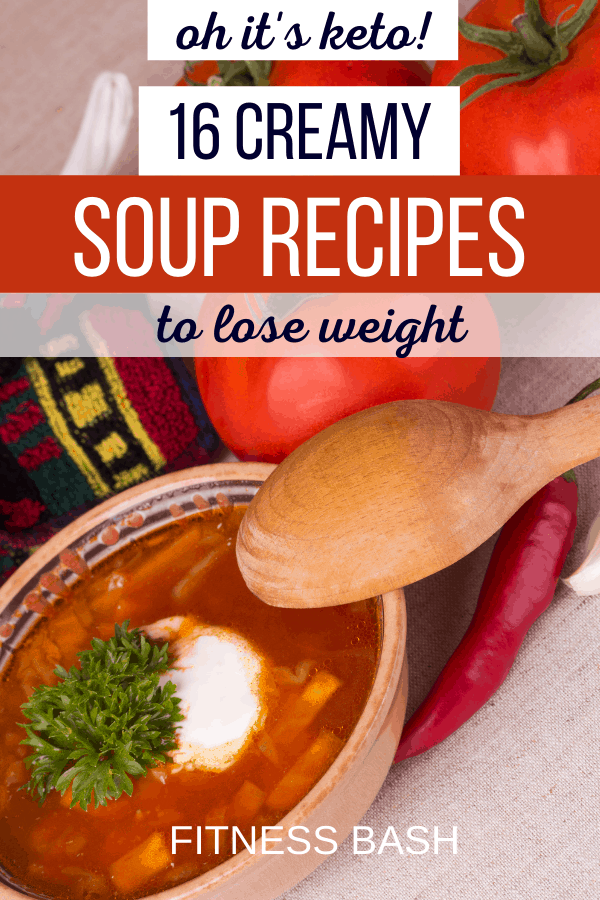 The best of the keto soup recipes.
The recipes are easy to make, delicious, and diverse in what they can offer you while on this diet plan. Whether you love seafood or want something more hearty like beef stew.
Am so happy that I decided to be on a ketogenic diet. Curbing off the carbs not only has made me a happy person but has also increased my energy level immensely.
Continuing a keto diet can be tough for a few people as they are still confused, about what to eat and what not to. While there are numerous keto recipes available, so you never need to worry about what you should take to be in ketosis.
Is soup good for a keto diet?
Yes, it is for sure.
While in other recipes we may tend to make it higher in carbs, soups are pretty easy to make as a low-carb meal.
Keto soup is perfect for a cold night's dinner.
What soups can you eat on keto?
Broccoli cheese soup
Cauliflower ham and cheese soup
Leek and salmon soup
Chicken detox soup
Egg drop soup
Mint avocado chilled soup
Creamy cauliflower green soup
Japanese clear onion soup
Instant pot chicken bacon chowder
Jalapeno popper soup
Keto tomato soup
Keto chicken mushroom soup
Keto chile soup
Broccoli cheddar soup
Spring soup with a poached egg
1. EASY BROCCOLI CHEESE SOUP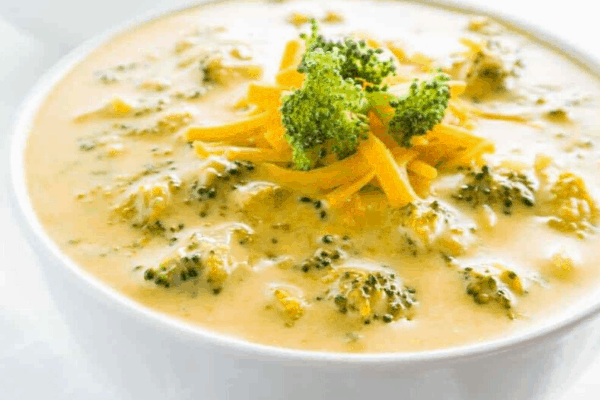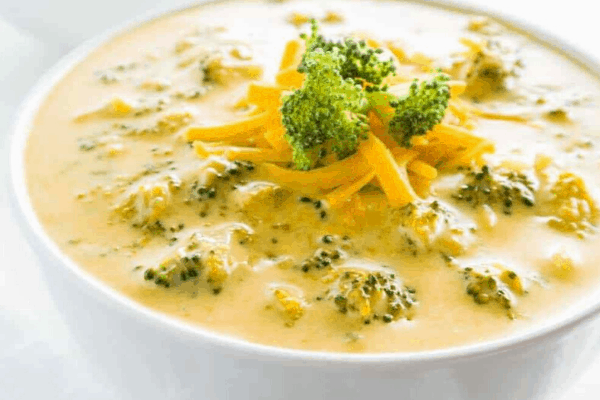 Image and recipe by wholesomeyum.com
Let me start with this creamy recipe.
A hearty, delicious broccoli cheese soup.
The Broccoli Cheese Soup recipe will keep your stomach warm and full. Adding a little chili powder to the mix really kicks up the flavor!
This is a gluten-free, creamy broccoli cheese soup. If you want this to be a veg soup then just alter the chicken broth with vegetable broth.
I got a thick cheese texture which I simply loved.
Check the recipe from WholeSomeYum.com
Net carbs: 4 gms
2. CAULIFLOWER HAM AND CHEESE SOUP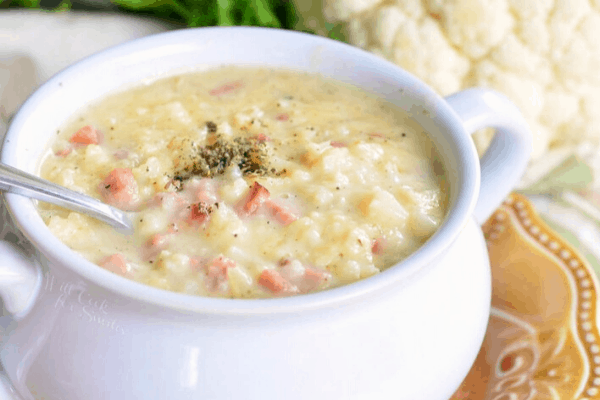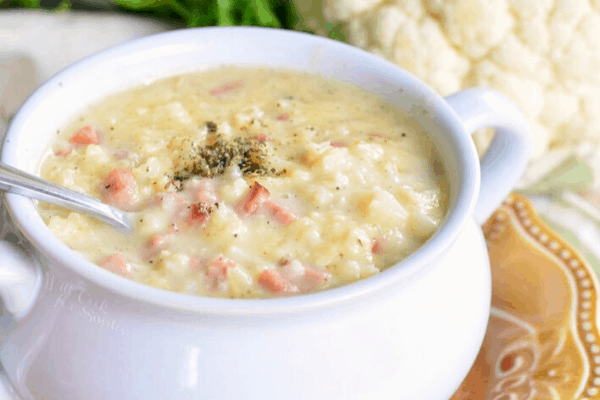 Image and Recipe by willcookforsmiles.com
Cauliflower Ham and Cheese Soup is a delicious, hearty, savory dish that you can whip up in less than half an hour.
You get all the great flavor without any of the guilt!
This soup is perfect for those cold days when you need to warm up your insides and your soul.
It's gluten-free and dairy-free.
You will instantly love its hot and creamy texture.
The process involves a bit of work but it's worth trying.
Here goes the recipe by WillCookForSmiles.com
Net Carbs: 15g
3. TURMERIC CHICKEN SOUP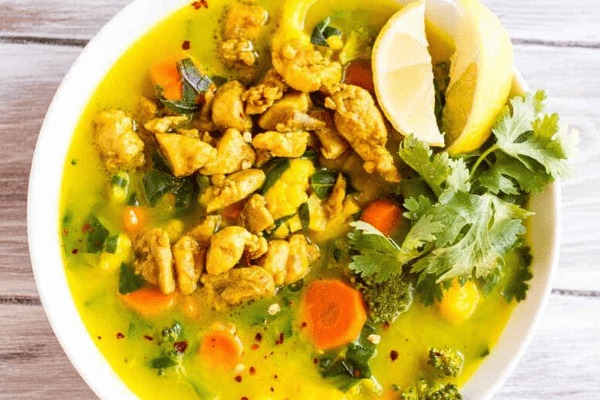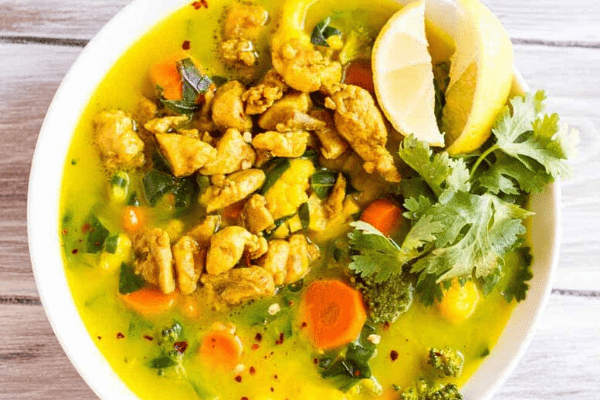 Image and Recipe by savorylotus.com
Turmeric chicken soup has an amazing list of health benefits.
A warm bowl of turmeric chicken soup is one of the best remedies for cold and flu season. It's easy to make, comforting, and just plain good for you!
You can add any keto vegetables of your choice.
The spices in this dish are warming so it's perfect during these chilly winter months or when someone has a sore throat.
This comfortable keto soup can also be taken as a light dinner.
Check out the recipe by SavoryLotus.com
4. LEEK AND SALMON SOUP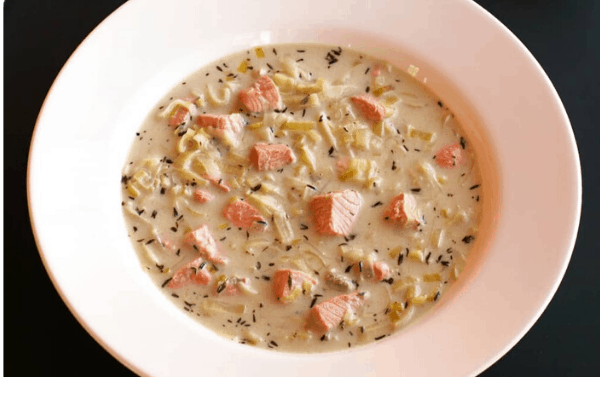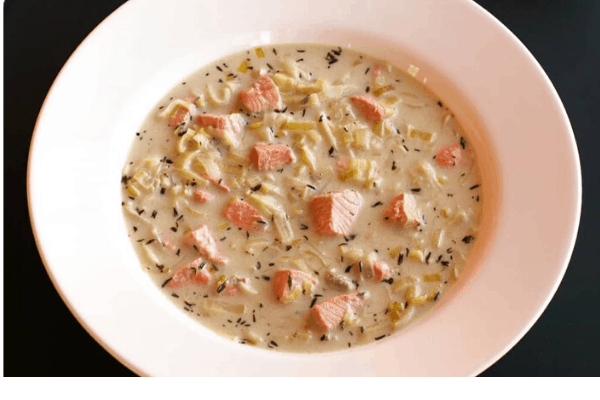 Image and Recipe from meatified.com
It is a very simple soup recipe.
A soup packed with omega 3 fatty acids and vitamin D with lots of creaminess from coconut milk and broth.
Ingredients involved: Avocado oil, leeks, garlic cloves, broth, dried thyme leaves, and of course salmon and coconut milk.
Check the instructions by Meatified.com
5. CHICKEN DETOX SOUP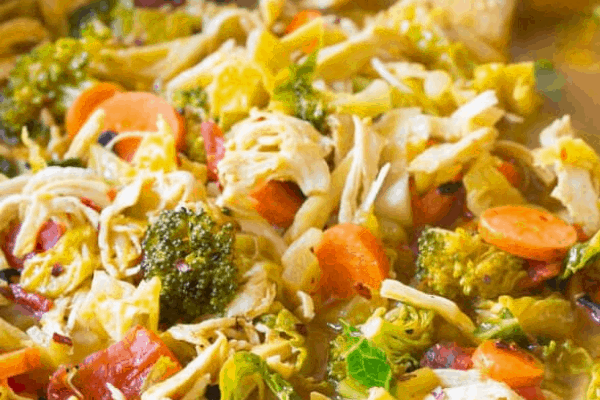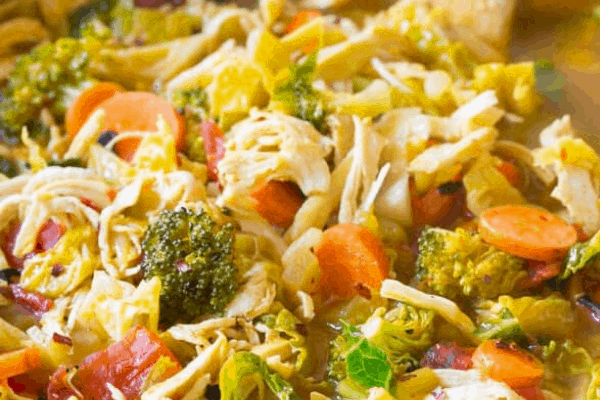 Image and recipe by aspicyperspective.com
Chicken soups are always my favorite.
This chicken detox soup is an easy way to clean out your system
This keto soup not only helps to keep off the body weight but also flushes toxins from our body and boosts metabolism while enjoying a warm and hearty meal.
This soup is made up of ingredients that are all high in fiber which helps promote good gut health and can help feel lighter and more energized.
The cabbage, avocado, garlic, broccoli, and turmeric all are meant to help your body release toxins.
The recipe by aspicyperspective.com
Net carb: 7.9 gm
6. EGG DROP SOUP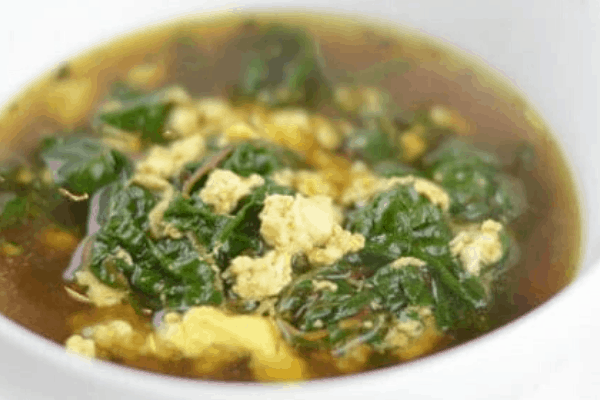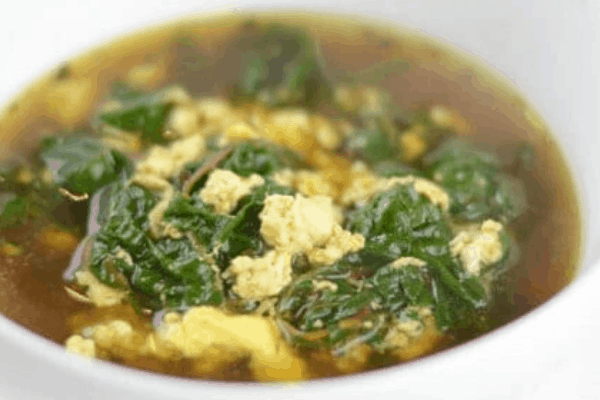 Image and Recipe from ketosummit.com
Nothing feels more relaxing than sitting down with a bowl of warm egg soup.
A simple recipe where all you need are some green vegetables of your choice and some eggs with Lil' bit of seasoning to make this traditional egg drop soup.
Check the instructions by Ketosummit.com
7. MINT AVOCADO CHILLED SOUP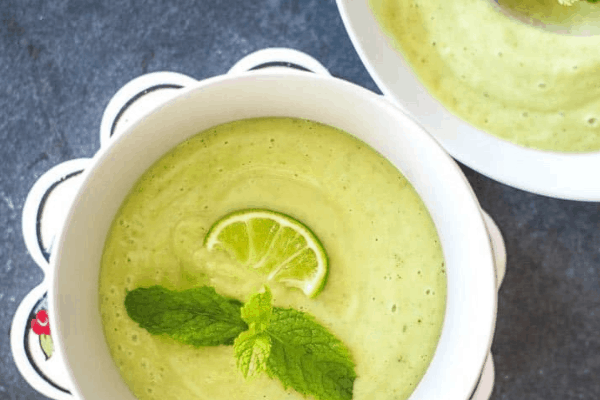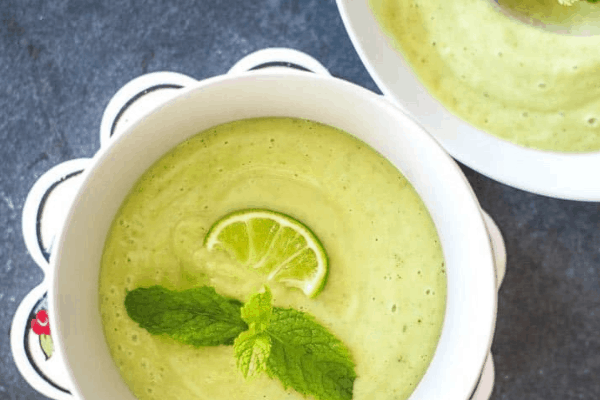 Image and Recipe by paleoflourish.com
Mint avocado soup will satisfy the cravings with a twist of fresh avocado while providing the comfort of a warm soup.
Packed with the freshness of lime and mint, this is a no-cook refreshing keto soup recipe.
I love its thick texture.
Check the recipe from PaleoFlourish.com
Net Carb: 4 gm
8. CREAMY CAULIFLOWER GREEN SOUP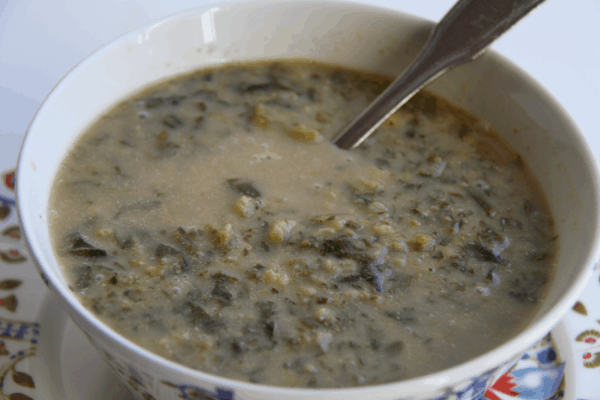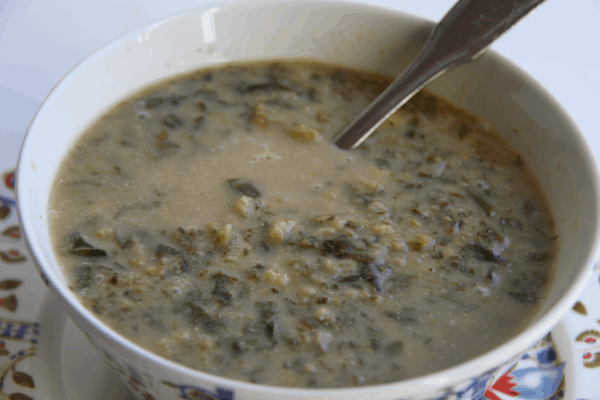 Image and Recipe from savorylotus.com
The image may not look creamy, but this is a creamy keto soup.
It is nutrient-dense and super delicious.
This is an excellent way to get in some greens and vegetables, without them tasting like broccoli or spinach!
With a few cups of broth, garlic cloves, and coconut milk & you are all set to make this tasty warm soup.
If you want to add more protein, feel free to add cooked chicken or bacon crumbles before pureeing the soup.
Check the recipe from SavoryLotus.com
9. JAPANESE CLEAR ONION SOUP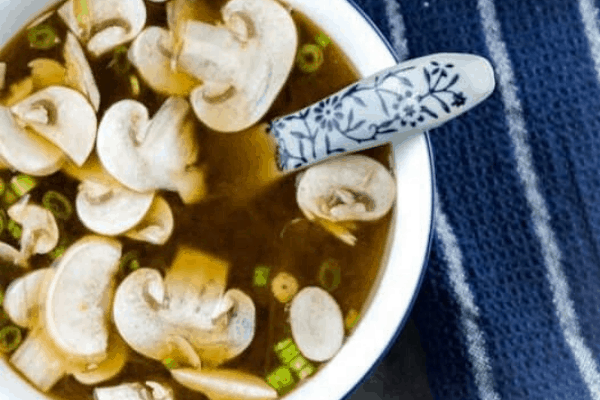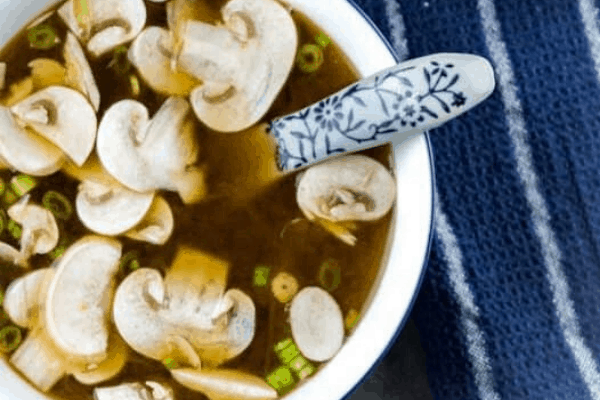 Image and recipe by livingchirpy.com
A Japanese clear onion soup is a simple and light dish with a clear onion broth.
You may feel it is so plain but make once you make it, you will get to know how tasty it is.
You can add keto vegetables of your choice.
Just a perfect soup for weight loss.
This recipe includes ingredients such as mushrooms, scallions, celery, onion, and soy sauce.
It takes around 40 mins to cook this soup to a desirable consistency.
Check the instructions by LivingChirpy.com
Net carb: 8.6 gm
10. INSTANT POT CHICKEN BACON CHOWDER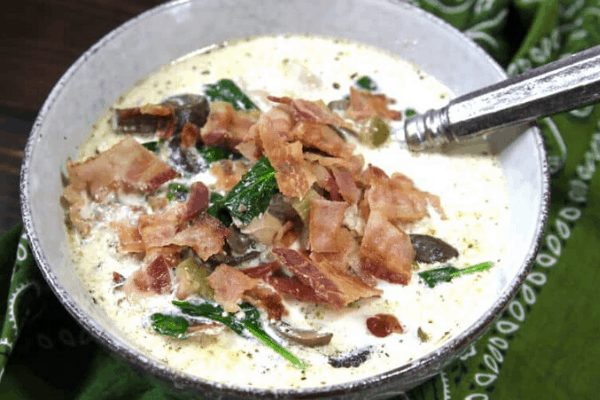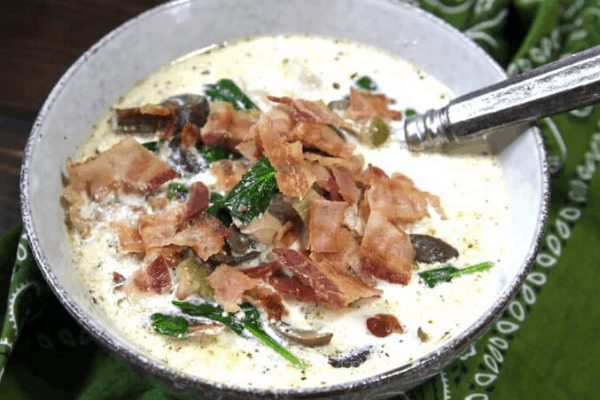 Image and Recipe by 5dinners1hour.com
It's creamy, savory, and hearty that will make you feel cozy and satisfied.
This is not just a soup or appetizer. I even had it as my keto dinner.
This soup will keep you in ketosis.
It will take you about 30 minutes to cook in an instant pot.
Check the recipe from 5Dinners1Hour.com
11. JALAPENO POPPER SOUP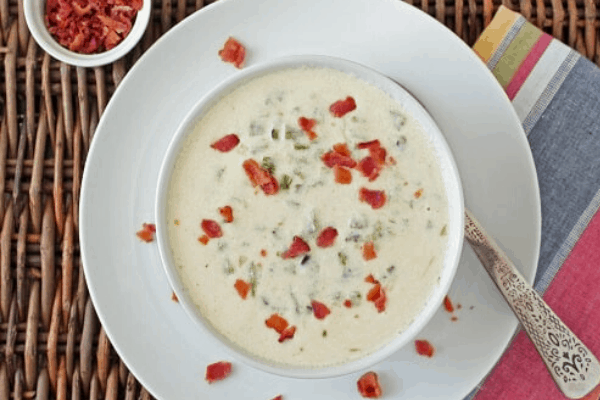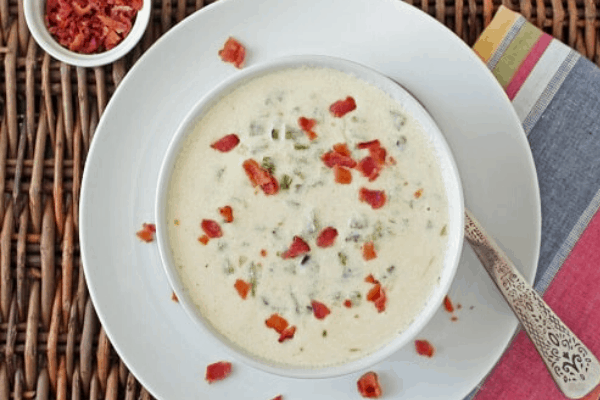 Image and Recipe by ibreatheimhungry.com
The jalapeno popper soup will make you happy with its creamy and crunchiness.
This is a perfect keto soup with 38 gms of fat and only 2.5 gms of carbs.
With chicken broth and heavy cream, this is the ultimate delicious appetizer.
Check the procedure from iBreatheIMHungry.com
Net carb: 2.5 gm
12. FRESH TOMATO BASIL SOUL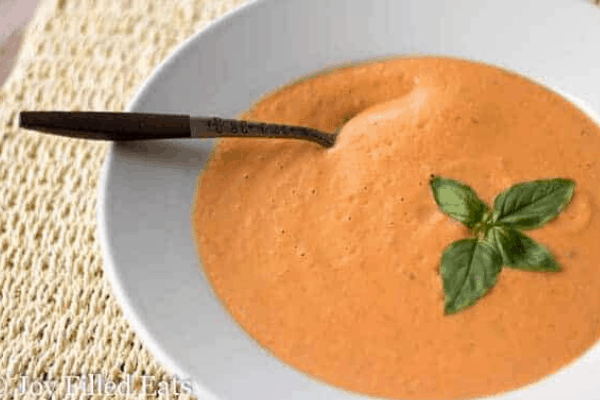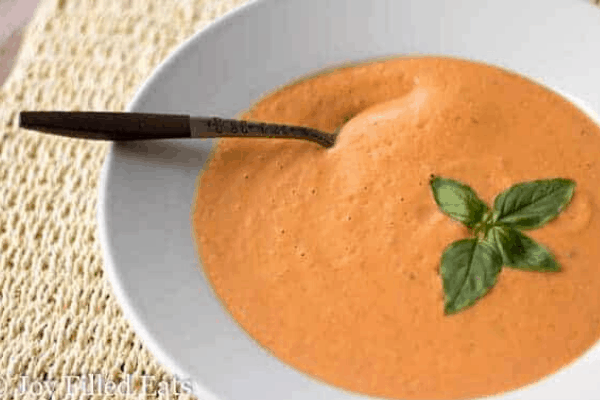 Image and Recipe by joyfilledeats.com
This is a basic vegetarian soup.
The taste of a fresh tomato is the best. A combination of sweet and tangy, it's hard to resist.
This is an instant soup to be made within 15 minutes but the carb content is NOT very low.
So be careful with daily macros intake for that day.
Here goes the recipe by JoyFilledEats.com
Net Carb: 7 gm
13. KETO CHICKEN MUSHROOM SOUP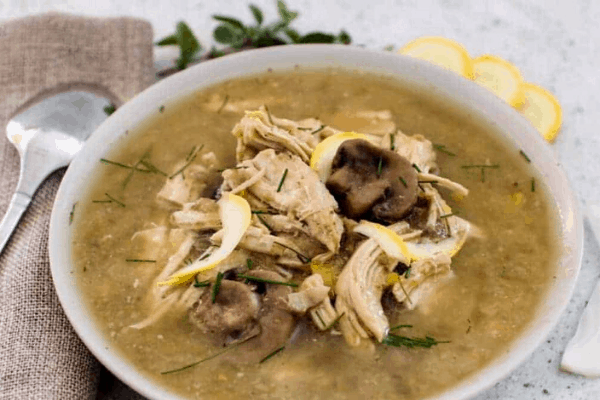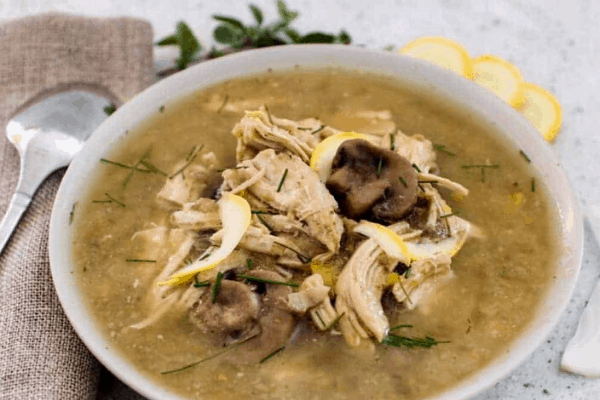 Image and recipe by twosleevers.com
Mushrooms are a great low-carb substitute for potatoes. They can be used in everything from breakfast omelets to dinner casseroles.
One of my favorite ways to enjoy them is in this keto Chicken Mushroom Soup with Garlic and Thyme!
This is a high-protein low-carb keto soup.
It will take you less than 30 minutes to cook in a cooker.
It is WAY too delicious than what it is looking in the image.
The recipe from TwoSleevers.com
Net carb: 8 gm
14. KETO CHILLI SOUP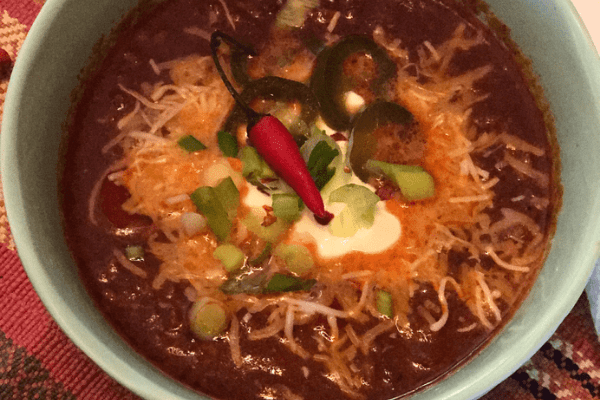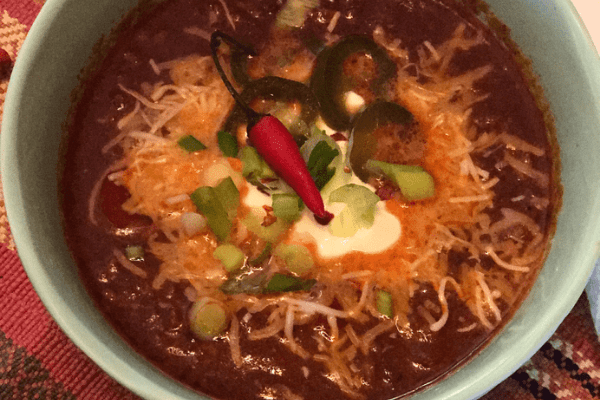 Image and recipe by fittoservegroup.com
Beanless chili soup with ground beef.
A hearty, healthy, low-carb meal without sacrificing flavor or texture!
This warm delicious soup will take somewhat 40 minutes to get ready.
Here goes the recipe by FittoServeGroup.com
Net carb: 5.1 gm
15. BROCCOLI CHEDDAR SOUP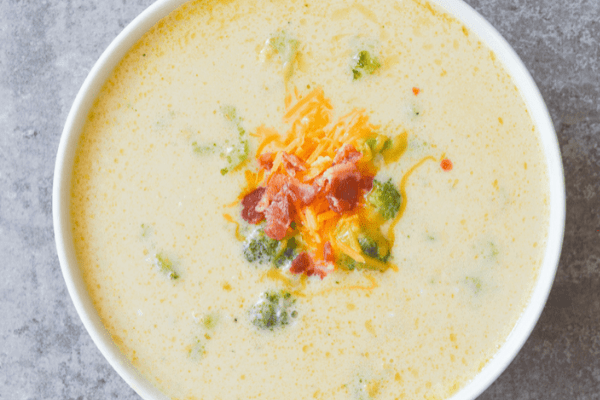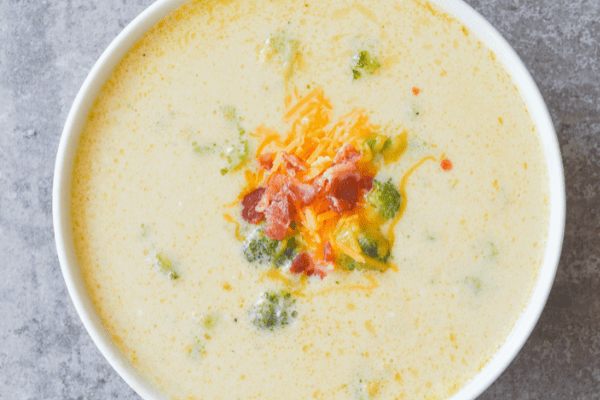 Image and Recipe by heyketomama.com
This is a creamy, delicious, and very low-carb keto soup recipe.
Once you are in a ketogenic lifestyle, these are the type of soups you would like to make more often.
Check the instructions from HeyKetoMama.com
Net Carb: 2 gm
16. SPRING SOUP RECIPE WITH POACHED EGG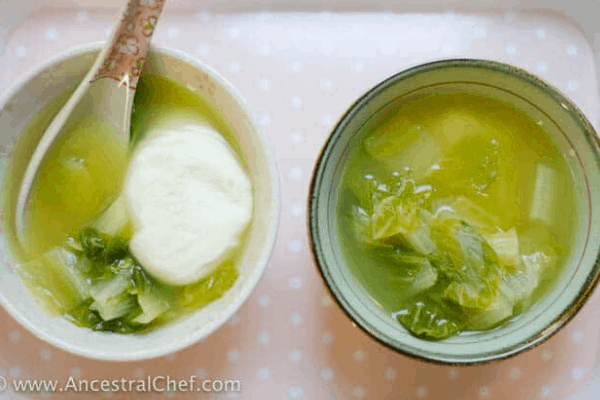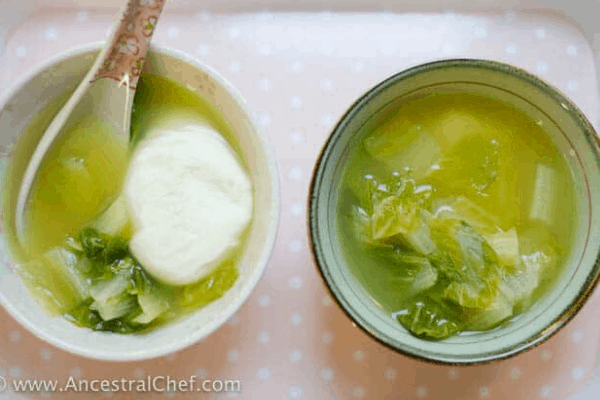 Image and Recipe by paleoflourish.com
This is a simple soup recipe loaded with proteins.
It consists of only 3 ingredients: Lettuce, Chicken broth, and eggs. Ya definitely add salt to taste.
Check the simple instructions from PaleoFlorish.com
Net Carb: 4 gm
My Take on Keto Soup Recipes
Keto soup recipes are a great way to get in some extra nutrients and help with your weight loss goals.
Nothing can be more delicious and warm than a low-carb keto soup recipe.
These keto soup recipes are super simple and with tons of flavor.
Dairy-free, and perfect for a winter keto dinner.
Being in ketosis is so easy with these soup recipes that you can have it any time.
Related Keto Soup Recipes:
Keto Soup Recipes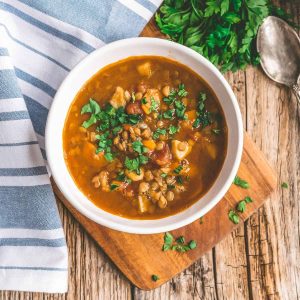 16 Best Keto Soup Recipes for a Light Dinner
Creamy, dairy-free, and low-carb keto soup recipes. Perfect for a winter night.
Soup is a keto diet staple. These 16 recipes will help you stick to your diet while enjoying delicious and healthy soup.
Instructions
Select the keto soup recipe to make.

Follow the steps and make a delicious, creamy soup.

The comfort food on a cold winter night.
Notes