"Imagine a world where you can have your favorite dessert, without ALL those pesky carbs!"
That's what the keto yogurts are saying.
They're rich in protein and calories so they'll keep feeling like fuel for hours after eating them – not just an instant high from sugar or artificial sweeteners like other brands do!
Keto yogurt recipes are a great way to start your day with the benefits of low-carb eating.
Keto yogurt is also a great snack or dessert option for those who have trouble sticking to their diet and crave sweets.
Keto yogurt recipes are easy to make and taste delicious!
KETO YOGURT RECIPES
The perfect summer treat.
There's nothing like a cold, creamy yogurt to cool you down on hot days.
It's also rich in calcium, protein, and cultures which will help keep you healthy.
The low-carb keto yogurt and full-fat keto yogurts are pretty easy to make.
Add fruit to your yogurt for a healthy breakfast or snack.
Mix in protein powder for an extra boost of energy and muscle recovery.
Use it as a base for other recipes, like this low-carb strawberry cheesecake recipe.
Make your own frozen treats (e.g., ice cream, popsicles) with yogurt as the main ingredient.
How to make homemade keto yogurt?
All you need is dairy-free milk, heavy cream, and 1 tbsp pre-keto yogurt with active culture.
Rest it for 12-24 hours in a warm environment and you are all set to go.
You know what your instant pot cooker could be a great shelter for your yogurt to get ready.
Can I have yogurt on keto?
Yogurt definitely contains lots of fats and fibers.
But when we buy yogurt from the store, it contains carbs too.
So, for a keto diet, it is always better to make yogurt at home.
Yogurt making is very simple. 
What can I put in my yogurt on keto?
Add sour cream, heavy cream, nuts, or berries. 
Add as my keto fruit toppings.
Can you eat full-fat yogurt on keto?
A Keto diet is basically eating fats to derive energy.
More fat content is better for the ketogenic diet weight loss.
10 Homemade Keto Yogurt Recipes
 1. KETO GREEK YOGURT
Image from heartscontentfarmhouse.com
Keto Greek yogurt recipe with whole milk, heavy cream, and 2 tsp of yogurt.
Greek yogurt is a great option because it has the protein you need for breakfast and can be topped with your favorite fruit or nut butter.
It can also be mixed into parfaits, pancakes, muffins, ice cream, or even used as a substitute in recipes that call for sour cream!
Its low carb count makes it an excellent choice for anyone looking to lose weight.
Use any artificial sweetener to get the right amount of sweetness.
A dash of vanilla makes all the difference for me.
Carbs: 5g, Fat: 12g, Protein: 4g
Recipe from heartscontentfarmhouse.com
2. CREAMY HOMEMADE INSTANT POT YOGURT
Image from ketopots.com
Can you really make yogurt in an Instant Pot?
Yes! And it's so easy.
You'll be able to whip up a batch of creamy homemade instant pot yogurt in just 10 minutes of prep and a passive resting time of 8 hours or more.
Start making your own fresh and creamy instant pot yogurt at home today!
Cherish with strawberry or raspberry toppings.
This will look yummy and this is an excellent source of calcium and protein.
Net carbs: 0.9g, Fat: 10.9g, Protein: 7g
Recipe from ketopots.com
3. KETO YOGURT WITH 2 INGREDIENTS
Image from madcreationshub.com
This is the fastest keto yogurt to make.
It tastes great with berries or nuts on top. You can also blend up some fruit like bananas and strawberries with unsweetened almond milk for an extra fruity flavor.
Just 2 minutes and with 2 ingredients. If you are in a real hurry and in a need of keto yogurt then just whip the ingredients together. And your creamy keto yogurt is ready.
Net carbs: 3g, Fat: 2g, Protein: 3g
Recipe from madcreationshub.com
4. EASY 2G CARBS KETO YOGURT
Image from wholesomeyum.com
A perfect keto yogurt recipe with low carbs and high-fat content.
To make this yogurt you can make it sit on a sheet pan for 12-24 hours or wrap the mason jar with a warm blanket.
Make with almond milk and probiotic capsules for the active culture.
Net carbs: 2g, Fat: 24g, Protein: 3.1g
Recipe from wholesomeyum.com
5. KETO YOGURT BARK RECIPE
Image from lowcarbinspirations.com
This is a fun food recipe and especially good for kids.
This recipe is so simple, you can whip it up in a matter of minutes! All you need are some basic ingredients and your favorite toppings.
Just like regular yogurt bark, this recipe has just 6 simple ingredients that are perfect for any ketogenic diet.
It also offers the added benefit of being dairy-free, gluten-free, paleo-friendly, and vegan as well!
The goodness of yogurt and fruit. These yogurt bars look so healthy and fresh.
Net Carbs: 4g, Fat: 1g, Protein: 2g
Recipe from lowcarbinspirations.com
6. KETO MATCHA FROZEN YOGURT BAR
Image from sugarfreelondoner.com
This frozen yogurt bark is a delicious and refreshing KETO-friendly snack.
The ingredients are simple, high-quality, and provide the perfect amount of sweetness without being too much.
If you're looking for an energy boost or a guilt-free dessert this summer, look no further than this all-natural frozen treat!
Flavored with matcha powder and topped with pistachios.
Net carbs: 3.1g, Fat: 3.3g, Protein: 6.3g
Recipe from sugarfreelondoner.com
7. THICK HOMEMADE KETO YOGURT 
Image from madcreationshub.com
An easy and delicious ketogenic yogurt that's thick, rich, and creamy.
Add fresh berries or fruit for an extra tasty dessert option that's perfect for summertime meals!
Add it to a smoothie or grated cucumbers.
Carbs: 3g, Fat: 41g, Protein: 3g
Recipe from madcreationshub.com
8. STRAWBERRY KETO FROZEN YOGURT
Image from sugarfreemom.com
Frozen yogurt or should I call it just ice cream?
All you need is a blender, some strawberries, and a few other ingredients.
A perfect healthy keto ice cream I must say.
Amazingly delicious with Monk Sweetener.
Per Serving:
Carbs: 2g, Fat: 0g, Protein: 5g
Recipe from sugarfreemom.com
9. KETO BLUEBERRY YOGURT BARS
Image from myketokitchen.com
These Keto Blueberry Yogurt Bars are so easy and delicious!
Fresh blueberries are perfect for summertime parties.
Isn't it looking perfect?
Easy no-bake keto bark recipe that is healthy, delicious, and perfect for the ketogenic diet.
Here are 15 keto snacks recipe that you might like.
Per Servings:
Net Carbs: 2g, Fat: 5g, Protein: 4g
Recipe from myketokitchen.com
10. KETO YOGURT PARFAIT BREAKFAST
Image from healthstartsinthekitchen.com
Keto Yogurt Parfait Breakfast is a delicious way to start your day.
What if there was food that let you eat all the things you love, but it also helped to control your weight?
Well, a keto yogurt parfait breakfast might be what you're looking for.
A low-carb yogurt parfait breakfast that is suitable for a keto diet.
More keto dessert-y breakfast:
Per Servings:
Net Carbs: 7g, Fat: 17g, Protein: 14g
Recipe from healthstartsinthekitchen.com
My Take on Keto Yogurt Recipes
Healthy, delicious keto yogurt recipes to help satisfy your cravings and get back on the ketogenic diet track.
From easy-to-make chocolate-flavored low-carb yogurts that are perfect as a dessert or snack.
Make it dairy-free and low carb and good to go with any keto smoothies or a breakfast toast.
Related Keto Cool Recipes
Keto Yogurt-Totally Homemade and Fresh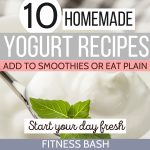 Print
10 Best Keto Yogurt Recipes for a Fat-Burning Diet
Are you looking for some new and delicious low-carb yogurt recipes?
Look no further! These ten recipes are all healthy, keto-friendly, and perfect for breakfast smoothie addition or as a dessert snack.
The homemade yogurt recipes for a low-carb and keto diet.
Give them a try today!
Instructions
Choose the best yogurt recipe suited.

Follow the instructions and make the thick, homemade yogurt with a high amount of protein and low carbs.

Have a healthy breakfast.